In this Garmin Venu Review, we show that this GPS sports watch, with its AMOLED display, is a special but nevertheless genuine Garmin. This is not only reflected in the newly added features and the good battery life, but also in the practically identical, sporty characteristics as found in other models of the manufacturer.
Priced with a RRP starting from $349.99, compared to the recommended cost of similar products from the manufacturer, a generous price was given to it. In the meantime, it is for more attractive approx. $330 to have, which is however still a quite high price segment. So is the AMOLED upgrade worth it? The display does indeed make a big difference depending on the application of it, so we are devoting a great deal of attention to this feature and will discuss it in detail, for example, through a direct comparison. After this Venu review and experience report, the interested parties can decide for themselves whether they are convinced by the equipment or whether another model is worth considering.
Bestsellers, deals, gift ideas*
Amazon.com Top-Deals
Venu
Garmin
from $216.00

Vivoactive 4
Garmin
from $249.99

Versa 2
Fitbit
from ---

Are you looking for a Christmas present? These are our suggestions:
Garmin GPS Devices and Smartwatches
Garmin Venu
Review

: Overview

We can say that the Garmin Venu is convincing, practically speaking. It is a complete package with Smartwatch functions for the wrist, there is little to complain about and  needs no workarounds or similar. The manufacturer supplies everything necessary to make progress in terms of health and fitness, and in addition, the already generous functional diversity of the watch can be expanded upon with apps. Beginners are supported by a wide range of predefined fitness features and balanced training plans, while advanced athletes can easily integrate other important sensors into their training and, if necessary, Garmin typically offers unbelievable flexibility in adjusting sports profiles. For this we have a detailed section with many pictures and explanations.

For our review we had the smartwatch with us for numerous activities. It almost always offered a suitable option, so that we like to call it a reliable all-rounder. In practice, athletes save a lot of time due to the available training plans, as they no longer have to worry about creating balanced training weeks themselves. Various animated training instructions also provide support in this respect.

Our Venu review includes the following focal points:
Operation in everyday life and sports
Adaptability of sport profiles (data fields, alarms, …)
Accuracy of GPS receiver and heart rate sensor (also for interval training)
Display characteristics and differences to other Garmin smartwatches like Vivoactive 4
Many pictures (also Venu Watchfaces)
and much more
Garmin Venu Price $216.00
Garmin Venu
Highlights
The fitness features of the Garmin Venu are up to date and practically identical to those of the new Garmin Vivoactive 4, so you don't have to worry about making compromises with it from a sports point of view. Garmin itself appropriately classifies the Venu as a GPS Smartwatch.
Until now, Garmin has relied on transflective MIP (memory in pixels) displays that are permanently on and can be read easily in almost any environment, especially when it is brighter. Venu and Vivoactive 4 actually only differ in the displays and the resulting properties such as battery life and a few minor differences. What these are will be discussed further down in this review.
Other highlights include:
GPS, GLONASS, Galileo
Garmin Elevate technology for wrist heart rate measurement
Barometric altimeter, compass, gyroscope, accelerometer, thermometer, heart rate oximeter acclimatization
2 buttons on the right side of the housing
Waterproof up to 5 ATM (suitable for swimming)
Heart rate measurement while swimming (tips and more detailed information on the accuracy of HR measurement during swimming with Garmin smartwatches)
Fitness and health tracking (Pulse Ox, Body Battery, breathing rate, Relax Alarm, water consumption, menstrual cycle tracking)
Breathing exercises
More than 40 animated workouts directly on the clock for easy copying
Over 20 pre-installed sports apps such as running, swimming including the new Yoga 2.0 and Pilates
Workouts and training plans as well as individual running plans can be downloaded to the smartwatch
Integrated music memory (approx. 500 tracks) for playback via directly connectable Bluetooth headphones (Smartphone can stay at home)
Music Streaming: Amazon Music, Deezer, iHeartRadio and Spotify
Automatic accident/emergency notification during certain activities
Display properties

1.2″ AMOLED display with a resolution of 390 x 390 pixels
Option that the display remains permanently on (always-on display)
Watch glass from Corning Gorilla Glass 3

Battery life examples

Smartwatch mode: Up to 5 days with fitness tracker functions and heart rate measurement on the wrist around the clock
GPS mode: up to 20 hours
GPS mode with music: Up to 6 hours

Garmin Pay function for cashless payments (with the partners Boon, VIMpay & Mastercard)
Colours: black with gold, sand with rose gold, granite blue with silver and black with slate
20mm Standard Quick Release Bands: so any standard wristbands can be attached
Compared to the Vivoactive 3 and its music variant, the Vivoactive 3 Music, some new features have been added. With the Venu there is no longer a music version. Music memory and all important functions are now under the same roof for each variant.
Case and Wristband
The Venu is largely well made. This applies to the polymer case and display as well as to the replaceable silicone wristband. But the Venu is hardly comparable with a Garmin Fenix (Fenix 6 Review). While the Fenix is much more massive, the Venu with its 46.3 grams conveys a feeling of lightness. Its high-contrast display rounds off the great overall picture. Both the bezel and the buckle are made of stainless steel.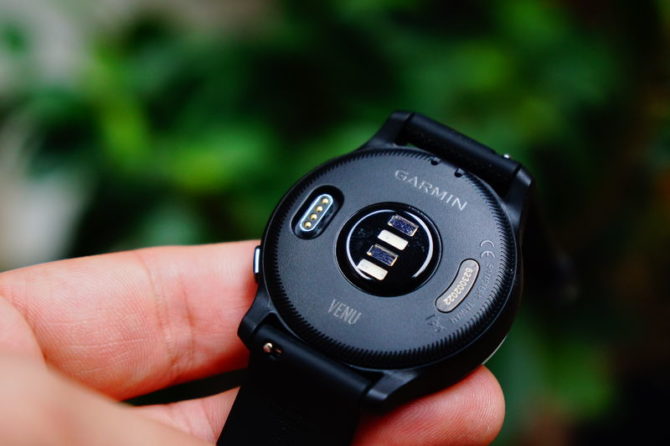 Operation and Watch faces
Menu navigation and control of the Venu is via two buttons on the right-hand side of the housing and the touch display. The upper right button is the action button and is pressed when, for example, you want to switch the device on/off, start and stop activities, display the control menu (hold for 2 seconds), activate the emergency help (hold for 5 seconds) or confirm actions. The lower left button is the back button. It returns you to the previous page or marks new laps/new sets in Activities.
And then there's the touch display, which is especially helpful in everyday life, where you can swipe, tap and hold to control widgets, various functions and menus or confirm actions. Some actions, such as selecting a sports profile, can only be selected via the touch display. All in all, we find the operation very successful, intuitive and reliable.
With the preconfigured watch face, the look of the Venu can be very well adapted to your own ideas. Further watch faces can be downloaded from the Connect Store. Here are a few watch face examples:
Display
Garmin can also use AMOLED
In the Venu review we are especially interested in the new AMOLED display. The watch is the first and currently only one of the manufacturer with such a display and thus stands out in comparison to other Garmin sports watches. With the display, the model comes closer to Android/iOS or Fitbit Smartwatches, like for example the TicWatch C2, Apple Watch 3/4 or Fitbit Versa, or the Fitbit Versa 2.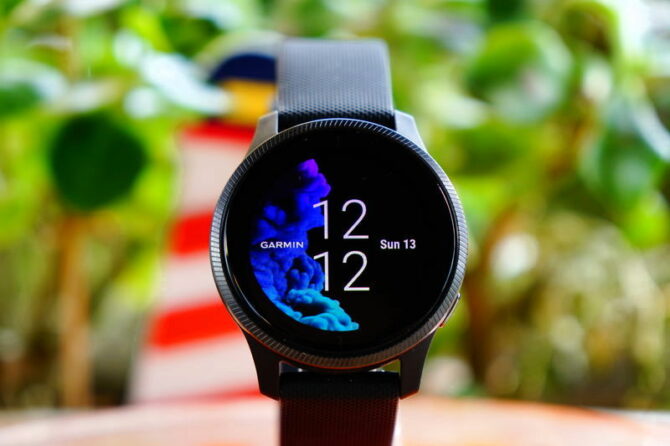 But ultimately it is like a Vivoactive 4 with a different display and the resulting additional features. These include, for example, high-resolution and high-performance animation displays or animated watch faces.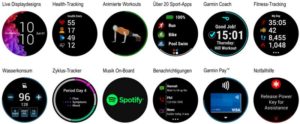 On the other hand, the AMOLED display may be less readable in certain outdoor/very bright conditions because it is more reflective. It was this aspect that we took a closer look at in the Garmin Venu review, because we often had to experience with Smartwatches with (AM)OLED/LCD displays that data displayed on the display was harder to read during outdoor sports.
But because the brightness of the display is very good, we never had any problems reading the display during the practical test. The Venu also automatically increases the brightness when necessary. Here are two examples of what it can look like when it's very seldom running stupidly and how it normally looks on the display outdoors:
In environments such as fitness studios, on the other hand, you don't have to worry about good readability. This is where AMOLED displays can clearly show their strengths compared to other displays. As shown below, we also have a direct comparison to a watch with a transflective MIP display, which clearly shows that the Venu has much stronger and higher-contrast colors:
If you want to know about the always-on options: the Venu offers a more energy-hungry always-on display, but only in sports mode with full functionality. In normal everyday mode, Always-On is limited to the time of day. Everything else is then no longer visible, i.e. the background is deactivated. According to Garmin, the watch lasts about 2-3 days in everyday life and active Always-On mode and 5-7 days in normal mode. This corresponds approximately to our experience. By the way, the display brightness can be configured very well in the system settings of the clock, so that you can possibly counteract something concerning the battery life with this option.
One general thing is still important about OLED displays: you should avoid displaying static images with a high brightness level over a longer period of time. This could lead to the images being burned into the display. Therefore it is recommended to activate the timeout option of the watch instead of the always-on in everyday life. Always-on doesn't seem to be available on all watch faces, probably for the reason mentioned above. Third-party providers also have to program the option explicitly, otherwise Always-On is not available in their watch faces.
But do you prefer transflective?
A transflective MIP display (memory in pixels) is not as high-resolution and the colours are not as rich as with an AMOLED display, but it is permanently switched on in normal as well as sports mode (Always-On Display) and very reliable and easy to read outdoors and even in direct sunlight. This has no effect on the battery life of watches with MIP displays. Here is an example of a Vivoactive 4 and Fenix 6, which are easy to read even in direct sunlight:
So if you want such good readability for bright environments, take a look at other Garmin sports watches. The Garmin Venu is more likely to be more difficult to read outdoors than other Garmin watches.
Garmin Venu Review: In sports
In this Venu review we will come to the scenarios and possibilities with the GPS Multisport Smartwatch. Especially here, it is versatile and expandable with further apps from the Garmin Connect Store as well as with ANT+ or Bluetooth Sport sensors. These include heart rate chest straps, running sensors, speed and cadence sensors, Varia Smart bike lights and radar, ANT+ temperature sensors and Approach CT10 golf sensors.
As with most sports watches in this price category, an automatic multi-sport mode is missing, which allows several sports to be recorded seamlessly as a single unit and is particularly interesting for triathletes. This function and versatile navigation options are reserved for high-end sports watches such as the Fenix 5 or Fenix 6.
The Venu doesn't come close to the depth of data and analysis (such as training load, training effect, recovery time) of a Forerunner or Fenix model, but it is still far superior to most sports watches currently available. After all, the sports instruments and available and customizable data pages and fields are not available from the competition. It is precisely this feature that is a unique selling proposition that no Apple Watch, Polar or Suntoo or Fitbit sports watch offers.
As the following sections will show, the watch does not exactly save on setting and recording options per sports profile. This also applies to swimming, golf and snowboard profiles, for example. There are plenty of data fields available for configuration. This is why the model may also be of interest to professionals. Anyone can configure the watch and what it should display during the sport where on the available data pages to suit them.
Adjustments – Data fields
Before a training you have the possibility to make specific profile settings. For example, the available pages and their data fields can be individualized very well and in detail. Various data fields, alarms as well as lap (Auto Lap) and Auto Pause functions are available for the sports profiles. The data fields are displayed on a maximum of 3 training pages. A separate 4th non-editable training page is available for displaying the current heart rate as well as the current HR zone. This can only be switched on or off.
Among the selectable and partly configurable data fields are for example (small excerpt):
Various timer fields (like lap time, average time per lap, time last lap)
Distance fields (like distance, lap distance, last lap distance)
Pace (like average pace, lap pace, last lap pace, maximum pace)
Heart rate fields (heart rate, average HR, heart rate range, HR lap, HR %max, time in HR zone, …)
Various step frequency fields
Various cadence fields, temperature fields, altitude fields
Other fields like calories, direction, temperature, altitude, and many more
Each training page can display 1 to a maximum of 4 data fields. Thus, a maximum of 12 different data fields can be read simultaneously on the 3 pages. In addition, on the fourth data page, the above mentioned HR data is displayed.
Adjustments – Alarms
The configurable alarms of the Garmin Venu are also very versatile (small excerpt):
Heart rate (individual zone ranges with lower/upper alarm selectable, manual entry for max. HR also possible)
Speed, time, distance, cadence/step frequency alarms
User-defined alarms such as drinking, eating, turning around, going home
If one of the alarms is activated, the watch reports via vibration alarm and visually on the display.
Adjustments – Other
We will show a few more settings options and then leave it at these, otherwise, we will go beyond the scope of this review:
Simple interval trainings are also preconfigured on the Venu. However, these are not editable directly on the watch – as is possible on a Fenix 6, for example – but must be carried out as pre-defined. Garmin Connect, however, can be used to load far more complex, own trainings and entire training plans, including a training calendar, onto the Venu. Each individual interval step can also be viewed beforehand for better preparation:
GPS – Accuracy
For our Garmin Venu review we were already active in sports and in the first run we first had an eye on the GPS accuracy. GPS/GLONASS was activated in the options. GPS/Galileo is also possible.
Tip: If you want to achieve more accurate recordings, you should first set the recording interval to 1 second in the system settings. There the option Smart Recording is preset, which records tracks with less battery consumption, but less accuracy. You should know that the 1-second recording interval only affects the data to be recorded and has no influence on actually measured metrics. This ultimately means that the file containing the distance becomes larger and has more measuring points. The memory of the clock is therefore used more efficiently.
All in all, the Venu does a good job of recording in good weather conditions and does not afford any major mistakes: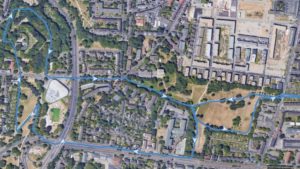 The distance covered is very good overall. If you zoom into the picture a little, you will see a few inaccurate recordings. For example when walking under a bridge (yellow mark). The red mark was actually run. But other difficult passages (narrow curves, over a bridge, under trees,…) she masters very well. Overall, we are satisfied with the GPS recording so far: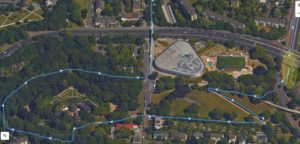 Heart rate constant running
During the Venu review, our Polar H10 HR chest strap was also included. This allows us to check how accurately Venu measures the heart rate. The two measurement curves over time look like this (Garmin Venu: light blue, Polar H10: purple):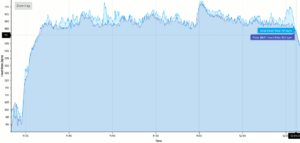 Overall the measurement looks good, but we have seen better ones in other reviews. Especially so with some of the peaks that we didn't expect, they do not belong there. The measurement curve reminds us a bit of the Vivoactive 4, which has similar tips. These certainly influence the slightly different average values in the final result. In optical heart rate measurement, many factors can falsify the measurement, see our FAQ article on optical heart rate sensors in sports electronics. This means that HR measurements do not have to look like this for everyone. The average values look ok in total:
Garmin Venu: HR-measurement accuracy

| | | |
| --- | --- | --- |
| | Garmin Venu | Polar H10 |
| HR Average (S/min) | 158 | 155 |
| HR Max. (S/min) | 174 | 173 |
Heart rate Accuracy Interval Training
We also did a small interval training with Venu and wanted to see how Venu reacts to rapid changes in heart rate. Especially with interval training, optical heart rate sensors have their problems and often don't keep up, which means that the HR values are only recorded with a long delay. The Venu reacts quite well in terms of time, but here and there it breaks down a bit. The Fenix 6 made it a little better. So if you do a lot of interval training, you should keep an eye on it.

But the average values are quite respectable. The heart rate sensor of the watch shows that interval training is possible with it. The warmer you are, the better the results should look:
Garmin Venu: HR-Measurement accuracy interval training

| | | |
| --- | --- | --- |
| | Garmin Venu | Polar H10 |
| HR Average (S/min) | 149 | 150 |
| HR Max. (S/min) | 176 | 174 |
The software question: Venu Updates included?
A few months after our Venu review, we looked to see if the manufacturer was developing the software and fixing bugs. With the Venu it looks quite good. A look at the update history shows that version 5 is now available (as of September 2020). This is a sign that the manufacturer doesn't just leave the watch lying around and take care of it.
A few smaller, new features have been added, such as an interval option during cardio training. Furthermore, many bugs have been fixed. On the one hand, bugs are annoying, on the other hand it is reassuring to know that the software is kept up to date and stabilized and that the device does not disappear in the manufacturer's memor
Garmin Venu or Vivoactive 4? Or Venu Sq?
We also have a detailed comparison between Venu, Vivoactive 4 and Vivoactive 3 (Music) as well as a detailed Venu Sq or Venu comparison with tips for choosing the right model. All differences are noted in these. Here are just a few hints and differences between Venu and Vivoactive 4. The trackers actually only differ in the displays and resulting features such as battery life and a few minor details.
The more expensive Garmin Venu is recommended if you prefer to train in darker environments or if you want the display to be more like an Apple Watch or Fitbit watch. This means, for example, more high-resolution and higher-performance displays of animations or animated watch faces. More information about the display can be found above in this Venu Review. There is no longer a separate Music version. Music memory and all important functions are now under the same roof for each variant.
In return, the buyer of a Venu has to be satisfied with slightly shorter battery life. It doesn't quite come up to comparable current Garmin models with transreflective displays, but it clearly outperforms most Android and Apple smartwatches by a few days. It can be assumed that the battery life can be increased significantly by deactivating unused features.
Most features are shared by the new models Garmin Vivoactive 4 and Garmin Venu, since the hardware in the case is identical. But what are the main differences? The following comparison between Vivoactive 4, Vivoactive 4 S and Garmin Venu illustrates these differences.
Tip for table control: mobile device: wipe, desktop: left mouse click anywhere in table, then use left/right keys of keyboard.
Garmin Vivoactive 4/4S vs Venu vs Venu Sq (Music) vs Vivoactive 3 vs Vivoactive 3 Music
Vivoactive 4 / 4S
Venu
Venu Sq (Music)
Vivoactive 3
Vivoactive 3 Music
Dimensions (mm)

4S: 40 x 40 x 12,7
4: 45.1 x 45.1 x 12.8



43,2 x 43,2 x 12,4
37 x 40,6 x 11,5
43,4 x 43,4 x 11,7
43,1 x 43,1 x 13,6
Fits wrists with a circumference of (mm)

4S: 110 bis 175
4: 135 bis 200



125 bis 190
125 bis 190
127 bis 204
127 bis 204
Weight (gram)
46,3
37,6
43
39
Bezel material
Polymer
Polymer
Polymer
Polymer
Polymer
Bezel material
Stainless steel
Stainless steel
Anodized aluminum
Stainless steel
-
Quick Release Band
20 mm
20 mm
20 mm
20 mm
Buttons
2
2
2
1
1
Touch screen
Yes
Yes
Yes
Yes
Yes
Display type
Transflective MIP
AMOLED
TFT Color-Touch display
Transflective MIP
Transflective MIP
Lens material
Corning Gorilla Glass 3
Corning Gorilla Glass 3
Corning Gorilla Glass 3
Corning Gorilla Glass 3
3D Gorilla glass
Display size

4S: 27,9 mm (1,1")
4: 33 mm (1,3")



30,4 mm (1,2")
33 mm (1,3")
30,4 mm (1,2")
30,4 mm (1,2")
Display resolution(Pixel)
390x390
240x240px
240x240
240x240
Black display background color during training

Yes
Yes
Yes
Yes
Yes
Bright display background color during training
Yes
No
No
Yes
Yes
Risk of burn-in with static background images
No
Yes
-
No
No
GPS | GLONASS | Galileo
● | ● | ●
● | ● | ●
● | ● | ●
● | ● | ●
● | ● | ●
Bluetooth | ANT+ | WLAN
● | ● | ●
● | ● | ●
● | ● | ●
● | ● | ●
● | ● | ●
Altimeter | Compass | Gyroscope | Pulse oximeter
● | ● | ● | ●
● | ● | ● | ●
○ | ● | ○ | ●
● | ● | ● | ○
● | ● | ● | ○
Accelerometer | Thermometer | VIRB-Remote control
● | ● | ○
● | ● | ○
● | ● | ○
● | ● | ●
● | ● | ●
Yoga Workouts | Pilates Workouts | On-screen Workout Animations | Respiration rate
● | ● | ● | ●
● | ● | ● | ●
● | ● | ○ | ●
○ | ○ | ○ | ○
○ | ○ | ○ | ○
Incident Detection during select activities | Body Battery Energie-Monitor | Underwater Wrist-Based HR
● | ● | ●
● | ● | ●
● | ● | ●
○ | ○ | ○
● | ○ | ○
Music storage
4 GB
4 GB
256 MB [Music Edition: 4 GB]
-
4 GB
Amazon Music, Spotify, own songs
Yes
Yes
Yes (Music Edition)
-
Yes
MODEL
Vivoactive 4 / 4S
Venu
Venu Sq (Music)
Vivoactive 3
Vivoactive 3 Music
Battery life | with GPS (up to)

4S: 7d | 13h (GPS-Mode with Music 5h)
4: 8d | 15h (GPS-Mode with Music 6h)



5d | 20h (GPS-Mode with Music 6h)
6d | 14h (GPS-Mode with Music 6h)
7d | 13h
7d | 13h (GPS-Mode with Music 5h)
Waterproof
50 m (5 ATM)
50 m (5 ATM)
50 m (5 ATM)
50 m (5 ATM)
50 m (5 ATM)

From $303.09

From $216.00

From $179.98

From $186.70

From $276.25
Garmin Venu Review:
Conclusion
Before our Garmin Venu Review, we hoped that by introducing an AMOLED display, the manufacturer would not neglect its core areas. These include general equipment, excellent support for sports workouts in every respect, very good battery life, interaction with the smartphone and the quality of workmanship.
And indeed, with the Venu, Garmin offers a very good balance of just these strengths and the new AMOLED display, which is high-resolution and has rich colors. Many Android smartwatches or even the Apple Watch are also equipped with such displays or variants of them. But while the display in particular leads to rather meager battery life of about 1 to 3 days, the Venu manages 5 to 7 days without compromise. This means that all Smartwatch functions, regular training and Garmin's well-known sports functions are included without restrictions. We hope to see more top models from the manufacturer with AMOLED display in the future.
The battery life doesn't quite come up to comparable current Garmin models with a transflective display, but it clearly outperforms most Android and Apple smartwatches by a few days. By deactivating unused functions, the battery life can still be increased noticeably.
We like the widgets' handling and design very much. The configurability is also very good, typical for Garmin. Everyone can set the Venu in the way that makes the most sense for him or her and receives a training tool that doesn't require any workarounds or other efforts in order to train in a structured manner as desired.
In terms of sports, we see good results in older software versions. This concerns the GPS accuracy as well as the heart rate sensor, although there is still some room for improvement. However, regular software updates show that improvements are constantly being made.
If you need more versatile outdoor and extensive fitness analysis functions that go into the smallest detail, you can also take a look at the Fenix 6. For those who prefer to exercise outdoors all the time and need more battery life with the Always-On Display, take a look at the otherwise almost identical Vivoactive 4 with the transflective display. Competitors will also be happy to check out one of the Polar Vantage models (M or V) or the newer Polar Grit X.
Venu: Prices and Purchase Option
Garmin Venu Price $216.00