Garmin Vivoactive 4 or Venu or the Vivoactive 3 (Music), which of these is now the best value? We have all the answers because we tested all three all-rounders over a longer period of time. We have here the important differences between these Garmin sports watches.
Some differences are easy to see, others are not, not even through the manufacturer's website. But numerous options and features are different and for one or the other certainly decisive for a possible purchase. This comparison will help you to decide which model is right for you.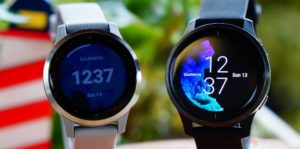 Bestsellers, deals, gift ideas*
Amazon.com Top-Deals
Venu
Garmin
from $279.99

Vivoactive 4
Garmin
from $199.99

Versa 2
Fitbit
from $279.78

Are you looking for a Christmas present? These are our suggestions:
Garmin GPS Devices and Smartwatches
Garmin Vivoactive 4 vs Venu vs Vivoactive 3
In this article, the direct Garmin Vivoactive 4 vs. Venu vs. Vivoactive 3 comparison is presented with the main differences between these models. All details for each watch are available in our detailed individual reviews:
Tip for table control: mobile device: wipe, desktop: left mouse click anywhere in table, then use left/right keys of keyboard.
Garmin VA3 vs V4 vs Venu vs Venu Sq (Music)
Vivoactive 4
Venu
Venu Sq (Music)
Vivoactive 3
Display type
Display-size
Transflective MIP


4S: 27,9mm(1,1"), 218x218px
4: 33mm (1,1"), 260x260px

AMOLED
30,4mm (1,2"), 390x390px
TFT Color-Touch display
33 mm (1,3"), 240x240px
Transflective MIP
30,4mm (1,2"), 240x240px
Weight
starting from 40 gram
46,3 gram
37,6 gram
starting from 39 gram
Music memory /
Bluetooth headphones
Yes
Yes
Yes (Music Edition)
Only the Music Edition
Battery life
- Smartwatch mode | GPS
8d | 15h
5d | 20h
6d | 14h
7d | 13h
Our review
Vivoactive 4/4S Review
Venu Review
Venu Sq Review
Vivoactive 3 Review

From $293.00


From $218.49

From $199.00

From $189.93
Further down in the Vivoactive 4 vs Venu vs Vivoactive 3 comparison, there is a detailed comparison in tabular form.
Vivoactive 4 vs Venu vs Vivoactive 3: design, size, operation
Let's start in the Garmin Vivoactive 4 vs Venu vs Vivoactive 3 (Music) comparison with haptics and design. There are a few differences, except in the case size. If you have a narrower wrist, the Vivoactive 4S is perfect for you. It was developed by Garmin especially for this purpose without removing any features, and it therefore offers everything that the larger Vivoactive 4 also offers. The 4S does not look massive on smaller wrists, but exactly right. Further down in the comparison table we have noted for which wrist circumference the different models are suitable.
If you want the model with the largest display, the Vivoactive 4 is the right choice. With a diameter of 33 mm (1.3″) it towers above the 30.4 mm (1.2″) of the Venu and Vivoactive 3 (Music) and the 27.9 mm (1.1″) of the Vivoactive 4S.
The case of all the above-mentioned sports watches is largely made of fiber-reinforced polymer, the bezel is made of stainless steel, except for the Vivoactive 3 Music. The watches are delivered from the factory with quick-release silicon wristbands suitable for sports.
All watches have an easy to use touch display. However, the more recent Venu and Vivoactive 4/4S models now have two buttons instead of one on the right side of the case. Together with the 2 buttons and the touch display, a much more intuitive and better operating concept is possible compared to the Vivoactive 3 (Music). On the newer models, for example, you mark laps with the lower button and stop/pause a workout with the upper button. On the older models, this is somewhat more cumbersome as only one button is available. The newer models also have revised menu navigation, where you can scroll back in the menus with the lower key.
Vivoactive 4 or Venu or Vivoactive 3: Display
When it comes to the display, the Vivoactive 4, Venu, and Vivoactive 3 are particularly interesting, because apart from the above-mentioned display sizes, there are major differences here that are worth knowing. The Vivoactive 4 has the largest display diameter of 33.0 mm (1.3 inches), but this does not mean that it has the best resolution. The Venu with 390 x 390 pixels has the best resolution.
The Venu stands out in comparison because it is the only one with a very bright and high-contrast AMOLED display. This is similar to displays known from Apple Watch, Fitbit Tracker, or Android Smartwatches. The Vivoactive watches are all equipped with a transflective MIP display (Memory in Pixel). The color difference between the AMOLED and the transflective displays looks similar to the following picture. The picture was taken outside in the shade in good weather: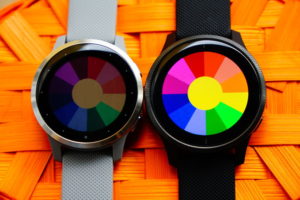 But a transflective MIP display also has its strengths. Although it is not as high-resolution and the colors are not as rich as the AMOLED, it is permanently switched on in normal as well as in sport mode (Always-On Display) and is very reliable and easy to read outdoors and even in direct sunlight. This has hardly any influence on the battery life of watches with MIP display.
Here is an extreme comparison picture between Vivoactive 4 and Venu in direct sunlight. The pictures are only intended to show that a transflective display loves brightness, so to speak. In practice, you hardly notice anything of this with the Venu. We never had any problems reading the display during the practical test. As you can easily see, the Vivoactive is much lighter and the Venu, when things go really badly, is harder to read.
But Venu is also usually quite easy to read outdoors because the display is large and in most cases bright enough. Here is an example picture:
What else is worth knowing about the displays?
Background color during training

Venu: as seen in the picture above only a black background is possible.
Vivoactive: in the options, you can choose between a light and dark background.

Always-on

Venu: Always-on can only be activated in sports mode with full functionality. In normal everyday mode, Always-on is limited to the time of day and is only available in certain Watchfaces (danger of static images burn-in at high display brightness!).
Vivoactive: always always-on. A backlight can be switched on for dark environments.

Animations::

Venu: more high-resolution and higher-performance displays of animations (in workouts) or animated watch faces available.
Vivoactive 4/4S: less high-resolution and high-performance animations such as during yoga workouts available.
Vivoactive 3 (Music): no display animations available.

Battery life

Venu: The more often the display is active and brighter, the more it affects the remaining battery life.
Vivoactive: Always-on Display has little effect on the remaining battery life. You can therefore rely on the watch's information about the remaining battery life.

Display damage

Venu: There is a risk of burn-in, especially when static background images are displayed with high display brightness over a long period of time.
Vivoactive: no risk of burn-in.

Training environment

a lot of outdoor sports/bright surroundings: Vivoactive recommended.
a lot of sports in darker environments: Venu recommendable.

Accidental activation

Venu: Since the display of the Venu is usually deactivated, it can be activated unintentionally with corresponding arm movement and therefore and the higher display brightness can be annoying. However, the settings are flexible enough (timeout, activation sensitivity, brightness settings, …) so that you can take countermeasures.
Vivoactive: an active display is practically never glaring.
Hardware and Sensors
The Venu and Vivoactive 4 and 4S sensors are slightly ahead of the competition. This is because they have a pulse oximeter that can estimate the oxygen saturation of the blood (SpO2) directly on the wrist and is not installed in Vivoactive 3. The measurement can be performed automatically if required or during sleep. The measurements can provide indications of sleep disturbances/sleep apnoea so that if there is any suspicion, this can be examined more closely by a specialist. However, the sensor can be particularly advantageous during activities involving high altitudes, because with it you can see how the body adapts to high altitudes by manual measurement.
All models are equipped with GPS, GPS+Galileo, or GPS+GLONASS for positioning functions. However, the navigation functions are not as extensive as with a Fenix 6, for example.
Bluetooth, ANT+, and WLAN are available for communication with smartphones, sports sensors and networks. Among the linkable sports sensors are running, cycling and HR chest belt sensors that are automatically integrated into a training session if they are nearby and active. They all also have an acceleration sensor, barometer, compass, thermometer, and gyroscope.
The devices with music memory (Venu, Vivoactive 4/4S and Vivoactive 3 Music) can be connected directly with Bluetooth headphones. This allows the smartphone to stay at home during sports. The Vivoactive 3 has no music memory.
If you like to play golf, you can automatically store clubs compatible with the Venu and Vivoactive 4/4S. Those who have VIRB devices can only control them with the Vivoactive 3 (Music). This function is not available on the newer models.
Venu and Vivoactive 4 versus Vivoactive 3: Advantages of newer features
Many things are similar on Vivoactive 4, Venu and Vivoactive 3, revolutionary innovations are not to be found. Nevertheless, the newer Venu and Vivoactive 4 and 4S offer some exciting new options not found on Vivoactive 3 or Vivoactive 3 Music. These include:
Pulse Oximeter Acclimatization
Latest version of the optical pulse meter
Body Battery function: Estimation of the remaining energy server, e.g. for better control of training
Pulse measurement while swimming (tips and more information on the accuracy of HR measurement while swimming with Garmin watches)
new energy-saving GPS receiver from Sony
more fitness and health tracking (breathing rate, relax alarm, water consumption, menstrual cycle tracking)
more than 40 animated workouts directly on the watch for easy copying
over 20 pre-installed sports apps such as running, swimming including the new Yoga 2.0 and Pilates
automatic accident/emergency notification during certain activities
2 buttons (instead of one) on the right side of the housing to improve the operating concept
integrated 4GB music memory in each model variant (Vivoactive 3 Music also has it)
Sports Profiles
As far as the sport profiles of Vivoactive 4, Venu, and Vivoactive 3 are concerned, there are no differences in the standard profiles such as running, cycling, swimming, gym, and dozens more. Users need not worry about disadvantages in the profile selection if the older all-rounders are preferred. Although the new activity profile Pilates, breathing exercises, and animated trainings were added. These offer however only an increase in value, if they are to be supported by the watch absolutely.
Training calendars and the downloading of complex workouts are also mastered by all watches. For running, all of them offer particularly good training options, such as training plans and preparations as well as individual running plans directly on the watch.
All models also offer heaps of data fields (see single tests) and individually adjustable data pages. Even the 24/7 tracker, which records steps, calories, distance and sleep, is practically identical.
Swimming
Venu, Vivoactive 4 and Vivoactive 3 from Garmin have a swimming profile with extensive swimming metrics (arm pulls, swimming style, number of lanes, …). The newer Venu and Vivoactive 4S, however, now also allow pulse measurement on the wrist underwater while swimming.
However, they are all rather unsuitable for outdoor swimming. Sportsmen and women prefer the outdoor sports watch Garmin Fenix 5 or the newer Fenix 6.
Professional functions
Extended running and fitness analyses are not available on Venu, Vivoactive 4 and Vivoactive 3. Garmin calls them for example Running Dynamics, Virtual Partner, Virtual Racer, outdoor functions (like point-to-point navigation, offline maps, distance to the target, …) and much more. These features, which are more interesting for ambitious athletes, are integrated on other watches from the manufacturer and provide helpful information if users want to intensively deal with the recorded values and metrics and get more out of themselves.
Recommended here are, among others, Forerunner models from the Forerunner 245 upwards or Fenix models such as the Fenix 6, which also provide data on training status and training load and thus make training even easier to plan and control. With additional sensors even more is possible. For example, with data on ground contact time and balance, vertical movement, and real-time data on stride length and performance status.
Vivoactive 4 vs Venu vs Vivoactive 3:
Battery
The battery life of Vivoactive 3, Vivoactive 4 and Venu depends on individual user behavior. In a nutshell, it can be said that Venu has the worst overall battery life of around 5 days due to the AMOLED display. If users do not actively use all functions and are economical with the display, there is more to it.
Examples of battery life are shown in the tabular comparison below.
Music: Amazon Music, Spotify, Own Music
Venu, Vivoactive 4, Vivoactive 4S and Vivoactive 3 Music have a 4GB music memory. This allows the watch to be used as an independent music player without being dependent on the smartphone. The simple Vivoactive 3 has no music memory and therefore cannot play music. For playback, Bluetooth headphones are required, which are paired directly with the watch.
An Amazon Music App can also be installed via Garmin's Connect Store, which allows music from Amazon to be transferred to the watch's memory. An Amazon Prime membership is required. If you have Prime, Amazon Music is automatically included in your subscription. The music can then be played on the go and during sports, so the smartphone can stay at home unless you want to download new music on the go. In this case, the smartphone must be carried along.
It is similar to Amazon Music with Spotify. To play music from Spotify, a Spotify Premium membership is required.
Venu or Vivoactive 4 or Vivoactive 3 (Music)? Comparison
Finally, we will compare the Venu, Vivoactive 4, Vivoactive 4S, Vivoactive 3, and Vivoactive 3 Music directly with each other and compare the most important differences in tabular form:
Tip for table control: mobile device: wipe, desktop: left mouse click anywhere in table, then use left/right keys of keyboard.
Garmin Vivoactive 4/4S vs Venu vs Venu Sq (Music) vs Vivoactive 3 vs Vivoactive 3 Music
Vivoactive 4 / 4S
Venu
Venu Sq (Music)
Vivoactive 3
Vivoactive 3 Music
Dimensions (mm)

4S: 40 x 40 x 12,7
4: 45.1 x 45.1 x 12.8



43,2 x 43,2 x 12,4
37 x 40,6 x 11,5
43,4 x 43,4 x 11,7
43,1 x 43,1 x 13,6
Fits wrists with a circumference of (mm)

4S: 110 bis 175
4: 135 bis 200



125 bis 190
125 bis 190
127 bis 204
127 bis 204
Weight (gram)
46,3
37,6
43
39
Bezel material
Polymer
Polymer
Polymer
Polymer
Polymer
Bezel material
Stainless steel
Stainless steel
Anodized aluminum
Stainless steel
-
Quick Release Band
20 mm
20 mm
20 mm
20 mm
Buttons
2
2
2
1
1
Touch screen
Yes
Yes
Yes
Yes
Yes
Display type
Transflective MIP
AMOLED
TFT Color-Touch display
Transflective MIP
Transflective MIP
Lens material
Corning Gorilla Glass 3
Corning Gorilla Glass 3
Corning Gorilla Glass 3
Corning Gorilla Glass 3
3D Gorilla glass
Display size

4S: 27,9 mm (1,1")
4: 33 mm (1,3")



30,4 mm (1,2")
33 mm (1,3")
30,4 mm (1,2")
30,4 mm (1,2")
Display resolution(Pixel)
390x390
240x240px
240x240
240x240
Black display background color during training

Yes
Yes
Yes
Yes
Yes
Bright display background color during training
Yes
No
No
Yes
Yes
Risk of burn-in with static background images
No
Yes
-
No
No
GPS | GLONASS | Galileo
● | ● | ●
● | ● | ●
● | ● | ●
● | ● | ●
● | ● | ●
Bluetooth | ANT+ | WLAN
● | ● | ●
● | ● | ●
● | ● | ●
● | ● | ●
● | ● | ●
Altimeter | Compass | Gyroscope | Pulse oximeter
● | ● | ● | ●
● | ● | ● | ●
○ | ● | ○ | ●
● | ● | ● | ○
● | ● | ● | ○
Accelerometer | Thermometer | VIRB-Remote control
● | ● | ○
● | ● | ○
● | ● | ○
● | ● | ●
● | ● | ●
Yoga Workouts | Pilates Workouts | On-screen Workout Animations | Respiration rate
● | ● | ● | ●
● | ● | ● | ●
● | ● | ○ | ●
○ | ○ | ○ | ○
○ | ○ | ○ | ○
Incident Detection during select activities | Body Battery Energie-Monitor | Underwater Wrist-Based HR
● | ● | ●
● | ● | ●
● | ● | ●
○ | ○ | ○
● | ○ | ○
Music storage
4 GB
4 GB
256 MB [Music Edition: 4 GB]
-
4 GB
Amazon Music, Spotify, own songs
Yes
Yes
Yes (Music Edition)
-
Yes
MODEL
Vivoactive 4 / 4S
Venu
Venu Sq (Music)
Vivoactive 3
Vivoactive 3 Music
Battery life | with GPS (up to)

4S: 7d | 13h (GPS-Mode with Music 5h)
4: 8d | 15h (GPS-Mode with Music 6h)



5d | 20h (GPS-Mode with Music 6h)
6d | 14h (GPS-Mode with Music 6h)
7d | 13h
7d | 13h (GPS-Mode with Music 5h)
Waterproof
50 m (5 ATM)
50 m (5 ATM)
50 m (5 ATM)
50 m (5 ATM)
50 m (5 ATM)

From $293.00

From $218.49

From $199.00

From $189.93

From
Choose your model
And? Will it be the Venu or Vivoactive 4 or Vivoactive 3? We hope that we have been able to clarify the differences and help you make your choice. Here you can go directly to your favorite*: