The Fitbit Sense fitness watch is the manufacturer's new TOP model. Numerous exclusive and novel features are intended to make it stand out not only from its own lineup of models but also from those of other manufacturers. The watch focuses primarily on the health of its owners. With the help of new sensors, it supports the early detection of certain health problems and helps to stay healthy. With up to 6 days it also offers a decent battery life. In terms of price, the manufacturer is now venturing into higher-priced regions with this product, because the RRP price starts at $329.95.
Bestsellers, deals, gift ideas*
Amazon.com Top-Deals
Venu
Garmin
from $299.98

Vivoactive 4
Garmin
from $256.00

Versa 2
Fitbit
from $163.50

Are you looking for a Christmas present? These are our suggestions:
Garmin GPS Devices and Smartwatches
Fitbit Sense: The Highlights
With the Fitbit Sense, the US company is bringing a highlight onto the market even before Google turns the takeover announcement into reality and officially takes over the manufacturer. This means that the watch will continue to run with a genuine, further developed Fitbit OS. However, Google may possibly merge Fitbit OS with its own Wear OS in the future, but nothing is known about this yet.
Let's get to the highlights and special features before we explain in more detail which problems this watch actually wants to solve and how it can help.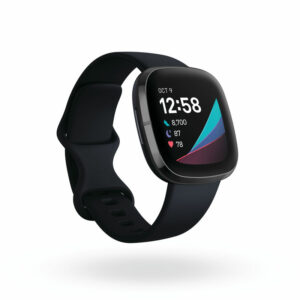 Special features
GPS receiver
Sensor for electrodermal activity (EDA) to support stress management
New multi-way heart rate sensor with PurePulse 2.0 technology and an updated algorithm
Detection and notification of unusually high or low heart rate
The skin temperature sensor records the skin temperature at night to determine the normal range and informs in case of deviations so that trends can be identified.
ECG function with CE certification: limited to the detection of atrial fibrillation
new Health Metrics dashboard in conjunction with a Fitbit Premium account
new stress management tools
larger AMOLED display with ambient light sensor and Corning Gorilla Glass 3 and option for Always-On
Google Assistant (so far only Amazon Alexa was supported)
Converse directly via the newly integrated microphone and loudspeaker in the watch
Improved quick-release mechanism for faster wristband changes
6 months free Fitbit Premium account (for customers who are not yet Fitbit Premium users)
Further
Battery life: up to 12 h in GPS training mode or up to 6 days in watch mode including 24×7 pulse measurement.
24×7 activity tracking (steps, detailed sleep analysis, and more)
Integrated music storage
Waterproof to 50 meters (WR30)
NFC for contactless payment
Price $298.95*
The new PurePulse 2.0 pulse sensor
On the outside, Fitbit Sense looks similar to the Versa series, which also announced the successor model Versa 3. The back looks a bit different compared to the Versa, because there is now a new multi-way heart rate sensor called PurePulse 2.0. According to Fitbit it is supposed to be their most accurate pulse sensor to date. Our upcoming review will show whether this is really the case as soon as we have a device. In the past, we have had the experience that the accuracy of the manufacturer's heart rate sensors has kept improving over time, but that does not mean that PurePulse 2.0 can also pick up on this point.
The new pulse sensor also detects an unusually high or low heart rate. These can be indications of heart disease that should be investigated by a doctor, such as bradycardia (heart rate too slow) or tachycardia (heart rate too fast).
Biosensor Core
Fitbit Sense conceals a series of new sensors under the keyword Biosensor Core. Among them is a new ECG function as known from other fitness watches with ECG recording. However, due to the lack of a sufficient number of leads, this function is limited to the detection of atrial fibrillation. Furthermore, there is no official approval, so this function is not yet available.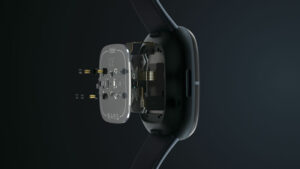 An ECG is performed manually by touching the bezel of the watch with the fingers of the hand on which the watch is not worn. After the measurement, successfully acquired data can be exported as a PDF file and sent to a physician.
Another new sensor is the sensor for electrodermal activity (EDA) to support stress management. Here, too, the support of the other hand is required because the palm of the hand is placed on the watch's dial (i.e. on the display). The sensor can detect small electrical changes on the skin, for example, caused by sweat, and help to understand the body's response to stress factors or even relaxation. In combination with other health data such as heart rate, certain statements can then be derived.
The new Health Metrics Dashboard in Fitbit Premium
The new Health Metrics Dashboard is only available in conjunction with a Fitbit Premium account. It also provides detailed data on respiratory rate, heart rate variability, resting heart rate, more detailed SpO2 data and skin temperature variations using the new skin temperature sensor. With the help of this data, the end user learns more about his average breaths per minute, the oxygen saturation of the blood, and also receives information about the state of his cardiovascular health.
The measured data is displayed over the course of the app and is intended to help the end user identify trends and show how they affect their well-being. In fact, Fitbit says initial results from a COVID 19 study suggest that changes in some of the metrics included in the new premium dashboard, such as respiratory rate, resting heart rate, and heart rate variability, can be detected by Fitbit devices simultaneously with the onset of COVID 19 symptoms, and in some cases even earlier.
Fitbit Sense: sales launch, prices, and availability
The Fitbit Sense is available in different colored versions. It costs from $329.95. (RRP).
Fitbit Sense $298.95*