In the review we've taken a closer look to the Polar Vantage V to ourselves. It is the big brother of the M version, which both officially succeed the high-end sports watch V800. But they are noticeably different from their predecessors. We are especially looking at the new heart rate monitor equipped with 9 LEDs. Also the operation is a topic, which is shown in detail in a video. Below is our review of the new Vantage.
Polar Vantage V Review: Conclusion
What we like
Running Power on the wrist
Battery life
Adaptive training plans
Polar's smart training features
What we don't like
Software fine-tuning necessary
GPS accuracy
Missing State-of-the-Art Features
The Polar Vantage V shows its slumbering potential in many places. The design has also been successfully revised. But one wonders if Polar didn't let the lion out of the cage too early and should have waited a few more months because we don't see the Vantage V at its best in 2018. However, we are sure that the Vantage will still be a great high-end watch, because Polar has a defined update plan and has implemented it reliably so far. Whether you get the watch now or later, everyone has to decide for themselves.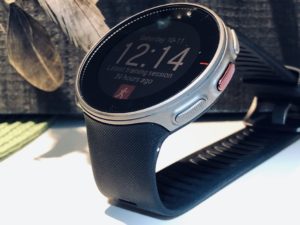 Polar Vantage: The Highlights
Time for something new
Polar fitness watches are characterized by the fact that they also offer a long battery life for training sessions, are durable and have an easy-to-read display. In addition, there are many smart coaching functions housed in Polar's Flow fitness platform, which enable ambitious athletes in particular to make their training more intelligent.
Many polar fans have been of the opinion that the top model V800 is getting on so slowly and would benefit from a technical upgrade. Polar, on the other hand, took the view that a successor would only make sense if there was significant technical progress and innovation. Now the moment has probably come, the two models Vantage V and M are in Polar's eyes this progress, which makes new products meaningful and should teach the competition to fear them. Garmin and Suunto are particularly noteworthy here. We find an attitude that can be shared.
What's new and different
Let's take a look at the Vantage and its new or improved features compared to its predecessor. Details will follow in the sections below:
Two models: Polar Vantage V (Successor of the premium model V800), Polar Vantage M (something like the successor of the smaller Polar M430)
Precision Prime: new heart rate sensor with 9 LEDs, which should enable an accurate heart rate measurement even during the most intensive training sessions, not only during constant running sessions.
Running Power (V model only): world's first wrist-based power (watt) measurement during training. This means that you get real-time data on the effectiveness of your workout.
Recovery Pro (V-Model only) & Training Load Pro: improved and more descriptive information on training load and recovery, which serve to control training. Recovery Pro requires a Polar H10 HR Chest Strap.
Skin contact sensor: determines whether the watch is actually worn on the wrist.
New GPS chipset from Sony
New round watch and display design:V-model with touchscreen, M-model without
Weight reduction: Model V from 79 to 66 grams, Model M from 66 to 45 grams
Some things are still to come or will be completely omitted
There are also features, which Polar will deliver at a later date (Q1 2019) or will not consider anymore. According to our research these are:
Comes later

Smartphone notifications
Fitness test
Strava Segments
Back-to-start navigation

Don't come

GoPro Action Cam Control
Load a GPS route on the watch and follow it
HR chest strap can no longer be used during swimming, only optical heart rate sensor on wrist
If you want to know the current status, Polar has set up a page especially for Vantage updates to inform you about upcoming updates.
Polar Vantage Review: Operation and available pages
For our Polar Vantage (V) review we created a small video about operation and available data pages:
Polar Vantage: Precision Prime Heart Rate Measurement
The highlight and unique selling point of the Polar Vantage is the new heart rate sensor construction on the back of the case. If you have followed the fitness news during the days, you may also have heard news about the progress of optical heart rate monitors. Only recently, Apple announced an ECG measurement that is approved in the USA and is carried out directly on the wrist at the presentation of the new Watch 4. Now Polar announces 9 active measuring LEDs and a new combination of sensors, which enables the most accurate wrist heart rate measurement among the sportwearables.
And how did Polar achieve that?
Nine optical channels working with different LED colors (green and orange) and wavelengths
Newly developed electronic sensors for skin contact measurement
3D Accelerometer
According to the manufacturer, this combination leads to higher sensitivity, higher speed and the highest accuracy of optical heart rate measurement to date.
Orange LEDs have also been installed by other manufacturers in the past (such as TomTom or Fitbit), but they have never or never been activated. We can't say why, but there are cases where they can be used. Especially darker skin types will benefit from the orange LEDs, whose light can better penetrate the skin. Green LEDs used so far work best on lighter skin types. If you would like to know more, we have compiled a FAQ on optical heart rate measurement.
The new sensor for skin contact measurement will ensure that the sensor does not measure until there is real skin contact. With other manufacturers, the heart rate sensor continues to measure even if the sensor is actually too far away from the skin, which can falsify the measurement.
Polar says that the Vantage even works when swimming and provides more accurate insight into aspects such as exercise load and calorie consumption. That's probably why the support for an HR chest strap during swimming has been removed. We are already very excited and can hardly wait for the test to look at it in the water.
In combination with the Polar H10 chest strap you tickle even more functions out of the Vantage. Among them, for example, the orthostatic test, which determines the heart rate variability (HRV). The test is mainly used to monitor the balance between training and recovery. If you would like to find out more about HRV in sports watches, follow the link that explains the topic in detail.
Polar Vantage V Review: Sport and Fitness
Heart rate monitor accuracy
In sports we wanted to subject the heart rate monitor to a stress test first. Just running constantly wasn't enough for us for a watch with 9 heart rate monitor LEDs, we'll take a look at that soon. So we choose a sport that offers different and fast changing running speeds and is varied. Football is a good choice, in our case indoor football with some substitution breaks during the game. At the same time the Polar H10 chest strap was worn to measure against. Here is the result:
After initial problems (first three minutes), which can be avoided by warming up properly, the Vantage V heart rate monitor swings in well with the chest strap. Typically, however, it often lags a few moments behind. In some places, the graph also shows that the Vantage is clearly lagging behind and misses pulling with the chest strap. Most of the time after the breaks, when the player goes on the field again and gives full throttle again.
All in all, the Vantage V isn't quite off the mark in the sport of football, which is demanding for optical heart rate monitors. On average there are the following values:
Polar Vantage V

Average HR: 137 bpm
Max. 179 bpm

Polar H10

Average HR: 141 bpm
Max: 181 bpm
In the meantime we have also had our first loose running session. We try to run as constantly as possible and see how the Polar Vantage reacts to it. Here is the result:
As expected, Vantage is doing better and delivering comparatively good results. But it takes about 5 minutes, as you can see from the graph. Also here the previous warming up was missing and so the Vantage has similar problems as comparable sports watches with an optical heart rate monitor. We always deliberately start the workout without warming up to praise a sports watch if it measures exactly from start to finish. However, this is a rare case.
The Vantage V even takes quite a long time to keep up with the HR chest strap H10 and this is reflected in the average HR values, which deviate by 3 strokes. The overview:
Polar Vantage V

Average HR: 152 bpm
Max. 171 bpm

Polar H10

Average HR: 155 bpm
Max: 171 bpm
GPS Accuracy
Let's take a look at how exactly the Polar Vantage processes GPS data. All in all, it shows some good distances, but also some inaccuracies. Here's an example of how it can be a few meters off. The actual distance is marked in blue: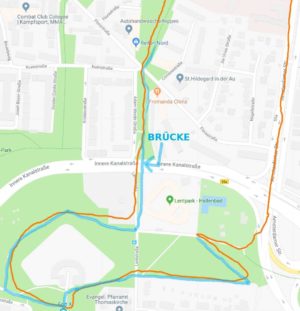 It's obvious that the Vantage doesn't map more jagged tracks neatly. One can only speculate what the reason is. Maybe Polar's algorithm just has to be adjusted or the new GPS chipset from Sony doesn't work anymore, which would be a shame. It remains to be seen if Polar will be able to update it here.
Polar Vantage: Everyday life
The Vantage is very durable to wear because it is comfortable and lightweight. It also looks good on the wrist. Pairing the Vantage with an iPhone (8 Plus) worked without a problem, and the first software update was carried out wirelessly via Flow App.
You can tell, however, that there is room for improvement at one point or another. This starts, for example, with the customizability of the data pages, watchfaces or the display brightness as well as the display of the battery status, which is available, but comes and goes when you feel like it. Apparently whenever you raise your arm to look at the display.
Moreover, the touch operation is not always performant and scrolling through the sports profiles via touch is not always smooth. You still prefer to use the keys to navigate, that works much better. Polar also knows about many things and announces that it will deliver updates in the next few weeks, such as smartphone notifications, a key lock function, back-to-start and much more.
The battery seems to last a long time. The function for the 24/7 heart rate monitor – the heart rate monitor is then permanently active – is switched on, a sports unit over 90 minutes including GPS brought behind us and a lot of fiddling around with the watch did not exhaust the battery yet. The watch has been recharged only once so far and has been running for over 5 days now. An end is not yet in sight.
Polar Vantage: Running Power
Another key feature of the Vantage V is the Running Power feature. The training metric Performance is more commonly known as the Power Meter from cycling, but is also becoming more and more popular in running. The aim of this metric is to achieve a higher running performance in the course of time in combination with heart rate measurement with a comparatively lower heart rate value. Simply put, learning to do more with less effort, becoming more effective.
This is the first time a manufacturer has made it possible to measure mileage comfortably on the wrist. At present, it is only possible to measure this comfortably at the wrist using additional external sensors. Garmin also offers the Running Power feature for its top models (such as the Fenix 5), but only in combination with a Garmin HR chest strap or running sensor. Garmin's Running Power app uses data such as pace, vertical movement, gradient and even wind conditions to determine how much power you put on the ground while running.
Running Power provides immediate data from the current load. An easily readable value is created from various performance data, with which the training load can be read out during training or in the later analysis. The Power (Watt) value should function as a fast control parameter, especially during short and intensive intervals.
An informative manufacturer video illustrates the technology and idea behind the Running Power metric:
Polar notes that Running Power is an outdoor training function and can only be measured with an existing GPS connection and barometric altimeter. This is why the function is only available in the Vantage V.
Polar Vantage: Display and Housing
Case
The new round stainless steel case and display make the new Vantage (V and M) look radically different from its predecessor, which should please most of us. While the Polar V800 as well as the Polar M430 have more angular features, we now see Polar following the trend of round displays.
The V800 was quite massive in appearance, especially when compared to current models like the Garmin Fenix 5. This is now a thing of the past.
Vantage Model V vs M: Display differences
In addition to the buttons, the Vantage V also has a touch display that is designed to make menu control more intuitive. A touch display means that a sports watch is not always better and easier to use. We could observe this again and again with other manufacturers. And also the Vantage has its quirks here as our test in the video shows.
You shouldn't expect a color touch display like the Apple Watch, which certainly does this masterfully. But with Polar you get a much better battery life as well as readability in bright environments. Our tests have shown that the Apple Watch 3 is at a disadvantage compared to Garmin watches. There are similar advantages with the Vantage as well, so that the readability is given especially during sports.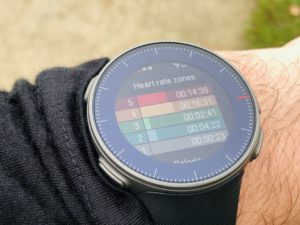 The Vantage M is controlled exclusively via the five stainless steel buttons on the sides of the case. From our point of view, buttons are indispensable for a sports watch. These can be used well in almost any situation, be it in bad weather conditions, in the water or with sweaty fingers.
Polar Vantage: Final
We've had the Vantage V here for a few weeks to test it and are finishing it for now, although we'd like to look at more details. You can see the potential it has for athletes. But there are still a lot of features missing and it seems that the details of the current software still have to be fine-tuned.
In a few months, we'll take another look at it and the other features and see what's been going on so far.