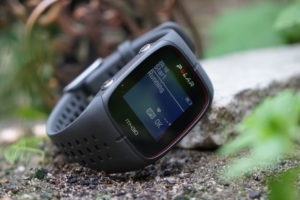 In this Polar M430 review, the device from Finland is put to the test. First pictures of Polar's GPS running watch were already taken at the FIBO 2017 in Cologne, Germany in April.
This gave us the opportunity to get a first impression of the successor of the successful M400, which is supposed to inherit the functions of the M400 and extend them with new features.
Go to product page

Polar M430
The M430 is not a runner-only watch. It supports a range of sports profiles, including a swimming profile. In addition, the Polar M430 is waterproof, has a sporty and lightweight design and offers Polar's popular Smart Coaching features, which help support you during training. Also see our numerous Polar reviews.
Functions such as the Running Index, automatic and manual lap recording, automatic pause, stopwatch, interval timer, target time calculation or detailed running programs round off the functional range of the Polar M430 and contribute to performance-oriented run optimization.
In addition, the M430 now offers:
Vibration alarms: replace acoustic alarms
Alternative GPS modes: extend battery life, but degrade GPS accuracy
24/7 HR measurement
Switched heart rate sensor during swimming in the swimming profile
New Watch Faces
Fitness Test with optical heart rate sensor possible
New interface: replaces the vulnerable micro-USB port
Improved sleep tracking algorithm: provides more information about sleep compared to current Polar Trackers
240 mAh LiPo battery pack: Battery life for up to 8 hours of continuous training, including optical heart rate measurement on the wrist
Competition & Comparable Products
The following interesting sports watches compete with the M430 from our point of view and are in a similar price range.
Comparison: Garmin Vivoactive HR vs Polar M430 vs TomTom Spark Cardio vs Garmin Forerunner 235
Feature/Model
Garmin Vivoactive HR
Polar M430
TomTom Spark Cardio
Garmin Forerunner 235
Image
Available since
 2016 (May)
  2017 (May)
  2015 (Sep.)
  2015 (Nov.)
Battery life in GPS Mode
 13 hours
8 to 30 hours
11 hours
16 hours
Activity Tracker (steps, sleep, calories)

yes

  yes

  yes

  yes

Waterproof

  yes




(5 ATM)

  yes




(WR30)

  yes




(5 ATM)

  yes




(5 ATM)

Wrist heart rate measurement

 yes

 yes

 yes

 yes

Measures the heart rate over the wrist all day long

 yes

 yes

 yes

 yes

Resting pulse measurement

 yes

 yes

 no

 

yes

Connectable with HR strap

 yes




(via ANT+)

 yes




(via Bluetooth Smart)

 yes




(via Bluetooth Smart)

 yes




(via ANT+)

Build-in GPS

yes

yes

yes

yes

Speed, pace & distance

GPS & Accelerometer

GPS & Accelerometer

GPS & Accelerometer

GPS & Accelerometer

Lap counting

yes

yes

yes

yes

Running workout plans

no

yes

no

yes

Recovery guide

no

yes

no

yes

Comparison with other athletes

yes

yes

no

yes

Alarm alerts when leaving HR zone

Visual Vibration

Visual Vibration

Visual Vibration

Acoustic




Visual Vibration

Smart Notifications

yes

yes

no, but announced

yes

Compatibility
   
  
  
   
Further pros

Multisport capable
HR broadcast
Easy handling
Many smart features
Very well customizable

 Fitness Test
Very good GPS receiver
Active lifestyle
Battery life

Multisport capable
Can be used as music player (without smartphone)
Connectable with wireless Bluetooth headphones
Battery life

 Display
Very well customizable
Lightweight
Battery life

Buy at

 Product Page
 Product Page
 Product Page
 Product Page
Polar M430 in Review: Outer Appearance and Workmanship
In general, the M430 is well manufactured. This applies to the watch case including buttons as well as to the connection between case and silicone band. The silicone band makes a very pleasant and solid impression, because it is soft and cuddly. It has also become lighter than the previous model's band. Unfortunately, the band cannot simply be exchanged for another one:
It is also very comfortable to wear over several days. The classic watch clasp also leaves a good impression:
As you can see on the following pictures, the heart rate sensor sticks out of the housing. However, this does not interfere with the daily wear of the watch. It doesn't bother you during training either.
Since this question is often asked, here is a picture of the M430 on a female wrist:
Display and Operation
The Polar M430 has a total of 5 buttons, and there is no touch screen display that is rather undesirable for athletes.
Pictures of the white variant:
Operation via the keys is easy and reliable. For example, it is not necessary to press the keys too hard to navigate through the menus. The upper left-hand buttons can also be used to quickly lock the keys to prevent unwanted key actions.
The display is comparable to its predecessor M400 and with its 128×128 pixels it is easy to read. It is clearly better than the Polar M200 entry level running watch. Here's a picture from a brighter environment: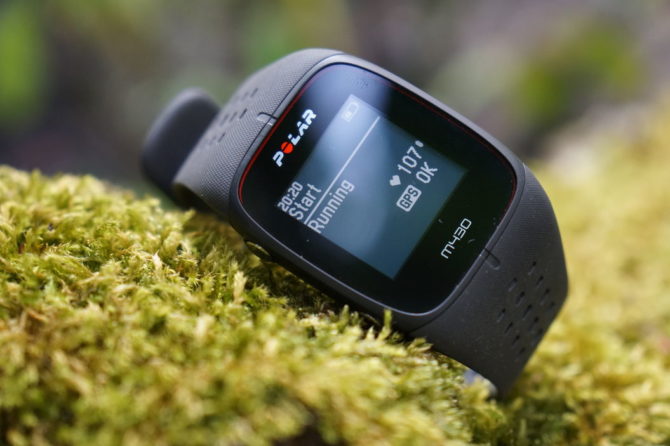 In dark environments (e. g. dark rooms) the display is difficult to read and the good backlight must be activated. This is done without detours by pressing the upper left button once.
Heart Rate Variability via Optical Heart Rate Measurement
Among the most interesting new features of the Polar M430 is certainly the heart rate sensor equipped with 6 LEDs. According to the manufacturer, this is said to be Polar's most accurate heart rate sensor to date. The Polar M600 Android Wear Sport Smartwatch (our M600 review) contains a similar heart rate monitor, which convinced us in the run test. Most other manufacturers use 2 to 3 LEDs, including the new Garmin Fenix 5 (our Fenix 5 test.)
According to the manufacturer, the Polar M430 has further improved and optimized this heart rate sensor and promises to enable the measurement of heart rate variability via optical HR measurement during workouts. Since firmware version 1.1.4, the device is now also capable of 24/7 HR measurement including resting heart rate measurement, see the separate section below. Polar's fitness band A370 also offers this feature.
For those who need more precise measured values in different sports, the option of coupling an HR chest strap to the M430 is available.
Polar M430 Review: Running, Heart Rate Accuracy, GPS
In our test we take the Polar M430 with us as an example to run with. Because the M430 is suitable for swimming, according to the manufacturer, you don't have to worry about the weather outside. For swimming further down more. Among the sports highlights are a heart rate monitor, a GPS receiver and complete running programs. There are also other features such as statements about the training load, the training effect or recovery status as well as the running index.
Running
For starters, we'll go for a round jog. There are also importable run programs available in Flow, which can be followed for example for competition preparation over several weeks. Here's an example from our older Polar tests: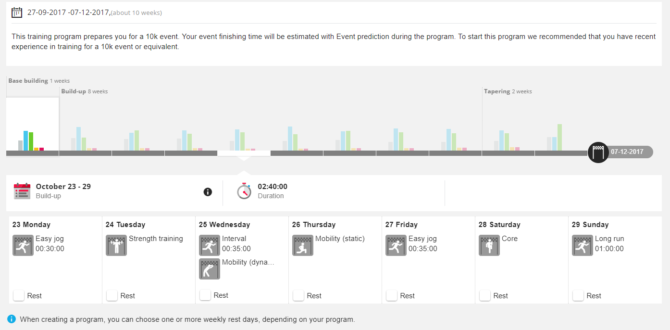 By pressing a button (right in the middle) which is specially designed for sports selection, you enter the sport mode and select your sport. There are dozens of sports profiles typically available for Polar. These include running, cycling, group training, walking, swimming, outdoor/indoor sports or yoga, which all calculate calories more precisely.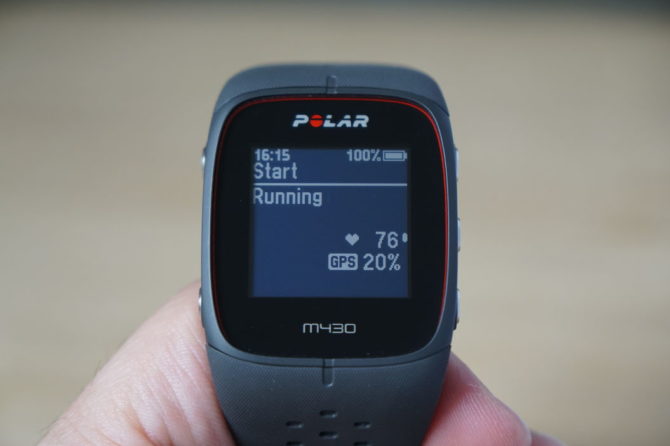 When you start running training, the Polar M430 automatically searches for a GPS and HR signal. This process usually takes only a few seconds.
Tip: If you have an HR-chest strap (e. g. the Polar H10,) it will be found automatically and can be coupled. The LED heart rate sensor will be deactivated in this case: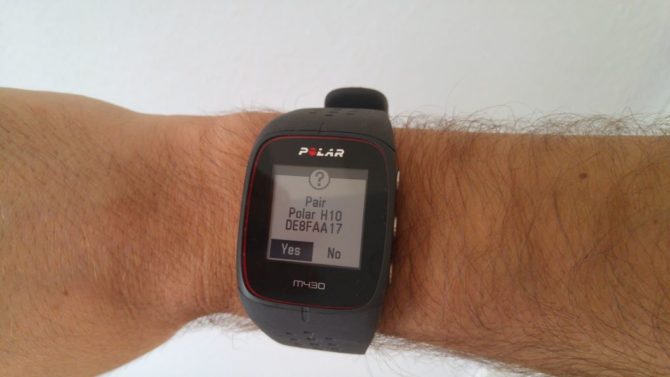 During the training you have the possibility to inform yourself about the training in detail by using the buttons.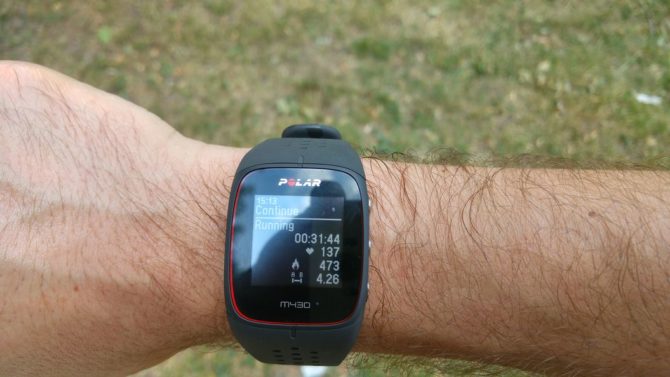 More pictures:
After training and synchronization, the data is available in the Polar Flow web service and in the app and can also be exported in CSV, TCX or GPX format: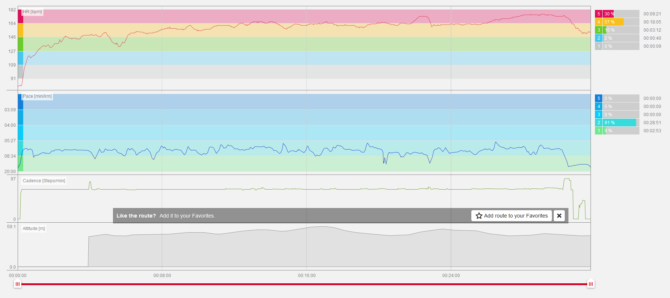 Heart Rate Accuracy
During the M430 test, Garmin's Fenix 5 was included in the test, which was coupled with Garmin's Premium HR Chest Strap. This allows us to measure whether the M430 heart rate monitor measures the heart rate accurately. If the measured values are superimposed on each other in time, the following picture emerges for the first run test:

The inaccuracy at the very beginning of the training is often typical for optical heart rate sensors. At about the 5th minute, however, another smaller inaccuracy is noticeable, which we did not expect there. Further running units are completed to check whether the M430 has not slipped. The following HR data show that, at least for regular running training sessions, very similar values have been measured overall:
Polar M430
Garmin Fenix 5 with HR-chest strap:
The graphic below shows another run. This time the M430 will face Polar's H10 chest strap and Polar's A370 fitness band:

Again, it's easy to see that the M430 and A370 take a little longer to keep up with the chest strap. If you know this, however, you can prepare the training accordingly in order to obtain as precise a data as possible. Further data:
Polar M430

Average: 164 bpm
Max.: 182

Polar H10 HR-Chest Strap:

Average: 165 bpm
Max.: 183

Polar A370

Average: 163 rpm
Max.: 182
GPS Accuracy
This is how the M430 total distance for the above running unit looks in the test: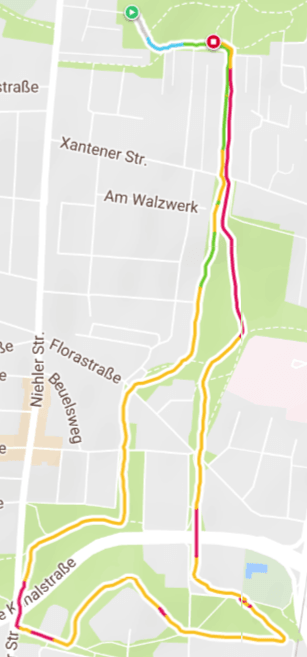 If you zoom in closer and compare the details of the GPS track with the track recorded by the Fenix 5, you will notice that some of the tracks are different: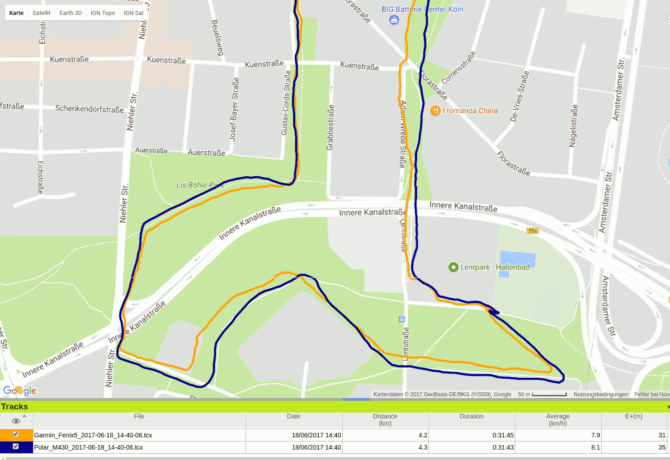 The M430's GPS receiver is considerably more accurate and often maps the running distance better by several meters. Both devices record in 1-second intervals and with the best possible GPS/GLONASS options.
Polar M430 – Swimming
We know that no swimming metrics are supported. When the swimming profile is activated, the heart rate sensor is activated. As an attentive reader told us, it is not possible to enter the pool length (e. g. 25 or 50m) in the course swimming mode. There is also no swimming stroke detection, no SWOLF and no distance measurement. That is, the M430 does not capture any metrics while swimming. Only the heart rate is measured.
It is doubtful whether the HR sensor provides plausible data during swimming. The results of our previous tests with devices of similar functionality in water are rather sobering. Even the Swimmo which is specializes in swimming usually delivered too low heart rate values.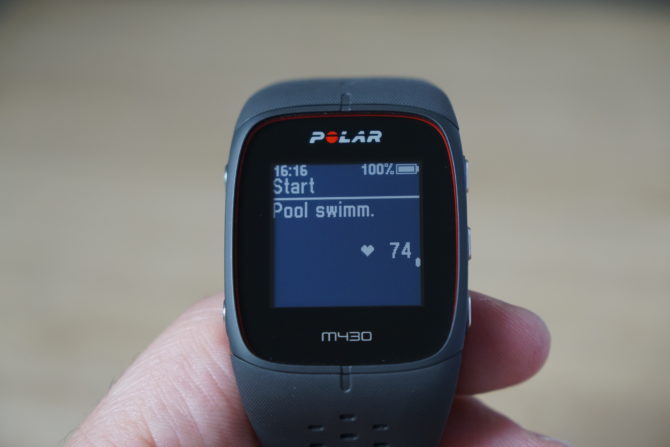 Activity Tracker – Daily Activities and Sleep
The M430 measures daily activity evaluations, such as steps, distance or sleep behavior, when worn permanently. However, a 24/7 heart rate measurement is not activated, which is currently only possible with the Polar Fitness Tracker A370.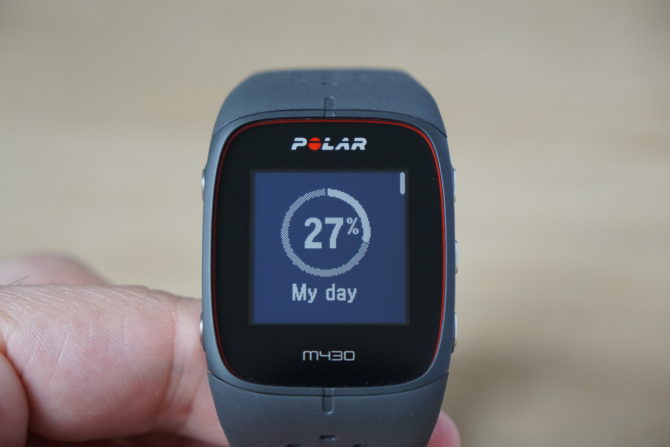 In Flow you can keeps track of all statistics and trends:
Polar's sleep tracking feature was rather sparse and lacking in detail on devices before the M430. This now changes with an improved sleep tracking algorithm that provides more information and better breakdowns. Here are some screenshots from Flow:
Trends are also apparent: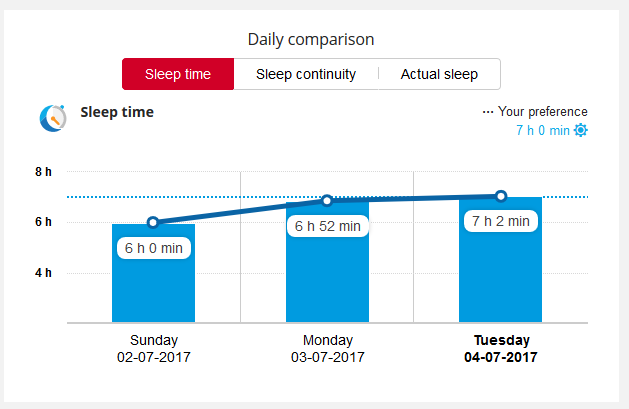 In the test, the M430 sometimes showed correct sleep times, sometimes wrong. If they were wrong, it was because the sleep time was not recognized correctly. On the picture above, Monday and Tuesday are quite close to reality, but on Wednesday the recording started too early (about 30 minutes).
24/7 Heart Rate Measurement
With firmware version 1.1.4, all owners of the Polar M430 are able to monitor their heart rate continuously throughout the day. The function is disabled by default, but can be activated in the M430's settings. The battery of the M430 will be discharged faster by the activation of course.
The highest and lowest HR values can then be displayed on the M430 and graphically in more detail in Flow. Further advantages are that the 24/7 HR measurement enables an even more precise calculation of the calorie consumption. In addition, overall activity over the day is better recorded because the body's response to the intensity of physical activity is taken into account. That is, how much the heart rate increases when you are physically active. All in all, it is easier to observe how the body reacts to certain activities and stressful situations.
How Often is the Heart Rate Recorded?
Polar states that an intelligent and adaptive algorithm is used to conserve the battery.
On the one hand, after activating the 24/7 heart rate measurement, the M430 records the HR at fixed intervals. Unfortunately, Polar does not disclose at what intervals. Typical are several minutes. If one of the intervals detects an increased heart rate, the sampling rate is also increased. This means that the heart rate is recorded at much shorter intervals. This option usually works in activities where the arms are not so strongly moved, but the heart has to pump more, such as cycling or pushing a baby carriage.
On the other hand, the acceleration sensor of the M430 is also evaluated, so that the heart rate is also scanned more often when there is more physical movement. For example, if you take a circular walk, the acceleration sensor detects this and the M430 increases the sampling rate.
By resting heart rate, the sampling rate is reduced to its initial state.
Polar M430 – Additional features
The fitness test is a five-minute process that measures aerobic fitness based on heart rate, pulse fluctuations and personal data. Regularly comparing test results can help to identify and improve progress in personal fitness.
Improvements in Polar Flow
Polar's App Flow has also been further improved. To set up the M430, there is no need for a cable and initial setup via PC/MAC. In Flow, the initial setup and all other possible M430 settings can be made intuitively. This also includes configurable data fields, which the M430 takes over after a short synchronization.
Many of Flow's improvements are already available in the latest version of the app and make it easier to configure existing Polar Tracker.
Polar M430 Buy and Availability
It is available in anthracite/white/orange or black for example here:
Check product page

Polar M430 Review – Conclusion
The Polar M430 test is still ongoing. All further details will be available soon on this page.
First impression: If you know the characteristics of the heart rate sensor, it delivers good values at least for running activities. The GPS receiver also records the distances very well. The workmanship also makes a very good impression. The display is always easy to read, except in dark environments. In this case, the backlighting of the display must be activated.
Further readings:
Polar A370: Polar activity tracker for sports and everyday use
Polar M600: Multisport Smartwatch based on Android Wear
Garmin Fenix 5: Multisport Smartwatch