With the Garmin Enduro, the multi-sport watch specialist has launched a new GPS watch. Besides high-quality materials, the manufacturer pays special attention to a long battery life that can last up to one year in watch mode and up to 300 hours in GPS mode.
Although the model also comes with a few new features, users ultimately pay for the unique selling point, which is practically only due to the outstanding battery life. With this, athletes can also track very long-lasting activities without fear of the device running out of power.
There are two variants to choose from at the start:
Variant 1: Stainless steel bezel for $799.99  (RRP)
Variant 2: Titanium bezel with DLC coating for $899.99 (RRP)
Garmin Enduro from $399.00
Bestsellers, deals, gift ideas*
Amazon.com Top-Deals
Venu
Garmin
from $235.00

Vivoactive 4
Garmin
from $199.99

Versa 2
Fitbit
from ---

Are you looking for a Christmas present? These are our suggestions:
Garmin GPS Devices and Smartwatches
Garmin Enduro: Highlights
Garmin announces the following highlights for the Enduro Classic: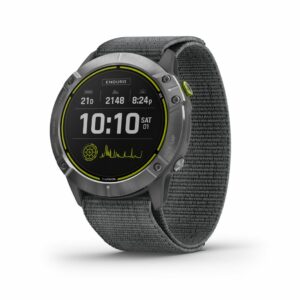 1.4 inch transflective MIP display (Memory in Pixel)
very long battery life up to 80 hours in GPS mode and up to one year in Battery Saver mode thanks to Power Glass with solar-powered lens and improved processor
enhanced ClimbPro function with real-time information about current and upcoming climbs and downhill
Trail-Run VO2max: determines VO2max taking into account the trail and heat and altitude acclimatization
Ultra Run App: timer logs time spent at aid station
breathable UltraFit nylon wristband
workout suggestions based on current training status
Improved recovery time: takes into account training, stress and more
Smart features like Garmin Pay and Smart Notifications
waterproof up to 100 meters (10 ATM)
The update histories for software updates (current and beta versions) of other high-end models (for example, Fenix 6, Forerunner 745 as well as 945) reveal that they will also receive some of the new features. For example, the new ClimbPro feature is already available on the FR745. Thus, the Enduro hardly offers any distinguishing features except for the very long battery runtimes.
Garmin Enduro
The Garmin Enduro is clearly aimed at endurance and outdoor athletes with the desire for a long-running, reliable and versatile companion on the wrist. At the same time, the model does not forgo advanced features like other models from the manufacturer.
It offers numerous and customizable sports features including heart rate monitoring, GPS/GLONASS/Galileo tracking, multisport modes, and Bluetooth and ANT+ to pair with almost any sports sensor imaginable. Among them HR chest straps and running and cycling sensors. The titanium version is 14 grams lighter than the stainless steel version, weighing 58 grams.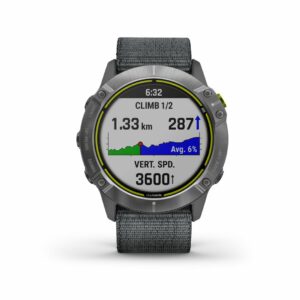 The size of the case and the display are practically identical to the Fenix 6X Pro. Thus, it will probably look conspicuously bulky on narrower wrists. Unfortunately, flatter variants are not available. However, there is once again an easy-to-use QuickFit mechanism for replacing the included breathable UltraFit nylon strap, as we know from the review. If you want, you can also use a leather strap.
Enduro: Battery runtimes, power manager, power glass
The battery life of Garmin's Enduro is considerable and practically the reason for purchase. Users can ideally achieve a maximum operating time of up to 1 year in watch mode and up to 300 hours in GPS mode, according to the manufacturer. In GPS expedition mode with a few, single track points per day, even 95 days are possible with solar charging (65 days without solar). These runtimes are actually only possible under very specific, external conditions as well as settings on the watch. Our experience from the tests let us hope that the values stated by the manufacturer are correct here as well, but of course they also depend on the personal usage behavior.
However, considerable battery runtimes are also achievable in normal use and will tempt one or the other to pay the called price. In watch mode, the watch is supposed to last 50 days (65 days with solar charging function) including all available features or up to 130 days (1 year with solar charging function) in energy-saving watch mode. In GPS mode, it is normally up to 70 hours (80 hours with solar charging function).
They are made possible by a power-saving processor, powerful battery and a technology called Power Glass, which houses a solar-powered lens. Users can configure the power consumption with the help of a power manager. The remaining expected battery life is shown on the display in real time.
The Power Glass is a transparent solar charging lens through which the watch absorbs sunlight and charges the battery while the watch is in use. This extends the battery life. However, a prerequisite for improved battery life is that the display is exposed to bright light sources. Ideally, sunlight, because the solar charging lens is optimized for the solar spectrum and charges the battery faster in this case.
In summary, the manufacturer's specifications for the possible battery runtimes look as follows:
Smartwatch Mode with fitness tracker functions and heart rate measurement at the wrist around the clock: up to 50 days/65 days with solar charging function at 50,000 lux
GPS Mode: Up to 70 hours/80 hours with solar charging function when worn all day for 3 hours/day outdoors at 50,000 lux
Maximum GPS Battery Mode:  Up to 200 hours/300 hours with solar charging function when worn all day for 3 hours/day outdoors at 50,000 lux
GPS Expedition Mode:  Up to 65 days/95 days with solar charging function at 50,000 lux
Energy saving watch mode: up to 130 days/365 days with solar charging function at 50,000 lux
Enduro von Garmin: Multi-sport
Garmin offers extended options for general workouts as well as multisport on its sports watches. This is also the case on the Enduro. However, the watch has an extended range of functions. It is one of the few sports watches on the market with an automatic multi-sport mode. A Vivoactive 4 or Venu, for example, do not have this feature. The automatic multisport mode allows multiple sports to be recorded seamlessly as one unit, which is especially interesting for triathletes.
However, the manufacturer also announces new features. These include a feature called Trail-Run VO2Max ➚. It tracks the fitness level under consideration of the trail conditions. The ClimbPro function, which has been known for a while, has been expanded. It now provides real-time information on current and upcoming climbs, including the percentage ascent, distance and altitude gained, as well as information for an optimal descent in trail running mode when downhill.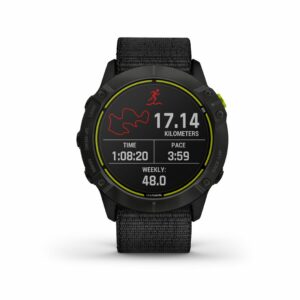 A brand new app is also included. The Ultra Run app allows you to record breaks at aid stations during the race via the LAP button and evaluate them afterward via Garmin Connect.
Is anything missing?
One imagines that the Enduro has at least all the features of the manufacturer's cheaper multisport models on board. Unfortunately, this is not the case. For example, the following features are not present, but a Fenix 6 Pro has them:
no pre-installed TopoActive maps
no pre-installed ski resort maps
no support for downloadable maps
PacePro/ClimbPro plans can be created on the watch, but only based on a route (which must be previously created, also possible on the watch)
no WLAN for synchronization with the app
no integrated music storage
Endurance: Conclusion
As already mentioned several times, the Enduro is a very exciting product exclusively for endurance athletes. It scores as a training tool with extremely long and configurable battery runtimes and provides a good overview of training and recovery. Moreover, it is also a very good companion in everyday life due to its smartwatch and activity tracker functions, and it can also identify health trends.
In any case, the model also promises promising future sports watches from the manufacturer, which should benefit from the new developments in terms of battery life and put an exclamation point on it.
Everyone else better take a look at a variant of the Fenix 6, which is also available with Solar and Powermanager. Its battery life is also excellent. We had it on test and put it under the microscope in detail. If you want to learn more about the features of the Enduro, you can take a look.
Enduro: Prices, sales launch, model variants
The Enduro is now available in two variants:
Variant 1: Stainless steel bezel and UltraFit nylon strap for $799.99 (RRP)
Variant 2: Titanium bezel with DLC coating for $899.99 (RRP)
Garmin Enduro from $399.00