The Garmin Forerunner 745 GPS triathlon watch looks quite similar to its predecessor but is hardly comparable with it. The manufacturer has given the new model under the hood a number of upgrades, especially for triathletes, which makes the decision for the newer model a no-brainer.
For users with ambitious sporting goals and the desire for in-depth performance analysis, it provides practically all important tools, as we will show in our review. Further contemporary features, as well as good battery life, round off the watch. It is now available from $499.99 (RRP).
Bestsellers, deals, gift ideas*
Amazon.com Top-Deals
Venu
Garmin
from $235.00

Vivoactive 4
Garmin
from $199.99

Versa 2
Fitbit
from ---

Are you looking for a Christmas present? These are our suggestions:
Garmin GPS Devices and Smartwatches
Garmin Forerunner 745: The Highlights
Garmin announced the following highlights for the Forerunner 745, which are also reasons to prefer this model over its predecessor, which now costs less than $230*:
GPS, GLONASS and additionally Galileo
Latest heart rate sensor version of the manufacturer (like FR245, FR945) and Pulse Ox
Detects laps while training on a running track via GPS
Display better protected with Corning Gorilla Glass DX
PacePro, training effect (aerobic, anaerobic), training status, training load, training load focus
Workout recommendations with ideal training load and recovery
Heart rate measurement underwater
Swimming profile not only for the pool but also for open water
not only VO2Max, but also VO2Max for altitude and heat acclimatization
Running Power (via external sensors)
Accident notification and emergency call function: if the watch detects a fall, it reports its location in real-time via the paired smartphone to stored emergency contacts
Garmin Music: integrated music storage and streaming services (including offline playlists from Spotify, Deezer and Amazon Music)
Barometric altimeter, ANT+, Bluetooth and additionally WLAN
Battery life up to 1 week (-3 days), GPS mode 16 hours (+2 hours), UltraTrac 21 hours (-3 hours)
Other little things like Garmin Pay
If a barometric altimeter is important to you, you should be happy, because this sensor, which was left out of the predecessor, is now available. The new model is also a bit narrower and lighter, so it fits more on smaller and normal wrists. On the other hand, the battery life has worsened a bit except for the GPS mode (now 16 hours, +2 hours).
A quick release mechanism for changing the silicone bracelets is unfortunately not available. Nevertheless, with the help of a pointed tool, they can be exchanged for new Forerunner and compatible QuickFit 22 wristbands. The charging cable is also very easy to handle and also fits newer models from the manufacturer, which is one of the few who even thinks about uniform charging interfaces.
Garmin FR745 $379.99
Garmin Forerunner 745
In this Garmin Forerunner 745 review, we will see that the watch is one of the most precise multisport watches. It is technically (same GPS chipset, new generation pulse sensor, etc.) comparable to the weaker equipped FR245, which also convinced us.
This model expands the wide range of models available, from entry-level (like the well-equipped Forerunner 45) to high-end (like the FR945). Ultimately, the official successor of the FR735XT is like a smaller FR945, but the latter offers pre-installed offline card material, golf functions and better battery life. Therefore, it is better suited for extensive outdoor activities, among others.
At a puny 47 grams in weight and with a sleek form factor, the watch can be worn 24/7 without any problems. This allows athletes to benefit from all available fitness functions, especially those who also do their work in the background at night, for example, in order to make statements on recovery by analyzing heart rate variability, resting pulse, sleep quality and breathing rate.
Of course, the watch offers practically all standard features of current models from the manufacturer. These include an automatic 24/7 activity tracker (heart rate, resting heart rate, steps, distance, sleep, etc.), water resistance to 5 ATM, smartphone notifications, control of the smartphone music player, body battery, and much more. Incoming calls can be answered via the watch, but the conversation is conducted via the smartphone.
Recorded data (sleep, heart rate, etc.) seem to be accurate and plausible from our point of view. So you can rely on the health trends, which can be seen right on the watch or more comprehensively and clearly in the Connect app or website.
Forerunner 745 without surprise on display
The display of the Forerunner 745 is comparable with current models from Garmin, except for the Venu, which offers a higher contrast and higher resolution AMOLED display comparable to Android, Apple, and Fitbit smartwatches.
The size of the display protected with Corning Gorilla Glass DX is 1.2″ (30.4 mm), the display resolution is 240×240 pixels. Thus, the display resolution increases compared to its predecessor (215×180 pixels), but it is minimally smaller (predecessor: 1.23″, 31.0 mm).
Overall, the characteristics of the transflective MIP display (memory in pixels) are identical to those of the FR245, which is one of the best running watches we have tested so far. In practice, this means very good readability, especially in outdoor use and in bright environments. In very dark environments, on the other hand, the integrated display lighting must be used to read the time, for example. This can also be done automatically, for example by moving the arm.
FR745: Training load and more at a glance
Those who have already come into contact with a Garmin Wearable will quickly get used to operating the Forerunner 745. But there are now some new features like a more compact display of the widgets. If previously only one widget fitted on one page, there are now three. The advantages: more information is visible at a glance, available faster and therefore less scrolling through the pages is necessary. A selected widget can still be opened individually and its extensive data displayed.
Navigating through the menus remains largely the same. The intuitive operation via 5 mechanical keys, which are more suitable for sports, is easy to learn, even for beginners. By pressing certain keys for longer periods of time, menus or helpful quick settings can be called up quickly. For example the "Do not disturb" mode, "Find my phone" or alarm clock.
On the start page (watch displays) the training load of the last 7 days is now also immediately visible (green crossbar and line below in the picture below). Athletes immediately see the effect of each of their activities as well as the total training load of the last week. Ideally, the bar should be green and the line should be within the green area that represents the optimal range. If the bar is within a blue bar on the left side (see pictures above), this indicates a low training load. On the far right is an indication that the training load is too high.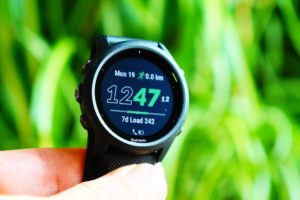 This allows athletes to decide more quickly whether they want a lighter, more intensive, or even further training. This metric is made up of various other metrics (such as excess post-exercise oxygen consumption (EPOC), heart rate, individual fitness level, last workouts, etc.) and is very meaningful.
All freedoms in sport mode
The Garmin FR745 offers athletes enormously versatile and individually configurable sports profiles. Profiles available on the watch are displayed via the upper right button. Using the app and directly on the watch, you can add more profiles, set favorites, and change their order.
Once an activity has been selected, the sensors in the background begin important work while users can make settings. Depending on the type of sport, the sensors scan for the pulse, search for a GPS signal, and available external sports sensors. Already known sensors are integrated automatically, new sensors after approval, for example a heart rate chest strap. ANT+ as well as Bluetooth sensors are supported. For indoor training, speed, distance, and step frequency are determined by means of the self-calibrating accelerometer.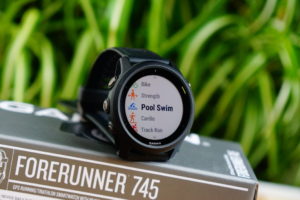 The settings options include alarms, training page configurations, lap options, training from the calendar, interval and other workouts, and many other settings. Distance/routes (or Strava routes) defined in Connect can be sent to the watch and selected before the activity. In this case, the ClimbPro option can also be used to better plan and monitor climbs.
Below is a selection of available data field layouts. In each of these fields (max. 6) various metrics can be stored. In our experience, 4 data fields per data page are still easy to read when running. Athletes with 5 or more data fields must be able to memorize the order of the selected data fields or have particularly good eyesight.
Additional data pages can be unlocked by activating options such as a map, virtual partner, compass, altimeter, control for the music player of the smartphone or even Running Dynamics. In combination with the Running Dynamics Pod or the new HR chest strap HRM-Pro, the watch can also record extended values such as ground contact time, vertical movement, or stride length.
Workouts can also be set up with event, area, and recurring alarms for each workout segment as well as for different distances, times, and calories. This way even the most individual goals can be pursued. As soon as one of the alarms is activated, the watch reports via vibration and visually on the display. Below is a small extract of available alarms:
Various heart rate alarms
Speed, time, distance, cadence, power alarms
User-defined alarms such as drinking, eating, turning around, going home
Select existing messages or create your own message
Approach, height
So if you would like to train at a certain cadence, you can do so. In Connect, athletes simply define a training goal with a specific cadence. Connect even supports them with helpful data, such as desirable stride rates. The watch then provides appropriate alarms (such as vibration alarms) during the training for control. Here is an example from our Fenix 6 review, which shows how the runner is pushed again and again towards the desired cadence.

Swimmers receive information about the distance, stroke rate, speed, or critical swim speed, among other things. Coupled with a watt-measuring pedal system, such as the Vector 3, the watch records data on left/right distribution, the time spent sitting and standing, and the force exerted on the wheel.
Once the activity is saved, the FR745 displays a summary of the unit, a graphical representation of the distance covered, records, recommended recovery times, and much more. Estimated recovery time and Training Effect are also displayed directly on the watch. The Training Effect estimates the effect of activities on aerobic and anaerobic fitness and allows better training control. The best and most comprehensive overview is available in the app or in the browser.
New pulse sensor with Pulse Ox
The Forerunner 745 is equipped with the manufacturer's latest generation of sensors called Elevate V3 for pulse measurement. Also, the premium watch MARQ or the FR245 has it. It also contains a part called Pulse Ox, which has LEDs for red light and can therefore function as a pulse oximeter for estimating the oxygen saturation (SpO2) in the blood. Red light is more suitable for measuring oxygen saturation than green light. Pulse Ox is intended for use in the following scenarios:
during high-altitude activities see how the body adapts to high altitudes. The measurement is triggered manually. For a good measurement, users should not move for about 15 to 30 seconds.
detect possible sleep problems (such as sleep apnea) during sleep. However, the validity of the night-time measurement is rather doubtful, as users move during sleep and the watch is therefore not always reliably in an optimal position on the wrist. This option must be activated in the settings and is then active 24/7 or only during sleep, depending on your choice. However, the battery is then also more quickly empty.
The pulse sensor records the pulse throughout the day. This makes it easy to detect longer-term trends, especially regarding resting pulse. This can be an important indicator of sporting development or a developing cold:
During our FR745 tests, we also used our Polar H10 HR chest strap, which is often used as a reference instrument due to its accuracy. With it, we can check how accurate the sensor of the FR745 measures. For the most part, we see good measurements during running activities with few changes of pace. Below is an example of a 40-minute running unit in which an attempt is made to stay in an HR zone. This kind of training is possible with the sensor of the watch:

Garmin FR745: HR-measurement accuracy 

| | | |
| --- | --- | --- |
| | Garmin FR745 | Polar H10 |
| HR Average (S/min) | 154 | 153 |
| HR Max. (S/min) | 170 | 170 |
Measurements of more intensive activities are still pending and will be submitted at this point.
However, athletes should, if possible, measure themselves with an HR chest strap and know that the results may vary from one individual to another. This can be related to many parameters. Such as skin color, tattoos, environment and temperature, and more. We have a suitable article for this: FAQ on optical pulse measurement. Anyway, the use of an HR chest strap is advisable for intensive units, even though optical pulse sensors are getting better and better and can also record intensive interval training well. This can be read in our Fenix 6 review.
FR745: GPS Accuracy
To estimate the GPS accuracy, we look at practical scenarios in the Garmin FR745 review (e.g. running parts of the Cologne Marathon) and see what comes out at the end. First of all: first recordings of the Sony GPS set look very good and promise that metrics based on GPS are therefore also accurate. In the courses, we run under trees, in parks, under and over bridges, and so on. As satellite systems, we have chosen "GPS + GLONASS", which is also the default setting. Other variants like "GPS + GALILEO" are also possible. An UltraTrac mode for very long-distance recordings is also available, but then of course with fewer measuring points: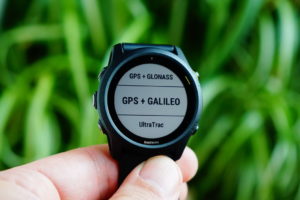 Tip: If you want to achieve more accurate recordings, you should first set the recording interval to 1 second in the system settings. There the option Smart Recording is preset, which records tracks with less battery consumption, but less accuracy. Users should be aware that the 1-second recording interval only affects the data to be recorded and has no effect on actual metrics. Ultimately, this means that the file in the memory of the watch containing the distance will be larger, have more measuring points, and therefore better represent the distance.
It is quite obvious how clean the GPS receiver maps the route under different conditions. That this one did not just have a good day, we check with a second run on another day with similar weather conditions, so that the reproducibility of the quality becomes visible (the picture on the right in each case).
At the following location, for example, many other GPS watches for the outward and return journey of the activity often provide different measuring points over a distance of several meters, so that two widely separated lines are visible. This is usually not a problem, but the FR745 is simply better here. The way there and back are practically on top of each other and can hardly be distinguished (marked yellow):
The following screenshot also shows off the precision. Even small detours are reproduced cleanly (lower yellow marker: change to a narrow path between roads):
And yet another example that bridges, underpasses, and abrupt changes of direction are also correctly recorded and even trees do not disturb the recording:
Training suggestions and structured help for competition preparation
The Forerunner 745 triathlon watch is especially interesting for athletes who are seriously preparing for a competition or want to follow a training plan (self-created or predefined). More than 40 sport profiles, important metrics like the VO2Max, and the newly added features like training load, training, and performance status as well as aerobic and anaerobic training effect help to increase and maintain your own fitness. Also a helpful running time prediction and of course a real multisport mode (see next subchapter) are included.
In order to maintain the balance between training and recovery, the watch now also makes various training suggestions for running and cycling based on training load and condition as well as VO2max on a daily basis as soon as the user starts the respective profile.
Athletes can of course ignore the training suggestion or view details and accept and implement the suggestion:
The training suggestion is a dynamic feature that adapts individually to changes in training habits, recovery time, and VO2max. Thus, she correctly noticed in our test a one-sided training in the last few days and also submitted more intensive activities:
A training suggestion can also be to take a break from training if you have exercised too much recently.
A PacePro training is also possible. This allows you to create user-defined goals based on distance and pace or distance and time. It also allows taking into account differences in altitude for known distances to optimize the pace effort. For example, you can enter a target time and the watch calculates the pace that must be maintained to reach this target time. The course can also be split so that athletes can run a part slower and a part faster. Competition goals can be trained so well.
Flexible Multisport mode

The FR745 from Garmin can be customized to suit the individual's taste. The triathlon mode is not limited to the classic sports of running, cycling, and swimming.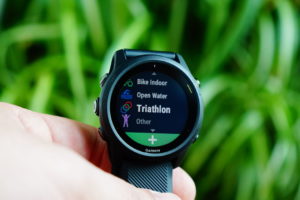 The individual modes can be configured as required with all available sport profiles, so we can talk about a flexible multi-sport mode.
Changing to the next sport is very easy. After the start, the lower right button is pressed. Whether the change time between activities should be recorded separately from the activity times can also be set via a setting option. During the activities, the total time and distance can always be displayed.
After the last activity and the last keystroke, the multisport mode is automatically terminated and all activities are stored as one coherent unit.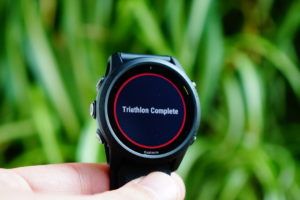 Menstrual cycle tracking as with Fitbit
For women, the Forerunner 745 brings a special extra as with almost all newer models. Like Fitbit's Tracker, the Tracker helps you better understand each phase of your cycle and also provides period reminders and cycle details. The app also provides helpful tips on nutrition and training that are appropriate for the current phase of the cycle.
Forerunner 745 or 945? Or is it a FR735XT or FR645?
If the decision for a certain Forerunner model is difficult, the following Garmin Forerunner 745 vs 945 vs FR735XT vs FR645 comparison helps:
Tip for table control: mobile device: wipe, desktop: left mouse click anywhere in table, then use left/right keys of keyboard
Garmin Forerunner 745 vs 945 vs 645 vs 735XT
FR 645 MUSIC
FR 735XT
FR 745
FR 945
Dimensions
4,25 x 4,25 x 1,35 cm
4,45 x 4,45 x 1,19 cm
4,38 x 4,38 x 1,33 cm
4,7 x 4,7 x 1,37 cm
Case material
Fiber-reinforced polymer
Fiber-reinforced polymer
Fiber-reinforced polymer
Fiber-reinforced polymer
Weight (gram)
42,2 g
40,2 g
47 g
50 g
Lens material
Corning Gorilla Glass 3
Chemically strengthened glass
Corning Gorilla Glass DX
Corning Gorilla Glass DX
Display type
LCD Color
Transflective MIP
Transflective MIP
Transflective MIP
Display size
3,0 cm (1,2")
3,1 cm (1,23")
3,04 cm (1,2")
3,04 cm (1,2")
Satellite Network
GPS | GLONASS
GPS | GLONASS
GPS | GLONASS | Galileo
GPS | GLONASS | Galileo
24/7 heart rate monitor
●
●
●
●
Heart rate monitor under water
○
○
●
●
Pulse Ox
○
○
●
●
Triathlon Mode
○
●
●
●
Pool | Open water
● | ○
● | ○
● | ●
● | ●
Preinstalled maps
○
○
○
●
Training effect (aerob)
●
●
●
●
Training effect (anaerobic)
●
○
●
●
Primary benefit
●
○
●
●
Training load
●
○
●
●
VO2Max
●
●
●
●
Heat and altitude acclimation
○
○
●
●
Workout suggestions
○
○
●
●
Recovery time
○
○
●
●
Efficiency values Running| Cycling
| Swimming
● | ○ | ○
● | ● | ●
● | ● | ●
● | ● | ●
Garmin Music | Garmin Pay
● | ●
○ | ○
● | ●
● | ●
Barometric Altimeter
●
○
●
●
Race predictor
●
●
●
●
Incident Detection during select activities | Assistance
● | ●
○ | ○
● | ●
● | ●
Compatibility
ANT+ | Bluetooth | WLAN
ANT+ | Bluetooth
ANT+ | Bluetooth | WLAN
ANT+ | Bluetooth | WLAN
Waterproof
IPX7
IPX7
IPX7
IPX7
Battery life
- Smartwatch mode
- GPS mode with music
- GPS mode without music
- UltraTrac™ mode
Up to 7 days
Up to 5 hours
Up to 12 hours
-
Up to 11 days
-
Up to 14 hours
Up to 24 hours
Up to 1 week
Up to 6 hours
Up to 16 hours
Up to 21 hours
Up to 2 weeks
Up to 10 hours
Up to 36 hours
Up to 60 hours
RRP price
$449.99
$349.99
$499,99
$599.99
Garmin Forerunner 745 Review: Conclusion
In the Forerunner 745 review, Garmin's multisport watch convinced us on many levels. It comes with numerous tools that make it easier to plan training and prepare for competitions. There are no workarounds or other efforts necessary to train in a structured way at will. The GPS receiver especially impresses with its precision as we have seen it in hardly any other sports watch so far.
At the same time, it is very light and comfortable to wear and the battery life is also okay. However, if you need a better battery or even offline maps, you will have to go for the FR945 or the heavier Fenix 6. Golfers will also have to look at them sooner as the FR745 does not support golf functions. Otherwise, the features are practically identical.
The proclaimed RRP price does not exactly invite for fast access, however, well… it is really good. For the future, we would like to see Garmin make the settings options for the sport profiles configurable via the app, because with the variety of settings, it can be a bit tedious at the beginning to navigate through the buttons of the watch and keep track of everything.
Forerunner 745: Start of sale, price, buy option
The RRP price of the Garmin Forerunner 745 starts at $499.99. The triathlon watch is available now, for example here:
Garmin FR745 $379.99