The Withings ScanWatch focuses heavily on health tracking. The special thing about it is the combination of an elegant design, a clinically tested ECG function with a CE certificate, sleep apnea detection, and simple Smartwatch functions, along with an impressive battery life of approximately 30 days. Depending on the size, it starts from 279.95 EUR.
All details about these features and what clinically tested means exactly, we shall explain further below. We find the specs of this fitness watch so exciting that we will now take a closer look at them in this Withings ScanWatch review.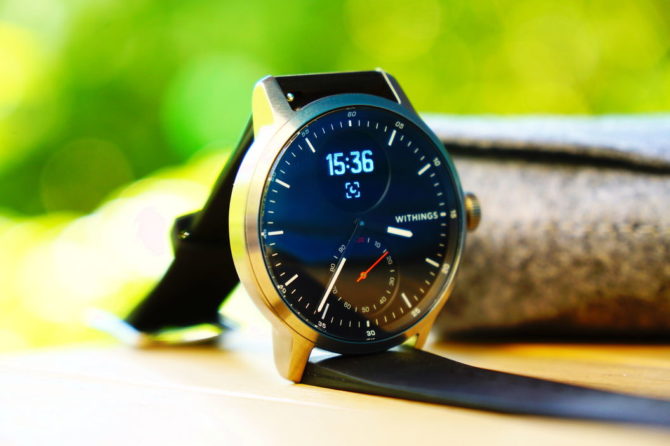 Bestsellers, deals, gift ideas*
Amazon.com Top-Deals
Venu
Garmin
from $216.00

Vivoactive 4
Garmin
from $249.99

Versa 2
Fitbit
from ---

Are you looking for a Christmas present? These are our suggestions:
Garmin GPS Devices and Smartwatches
Withings ScanWatch: Highlights
Withings announces the following highlights for ScanWatch:
HR measurement via the wrist, detection of atypical heart rate (too high, too low, or irregular heartbeat)
24×7 activity tracker, Smart Wake-up
Over 30 sports profiles such as running and cycling
CE-certified electrocardiogram within 30 seconds, indications of atrial fibrillation, sleep apnea
Measurement/estimation of oxygen saturation
Detailed sleep recording with data on time to fall asleep, sleep duration, sleep phases (light and deep sleep phases), REM sleep, sleep interruptions
Automatic recognition of certain activities (e.g. cycling)
Altimeter, Connected GPS via smartphone, smartphone notifications
All model variants equipped with sapphire glass, integrated PMoled display
Waterproof to 50 meters, 30 days battery life
| | | |
| --- | --- | --- |
| | Withings Scanwatch* | |
Withings ScanWatch
In the Withings ScanWatch review, the high-quality packaging as well as the high-quality workmanship of the watch itself immediately stands out. Nothing reminds one of plastic or other inferior materials. The silicone strap is comfortable and soft and can be exchanged for a leather strap, for example, to give the watch the finishing touch. However, the silicone watch band is more suitable for sports activities because it is very easy to care for.
During the initial setup via Bluetooth using the smartphone (in our case an iPhone 8 Plus) and an installed Withings Health app, the watch and app are very communicative and informative. Every step is presented in detail, yet simple enough to understand so that users can get a good grasp of everything. In some cases, videos are also shown. Here, functions such as ECG and SpO2 measurements are explained and directly activated. Some users on the Internet report about double or missing menu entries on the watch, but we cannot trace and confirm them. Everything works and looks as described by the manufacturer. During setup, the device automatically downloads the latest software version (1471 for us). The synchronization with the app is always reliable and takes place within a few seconds.
In addition to the time via an analog clock, the latest model from Withings communicates various other data via a small, digital PMOLED display. This includes, for example, heart rate, daily steps, daily distance, daily calories burned, oxygen content, alarm settings, or remaining battery life. Because the watch does not have a large digital display, among other things, it lasts for a full 30 days before it needs to be charged via the magnetic battery charger.
The display also shows an ongoing ECG recording as well as incoming calls and smartphone notifications from apps and the calendar. The displays can be activated/deactivated via the app and moved in sequence. In sport mode during training, the display also shows a timer and the current heart rate.
"ScanWatch was specifically designed to detect atrial fibrillation and sleep apnea at an early stage – two related problems that occur extremely frequently but remain largely undiagnosed despite their known effects on various diseases. ScanWatch is in operation day and night and provides an early warning system that collects critical health data and can share it with users and, if desired, their physicians." (Mathieu Letombe, CEO Von Withings)
The device also automatically detects certain activities, for example, it easily recognized two short bike rides (15 and 16 minutes) and automatically entered them into the app including calories burned. The sleep tracker also seems to be very good and can distinguish real sleep from fake sleep (e.g. not being able to fall asleep in bed for a long time). Sleep and wake-up times have been recorded very accurately up to now, even for sleepless nights with sleep times deep in the night.
All data can be viewed via the well-designed Health Mate app or in the browser. There, owners receive a complete list of all data, also from other products of the manufacturer, such as a fitness scale.
ScanWatch ECG to detect atrial fibrillation
One of the outstanding features of ScanWatch is the integrated ECG function. The 1-channel ECG is performed similarly to other fitness watches with ECG via 3 electrodes (e.g. on the bezel) within 30 seconds. The ECG should provide evidence of atrial fibrillation and thus save lives. Atrial fibrillation is an abnormal heart rhythm and an indicator of a possible stroke. According to the manufacturer, these or other watches do not recognize other heart diseases such as a heart attack.
An ECG can be taken at any time. However, the model can also proactively prompt a measurement, as a kind of early warning function. This is because it measures heart rate variability 24×7 and informs the owner in case of irregularities.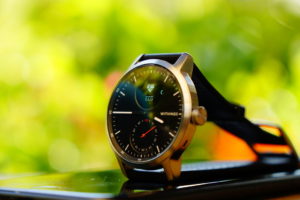 Withings points out that the watch does not continuously look for signs of atrial fibrillation. This is due to the fact that the watch records heart rate throughout the day, but using a dynamic algorithm. For example, it measures when you are motionless and at regular intervals when you are in motion. Since the fitness watch takes these background measurements based on activity, the time between these measurements varies.
After an ECG recording, the data is automatically available in the Health Mate App. The app shows whether the heart is beating regularly or whether there are possible indications of atrial fibrillation. In addition, a PDF can be generated that can be forwarded to medical specialists: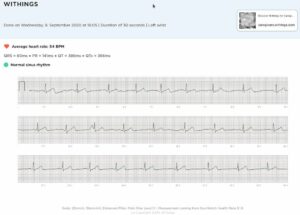 Clinically tested: What does that mean exactly?
Withings indicates that the ECG recorded with a ScanWatch is clinically tested. The manufacturer has announced that most of the clinical trials have been completed and the important CE medical certification has been secured (more details in the link in the section availability).
"Most clinical studies have been successfully completed. A first study confirmed that ScanWatch is able to detect atrial fibrillation by means of ECG recording or an optical sensor (PPG). In a further study it was validated that ScanWatch is able to record a medical quality SpO2 measurement. The third study on sleep apnea detection was suspended during the health crisis and has now been resumed… A few days ago we received the medical CE certification, which allows us to launch ScanWatch in Europe". (Mathieu Letombe, CEO Von Withings)
The similar watch Withings Move ECG also has an ECG function. This has received the CE mark in accordance with the Medical Device Directive 93/42/EEC. The ECG function was also validated in a clinical study with 137 participants by comparing the measurements with a 12-channel ECG. According to the manufacturer, 54 patients showed a normal sinus rhythm. Move ECG correctly recorded 53 of these patients with a specificity of Sp = 98.1%. 57 patients showed atrial fibrillation. Move ECG correctly detected 56 of these patients with a sensitivity of Se = 98.2%.
Caution with pacemakers?
Withings does not recommend using ScanWatch when wearing a pacemaker or other internal medical device. This is because the watch emits a small electrical signal into the body to record the electrocardiogram (ECG). This can interfere with a pacemaker.
SpO2 and sleep apnea
Another unique feature of Withings ScanWatch is a built-in pulse oximeter (SpO2), as found in some models of Fitbit and Garmin. It enables the watch to provide indications of sleep apnea. One speaks of sleep apnea if one has frequent breathing disorders during sleep. These can have considerable effects on the cardiovascular system, metabolism, and general performance of those affected, such as heart attacks, short-term memory problems, learning difficulties, lack of concentration, reduced attention, and more.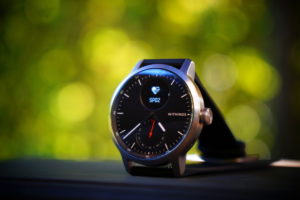 However, the manufacturer announcesd that the sleep apnea feature, whose clinical validation has been delayed due to the corona pandemic, will receive a software update by the end of the year. Currently, the watch indicates respiratory disorders during sleep.
Differences to other Withings watches
The ScanWatch offers advanced health features not found in other models from the manufacturer. All Withings watches, including Move, seamlessly track daily activities (such as steps, calories) and sleep. In addition to these basic functions, Move ECG offers the ability to generate an ECG. Withings Steel HR has an integrated OLED display and a sensor to measure heart rate via the wrist.
The new ECG watch is most similar to the Steel HR. Compared to the latter, however, changes in the design are noticeable. The two available models are wider and the bezel is now narrower, which makes it look even more elegant as we find.
It's not immediately obvious on the pictures, but the integrated display of the ScanWatch has also been upgraded with the help of a PMOLED display. Compared to the OLED display of the Steel HR this one has a higher resolution and should offer better readability.
In addition, the new model can also estimate oxygen levels, detect sleep apnea, and generate an ECG within 30 seconds.
ScanWatch: prices, sales start, model variants
ScanWatch has been announced for Europe and the United States for the 2nd quarter of 2020. The watch will be available for sale soon .
As the manufacturer further states, there has also been some movement regarding the medical CE certification, so that nothing now stands in the way of a smooth market launch. Different versions and case diameters are being marketed, which also take wrist size into account (38mm or 42mm).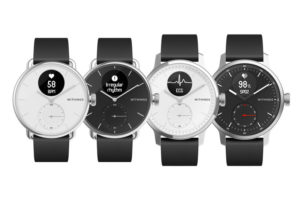 Here, for example, you can check the availability:
| | | |
| --- | --- | --- |
| | Withings Scanwatch* | |
Withings ScanWatch Review
This Withings ScanWatch review has just started. In the coming weeks and months, we will now take a closer look at this exciting ECG fitness watch. We hope that it will convince us as well as the Withings Steel HR. This one also contains a lot of technology and battery in an elegant case.