We hope you are looking forward to the Garmin Venu Review [update: now available] as it will gradually reveal the strengths and weaknesses of the first Garmin sports watch with AMOLED display. AMOLED displays are on many Android smartwatches and even the very affordable Xiaomi MI Band 4 fitness band. They are high-resolution and have rich colors, however, it is precisely that which leads to weak battery life of about 1 to 3 days in Smartwatches, if you want to use all functions regularly. Garmin promises 5 days without compromise. That is, all Smartwatch functions, regular training and Garmin's well-known sports functions included.
So far, Garmin has relied on transflective MIP (Memory in Pixel) displays that are permanently turned on and have excellent readability in almost any environment. Whether Garmin's new display is also easy to read, especially during sports, will be demonstrated in the next few days by our Venu review and field report.
Bestsellers, deals, gift ideas*
Amazon.com Top-Deals
Venu
Garmin
from $216.00

Vivoactive 4
Garmin
from $249.99

Versa 2
Fitbit
from ---

Are you looking for a Christmas present? These are our suggestions:
Garmin GPS Devices and Smartwatches
Garmin Venu: The Highlights
Display
The Garmin Venu does not bring any new innovative fitness features. It's only the display that distinguishes it from other Garmin sports watches like the Vivoactive 3, Vivoactive 4 or Fenix 6 that brings it closer to Android/Apple or Fitbit smartwatches. Like the TicWatch C2, Apple Watch 3/4 or Fitbit Versa. Garmin themselves classify the Venu as GPS Smartwatch.
The fitness features are state-of-the-art and virtually identical to those of the new Garmin Vivoactive 4, so you don't have to worry about compromising with the Venu from a sporting point of view. Ultimately, it is like a Vivoactive with a different display and the resulting additional features. These include high-resolution and high-performance animation displays or animated watchfaces.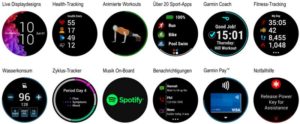 On the other hand, the AMOLED display in the open air/under very bright conditions might be less readable because it is more reflective. We will take a closer look at this aspect in the Garmin Venu review, because we often had to experience with smartwatches with (AM)OLED/LCD displays that data was difficult or impossible to read during outdoor sports. In environments like gyms, we don't worry about good readability. This is where AMOLED displays can clearly show their strengths compared to other displays.
A transflective MIP display (memory in pixels) is not as high-resolution and the colors are not as rich as with an AMOLED display, but it is permanently switched on (always-on display) and outdoors and even in direct sunlight very reliable and easy to read. Here is an example of a Vivoactive 3 that is easy to read even in direct sunlight: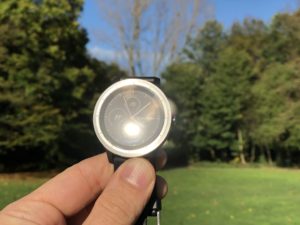 So if you want such good readability for bright environments, take a look at other Garmin sports watches. With the Garmin Venu we don't expect a better readability outdoors compared to other Garmin watches, but we'll see…
Features
The battery life doesn't quite come close to comparable current Garmin models with transreflective displays, but it clearly trumps most Android and Apple smartwatches by a few days. It can be assumed that if unused functions are deactivated, the battery life can be noticeably increased.
The sporting and other highlights include:
GPS, GLONASS, Galileo
Garmin Elevate technology for wrist heart rate measurement
Barometric altimeter, compass, gyroscope, accelerometer, thermometer, pulse oximeter acclimatization
2 buttons on the right side of the housing
Waterproof up to 5 ATM (suitable for swimming)
Heart rate measurement during swimming
Fitness and health tracking (Pulse Ox, Body Battery, breathing rate, Relax Alarm, water consumption, menstrual cycle tracking)
More than 40 animated workouts directly on the watch for easy imitation
Over 20 pre-installed sports apps such as running, swimming including the new Yoga 2.0 and Pilates
Workouts and training plans as well as individual running plans downloadable to the watch
Integrated music memory (approx. 500 tracks) for playback via directly connectable Bluetooth headphones (smartphone can stay at home)
Music Streaming: Amazon Music, Deezer, iHeartRadio and Spotify
Automatic accident/emergency notification during certain activities
display characteristics

1,2″ AMOLED display with a resolution of 390 x 390 pixels
Option to keep the display permanently on (always-on display)
Watch glass from Corning Gorilla Glass 3

Battery life Examples

Smartwatch mode: Up to 5 days with fitness tracker functions and wrist heart rate measurement around the clock
GPS mode: up to 20 hours
GPS mode with music: Up to 6 hours

Garmin Pay function for cashless payments (with partners Boon, VIMpay & Mastercard)
Colours: Black with gold, sand with rose gold, granite blue with silver and black with slate.
20mm Standard Quick Release Bands. So any standard bands can be attached.
Compared to Vivoactive 3 and its music version Vivoactive 3 Music, some new features have been added. Venu is no longer a music version, all important functions are now under one hood.
Garmin Venu or Vivoactive 4
Most features are shared by the new Garmin Vivoactive 4 and Garmin Venu models, as the hardware in the case is identical. But what are the main differences? This is illustrated by the following comparison between Vivoactive 4, Vivoactive 4 S and Garmin Venu.
Garmin Vivoactive 4 vs Vivoactive 4 vs Venu

| FEATURES | VIVOACTIVE 4 S | VIVOACTIVE 4 | VENU |
| --- | --- | --- | --- |
| Dimensions (mm) | 40 x 40 x 12,7 | 45,1 x 45,1 x 12,8 | 43 x 43 x 12 |
| Product weight (gram) | 40 | 50 | 46,3 |
| Housing material | Polymer | Polymer | Polymer |
| Bezel material | Stainless steel | Stainless steel | Stainless steel |
| Band type (web width) | Quick Change (18 mm) | Quick Change (22 mm) | Quick Change (20 mm) |
| Display material | Gorilla Glass | Gorilla Glass | Gorilla Glass |
| Display type | MIP color touch display | MIP color touch display | AMOLED color touch display |
| Display size | 27,9 mm (1,1″) Diameter | 33 mm (1,3″) Diameter | 30,4 mm (1,2″) Diameter |
| GPS | GLONASS | Galileo | Connected GPS | ● | ● | ● | ○ | ● | ● | ● | ○ | ● | ● | ● | ○ |
| Bluetooth | ANT+ | WLAN | ● | ● | ● | ● | ● | ● | ● | ● | ● |
| Barometer | Compass | Gyroscope | ● | ● | ● | ● | ● | ● | ● | ● | ● |
| Acceleration sensor | Thermometer | Brightness sensor | ● | ● | ○ | ● | ● | ○ | ● | ● | ○ |
| Integrated memory | 4 GB | 4 GB | 4 GB |
| Battery life | with GPS | up to 7d | up to 13h | up to 8d | up to 15h | up to 5d | up to 20h |
| Water resistance | up to 50 m (5 ATM) | up to 50 m (5 ATM) | up to 50 m (5 ATM) |
Garmin Venu Review
These were some important information about the Garmin Venu. In the next days and weeks practical measurement results will be added. We will extend this article to a Garmin Venu practice review as soon as we have a review device at our disposal… [update: available here: Garmin Venu Review]
Venu: Prices and purchase option
Venu $216.00