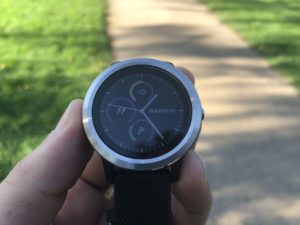 In this Garmin Vivoactive 3 review we take a closer look at the successor of the popular GPS Multi-sport Smartwatch Vivoactive HR. It was presented at the IFA 2017.
New features include the side-mounted Side Swipe touchpad for even more user-friendliness and faster navigation through the menu. Also new is an integrated NFC chip, which in the future will enable direct payment on the move with Garmin Pay ready.
Garmin Vivoactive 3 Review
Part 1: Overview, Processing, Display, Comparison with similar trackers
Garmin Vivoactive 3 Review – Summary
The Garmin Vivoactive 3 is especially suitable for sports enthusiasts who want a sporty all-rounder and attach great importance to versatility, smart functions and a good fitness platform and app. If you can't do without high-quality materials and outdoor suitability, take a look at the Garmin Fenix 5. In the competition, you can also take a look at the Fitbit Ionic, Apple Watch 3 or even the Polar M430 if you like to run.
Suitable for self-optimizers
Allrounder with versatile applications and sports profiles
Comfortable, smart, daily companion
Intuitive & simple operation
Sophisticated and powerful App & Fitness platform for the browser
Display difficult to read in very dark environments without activated display lighting
Market launch at a high price
Preparations for the Garmin Vivoactive 3 review: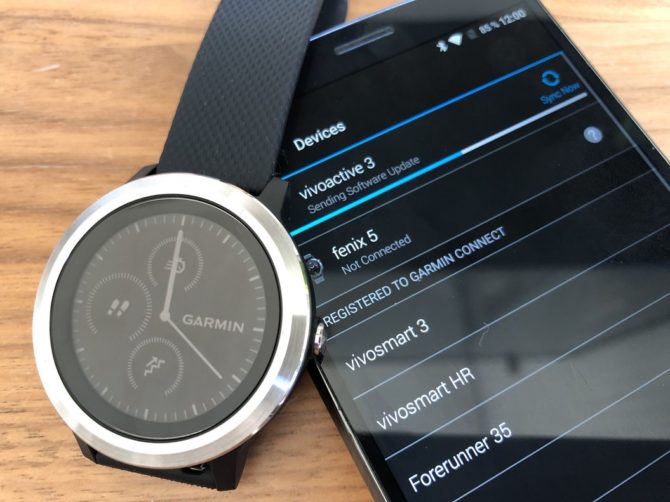 Vivoactive 3 at a Glance
Garmin has announced the following technical details and features:
GPS-Multisport-Smartwatch with Mobile Payment and HR-measurement at the wrist
Side Swipe touchpad for more ease of use and fast menu control
Over 15 pre-installed sports apps such as yoga, running, swimming, SUP and more
Create and download your own workouts
Fitness level measurement with VO2max and fitness age, as well as 24/7 stress level measurement
Connected features such as Smart Notifications, LiveTrack, music control and more
Garmin Pay ready for future contactless payment on the go, directly via the clocks (enabled by FitPay)
Customizable with thousands of free designs, apps and widgets from the Connect IQ Store
Battery life of up to 8 days or up to 13 hours with GPS
Smart features include smartphone notifications such as WhatsApp, SMS, mails, appointments, social media news, weather information and other notifications. In addition, Find my Phone allows you to find your Bluetooth-connected smartphone. As with the predecessor, you can also remotely control the music player on your smartphone.
Garmin Pay ready is a completely new feature that should enable direct payment on the go. Garmin has donated an NFC chip to the wearable.
Outer appearance
Design based on Fenix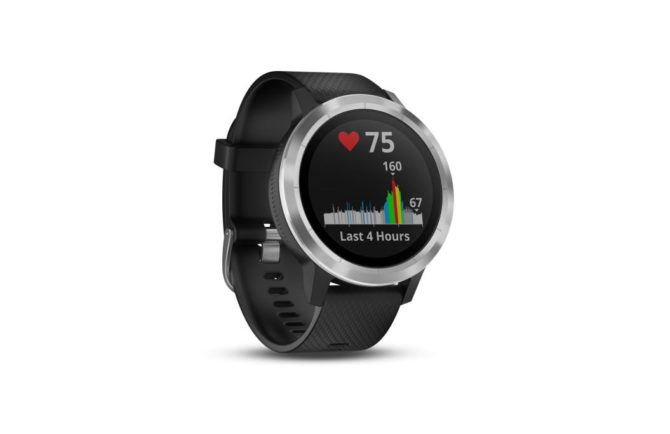 The Vivoactive 3 has changed considerably compared to its predecessor. Most sports fans will probably rather like the new design, at least we do. In addition to technical changes, the appearance has also been refined. The heavily modified design is no longer angular like its predecessor, but is based on the round design of the Fenix Multi-sport series.
All in all, the Vivoactive 3 should therefore be better off, because in our opinion a round design of the fitness watch looks much better and compared to its predecessor, it is easier to be shown in the public.
The menus are now similar to the Fenix model range, except that the Vivoactive 3 is operated with touch and wipe gestures. The Fenix 5 has no touch display, so that the operation is carried out exclusively via its five keys.
Case
In general, the Vivoactive 3 is well manufactured. This applies to both the case and the display as well as the replaceable silicone strap. However, if you had a Garmin Fenix in your hands, you will immediately notice a difference in the haptic perception. Because the Vivoactive 3 is considerably lighter and feels a bit more plastic. After all, the bezel, parts of the back of the case and the lock are made of steel.
Band
The silicone band makes a pleasant impression, because it is soft and cuddly. The wearing comfort is very good. It can also be replaced with another 20mm standard band. This allows the look of the watch to be adapted to suit your own needs.
The locking mechanism is similar to a classic watch, which simplifies handling.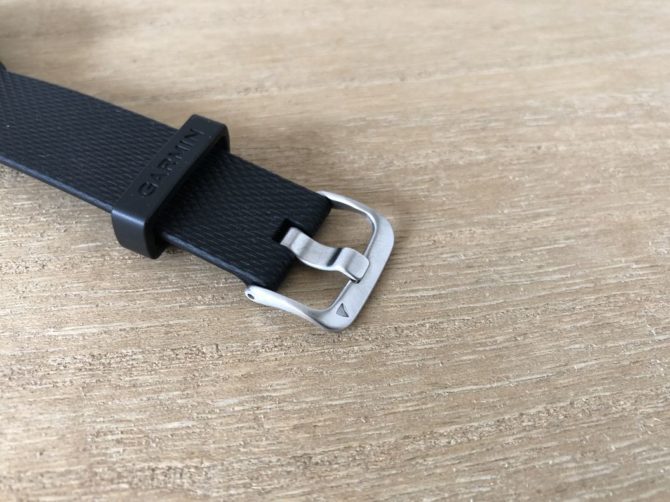 Size and Weight
At 43 grams, the Garmin sports watch is very light and hardly noticeable when worn. It is lighter than its predecessor (by 4.6 grams). Therefore, it can be worn all day long, but also while sleeping. This and a good battery life make it possible to use all functions of the Vivoactive 3 fully.
The Vivoactive 3 leaves a discreet impression on the wrist, because it is not too big, but not too small. The Apple Watch 3 is about the same size, but it has more angular features. However, the Garmin Fenix 5 is considerably larger.
Display
The transflective MIP display (memory in pixels) of the Garmin Vivoactive 3 is easy to read. Except in very dark environments. Then the integrated display lighting must be used to read the time of day. This can also be done automatically, for example with an appropriate arm movement.
The display has no problems with direct sunlight and is easy to read: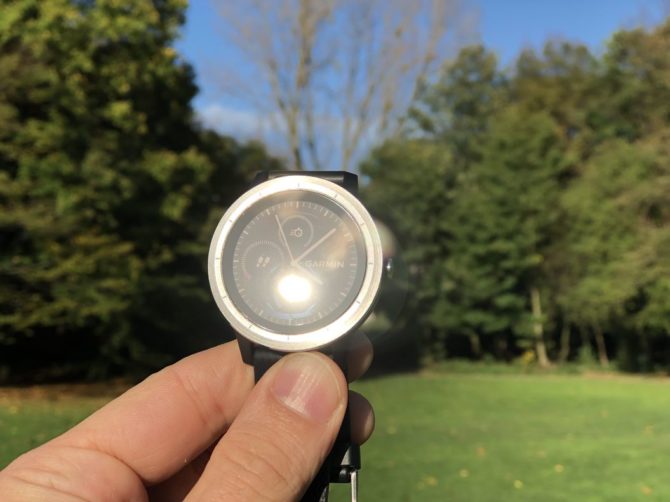 In comparison, Apple Watch 3 in direct sunlight: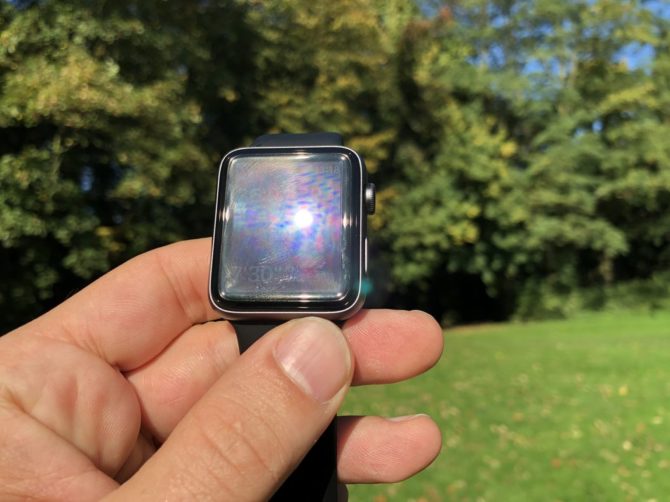 Handling
The menu navigation and control of the Vivoactive 3 is carried out via a button on the right-hand side, a touch-sensitive left-hand side of the housing (called Side Swipe) and a touch display. The side button is used to confirm actions and to start and stop activities.
The innovative Side Swipe function is used when you want to scroll through the pages and widgets and set values in data fields. Side Swipe performs quite well in our Vivoactive 3 review so far and makes it easier to use in certain situations. Especially when the fingers are wet and the touch display is therefore difficult to operate.
Vivoactive 3 vs Fenix 5 vs Vivoactive HR
Some sportsmen and women ask themselves the question, which Garmin model is the right one for them. Whether it's the Garmin Fenix 5, Vivoactive 3 or the Vivoactive HR, the predecessor of the Vivoactive 3, it can also be interesting in terms of price. That's why we compare the three attractive sports watches with each other and emphasize the differences.
In this way, everyone can determine for themselves whether certain features or properties are decisive for or against a model. The comparison helps owners of a Vivoactive HR to decide whether or not a change is appropriate.
The outer appearance alone can suffice for a decision in both models. Angular versus round:
Then there is the operation: the Fenix 5 has 5 keys and does not require a touch display. For wet environments it is the better choice. The Vivoactive HR has two buttons and a touch screen. The Vivoactive 3 has a button (right), the touch-sensitive left side of the housing (called Side Swipe) and a touch display.
The following table lists some important distinguishing features. Green indicates an improvement:
Vivoactive 3 vs. Fenix 5 vs. Vivoactive HR
VIVOACTIVE 3
FENIX 5
VIVOACTIVE HR
Lens Material

Corning Gorilla Glass 3

Glass or

sapphire glass

Chemically hardened glass
Physical size
43.4 x 43.4 x 11.7 mm
circumference of 127-204 mm
47 x 47 x 15,5 mm
30.2 x 57.0 x 13.5 mm
Regular: 137-195 mm circumference
X-large: 161-225 mm circumference
Weight

43,0 g

Silicone band: 85 g
Metal band: 156 g
M: 47,6 g
XL: 48,2 g
Water rating
5 ATM

10 ATM

5 ATM
Display type

Sunlight-visible,


transflective memory-in-pixel (MIP)

1.2″ (30.4mm) diameter

240 x 240 pixels

Sunlight-visible,




transflective MIP display




(memory in pixels)

30.4 mm (1.2 inch) diameter

240 x 240 pixels

Sunlight-visible,
transflective memory-in-pixel (MIP)
0.8″ x 1.13″ (20.7 x 28.6 mm)
205 x 148 pixel

Touch screen

Yes

No

Yes

Battery life

GPS-Mode: Up to 13 hours
Smart-Mode: Up to 7 days

Smart mode: Up to 2 weeks

GPS/HF mode: Up to 24 hours

UltraTrac mode: Up to 60 hours without HR measurement on the wrist

GPS-Mode: Up to 13 hours
Smart-Mode: Up to 8 days

Ambient light sensor

Yes

 

No

No

Heart Rate Variability (HRV) and Stress Level

Yes

 Yes

No

Reject calls & autom. Send text (only Android)

Yes

 

No

No

Smartphone Compatibility
  
   
   
Garmin Pay

Yes

 

No

No

Preloaded gym activity profiles

Strength Training

Cardio Training

Elliptical Training

Stair Stepping

Floor Climbing

Indoor Rowing

Yoga

Automatic repetition counter

Indoor Rowing
Cardio Workouts
strength training
Automatic repetition counter

VO2max

Yes

Yes

No

% HR max

Yes

Yes

No

Recording of heart rate during swimming

No

Yes (with HRM-Tri and HRM-Swim)

No

Running Training Programs

Yes

Yes

No

Race predictor

Yes

Yes

No

Virtual Partner & Virtual Racer

No

Yes

No

Advanced Running Metrics(running efficiency, ground contact time and balance, vertical movement)

No

Yes

No

Point-to-point navigation

No

Yes

No

Extended training statements (recreation time, training condition, training load, training effect)

No

Yes

No

Outdoor & Navigation Functions

Back to the start
Total ascent/descent

Back to the start
Total ascent/descent
height profile
distance to destination
height profile
thunderstorm warning
Waypoint projection
and more

Back to the start
Total ascent/descent

Golfing Features

Expanded significantly:

Digital scorecard

Stat tracking (strokes, putts per round, greens and fairways hit)

Green View with manual pin position

Hazards and course targets

PinPointer

 

Expanded significantly:

Digital scorecard

Stat tracking (strokes, putts per round, greens and fairways hit)

Green View with manual pin position

Hazards and course targets

PinPointer

Yes

Pool swim metrics (tracks, distance, pace, number of moves/trains, calorie consumption, swimming style recognition)

Yes

Yes

Yes

Pool swim workouts

No

Yes

No

Buy

VISIT SHOP PAGE
VISIT SHOP PAGE
VISIT SHOP PAGE
All in all, it can be seen that the Fenix 5 offers much more advanced fitness and outdoor features that are intended to appeal to ambitious athletes and outdoor fans on the one hand.
If you are looking for a good all-rounder, choose the Vivoactive 3, and if you want to pay attention to the price, you will be happy with the Vivoactive HR.
The Competition
Fitbit's Ionic, which is launched in October 2017 and announced on August 28,17, can be considered as a direct competitor. The Ionic combines Fitbit's well-known fitness and health features with numerous additional features. These include an improved health sensor, the industry's best GPS and GLONASS tracking system according to Fitbits, dynamic on-device-guided workouts and improved heart rate measurement. In addition, the Fitbit Ionic is up to 50 meters waterproof.
Vivoactive 3 Buy, Availability, Price
Since September 2017 the exciting wearable can be bought in the variants black with stainless hardware, black with slate hardware & white with stainless hardware.
Vivoactive 3 Review
The detailed Garmin Vivoactive 3 review is still a bit ongoing, but many results are already available.
Continue reading on page 2: Garmin Vivoactive 3 during sports: How does the Vivoactive 3 beat the Fenix 5 and HR Chest Strap? How exactly does the Vivoactive 3 measure the heart rate and how good is the GPS receiver? What configuration options are available for sports mode? Is the Vivoactive 3 suitable for swimming and how exactly does it measure swimming metrics? This and more in the second part….
Next Page