With the Garmin Lily, the manufacturer has launched a new fitness smartwatch that is specifically aimed at women. Its case size is an elegant 34 mm, which makes it one of the smallest fitness watches. In comparison, the Versa 3 from Fitbit as well as the smallest Apple Watch come with a 40mm case.
Two variants are available at the start:
Classic: stainless steel bezel and strap in Italian leather for $249.99  (RRP).
Sport: silicone strap and bezel in polished aluminum, therefore better for strenuous, athletic to break a sweat for $199.99 (RRP)
Garmin Lily starting from* $249.99
Bestsellers, deals, gift ideas*
Amazon.com Top-Deals
Venu
Garmin
from $279.99

Vivoactive 4
Garmin
from $199.99

Versa 2
Fitbit
from $279.78

Are you looking for a Christmas present? These are our suggestions:
Garmin GPS Devices and Smartwatches
Garmin Lily: Highlights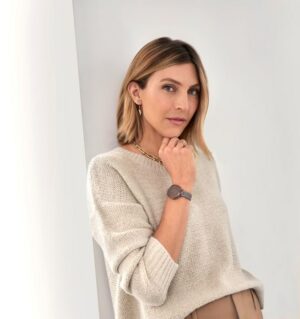 Garmin announced the following highlights for the Lily Classic:
34 mm wide case, making it the smallest smartwatch from the manufacturer
Italian leather strap (Sport model: silicone strap)
Connected GPS
Heart rate sensor
up to five days battery life
pregnancy and menstrual cycle tracker
Display of smartphone notifications, incoming calls, appointments and weather information, control of music player and phone search
24/7 health tracking including respiration rate, sleep, steps, intensity minutes and calories burned
Preloaded sports apps such as yoga, Pilates, breathing exercises, running or swimming
Emergency assistance: sends a digital call for help with position transmission to preset contacts in case of emergency
Waterproof up to 50 meters
The Sport variant is almost identical to the Classic. The main difference is the included silicone strap instead of leather and a bezel made of polished aluminum instead of stainless steel. The silicone strap in particular is better suited for more strenuous activities, as it is less sensitive to sweat and easier to maintain.
Garmin Lily
The Garmin Lily is aimed specifically at women, according to the manufacturer. This is backed up by highlighting the menstrual cycle and pregnancy functions. These, along with its other health and wellness data, are designed to help women monitor and log every phase of their cycle.
In doing so, the model attempts a balancing act between an advanced 24×7 activity tracker and a slimmed-down fitness watch. This means that the feature set does not come close to other sports and fitness watches from the manufacturer. However, versus comparable watches from other manufacturers, users should get far more, especially options in terms of sports.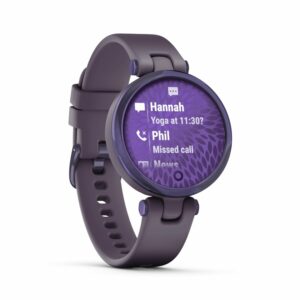 For such a small smartwatch, the battery life is a remarkable 5 days. During these, users can easily benefit from all the watch's features. The strap with a bar width of 14 millimeters can also be easily exchanged for another one and thus the look can be adapted to the situation.
Lily: Stylish display patterns
The display of Garmin's Lily can be activated by a corresponding arm movement or by a double tap. To save energy, it automatically turns off again. Compared to other watch displays, however, it is not simply dark. There is an always visible stylish pattern on it, depending on the model, so the look remains an eye-catcher. You can see all the patterns on these screenshots: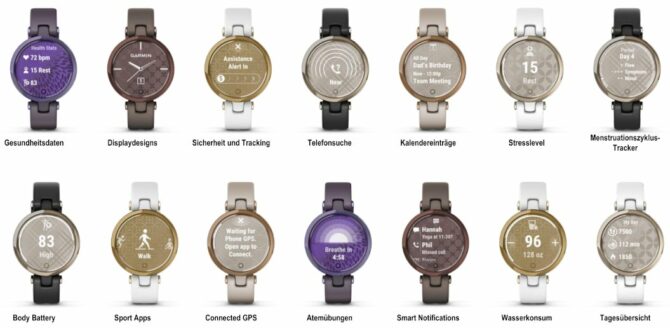 The watch's bright, monochrome TFT LCD display shows incoming messages, calls, appointments and much more directly on the wrist as long as the smartphone is nearby. This allows users to quickly decide whether it is worth reaching for the phone. The fact that it has a good resolution of 240 x 201 pixels and a brightness sensor makes it very easy to read in most cases. Even outdoors under the sun.
The general operation is comparable to other current models from the manufacturer, such as the Venu known from our review. However, there are no physical buttons and no always-on display. Simple touch gestures are sufficient to navigate through the menu structure.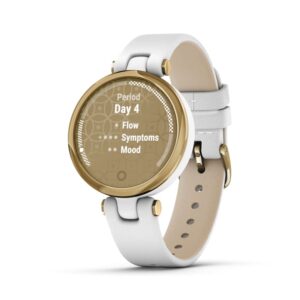 The smartwatch also supports Garmin widgets, but no more can be installed via the manufacturer's app store (Connect IQ). The included widgets show various data in more detail as soon as it is tapped. There is one for health statistics of the day (heart rate, steps, calories,…), one for heart rate statistics and intensity minutes, or even a separate one for upcoming calendar appointments or weather information. There is also a dedicated widget for the menstrual cycle tracker, which provides accurate data.
Lily by Garmin: Sports and Fitness
Garmin offers advanced options for general workouts and hobby sports on its fitness watches. This is also the case on the Lily. However, the range of functions is somewhat reduced. If you want to train with structured workout plans, for example, you have to use other models. These are in the same price range, but offer better features in this respect. The Vivoactive 4, which we tested and found convincing, is worth mentioning here. It offers long-term plans for race preparation as well as an integrated GPS receiver. However, it is not as light and small and less elegant on the wrist.
Nevertheless, users can be active in a variety of sports and health-promoting ways. For activities, they can choose from 7 sports profiles like running, swimming, yoga or Pilates right on the watch. In total, the watch supports 13 profiles that are managed in the app. Based on these activities, the watch also calculates the VO2Max ➚. However, there is no HR broadcast option that transmits the heart rate to other devices. So those who want to transmit the heart rate to treadmills, bikes or indoor rowing machines at home or in the gym cannot do so and have to resort to other auxiliary devices like a flexible OH1 heart rate wristband from Polar or a less comfortable HR chest strap.
The watch also automatically provides extensive health data in everyday life. It collects data on heart rate, sleep quality, energy level, steps, and menstrual cycle. All fitness data is then clearly compiled in the app and trends are visible.
Users can have sporting activities automatically recognized, tracked and entered in the app by defining a time threshold in the settings. For example, 10 minutes. Activities such as walking, running or cycling are then recorded after this time without manual intervention. However, activities detected in this way are not logged in great detail in the app. Only the name of the detected activity as well as the time and duration are displayed. Data on heart rate or speed cannot be found there.
For detailed recordings, an activity is started manually via the watch's sports menu. This provides detailed HR data, distance recording (when Connected GPS is active) and much more. A unit started in this way can also be exported and imported into other apps.
Lily: Prices, sales launch, model variants
The Lily is available now in various Classic and Sport variants starting at $199.99 (MSRP), though the price has already dropped a bit in stores. Here, for example, the watch can be purchased:
Garmin Lily starting from* $249.99
Image source: Garmin