In this Garmin Forerunner 245 review, we take a detailed and practical look at the all-around well equipped GPS running smartwatch. For music lovers, there is a music version available, which additionally contains a music memory and streaming services.
While it looks quite similar to its predecessor, the manufacturer is giving the new model a number of upgrades under the hood, so that it comes closer to higher-priced professional sports watches. However, it is still aimed at ambitious amateur athletes and provides them with the tools they need to make progress in sports.
Garmin FR245 from $249.50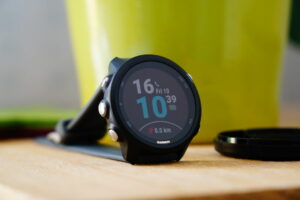 Bestsellers, deals, gift ideas*
Amazon.com Top-Deals
Venu
Garmin
from $216.00

Vivoactive 4
Garmin
from $249.99

Versa 2
Fitbit
from ---

Are you looking for a Christmas present? These are our suggestions:
Garmin GPS Devices and Smartwatches
Garmin Forerunner 245: The Highlights
The Garmin Forerunner 245 and the 245 Music are among the Garmin sports watches that entered the market together with the more affordable, yet well equipped Forerunner 45 and the professional sports watch Forerunner 945. The following product characteristics and features can be highlighted:
FR245

GPS, GLONASS, Galileo for route recording and tracking speed, distance, and more
New heart rate sensor for the wrist with PulsOx sensor to measure the oxygen saturation in the blood
Garmin Coach 2.0 with free adaptive training plans for 5, 10 and 20 km runs directly on the wrist
Advanced physiological functions like training status, recovery time, VO2max, aerobic and anaerobic training effect
Enhanced running efficiency with optional chest strap or running pod
Swimming profile for the pool with support for swimming workouts and HR measurement via wrist without HR chest strap. Here we have collected tips and more detailed information about the accuracy of HR measurement while swimming with Garmin smartwatches
Fall detection during selected activities. If the smartwatch detects a fall, it reports its location in real-time via the paired smartphone to stored emergency contacts
Body Battery to determine the energy level on the basis of heart rate variability, stress level, or sleep quality
Various sports profiles, including running, cycling, treadmill, elliptical trainer, cardio, yoga, and many more
Smartphone notifications, control of the smartphone music player, live tracking
Menstrual cycle tracking for women via Garmin Connect
Waterproof to 5 ATM
Battery life: up to 7 days in Smartwatch mode Up to 24 hours in GPS mode. UltraTrac mode allows even longer battery life. Up to 6 hours in GPS mode with music.

FR245  Music additionally

Integrated music memory (approx. 500 songs) and compatibility with Spotify and Deezer. Offline playlists are supported
WLAN
In combination with the Running Dynamics Pod or a compatible HR chest strap, the running smartwatch can also record extended values such as ground contact time, vertical movement or stride length.
If a barometric altimeter is important to you, this model will unfortunately disappoint you. Garmin has left this out. This is why, for example, the activity tracker is not able to recognize and count floors covered. Surely this circumstance is bearable for most fitness fans. However, it is somewhat surprising, since even much cheaper fitness wristbands from the manufacturer have a barometric height gauge. This will force some people to resort to more expensive models.
Also missing is a gyroscope, which is built into the Garmin Forerunner 645 Music, as well as the option of contactless payment at the checkout via Garmin Pay.
Garmin Forerunner 245
In this Garmin Forerunner 245 review, we will see that the smartwatch is one of the most precise running watches. The predecessor Forerunner 235 is one of the best fitness watches for us from a price-performance point of view. Visually, watches do not differ too much.
Those who have already come into contact with a wearable from the manufacturer will quickly get to grips with the smartwatch. Of course, there are some minor innovations in the features, but navigating through the menus remains largely the same. The intuitive operation is therefore easy to learn, even for beginners.
Something is immediately noticeable while operating the smartwatch. When navigating through the menus, there is no noticeable delay compared to the predecessor and other models from previous years, therefore the handling is more pleasant and makes much more fun. The performance has clearly been tinkered with here, be it through more powerful hardware or through a better tuned operating system.
We miss something, however, namely a touch and swipe gesture capable display. Not during sport, but during everyday life. Even if most athletes rightly want tactile buttons for sports, it is a bit of a hassle to navigate through the numerous menus and options using the buttons on the side, especially in the first few days when you play around with the smartwatch a lot. You have the feeling that you are doing the keys a disservice. Fortunately, many options can also be set via the app.
FR245 with improved Display and Weight
The display of the Forerunner 245 from Garmin has been slightly improved. The size of the display made of Corning Gorilla Glass 3 is 1.2″ (30.4 mm) and the display resolution is 240 x 240 pixels. This increases the resolution compared to its predecessor, which is 215 pixels. The weight is once again reduced to a puny 38.5 grams, so the sports watch is hardly noticeable on the wrist.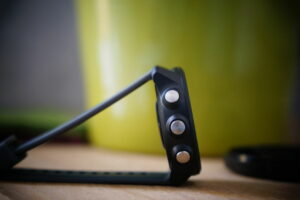 The transflective MIP display (Memory in Pixel) is very easy to read. except in very dark environments. Then you have to use the integrated display illumination to read the time. This can also be done automatically, for example by moving the arm.
The display has no problems in very bright environments, as we found out in the test, the readability is excellent even then:
Garmin Forerunner 245/245 Music: New Heart Rate Sensor
The Forerunner 245 and 245M include a slightly modified heart rate sensor called Garmin Elevate V3. The premium smartwatch MARQ also has the Elevate V3, which also contains a sensor called PulsOx, which has LEDs for red light and is able to estimate the oxygen saturation (SpO2) in the blood. Red light is more suitable for measuring oxygen saturation than green light.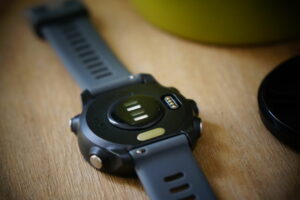 We are already familiar with the PulsOx sensor from our review of the Garmin Vivosmart 4 fitness band, where we have already gained some experience with it. How accurate the new heart rate sensor is in other situations, we will look at in the next sections.
Garmin Forerunner 245: Field Test
A practical test is necessary for this review. First, we take a look at how the sports watch performs when running.
While its predecessor is aimed particularly at runners and cyclists, the new model expands the circle of potential athletes even further. In particular, the new swimming mode should appeal to swimmers who like to do their laps in the pool. Since software version 3.10 the HR measurement during swimming is supported. Here we have collected tips and more information about the accuracy of the HR measurement while swimming with Garmin smartwatches. However, it is not suitable for outdoor swimming. Here you should instead look at the outdoor sports watch Garmin Fenix 5 or the newer Fenix 6. The smartwatch is also unsuitable if you are looking for a sports watch that supports winter/water sports or triathlon. For triathletes, there is no true automatic multi-sport mode that seamlessly controls and records activities as a single unit. Again, check out the Fenix models or the new Forerunner 745 triathlon watch.
The sport profiles can be adjusted individually and very well. As we will show, the FR245 does not exactly save on setting and recording options per sport profile, because countless data fields can be configured. That's why the device is really interesting for professionals, too. As far as the recorded metrics are concerned, they are very extensive, especially when running and cycling. For some other sports, only time and heart rate values are recorded.
Among the available sports apps are also yoga, rowing, weight training, cardio and more. For strength training, an automatic repetition counter helps to keep the rhythm and not to have to count yourself.
Before the activity
For the beginning, we will go for a round of jogging and test how accurate heart rate monitors and GPS receivers work. If you select an (outdoor) activity, the GPS receiver will be activated automatically. The position is determined within a few seconds, typical for Garmin. The fastest way is to move a little during the positioning and wait until the GPS bar turns green. The smartwatch tells you clearly when all sensors like GPS/pulse and external sensors are ready: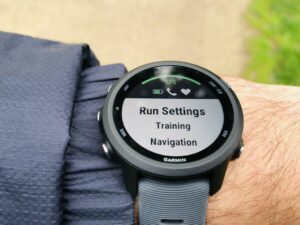 Previously coupled sensors are automatically integrated into the activity and their data is recorded. Supported sensors include run/wheel/heart rate sensors (Bluetooth Smart and ANT+) and temperature sensors (ANT+). The Music version can also pair Bluetooth headphones.
Before you start you have the possibility to make specific profile settings. For example, the available pages and their data fields can be customized very well and in detail.
For example, various data fields, alarms, lap (auto lap), and auto-pause functions are available for running. A separate page for Garmin's Running Dynamics can also be integrated, as long as you have the appropriate accessories. Furthermore, there are separate pages for a virtual partner, a map, a control for the music player of the smartphone, and a usual time display.
On one training page, up to 4 data fields can be displayed. Among the selectable data fields are for example (small excerpt):
Various timer fields (like timer, lap time, time – last lap)
Distance fields (like distance, lap distance, last lap distance)
Speed fields (like Speed, Average Speed, Lap Speed, Maximum Speed)
Heart rate fields (heart rate, average HR, heart rate range, Training Effect, HR lap, …)
Cadence fields, temperature fields, altitude fields
Other fields like calories, direction, laps, and much more
There have also been some changes in the GPS modes. Alongside the well-known modes "GPS" and "GPS+GLONASS" two more modes are now available:
GPS+Galileo: enables the combination between GPS and the European Galileo satellite system
UltraTrac: Reduces the number of measuring points, so that the battery provides energy for much longer. This mode is only recommended if you need a very long battery life or if you are moving slowly. Otherwise, the measurement becomes inaccurate. Unfortunately, the manufacturer does not indicate possible battery life. With the Fenix 5, it is 42 hours. We estimate that the battery will last a few hours less here, but it will probably last more than 30 hours.
During the activity
The activity is started with the upper right key. All previously configured fields and pages can be accessed via the side buttons. If automatic scrolling has been activated, the FR245 automatically scrolls through the pages, so that no key has to be pressed any more. Manual scrolling can be highlighted using the lower right key.
If one of the alarms is activated, a hint is given via the vibration alarm and visually on the display. The smartwatch can also make itself noticed via audio signals, for example 5 seconds before the next phase of a planned workout begins.
The new security and tracking functions allow the position and an emergency message to be sent to selected contacts. For example, if you have fallen and need help. This is done either manually or automatically with the integrated accident notification if required. The smartphone must be close by and paired.
You send the emergency call manually by holding down the upper left button for several seconds. The Forerunner 245 then locates the place, if GPS is available, and sends the emergency text and GPS coordinates to the previously defined contacts. We will discuss this feature in a separate article. But the first test went smoothly and was successful.
After the Activity
The lower left button can be used to pause, stop or discard the training. A detailed summary of the unit is available on various pages on the display. Here are some examples:
When personal records are broken, Forerunner 245 rewards the achievement with awards and trophies, of which there are many.
After synchronization, the data is then available in Garmin Connect, where you can clearly view and evaluate the unit in the app as well as in your web browser or export it to various formats (including TCX and GPX).
FR245: GPS accuracy
During the Forerunner 245 test, the Polar M430 was also included in the first attempts, which we know gives very good GPS results. The M430 was parallel on the right arm, so that both watches were exposed to identical environmental conditions. In addition, our Polar H10 HR chest strap was coupled with the M430, so we could convince ourselves of the accuracy of the heart rate sensor of the FR245.
In our first run we activated the "GPS + Galileo" mode. We choose a lap in the park, which is about 850 meters long, and make use of the manual lap marker on both smartwatches for each lap as soon as a prominent point in the park is reached. This should allow each smartwatch to record a similar distance for each lap. As can be seen in the following example run, laps that have been run are easily reproducible.

Taking into account the generally given error tolerance of about 15 meters for GPS and considering that the accuracy also depends on some other parameters, both clocks record the track properly, see the following screenshot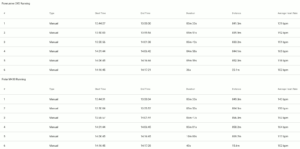 FR245: Accuracy of Heart Rate Measurement
The upper screenshot also shows the measurement results for the heart rate. If you look at the numbers there, you will notice a few differences. On average, the results are very good, as the following maximum and average values show:
Garmin Forerunner 245 heart rate monitor

Average: 140 S/min
Max.: 170 S/min

Polar M430 with HR chest strap

Average: 140 S/min
Max.: 170 S/min
Graphically superimposed in time it can also be seen that the FR245 can keep up very well with the H10 chest strap when running smoothly:

Garmin FR245: Pulse Ox
The new heart rate sensor of the Forerunner 245 measures directly on the wrist the oxygen saturation in the blood and can make an SpO2 estimation. However, the option must first be activated in the app. Only this step switches on the red LEDs on the back of the housing and enables the recording in the app. It is then possible to perform a measurement manually at any time or to have it performed automatically at night, provided that this option has also been activated in the app.
However, the accuracy of the measurement results is subject to many conditions, so you should use it with caution. You also have to know that Garmin or the tracker does not provide active hints or classification of the measured values. This is left to everyone or to a physician, to whom one can show the determined graphs. It is important to observe the long-term trend, which can be read in the app. Individual measurements can sometimes have fluctuations.
Reasonable use of the SpO2 sensor is therefore somewhat difficult because the wearable must be worn as often as possible to compensate for measurement fluctuations. Furthermore, the body must not be too much affected during measurement at rest, and the blood flow in the wrist must not be too much affected.
Garmin Forerunner 245: Battery life
Garmin specifies the following achievable "up to" battery life for Forerunner 245 and Forerunner 245 Music:
Smartwatch mode with fitness tracker functions and wrist heart rate monitoring around the clock

Forerunner 245: 7 days
Forerunner 245 Music: 7 days

with running music: 8 hours

GPS mode and heart rate measurement on the wrist

Forerunner 245: 24 hours
Forerunner 245 Music: 24 hours

with running music: 6 hours

GPS mode with active UltraTrac

Forerunner 245: ca. 30+ Stunden
Forerunner 245 Music: ca. 30+ Stunden
There are some interesting hints that are worth knowing. In Smartwatch mode, the watch lasts about 2 days less than its predecessor (7 instead of 9 days). But the battery life during GPS activities is much longer with 24 hours.
In Smartwatch mode, the above-mentioned numbers are reachable and also depend a bit on individual behavior. Among other things, battery life is influenced by an active pulse oximeter, the number of smartphone messages and, of course, training sessions. If you use the Smartwatch mode, train regularly for one hour every one or two days and listen to music over the watch from time to time, you can set yourself to a 5-day charging rhythm.
The new UltraTrac option during GPS activities takes battery life to a new level and is actually only available in more expensive Garmin watches and not in the predecessor. UltraTrac provides a significantly longer battery life with poorer quality of recorded data. Accurate data is hard to find, but about 30+ hours should be in it. This is made possible by recording GPS track points and sensor data less frequently. So UltraTrac is more suitable for sports that take a long time or where you move slowly. Like hiking, for example.
The FR245 has no flexibly configurable battery saving modes. If you need something like this, take a look at the more expensive Garmin Fenix 6, which can run for weeks with reduced functions if necessary.
Tips for longer battery life
You can optimize and extend the battery life mainly by adjusting the display settings. This includes the illumination time and the display design. The settings for the illumination time are found in the system settings and can be fine-tuned for "During activity" or "Not during activity" using parameters for buttons and alarms, gestures and time limits. The choice of display design can also be important. In particular, a display design should be chosen that is not updated every second. This could be a display design without a second hand.
Disabling the Bluetooth interface is possible and increases the battery life significantly in every respect. However, you also limit the functionality of the smartwatch. Among other things, the automatic upload of activities, Bluetooth sensors, phone notifications, security and tracking functions or even weather updates are not available.
Furthermore, the fitness tracker, the heart rate measurement on the wrist and the pulse oximeter measurement can be deactivated. Furthermore, you can select the option "Intelligent" for the GPS training for the recording interval, which does not write a GPS tracking point to the recording file every second. However, this leads to a less accurate display of a recorded route.
Software
We looked a few months after our Forerunner 245 test to see if Garmin was developing the software and fixing bugs. A look at the update history shows that the manufacturer is diligently providing updates. As of November 2020 the software version is 5.50, which indicates that some bugs have been fixed and new features have been added.
Among the new features are:
Heart rate measurement on the wrist during swimming
Button for manual lap marking can be activated/deactivated
Connect IQ 3.1 Support
Numerous improvements regarding battery life, GPS, Apple iOS, pulse oximeter, swimming profile and more
On the one hand, bugs are annoying, on the other hand, it is reassuring to know that the software is kept up to date and that the device does not disappear into oblivion at the manufacturer.
Garmin FR245 vs 45: Should you go for the FR45?
There are numerous differences between the FR245 and the FR45 that explain the price difference. In a detailed article, we compare the Forerunner 245 with the Forerunner 45 in detail and also mention the differences that cannot be found out through the manufacturer's pages. Following here is only the tabular summary:
Garmin Forerunner 45 vs Garmin Forerunner 245 (Music)
–
Forerunner 45
Forerunner 245 (Music)
Keys

5 (plastic)

5 high-quality buttons

Bezel

n/a

Fiber-reinforced Polymer

Wristbands

Interchangeable with Garmin wristbands (with a tool)

Interchangeable with standard 20mm wristbands (Quick Release Bands)

Display

Transflective MIP-Display (chemically amplified)

Susceptible to fingerprints

1,04 inch (26,3mm)

208×208 pixel

Transflective MIP-Display (Corning Gorilla Glass 3)

Less susceptible to fingerprints

1,2 inch (30,4mm)

240×240 pixel

Battery life

Smartwatch mode: 7 days
Activity mode: Up to 13 hours with GPS and heart rate measurement


Smartwatch mode: 7 days
Activity mode: Up to 24 hours with GPS and heart rate measurement


UltraTrac Mode: estimated more than 30 hours

Activity mode with music (music model): 6 hours with GPS, heart rate monitoring and music playback

Waterproofness

5 ATM

5 ATM

External sensors

ANT+

ANT+ and Bluetooth Smart (4.2)

Heart rate sensor

Green LEDs

Green and red LEDs (pulse oximeter/SpO2 function)

Compass

No

Yes

Outdoor and navigation functions

No

Yes

GPS UltraTrac Mode

No

Yes

Sports Profiles

Max. 6 (running not removable)

More choice and more flexible design

Connect IQ

Display designs only

Yes

Cycling functions

Time or distance alarm only

Yes (e.g. stretching, competing against activities, cadence, …)

Swim trainings and HR measurement under Water

No

Yes

Cardio and strength training with repetition counter

No

Yes

Advanced run and fitness analysis

No

Yes

Virtual Partner, Virtual Racer

No

Yes

1-second recording interval

No

Yes

Integrated music storage

No

Yes (Music version)

Control Smartphone music player

Yes

Yes

Direct coupling of Bluetooth headphones

No

Yes

(Music version)

Price Amazon
Garmin FR245 vs 645: Should you go for the FR645?
The FR245 and FR645 (our Garmin Forerunner 645 Music Test) target a similar audience. The FR645 is about 50€ more expensive, but you should know the following differences.
The FR645 also offers a Music variant and achieves similar battery life, except in GPS mode. Instead of 24 hours, it only lasts 14 hours, because it still has the older Garmin GPS chipset. The FR245 is equipped with a Sony GPS chipset, which is more battery friendly. It also lacks the pulse oximeter and corresponding functions, the body battery energy monitor, the emergency aid as well as the heart rate measurement on the wrist underwater.
Therefore it is equipped with a barometric altimeter, offers Strava functions (Beacon, Live Segments) and Garmin Pay. The FR645 also scores in the sporty category with recordings of vertical speed, total ascent/descent and altitude profile. In addition, a Garmin heart rate chest strap can be used to perform a test to determine the lactate threshold.
The display characteristics are practically the same. So if you can do without the latter additional features of the FR645, you'd rather go for the FR245/245 Music.
Menstrual Cycle tracking as with Fitbit
For women, the Forerunner 245 brings a special extra. Fitbit has been leading the way with some of its models, such as Fitbit Charge 3 and Inspire HR, and now Garmin is following suit and offering menstrual tracking for women. The tracker helps to better understand the individual phases of the cycle and also provides period reminders and details about the cycle.
The app also provides helpful tips on nutrition and training that are appropriate for the current phase of the cycle.
Garmin Forerunner 245 Review: Conclusion
We allow ourselves a conclusion based on our previous Forerunner 245 experiences:
What we like 
Suitable for self-optimizers
Suitable for beginners and advanced users
Guided coaching programs successful
Comfortable, smart, reliable
Intuitive operation
Sophisticated App & Fitness Platform
What we do not like 
Display difficult to read in very dark environments without activated display illumination
No barometric altimeter
The Garmin FR245 (Music) is a very solid running and sports watch in which Garmin has also put functions of higher-priced Garmin models. It is comfortable to wear, can be operated intuitively and is sporty and versatile. If you want to improve your running skills, the FR245 is the smartwatch for you.
If you need fewer functions, take a look at the Garmin Forerunner 45 or the Polar Vantage M. Those who need a barometric altimeter will also look at the Garmin FR645.
Additional equipment used in this review:
Polar M430
Polar H10 Brustgurt
Samsung Galaxy S8 (Android 9)
iPhone 8 Plus (iOS 12.2)
Buy Garmin Forerunner 245 price, option to buy, availability
The RRP price of the Garmin Forerunner 245 starts at $249.99, the Forerunner 245M at $299.99. Both models are already available, for example here:
Garmin FR245 from $249.50
FR245 Music from $239.88