For today's Garmin Fenix 6 review we have the Pro and Sapphire editions. The new model continues the popular multi-sport GPS series and brings among other things a novelty: a so-called power glass is supposed to charge the battery under favorable conditions during use and thus extend the already very good battery life. The cheapest version starts at $599,99 (RRP), although the prices have gone down significantly in the meantime.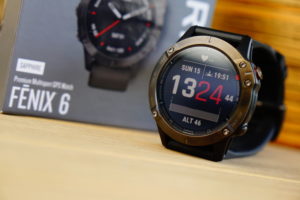 Bestsellers, deals, gift ideas*
Amazon.com Top-Deals
Venu
Garmin
from $279.99

Vivoactive 4
Garmin
from $199.99

Versa 2
Fitbit
from $279.78

Are you looking for a Christmas present? These are our suggestions:
Garmin GPS Devices and Smartwatches
Garmin Fenix 6: The Highlights
Garmin expands its model range with the Fenix 6, a new additional GPS multi-sport watch with numerous robust sub-variants. As expected, the manufacturer equips this watch with numerous new features for everyday life, outdoor, and multi-sport. In the foreground are above all innumerable options for almost every (outdoor) sport, offline map material, training control, training load as well as long battery life. The water resistance is still up to 10ATM, so it is suitable for swimming, snorkeling, or high-speed water sports, but not for scuba diving.
Many new features have been added, some of them from the noble MARQ series. Below are just a few of these. In the following sections we will also go into them in more detail:
Power manager: configurable battery life of up to 120h
Battery saving mode: allows 80 days without recharging with a minimum of functionality
larger display on Base and Pro models: Fenix 6 (1.3″, +18%) and Fenix 6X (1.4″, +36%)
Power glass: transparent solar charging lens that allows the watch to absorb sunlight and charge the battery while the watch is in use
Pulse Ox Sensor: particularly useful for determining the oxygen content of the blood to check the acclimatization at altitude
RoundTrip routing for runners and cyclists: the clock suggests suitable routes based on Trendline Popularity data and provides turn-by-turn directions
ClimbPro: automatically receives data on incline, distance, and altitude before ascents
Multi-GNSS: Multi-satellite compatibility (GPS, GLONASS, and Galileo) for optimal positioning in more demanding environments
Heart rate measurement at the wrist during swimming
more compact display of widgets (3 instead of 1 per page)
The Fenix 6 Pro has additional:
Garmin Music: 32GB storage plus streaming services Spotify, Deezer, and Amazon Music
TopoActive Europe map for offline navigation and over 41,000 international golf courses
2,000 ski area maps worldwide with piste information and difficulties.
Pace Pro: a dynamic pace setting, taking into account the slope profile and whether the ascents should be moderate or ambitious.
Further down in this Fenix 6 review and experience report we have not only made new sports measurements but also a detailed comparison with the most important differences among the variants. For you, this means that you will very quickly arrive at your personal best model variant.
Garmin Fenix 6 Price $319.99
Garmin Fenix 6
The Fenix 6 from Garmin is essentially an extremely powerful outdoor watch suitable for everyday use, which is also suitable for triathletes. It offers numerous and customizable sports functions including heart rate monitoring, GPS/GLONASS/Galileo tracking, multisport modes, as well as Bluetooth and ANT+ to link almost every conceivable sports sensor. This includes HR chest straps and running and wheel sensors.
The workmanship of the watch feels very high quality, which is also expressed in the noticeable weight of up to 93 grams (Fenix 6X Pro). Not everyone will want to wear the watch at night, so some fitness functions will remain unused. However, the flatter and considerably lighter 6S weighing only 58 grams is available as an alternative, which is also more suitable for athletes with smaller wrists. However, the display and the battery are also slightly smaller.
A very easy to use quick-release mechanism allows the silicone straps to be quickly exchanged for higher quality leather straps. The charging cable is also very easy to handle and fits on newer models of the manufacturer, which is one of the few that even thinks about uniform charging interfaces. Very commendable.
Garmin changes Widget Structure
In the Garmin Fenix 6 Pro Review, we want to have a look at the new widgets, among other things. With five high-quality buttons with very good pressure points, their operation is intuitive and reliable in every situation. By pressing certain keys for a longer time, menus or helpful quick settings can be called up quickly. For example the "Do not disturb" mode, "Find my phone" or alarm clock.
The watch faces are also successful and highly customizable and can be expanded via Connect IQ. If you like, you can create your own Watchface. Various widgets are preinstalled on the watch, which are now more clearly arranged compared to the predecessor. While previously only one widget fitted on one page, there are now three. The advantage: more information can be seen at a glance, is available faster, and therefore less scrolling through the pages is necessary. Below is a small excerpt of the pre-installed widgets:
Nevertheless, users can still display a currently highlighted widget in its entirety on a page at the touch of a button:
Fenix 6: Display
Like its predecessors, the Fenix 6 is equipped with a transflective MIP display (memory in pixels). Although this does not offer such rich colors as an AMOLED display of a Garmin Venu or Apple Watch, it is permanently on (Always-On Display) and is very reliable and easy to read outdoors and even in direct sunlight. Here is an example:
Therefore the display is made for outdoor sports. Moreover, especially this one ensures a very long battery life due to its low energy consumption. In the gym, readability is also guaranteed as long as the premises are not extremely underlit. In extreme cases, the backlight can always be activated. The Fenix 6 does not have a touch display like the Vivoactive 4, which is also equipped with a MIP display.
Garmin Fenix 6 Practice Test
For the practical test of the Fenix 6, we select running for the time being. Walking is well suited to demonstrate the operation and possibilities. Athletes can simply start running or use Garmin Connect to plan and implement individual or preset workouts. The workouts can also be set up with targets (such as HF range, pace, speed, or step frequency) for each training segment as well as for different distances, times, and calorie values. Below are examples of training plans.
The watch is one of the few sports watches in the retail trade with automatic multi-sport mode. A Vivoactive 4 or Venu, for example, does not have this feature. The automatic multi-sport mode allows several sports to be recorded seamlessly as one unit, which is particularly interesting for triathletes.
Furthermore, the model offers a series of forecasting and analysis tools from Firstbeat Technologies. Among them VO2Max, lactate threshold, Training Effect, recovery prognosis, and more. More apps, data fields, watch faces, etc. from the Garmin Connect Store can be installed and ANT+ or Bluetooth sports sensors can be connected. These include heart rate chest strap, run/speed/cadence, and Approach CT10 golf sensors. Varia Smart bike lights/radar and ANT+ temperature sensors can also be paired.
Before running
Sport profiles are displayed by pressing the upper right key. On the new page, you can then choose from numerous activity profiles such as running. Using the app and directly on the watch, profiles can be managed, more can be added, favorites can be set and the order can be changed.
As soon as an activity is selected, sensors in the background already do important work. For example, they scan for the heart rate, search for a GPS signal, and available external sports sensors. Already known sensors are integrated automatically, new sensors after approval, for example a heart rate chest strap. ANT+ as well as Bluetooth sensors are supported. The position is determined within a few seconds, typical for Garmin, especially if the watch was previously connected to the smartphone and users do not move during the signal search.
A new feature of the Fenix 6 is that it displays the battery life remaining with the current settings. This can be displayed as a percentage or in hours. A dark background can also be selected. The following pictures show examples for the percentage display and the dark background:
Via a settings menu of the selected profile, countless settings can be made before the activity starts. For the future, we would like Garmin to make these settings configurable via the app. Because it can be a bit tedious to navigate through the wide range of settings at the beginning using the buttons. The effort is limited, however, since this process is usually only done once. The watch also remembers the settings.
The settings options include alarms, training page configurations, lap options, training from the calendar, interval and other workouts, power mode, and many other settings. Hardly any other sports watch offers such comprehensive and simple setting and customization options as the Fenix 6.
Below are a few examples of available data field layouts, which can of course be customized as desired:
The manufacturer does not specify how many own data pages can be created, but it should be more than enough. Per the data page, even more data fields can be displayed at the same time, namely up to 6. On the Fenix 6X Pro even 8. Depending on the sport, more than 4 data fields are more difficult to read, however, because displayed data fields become smaller. But surely everyone has his or her individual preferences. In our experience, a maximum of 4 data fields per data page can still be easily read when running.
Furthermore, further options such as the virtual partner, a compass, altimeter, a control for the smartphone's music player, or also Running Dynamics data can be activated.
There are event, area and recurring alarms. With their help, even most individual goals can be pursued. As soon as one of the alarms is activated, the Fenix 6 vibrates and displays it visually on the screen. Below is a small selection of available alarms:
Various heart rate alarms
speed, time, distance, cadence, power alarms
User-defined alarms such as drinking, eating, turning around, going home
Select existing messages or create your own message
Approach, height
While running
All configured data pages are available during the activity. Using the auto-scroll option, Fenix 6 can also automatically scroll through the data pages without pressing any keys itself.
If one of the alarms is activated, a message is displayed (vibration, visual, acoustic). If users compete against the virtual partner or have activated the compass, there are also separate pages for this:
After running
After saving the activity, the Garmin Fenix 6 displays a summary of the unit, a graphical representation of the distance traveled, records, recommended recovery times, and much more.
The estimated recovery time and the Training Effect can also be read directly on the watch. The Training Effect estimates the effect of activities on aerobic and anaerobic fitness, allowing athletes to better control training. The best and most comprehensive overview is available in the app or in the browser.
Planable Workouts and Training Plans
With Garmin Connect, complex workouts can be created in the browser and transferred to the Fenix 6 via USB or the smartphone app. In addition, pre-defined training plans are available, which in turn are editable and customizable in every detail and can be transferred to the watch's training calendar. Afterwards the entire training plan is available locally on the device. The following are examples from Connect:
Garmin Fenix 6 Review: Accuracy
GPS
During our Fenix 6 testing, the first thing we were curious about was the GPS accuracy, because the predecessor did not always convince us. The result in advance: it looks completely different. With a total of two workouts over a distance of several kilometers on a bicycle through the city of Cologne, the watch can hardly afford to make any mistakes. Along the route we drove along narrow streets between buildings, under trees, in parks, over bridges, and so on… everything a big city has to offer. We have chosen GPS + GLONASS as the satellite systems.
Tip: If you want to achieve more accurate recordings, you should first set the recording interval to 1 second in the system settings. There the option Smart Recording is preset, which records tracks with less battery consumption, but less accuracy. You should know that the 1-second recording interval only affects the data to be recorded and has no influence on actually measured metrics. This ultimately means that the file containing the distance becomes larger and has more measuring points. The memory of the clock is therefore used more efficiently.
Especially between buildings, GPS sports clocks stumble because of signal reflections on the buildings and often do not display covered distances well. Below is a screenshot of a part of the total distance from a distance (left) and as an example a zoom into an area between buildings (right). It is quite obvious how clean the GPS receiver maps the route even under difficult conditions:
All in all, we already like that. Every now and then inaccuracies can be recognized, but they are kept within limits. As you can see for example in the following screenshot. The actually driven distance corresponds more to the red dotted line:

By the way: unplanned routes that have already been driven can later be easily saved as routes in Garmin Connect and sent to a compatible device. In this way, these can easily be followed up in the future if necessary.
In a review of over 7 km of running, the Fenix 6 Pro also shows what it can do. It allows itself only very few inaccuracies (for example, at the very beginning of the training in the first meters) and convinces for the most part. A large part of the total distance looks like this:

For comparison, we superimposed the measurements of a Garmin Vivoactive 4 that was set identically (GPS / GLONASS). The Fenix ​​6 Pro was carried on the right arm, while the Vivoactive 4 was carried on the left arm. That alone can make a GPS recording look different, but the Vivoactive 4 was significantly more often off the track. As an example, the following screenshot shows how the Fenix ​​6 Pro (orange) reproduces the distance actually covered very well:
Heart Rate accuracy constant running
During the Fenix 6 Pro testing, our Polar H10 HR chest strap was also present. This allows us to check if the Fenix measures the heart rate accurately. The two measurement curves over time look like this (Garmin Fenix 6 Pro: purple, Polar H10: blue)

All in all, the watch does not afford to make any major mistakes here either. However, you can see the one or other HR top on the Fenix 6, which does not belong there. The measurement curve reminds us a bit of that of the Vivoactive 4, which also records many peaks. These certainly also influence the slightly different average values in the final result. In the case of optical heart rate measurement, many factors can falsify the measurement, see our FAQ article on optical heart rate sensors in sports electronics. This means that HR measurements do not have to look like this for everyone. The average values look good on the whole:
Garmin Fenix 6 Pro: HR-measurement accuracy 

| | | |
| --- | --- | --- |
| | Garmin Fenix 6 Pro | Polar H10 |
| HR Average (S/min) | 158 | 156 |
| HR Max. (S/min) | 180 | 178 |
Heart Rate Accuracy Interval Training
Next, we will do a small interval training and want to see how the Fenix 6 reacts to the fast changes in heart rate. Especially with interval training, optical heart rate sensors have their problems and often don't keep up with the changes, which means that the HR values are recorded with a very long delay. Overall it looks very good at first glance, except for a few spots. The Fenix 6 keeps up with the increase in intensity and only shows delayed readings in the breaks when the heart rate gets slower and slower.

The average values look very good. The Fenix 6 shows itself at its best during interval training and proves that proper training is possible without a chest strap:
Garmin Fenix 6 Pro: HR-measurement accuracy interval training

| | | |
| --- | --- | --- |
| | Garmin Fenix 6 Pro | Polar H10 |
| HR Average (S/min) | 146 | 145 |
| HR Max. (S/min) | 165 | 165 |
Heart Rate Accuracy constant running (with step frequency target)
We did one run with a cadence alarm to work on a higher cadence (Run Cadence). Here the Fenix 6 is set to give an alarm if the step rate falls below 164 spm (steps per minute). At the same time, we make sure that we train at low intensity and move between HR zones 3 and 4. The model is also very well suited for such scenarios.
In the following screenshot you can see how the Fenix 6 is constantly correcting after an alarm is triggered because the step rate has fallen below 164 spm.

The HR measurement for a constant running unit also looks good after a brief start-up:

Garmin Fenix 6 Pro: HR- measurement accuracy constant running training

| | | |
| --- | --- | --- |
| | Garmin Fenix 6 Pro | Polar H10 |
| HR Average (S/min) | 141 | 140 |
| HR Max. (S/min) | 152 | 152 |
Power glass, battery life
The battery life of the Fenix ​​6 can be configured with the help of the new power manager. Which battery runtimes are possible for each variant in everyday life and sport can be seen in the comparison table below. In our experience, the values ​​given by the manufacturer match, but of course they also depend on personal behavior. But one thing is clear: the new models clearly outperform their predecessors. The Power Manager also enables power consumption to be adjusted with the help of predefined power modes. The remaining estimated battery life is shown in real-time on the display.
Solar models have a so-called power glass. This is a transparent solar charging lens through which the watch receives sunlight and charges the battery while the watch is in use. This extends battery life. As some Garmin Fenix 6 tests have shown, the power glass can extend battery life by about 10%. This is true across all battery operating modes. However, a prerequisite for improved battery life is that the display is exposed to bright light sources. Ideally sunlight, because the solar charging lens is optimized for the solar spectrum and in this case also charges the battery faster.
Activity Tracker, Smartwatch, PulseOX
The integrated 24/7 activity tracker works in the background and diligently collects fitness data such as steps, calories burned, sleep, heart rate, and resting heart rate. The function is automatically activated and records health data every second. The recorded data can be displayed on various widgets according to personal taste.
Likewise, trends are immediately visible on the clock when a widget is fully opened. Here for example the steps and resting heart rate of the last 7 days. The data is of course also available in full in the app and on the Connect website.
Also included is the manufacturer's new Body Battery feature. This looks at heart rate variability, stress level, sleep quality, and activities and weighs up stress and recovery in order to make a statement about the reserves still available on a scale from 0 to 100. The lower the value, the less intense exercise should be considered.
The red LED on the back of the housing is able to calculate the oxygen saturation of the blood. It can be used in two scenarios.
Measure the oxygen saturation of the blood during high-altitude activities and see how the body adapts to high altitudes. For a good measurement, users should not move for approximately 15 to 30 seconds.
Measure the oxygen saturation of the blood during sleep. The aim is to detect possible sleep problems (such as sleep apnoea). However, the validity of the nightly measurement is rather doubtful, since users move during sleep and the watch is therefore not always reliably in an optimal position on the wrist.
The Fenix ​​6 also brings smartwatch functions with it, including the option of making contactless payments via Garmin Pay or using the music model to play your own or streamed music via Bluetooth headphones.
Garmin Fenix 6 Comparison: choosing the right model
Not all Fenix 6 variants have all options and equal battery life, so athletes have to think about which one appeals best to them. Even the predecessor Fenix 5 had to take some criticism in this regard, as the extensive model range creates a tangle that needs to be unraveled first. Unfortunately, the Fenix 6 does not spare us this as well. The two product lines Base and Pro can serve as a rough orientation for users:
Base: no offline cards, no WLAN, no music storage
Pro: Offline cards, music storage, WLAN and related features
In the detailed Garmin Fenix 6 comparison gives you all the details and differences as well as further tips on choosing the right model, due to the amount of information. Here we show only tabularly important features of the main models Garmin Fenix 6s, Fenix 6, Fenix 6s Pro, Fenix 6 Pro, and Fenix 6X Pro:
Tip for table control: mobile device: wipe, desktop: left mouse click anywhere in table, then use left/right keys of keyboard
Garmin Fenix 6s vs Fenix 6 vs Fenix 6s Pro vs Fenix 6 Pro vs Fenix 6X Pro vs Enduro
-
FENIX 6S
FENIX 6
FENIX 6S PRO
FENIX 6 PRO
FENIX 6X PRO
ENDURO
Weight (gram)

58

80

61

83

93

Steel: 72 | Titanium: 58

Housing size (mm)
42
47
42
47
51
51
Display diagonal
1,2" | 30,4 mm
1,3" | 33,02 mm
1,2" | 30,4 mm
1,3" | 33,02 mm
1,4" | 35,56 mm
1,4" | 35,56 mm
Display resolution (pixels)

240 x 240

260 x 260

240 x 240

260 x 260

280 x 280

280 x 280

Lens material
Gorilla Glass 3
Gorilla Glass 3
Gorilla Glass 3 | Saphir
Gorilla Glass 3 | Saphir
Gorilla Glass 3 | Saphir
Power Glass (protected with Gorilla Glass DX)
Internal storage capacity

64 MB

64 MB

32 GB

32 GB

32 GB

64 MB

Battery life


Smartwatch up to
GPS up to
GPS + music up to
Max Battery GPS Modus
GPS expedition mode
Battery saving mode



-

-

-

-

-

-

Power Manager

Yes

Yes

Yes

Yes

Yes

Yes

Integrated heart rate monitor

Yes

Yes

Yes

Yes

Yes

Yes

Heart rate monitor under water

Yes

Yes

Yes

Yes

Yes

Yes

Pulse Ox

Yes

Yes

Yes

Yes

Yes

Yes

Pace Pro

Via Garmin Connect App

Via Garmin Connect App

Yes

Yes

Yes

Yes

Max. Number of data fields

6

6

6

6

8

8

Musik Apps (Spotify, Deezer, Amazon Music)

No

No

Yes

Yes

Yes

No

Pre-installed TopoActive Europe map

No

No

Yes

Yes

Yes

No

Turn-by-turn Navigation

No

No

Yes

Yes

Yes

No

Golf maps

No

No

Yes

Yes

Yes

No

Ski maps

No

No

Yes

Yes

Yes

No

WLAN

No

No

Yes

Yes

Yes

No

Model
6S
6
6S Pro
6 Pro
6X Pro
Enduro

From


From

From

From $499.99

From

From $499.99
Garmin Fenix 6 Review:
Conclusion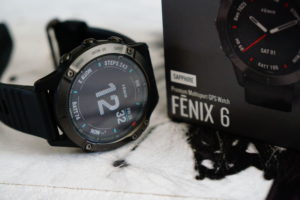 In the Fenix 6 testing, the Garmin multisport watch convinced us for the most part. It is extremely well equipped and versatile. Anyone can set it up in a way that makes the most sense for him or her and receives a training instrument that does not require any workarounds or other efforts to train in a structured way and at will. Those who do not need the versatile outdoor and fitness analysis functions in quantity and depth can also take a look at Vivoactive 4 or the Venu with AMOLED display. Competitors are also welcome to take a look at the outdoor sports watch Polar Grit X or the newer Vantage V2. However, these are less adjustable.
Sporty we saw good results in our activities. This concerns the heart rate sensor as well as the GPS receiver, although the accuracy is not perfect. HR chest strap comparison measurements usually look good, even during interval training. However, they can be different individually as always with watches with heart rate sensors.
Garmin Fenix 6 Price $319.99