The Garmin Venu Sq (Music) GPS fitness watch expands the series with a slimmed-down, but drastically cheaper model. It doesn't look like its big brother with its more angular features, but they are still comparable. For those who find it too expensive, the new model will hardly be able to be resisted.
It is now available for $199,99 (RRP), the Music version for $249,99 (RRP). It is equipped with GPS as well as a series of Smartwatch and fitness functions, so that it does not have to hide from the Venu.  Here you can find out what makes it special besides the price and where savings have been made.
Bestsellers, deals, gift ideas*
Amazon.com Top-Deals
Venu
Garmin
from $279.99

Vivoactive 4
Garmin
from $199.99

Versa 2
Fitbit
from $279.78

Are you looking for a Christmas present? These are our suggestions:
Garmin GPS Devices and Smartwatches
Garmin Venu Sq und Venu Sq Music: Die Highlights
Garmin announces the following highlights for Venu Sq and Venu Sq Music in addition to contemporary features:
GPS, GLONASS and additionally Galileo
Bright, color intensive 1.3″ TFT touch display
Activity tracker: 24/7 heart rate monitoring, advanced sleep analysis, steps, distance
Suitable for structured training: training plans and individual running plans
Respiratory rate, Pulse Ox (oxygen saturation), Body Battery
Menstrual Cycle Tracking
Notification of accidents and emergency assistance
Connect IQ for additional apps, widgets, display designs
Battery life up to 6 days, in GPS mode 14 hours
Waterproof to 50m (5 ATM)
Other little things like Garmin Pay
Venu Sq Music additionally:
Integrated music storage: MP3 and offline playlist playback for up to 500 tracks
Compatibility with Amazon Music, Spotify and Deezer
Garmin Venu Sq $189.00
Garmin Venu Sq
The Garmin Venu Sq dares to go back to more angular trains and thus offers a visual alternative to the more functional Venu known from our review. The music version Venu Sq Music expands the model series by a further variant, which only offers an additional integrated music memory. What are the important differences between these models and a decision guidance will be given below.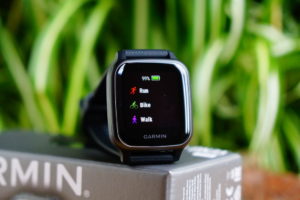 Visually, it is comparable to Fitbit Versa 2, Fitbit Versa 3 and Fitbit Sense. The bright, colorful 1.3″ (3.3 cm) touch display, which is protected by Corning Gorilla Glass, is eye-catching. This promises good readability in almost every situation. It is switched off to save energy. A corresponding arm movement or a double tap on the display wakes it up. Two control buttons on the side make it easier to operate, especially during sports, which is comparable with current models from the manufacturer.
Of course, the watch offers practically all the modern features of current models from the manufacturer. These include, for example, countless sports profiles, a 24/7 activity tracker (steps, distance, sleep, …), 5 ATM water resistance, smartphone notifications, control of the smartphone music player, body battery and much more.
The Venu Sq Music makes the watch more independent from the smartphone. Because on its integrated music memory, about 500 MP3 files – also in the form of offline playlists – can be stored. Coupled with standard Bluetooth headphones, music fun on the go is guaranteed.
Both versions are equipped with so-called Quick Release interchangeable wristbands (20mm). These are available in various colors and materials, also from third party suppliers. So the look can be rounded off for every occasion.
Venu Sq with clear focus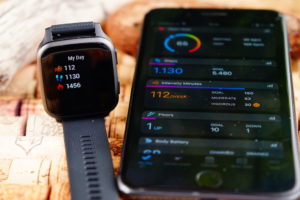 The Venu Sq has a clear focus. This is formed by numerous health and fitness and smart functions. Most of these are active 24/7. Users receive a versatile companion and an overview of heart rate, sleep quality, energy reserves and stress levels.
With a measly 37.6 grams, it is also ideally suited for this scenario. Because the watch can be worn comfortably and permanently, which contributes to almost complete health tracking. An ECG function is not on board.
A lot is also possible in terms of sport. Not only to maintain fitness, but also to improve and prepare for competitions. 20 indoor and outdoor sports apps such as running, cycling, yoga and weight training are preinstalled. In addition, adaptive training plans for running goals as well as over 50 training sessions with instructions are available.
Venu Sq Music vs Venu: What to do without
The Garmin Venu Sq and Venu Sq Music are very attractively priced. But users should know what to do without if they want to prefer them to the higher priced Venu.
Although the size of the TFT color touch display is slightly larger at 33 mm (1.3″) (Venu: 30.4 mm (1.2″)), the resolution and contrast of the AMOLED display of the Venu is better. Especially the poorer resolution should catch the eye quickly. Here 240×240 pixels are compared to the much better 390×390 pixels.
Also the battery life is a bit worse. While Venu manages about 20 hours in GPS mode, Venu Sq has 14 hours. In the clock mode all variants with about 6 days runtime are the same.
There is also no barometric altimeter built in, but Venu has one. So there is no floor counter installed and no total ascents and descents are stored in workouts. During sports, the watch uses the GPS to determine the altitude. These are usually less accurate than values determined by a barometric altimeter. Fortunately, this can be counteracted. Altitudes can be corrected automatically in Garmin Connect or comparable services after an activity.
For varied workouts, Venu presents animated exercises (yoga, Pilates, weight training and cardio training) on the display. Unfortunately, these are also deleted on the Venu Sq.
If you are interested in the integrated music memory, you have to use the Venu Sq Music or Venu. The most favorable variant (RRP: $199,99) does not have this function.
As you can see, the slimmed down model offers almost all important features, so that the decision for the right model is quite easy. Except if one of the above mentioned features is indispensable. All other fitness features are practically identical.
Menstrual Cycle Tracking
For women, the Venu Sq, like almost all of the manufacturer's newer models, brings a special extra. The tracker helps to better understand the individual phases of the cycle and also provides period reminders and cycle details. The app also provides helpful tips on nutrition and training that are appropriate for the current phase of the cycle.
Garmin Venu Sq Ongoing Review
Meanwhile, we will conclude the Venu Sq review with the practical part. You will soon be able to read the complete review here. Ultimately, it is technically very comparable to the Venu except for the display and is recommended if users can do without the above features and like the design.
Garmin Venu Sq $189.00
Alternatives
We hope you enjoyed our Garmin Venu Review. As alternatives we suggest the following sports watches:
Garmin Venu
Garmin Vivoactive 4
Polar Grit X
Fitbit Versa 2