In the Garmin Vivoactive 4 review we take a look at the latest addition to the Vivoactive series. The manufacturer has slightly increased the recommended price compared to the predecessor. The all-rounder is typically Garmin equipped with a MIP display.
Below we explain the important differences between this display and the AMOLED display of the Venu, which is also new and comparable. These should be known before buying. Of course we have reviewed the accuracy of GPS and heart rate sensor among other things and documented the results here in our report.
Bestsellers, deals, gift ideas*
Amazon.com Top-Deals
Venu
Garmin
from $219.99

Vivoactive 4
Garmin
from $199.99

Versa 2
Fitbit
from ---

Are you looking for a Christmas present? These are our suggestions:
Garmin GPS Devices and Smartwatches
Garmin Vivoactive 4
Important differences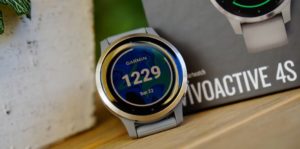 In our Vivoactive 4 review we have the variant 4S. The Vivoactive 4 and 4S now available only differ in their case sizes and depending on the case size, in their display sizes and battery life. Examples of the impact of case size on battery life are given below. All important functions are under one hood.
Thus you can choose the right device for your wrist size and benefit from all available options. This also includes an integrated music memory and the possibility to download playlists from Amazon Music or Spotify directly to the watch to listen to music during the workout without a phone.
Compared to its predecessor, it now has two buttons instead of one on the right side of the case. Together with the touch display, these now enable a much more intuitive and better operating concept, which we will explain in more detail below in the Vivoactive 4 practical test.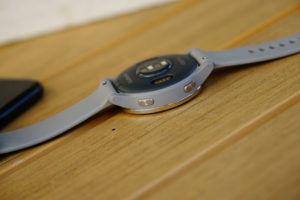 The Highlights
In addition to the features mentioned above, Garmin Vivoactive 4 offers new features that are more related to health tracking. These enable athletes to get to know their general fitness condition better. These are the new highlights:
Vivoactive 4 with 45 mm, Vivoactive 4S with 40 mm housing
GPS, GLONASS, Galileo
Stainless steel bezel, gorilla glass, transflective MIP (Memory in Pixel) color touch display
Garmin Elevate technology for wrist heart rate measurement
New Health Tracking Features: Pulse Ox, Sleep Analysis 3.0, Body Battery, Breathing Rate, Water Consumption and Menstrual Cycle Tracking
Over 20 preinstalled sports apps such as running, swimming including the new Yoga 2.0 and Pilates
More than 40 animated trainings for weight training, yoga, cardio and Pilates to imitate
Barometric altimeter, compass, gyroscope, accelerometer, thermometer, heart rate oximeter acclimatization
2 buttons on the right side of the housing
Waterproof up to 5 ATM (suitable for swimming)
Heart rate measurement during swimming
Workouts and training plans as well as individual running plans downloadable to the watch
Integrated music memory (approx. 500 tracks) for playback via directly connectable Bluetooth headphones (smartphone can stay at home)
Music Streaming: Amazon Music, Deezer, iHeartRadio and Spotify
Automatic accident/emergency notification during certain activities
Battery life Examples (up to)

Smartwatch mode with fitness tracker functions and heart rate measurement on the wrist around the clock

Vivoactive 4: 8 days
Vivoactive 4S: 7 days

GPS mode

Vivoactive 4: 15  hours
Vivoactive 4S: 13  hours

GPS mode with music

Vivoactive 4: 6 hours
Vivoactive 4S: 5  hours

Garmin Pay function for cashless payments (with partners Boon, VIMpay & Mastercard)
Colours: Black with gold, sand with rose gold, granite blue with silver and black with slate.
Standard Quick Change Bands: 18 mm (Vivoactive 4S) and 22 mm (Vivoactive 4). Thus, any standard bands can be attached.
Garmin Vivoactive 4 Price $199.99
Display
A transflective MIP display is not as high-resolution as an AMOLED display and the colours are not as rich as with an AMOLED display, but it is permanently switched on (always-on display) and very reliable and easy to read outdoors and even in direct sunlight. Therefore, the display is perfect for outdoor sports and is responsible for ensuring that the Vivoactive 4 is qualified as an outdoor sports watch. In addition, the display in particular ensures very long battery life due to its low energy consumption. In the gym, readability is also guaranteed as long as the rooms are not extremely underlit. In extreme cases, the backlight can always be activated.
Here is an example of a Vivoactive 3 with transflective MIP display compared to a Fitbit Ionic with LCD display, which is hardly readable in direct sunlight:
So if such good readability in bright environments is important to you, the Garmin Vivoactive 4 is the right choice.
Case and wristband
In general, the Vivoactive 4 is well processed. This applies to the polymer case and display as well as to the replaceable silicone wristband. But if you had a Garmin Fenix (Fenix 6 Review) in your hands, you will immediately notice a difference in your haptic perception. While the Fenix, let's say, makes an adult impression, the Vivoactive looks more playful and daintier, but not cheap. Vivoactive 4 is at least half as light (from 40 grams) and feels more plastic. After all, both the bezel and the buckle are made of stainless steel.
On the wrist it looks chic and sporty throughout and is hardly noticeable when worn. Another advantage of its low weight is that it can usually be worn at night without any problems and without being a nuisance. This allows you to benefit from all the important night-time tracking features, including resting heart rate recording, sleep quality and Garmin's Body Battery. Depending on the model variant, a Fenix is not only heavier, but also more massive, so that a person might like to avoid tracking at night with a heavy heart and set the watch aside. However, the night recordings can be very important for athletes, as they help to get a rounder overall picture of fitness.
The silicone wristband makes a pleasant impression because it is soft and cuddly. The wearing comfort is very good. The Quick Release Bands can be exchanged for other 18mm (Vivoactive 4S) or 22mm (Vivoactive 4) standard bands. This allows you to adapt the look of the watch to your own wishes. The buckle simplifies handling.
Operation
Menu navigation and control of the Vivoactive 4 is via two buttons on the right-hand side of the housing and the touch display. A touch-sensitive left side of the housing (Side Swipe), as with the Vivoactive 3, is not available. Unfortunately, Side Swipe does not always work reliably, so that many users do not use it actively at all. This will also be the reason why Garmin has decided against Side Swipe for the Vivoactive 4.
The upper right button is the action button and is pressed if you want to switch on/off the device, start and stop activities, display the control menu (hold for 2 seconds), activate the emergency help (hold for 5 seconds) or confirm actions.
The lower left button is the back button. It returns you to the previous page or marks new laps/new sets in Activities.
And then there's the touch display, which is very helpful in everyday life, where you can swipe, tap and hold to control widgets, various functions and menus or to confirm actions. Some actions, such as selecting a sports profile, can only be selected via the touch display.
Overall, we find the operation very successful and superior to that of the predecessor.
Garmin Vivoactive 4 Review: Practical experience
In the Vivoactive 4 review, let's look at the sporting scenarios and, among other things, at GPS and heart rate monitor accuracy. The Vivoactive 4 is a GPS Multisport Smartwatch, which means an all-rounder. However, like most sports watches, there is no automatic multi-sport mode. This function is reserved for high-end sports watches such as the Fenix 5 or Fenix 6. The automatic multisports mode allows several sports to be seamlessly recorded as a unit, which is especially interesting for triathletes. The Vivoactive 4 still offers added value for most athletes because it is versatile and can be expanded with additional apps from the Garmin Connect Store as well as ANT+ or Bluetooth sports sensors. These include heart rate chest straps, run/speed/cadence and Approach CT10 golf sensors. Varia Smart bicycle lights/radar and ANT+ temperature sensors can also be connected.
Although it does not offer the data and analysis depth (such as training load, training effect, recovery time) of a Forerunner or Fenix model, it still offers significantly more sports tools and available and individually adaptable data pages and fields compared to the competition. If you need versatile navigation options or an automatic multisport mode, you might want to take a closer look at the Fenix models, for example, which better cover these areas.
As our Vivoactive 4 review will show, the watch doesn't exactly save on setting and recording options for each sports profile (also for swimmers, golfers and snowboarders, for example), because there are lots of data fields available for configuration. This feature is a Garmin unique selling point that no Apple Watch, Polar or Suntoo sports watch or Fitbit fitness watch offers. That's why a Vivoactive 4 can also be interesting for professionals. Anyone can configure the watch and what it displays during the sport where on the available data pages to suit him.
Before the workout
To start with, we'll take a walk through a round jog and test how exactly heart rate monitors and GPS receivers work and which settings a sports profile offers. Running is always a good way to do this, because you can show many options and also the handling.
If you select an (outdoor) activity, the GPS receiver is automatically activated (or not, depending on the sport). The position is determined within a few seconds, typical for Garmin. The quickest way is to connect the watch to the app before and move a little before starting the activity and wait for the position to be determined. The Vivoactive 4 clearly indicates when it is ready: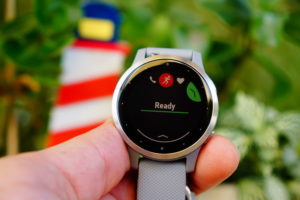 Previously coupled sensors (such as run/bike or heart rate sensors) are automatically integrated into the activity and their data recorded. If, for example, the Vivoactive 4 detects a new HR chest strap that has not yet been coupled, it asks whether it should be coupled. If you agree, the integrated heart rate sensor is deactivated for the duration of the activity.
Adaptations
Before you start, you have the possibility to make specific profile settings. For example, the available pages and their data fields can be individualized very well and in detail.
Various data fields, alarms and lap (Auto Lap) and Auto Pause functions are available for the sports profiles. The data fields are displayed on a maximum of 3 training pages. A separate 4th non-editable training page is available for displaying the current heart rate as well as the current HR zone. This can only be switched on or off.
Each training page can display 1 to a maximum of 4 data fields. Thus, a maximum of 12 different data fields can be read simultaneously on the 3 pages. Additionally on the fourth data page the HR data mentioned above can be read.
This is the fourth page with the HR data: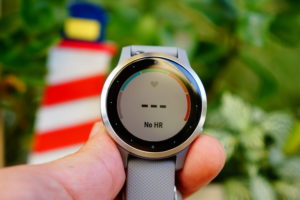 Among the selectable and partly configurable data fields are for example (small excerpt):
Various timer fields (like timer, lap time, time – last lap)
Distance fields (like distance, lap distance, distance last lap)
Speed fields (such as speed, average speed, lap speed, maximum speed)
Heart rate fields (heart rate, average HR, heart rate range, training effect, HR lap, …)
Various step frequency fields
Various cadence fields, temperature fields, altitude fields
Other fields like calories, direction, laps and much more
Alarms
The configurable alarms are also very diverse (small excerpt):
Heart rate (individual zone areas with lower/upper alarm can be selected, manual input for max. HF also possible)
Speed, time, distance, step/step frequency alarms
User-defined alarms such as drinking, eating, reversing, going home
If one of the alarms is triggered, the Vivoactive 4 reports via vibration alarm and visually on the display.
During the Workouts
During the workout, you can operate the display, which is always very easy to read, via wiping gestures and view the configured pages. This may not work reliably with sweaty fingers. The keys allow the manual marking of laps or the start/stop/pause of the activity. In addition, you can press and hold to access various menus of the watch or simple navigation options (save or call up locations).
When the activity is finished, it can be saved or discarded:
If personal records have been broken, the Vivoactive 4 rewards the performance with awards and trophies. If required, it displays a summary of the workouts:
GPS
For the Vivoactive 4 GPS review, GPS/GLONASS was activated in our first run.
Tip: If you want to achieve more accurate recordings, you should first set the recording interval to 1 second in the system settings. There, the Smart Recording option is preset, which records distances with less battery consumption but less accuracy. One should know that the 1-second recording interval only affects the data to be recorded and has no influence on the metrics actually measured. This ultimately means that the file containing the route becomes larger and has more measurement points. The memory of the watch is therefore used to a greater extent.
All in all the Vivoactive 4 gets the recording for our first test run (approx. 5km) quite well in good weather and doesn't make any big mistakes:

In another more varied test over a distance of 7 km, in some parts even less accurate records were found. For comparison we put the measurements of a Garmin Fenix 6 Pro, which was set identically (GPS/GLONASS), on top. The Fenix 6 Pro was worn on the right arm at the same time as the Vivoactive was on the left arm. This alone can make a GPS recording look different, but sometimes the Vivoactive 4 was clearly beside the track. For example the following screenshot shows how the Fenix 6 Pro (orange) reproduces the actual distance covered very well: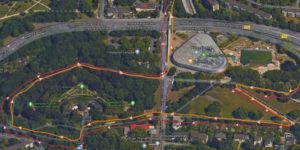 A practically identical track we run a week later and see there: the track is much better recorded. The actually run track is reproduced very well (for a better representation it is shown crosswise):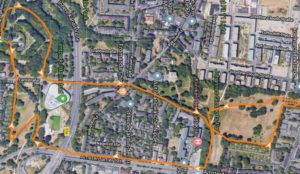 Heart rate accuracy
When we tested the Vivoactive 4, our Polar H10 HR chest strap was also used. This allows us to check whether the Vivoactive 4 heart rate sensor accurately measures the heart rate. The two measurement curves, superimposed over time, look as follows:

We already had more accurate optical heart rate monitors in the review, but overall the Garmin Vivoactive 4 doesn't have any major flaws here either. In optical heart rate measurement many factors can falsify the measurement, see our FAQ article about optical heart rate sensors in sports electronics. This means that HR measurements do not have to look like this for everyone. The average values look good in total:
Garmin Vivoactive 4: HR measurement accuracy

| | Garmin Vivoactive 4 | Polar H10 |
| --- | --- | --- |
| HR Average (S/min) | 161 | 160 |
| HR Max. (S/min) | 174 | 173 |
Another, longer run over 7km shows a similar picture. Yellow marked in the picture below is a HR tip of the Vivoactive 4, which does not belong there. This can happen, for example, if the watch does not fit properly. However, with the Garmin Vivoactive 4, there is always some "restlessness" to be seen in the test due to smaller peaks, which certainly also influences the average values in the end result. The following screenshot illustrates this.

Garmin Vivoactive 4: HR measurement accuracy

| | Garmin Vivoactive 4 | Polar H10 |
| --- | --- | --- |
| HR Average (S/min) | 158 | 156 |
| HR Max. (S/min) | 180 | 178 |
Accuracy interval training
As an all-rounder, the Garmin Vivoactive 4 can also be interesting for interval training. In the Vivoactive 4 review we therefore look at how the heart rate sensor reacts to rapid changes in heart rate. As a rule, optical heart rate sensors have their problems during interval training. They express themselves, for example, in such a way that HR data is only delayed or simply reported incorrectly (often too low). But the Vivoactive 4 makes a good impression during interval training, except for a few digits. It is especially effective during intensity increases (purple in the picture below) and only shows delayed readings during pauses when the heart rate slows down.

The Vivoactive 4 proves that interval training is also possible with it. However, everyone should check this for themselves, as the measurements can vary from skin type to skin type. If possible in comparison with a good HR chest strap. The average values look very good.
Garmin Vivoactive 4: HR measurement accuracy Interval Training

| | Garmin Vivoactive 4 | Polar H10 |
| --- | --- | --- |
| HR Average (S/min) | 151 | 150 |
| HR Max. (S/min) | 176 | 174 |
Garmin Vivoactive 4 Review: Battery life
Garmin specifies the following achievable "up to" battery life:
Smartwatch mode with fitness tracker functions and wristop heart rate monitoring around the clock

Vivoactive 4: 8 days
Vivoactive 4S: 7 days

GPS mode

Vivoactive 4: 15 hours
Vivoactive 4S: 13 hours

GPS mode with music

Vivoactive 4: 6 hours
Vivoactive 4S: 5 hours
According to our experience, these times are also roughly reached. If an athlete trains every two to three days for about 1 hour and uses the Smartwatch functions in everyday life, this will take about six to seven days. Streaming music during sports or activating the pulse oximeter reduces the battery life accordingly.
Unfortunately there are no flexibly configurable battery saving modes for the battery. If you need something like this, take a look at the more expensive Garmin Fenix 6, which can run for weeks with reduced functions if necessary. Among the competition, a look at the Polar Grit X is also recommended.
Software
A few months after our Vivoactive 4 review, we looked to see if Garmin was improving the software and fixing bugs. A look at the update history shows that the manufacturer is diligently providing updates. As of January 2020, the software version has reached 4.0, which indicates that some bugs have been fixed and new features have been added.
Among the new features are:
Support for detecting abnormal, very low heart rate
Improved battery life when Bluetooth devices are paired
New data field: vertical speed for running and cycling
On the one hand bugs are annoying, on the other hand it is reassuring to know that the software is kept up-to-date and the device does not disappear into oblivion at the manufacturer.
Garmin Vivoactive 4 or Garmin Venu
The Garmin Vivoactive 4 and Garmin Venu have most of the features in common, as the hardware in the case is identical. The Garmin Venu is only used if the display is more in the direction of an Apple Watch or Fitbit watch. This means higher resolution and higher performance animations or animated watchfaces.
On the other hand, you have to be content with shorter battery life. It doesn't quite come close to comparable current Garmin models with transflective displays, but clearly trumps most Android and Apple smartwatches by a few days. It can be assumed that if unused functions are deactivated, the battery life can be significantly increased.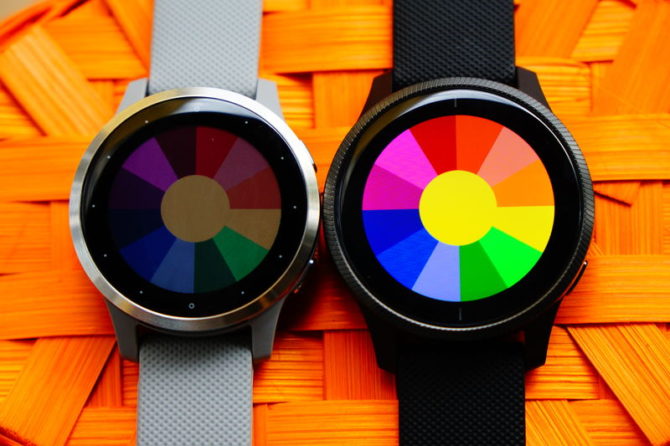 The AMOLED display is worse outdoors/under very bright conditions because it is more reflective. Unfortunately, we often had to make this experience with Smartwatches with (AM)OLED/LCD displays. We will take a closer look at this aspect in the Garmin Vivoactive 4 review, but we don't expect any surprises here. In environments such as fitness studios, AMOLED displays can clearly show their strengths in comparison to other displays, as the display is brighter, richer in contrast and has richer colors.
All other features of both fitness trackers are practically identical. So you don't have to worry about making compromises with the Vivoactive 4 or Venu from a sporting point of view. The following comparison between Vivoactive 4 and Garmin Venu compares the smartwatches and illustrates the differences that result exclusively from the different displays.
Garmin Vivoactive 4s vs Vivoactive 4 vs Venu

| FEATURES | VIVOACTIVE 4 S | VIVOACTIVE 4 | VENU |
| --- | --- | --- | --- |
| Dimensions (mm) | 40 x 40 x 12,7 | 45,1 x 45,1 x 12,8 | 43 x 43 x 12 |
| Product weight (gram) | 40 | 50 | 46,3 |
| Housing material | Polymer | Polymer | Polymer |
| Bezel material | Stainless steel | Stainless steel | Stainless steel |
| Bracelet type (web width) | Quick Change (18 mm) | Quick Change (22 mm) | Quick Change (20 mm) |
| Display Material | Gorilla Glass | Gorilla Glass | Gorilla Glass |
| Display Type | MIP colour touch display | MIP colour touch display | AMOLED colour touch display |
| Display size | 27,9 mm (1,1″) diameter | 33 mm (1,3″) diameter | 30,4 mm (1,2″) diameter |
| GPS | GLONASS | Galileo | Connected GPS | ● | ● | ● | ○ | ● | ● | ● | ○ | ● | ● | ● | ○ |
| Bluetooth | ANT+ | WLAN | ● | ● | ● | ● | ● | ● | ● | ● | ● |
| Barometer | Compass | Gyroscope | ● | ● | ● | ● | ● | ● | ● | ● | ● |
| Acceleration sensor | Thermometer | Brightness sensor | ● | ● | ○ | ● | ● | ○ | ● | ● | ○ |
| Integrated memory | 4 GB | 4 GB | 4 GB |
| Battery life | with GPS | up to 7d | up to 13h | up to 8d | up to 15h | up to 5d | up to 20h |
| Waterproof | up to 50 m (5 ATM) | up to 50 m (5 ATM) | up to 50 m (5 ATM) |
|  Amazon | Product link | Product link | Product link |
Garmin Vivoactive 4: Concluding words
Even old things are still available with the Garmin Vivoactive 4. For example, that it can be configured in a level of detail that hardly any of its competitors can match. Not with Polar, not with Fitbit and also not with Apple or Samsung. It is a ready-to-use training tool that does not require any workarounds or other efforts to train with it in a structured way and at will. For even more (outdoor) functions, however, the athlete must resort to other Garmin trackers.
Furthermore, it has other noteworthy features. These include, in addition to numerous sports profiles, the increasingly popular Pulse Ox sensor for estimating the oxygen content of the blood during sleep. Also it estimates in form of an easily understandable index the still available energy reserves by weighing heart rate variability, VO2Max, stress, sleep quality and activities against each other. This helps, for example, when planning further training.
Whoever likes can extend the functionality. Either via apps and additional functions from the Garmin Connect Store or via compatible ANT+/Bluetooth sport sensors that can be coupled with the device. These include heart rate chest straps, run/speed/cadence and Approach CT10 golf sensors. Varia Smart bike lights/radar and ANT+ temperature sensors are also included.
Additional functions such as the automatic recognition of some sports, tracking water consumption or menstrual cycles and measuring the pulse during swimming complete the sports watch. An integrated memory for music even allows the smartphone to stay at home during sports.
Garmin Vivoactive 4 Price $199.99
Garmin Venu Price $303.99