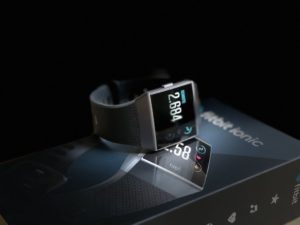 This Fitbit Ionic reviews the sporty Smartwatch. The wearable features include promising fitness features and sensors that we take a closer look at.
We will focus on the GPS and heart rate accuracy during various sports and fitness activities and provide further Fitbit Ionic experiences here.
For reviewing we bought the Ionic in smoke grey/charcoal.
Fitbit Ionic Review Overview
Part 1: Overview, Processing, Display, Features
Fitbit Ionic Review – Summary
Below is our summary for the Fitbit Ionic.
The Fitbit Ionic is especially suitable for fitness enthusiasts who are looking for a stylish fitness watch for everyday life and sports and want to be as independent of the smartphone as possible. With the support of various sports profiles, integrated GPS and heart rate measurement on the wrist, it is very versatile. Smart functions, a local memory for music and a good battery life round off the Ionic.
Suitable for self-optimizers
Comfortable, smart, daily companion
Versatile application possibilities. Sporty, as well as in countless other areas
Very good app
here
Unboxing
In the Fitbit Ionic review, we keep this section short and focus more on the sporting characteristics below. The Fitbit Ionic comes in an elegant dark package. In addition to the Smartwatch, the package includes a short user manual, a charging cable with USB power supply and a replacement wrist strap for narrower wrists, which fits around a wrist with a circumference of 140 to 170 mm. The larger wristband is suitable for wrists with 170 to 205 mm circumference: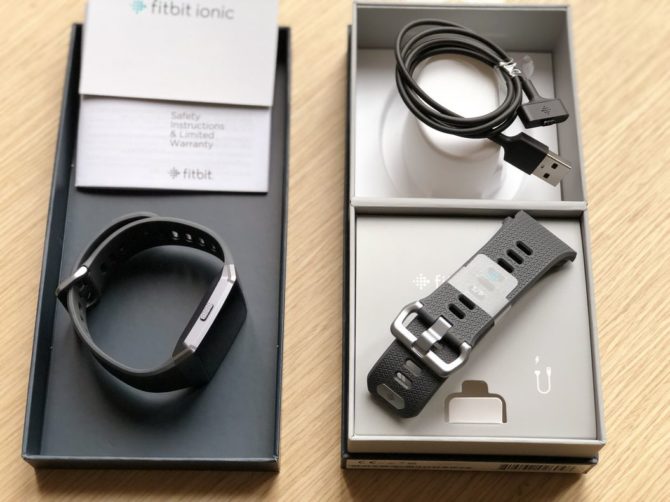 The charging cable with magnets holds the Ionic firmly in place. We have had much weaker magnets in other wearables.
Outer appearance
 Case and Wristband
In general, the Fitbit Ionic is well processed. This applies to the unibody case and display as well as to the wristband, which is interchangeable. The manufacturer advertises strong and lightweight 6000 series aluminum in aircraft industry quality with regard to the housing frame. We have the standard version with aluminum case and silicone band here. The materials used make the wearer feel good.
The silicone band leaves a pleasant and robust impression. If you want it to be more elegant or more sporty, you can choose the version with leather band or sports band. The band is interchangeable so that the look of the GPS Smartwatch can be adapted to your own wishes.
Size, Weight, Suitability for Everyday Use
The Ionic feels light overall and is hardly noticeable when worn. She weighs only 47 grams, including the band. Compared to other Smartwatches, it is significantly flatter and lighter. Therefore, it can be worn all day long, but also while sleeping. A long-lasting battery, which lasts about 5 days depending on the use, ensures that all functions can be used for several days without having to recharge at short intervals. For example, daytime and sleep trends can be observed over several days without gaps. By way of comparison: the similar Apple Watch 3 runs about 2 to 3 days at a time, the Garmin Vivoactive 3 lasts a little longer, about 6 to 7 days.
The Fitbit Ionic leaves a futuristic impression on the wrist and is slightly larger than the Apple Watch 3 and Garmin Vivoactive 3. Their appearance is striking and usually attracts curious glances.
Display
The Fitbit Ionic's color LCD display, equipped with Corning Gorilla glass 3, is easy to read and comparable to the display of an Apple Watch 3. It is normally completely switched off and is only activated when the arm moves or touches the display or keypad. The behavior can also be adjusted in the settings.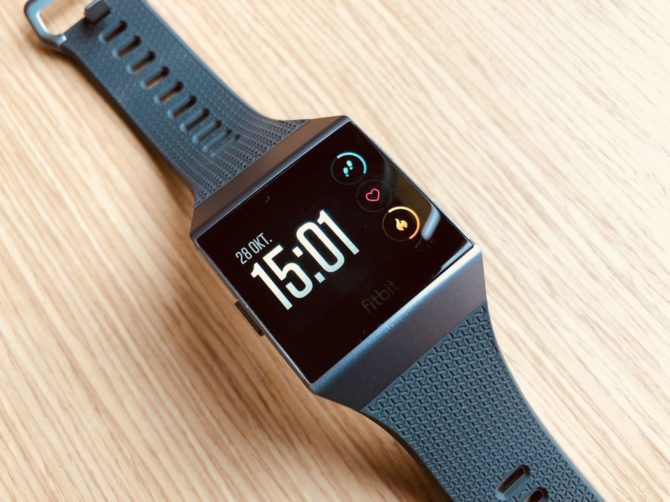 The LCD display doesn't cope so well with direct sunlight that sometimes occurs: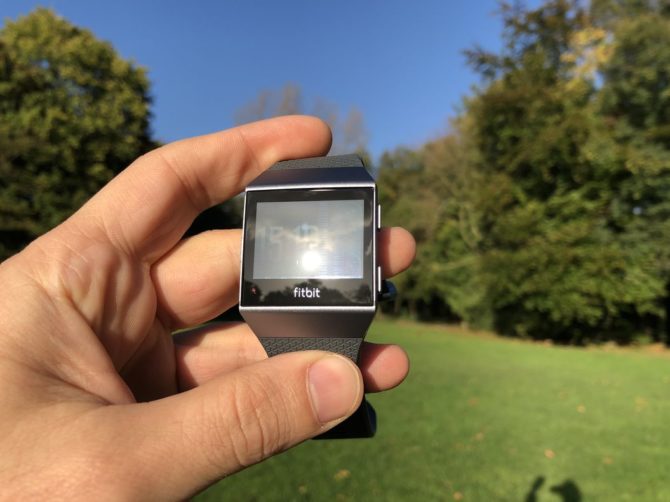 In comparison, the OLED Retina display of the 2nd generation of Apple Watch 3 in direct sunlight, which is similarly less readable: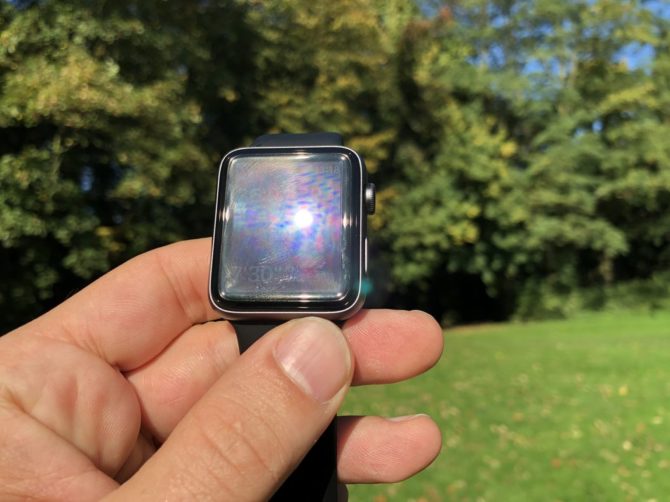 In addition, the comparison with the transflective MIP display (memory in pixels) of a Garmin Vivoactive 3, which has no problems: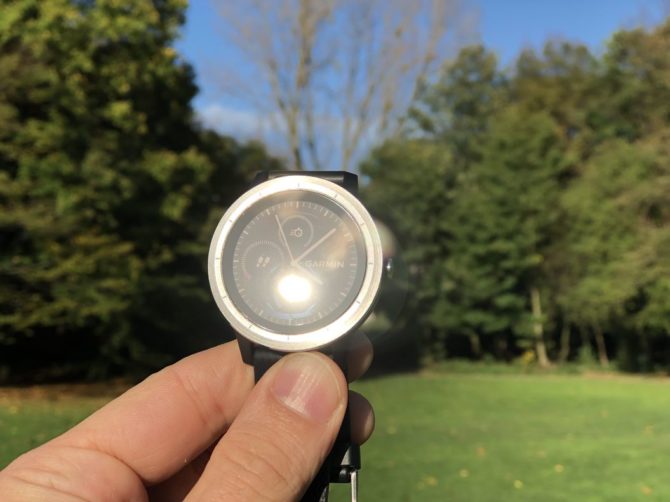 Handling
The Fitbit Ionic's menu navigation and control is provided by touch and swipe gestures on the display as well as a total of three lateral buttons. You type or swipe on the display to access various statistics or menus. For example, swiping down from the top of the screen, you will get to the music player display, which plays music via paired Bluetooth headphones. A swipe from bottom to top at the bottom of the screen indicates received smartphone messages.
It's a good thing that the Ionic has keys that are suitable for sports and that you can reach options not only via the touch display. They allow you to operate the fitness watch during a workout, even if you have sweaty or wet fingers (or wear gloves) and therefore the display is not so easy to operate. For example, for starting, pausing, and ending a course. For example, the Apple Watch always needs to be swiped on the display to stop or pause a workout.
A swipe from right to left shows further options of the Ionic:
Fitness fans will be eagerly awaited and will quickly press the sports button at the bottom right hand corner of the app. Here are some examples:
Fitbit Ionic – Full technology and independent
The high-tech Smartwatch is packed with new technology, much more than any other Fitbit Tracker. It combines all the features Fitbit has built into a tracker, but adds new technology to its case. All these innovations mean that the smartphone can stay completely at home during the sport. This applies to music lovers as well as GPS fans.
Among other things, it contains the following new or improved sensors and features:
Integrated GPS/GLONASS receiver: records speed, distance and route in 1-second intervals during the workout. Only the Fitbit Surge, which is now outdated, also has a GPS receiver. All other trackers depend on the GPS of your smartphone.
Waterproof up to 50 meters: finally a fitbit tracker suitable for swimming. Most other Fitbit trackers, except for the Flex 2, are only splash-proof
New swim training mode: Ionic displays real-time lap times, training duration and calories burned in the pool and open sea.
MEMS 3-axis accelerometer: detects motion patterns
2.5 GB local memory for music
Altimeter: measures altitude differences
Newly developed optical heart rate monitor: Ionic will work with a further improved PurePulse heart rate technology in order to be able to measure the burned calories even more accurately during intensive training such as cycling, weight lifting or on the cross trainer.
WLAN
Bluetooth 4.0: Connecting to your smartphone and headphones
Digital compass, vibration motor, ambient light sensor, temperature sensor
Platform/Support for third-party apps
New guided training programs for body weight training
New health and audio coaching programs (such as walking or running)
SpO2 sensor technology: The introduction of SpO2 sensors unleashes new potential to track key health indicators such as sleep apnea and atrial fibrillation. This feature is to be added with a software update.
Fitbit has come up with something special about the GPS antenna. It is in the framework itself and should therefore provide a better satellite connection. The following pages in our Fitbit Ionic Review show how accurate the GPS as well as the heart rate monitor recording are. According to Fitbit's own data, it is the best GPS and GLONASS tracking in the industry.
Of course, it also automatically records steps, calories, levels, sleep phases, moments of rest and much more. In addition, it has numerous intelligent Smartwatch features such as smartphone notifications and the possibility to personalize your own device.
App developers is able to access the Fitbit App Software Development Kit (SDK) since September 2017, so that almost every app can be integrated into the Fitbit Ionic.
New Operating System and Own App Store
Fitbit benefits from the Pebble purchase and now offers a new operating system for its trackers with Fitbit OS, which is to be updated regularly and bring new features. This includes the Fitbit App Gallery, which allows Ionic users to select their apps and dials so that they always get the information they need.
The App Gallery is supposed to offer health and fitness apps from Fitbit, such as Exercise, Fitbit Coach, Relax, Timer and many more, as well as popular, not mentioned apps. Each app is specifically designed for Ionic, so there's no need to download accompanying mobile apps or be around smartphones.
The following partner apps will be available on Ionic from the start:
Weather: powered by global provider AccuWeather, provides real-time weather forecasts for three different locations.
Strava: allows you to track and track the performance data of runs, bike tours or swimming routes and keep track of them
The Competition
According to the manufacturer, the Ionic is supposed to attack the Apple Watch series and gain market share. However, due to the many similarities, we believe that Ionic will presumably compete more with the current Vivoactive HR and its successor Vivoactive 3. The Vivoactive 3 is available in stores. The Polar M430 is also available in the price range of the Ionic and Vivoactive models, and although it is equipped with a very good GPS receiver, it is aimed more at runners and scores less on smartphone notifications.
Buy Fitbit Ionic, Prices, Availability
Fitbit Ionic is now available in stores. The Ionic's EIA price is $299.95 . Ionic can also be ordered here:
Three stylish color combinations are available:
Silver-grey tracker and buckle with blue-grey strap
Smoke gray tracker and buckle with charcoal band
Burnet orange tracker and buckle with slate blue band
In 2018 a new exclusive Fitbit Ionic Adidas Edition will be launched
Fitbit Ionic in Athletic Review
Our extensive Fitbit Ionic review is in full swing and has more to offer, but first convincing results from our workouts are already available.
Continue reading on the next page: Fitbit Ionic during sports: How does the Ionic Heart Rate Sensor compare to a HR Chest Strap? How exactly does it measure the heart rate  and how good is the GPS receiver? This and much more in the second sportier part….
Next Page