Our Garmin Enduro or Fenix 6 comparison gives tips on choosing the right model. We have tested the latter in particular for a long time and know where important differences exist. Even those that cannot be found out via the manufacturer's pages.
Here are our detailed reviews: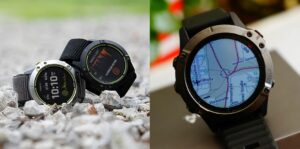 Bestsellers, deals, gift ideas*
Amazon.com Top-Deals
Venu
Garmin
from $216.00

Vivoactive 4
Garmin
from $249.99

Versa 2
Fitbit
from ---

Are you looking for a Christmas present? These are our suggestions:
Garmin GPS Devices and Smartwatches
Garmin Enduro or Fenix 6?
As our Garmin Enduro versus Fenix 6 comparison will show, there are countless variants to choose from, especially for the latter. However, the Fenix 6X Pro Solar Edition is the most similar, also in terms of case size and display features.
First, basic features and obvious differences that result from the specs:
Enduro

1 Case size: 51 mm (turns out bulky on narrower wrists)
display resolution of 280 x 280 pixels, which allows the simultaneous display of max. 8 data fields
comparable with Fenix 6X Pro Solar Edition
significantly better battery life compared to all Fenix 6 variants
only available with Power Glass (Solar), no sapphire crystal
Tracks/courses visible as such on the display, but no full-fledged maps. Thus, more difficult to orient oneself in unknown terrain.
turn-by-turn/point-to-point navigation
no maps (TopoActive/ski resort/bike maps)
no support for downloadable maps
no re-routing when leaving a route, as no maps are available on the watch
no Trendline Popularity Routing
no RoundTrip routing
no WLAN for synchronization with Garmin Connect
no integrated music storage (limited to controlling the music player on the smartphone)

Fenix 6 Pro variants

3 case sizes (something for every wrist)

42 mm (Fenix 6S Pro)
47 mm (Fenix 6 Pro)
51 mm (Fenix 6X Pro and Fenix 6X Pro Solar)

51 mm models offer a display resolution of 280 x 280 pixels, which allows simultaneous display of max. 8 data fields instead of otherwise max. 6 data fields
Sapphire Edition available in any case size
Solar Edition available in any case size
WLAN integrated, thus less dependent on the smartphone
pre-installed Europe map as well as worldwide golf/ski/bike maps
Turn-by-turn navigation/point-to-point navigation
Trendline Popularity Routing: popular routes based on extensive Garmin Connect data from other users are highlighted on the map like a heatmap. Helpful in unfamiliar areas or to find safe routes that you don't know yet.
RoundTrip routing: based on a desired distance for running or cycling activities, the watch suggests three routes that also lead back to the starting point
Garmin Music Streaming, internal memory for music files

Fenix 6 Base variants

2  Housing sizes

42 mm (Fenix 6S)
47 mm (Fenix 6)

Display resolution of 260 x 260 pixels, which enables the simultaneous display of max. 6 data fields
only available with Corning Gorilla Glass DX, no sapphire
Solar Editions for every case size now available
no WLAN
no maps
no re-routing when leaving a route, since no maps are available on the watch
no Trendline Popularity Routing
no RoundTrip routing
no integrated music storage (limited to controlling the music player on the smartphone)
Which model should you choose? It's quite simple: in the decision between Enduro or Fenix 6, there is really only one point that is important in the selection: the battery life! This is in the Enduro compared to the best Fenix 6 model (6X Pro Solar) is significantly better, so that endurance athletes or users with the desire for extremely long battery life as an important criterion are better served with it. The runtimes differ by several hours in GPS mode and by several dozen days in watch mode, see the next section.
As we will see below, users of the Fenix 6 also benefit from almost all of the newly introduced features. Therefore, the general rule is: those who can do without the great battery runtimes of the Enduro will fall back on a suitable Fenix 6 variant, because they also last for a very long time.
Users with narrower wrists or with the desire for a flatter sports watch reach for the Fenix 6S Base or Pro (42 mm) models. For all others, we recommend the Fenix 6 Base (47 mm). If one of the Pro features is important to you, choose one of the Pro variants: Fenix 6S Pro or Fenix 6 Pro. Especially if real-time maps and route corrections are important, a Pro model is advised.
As for the new, elastic UltraFit nylon wristband: since the 26mm web width wristbands on the Fenix 6 are interchangeable, the new wristbands can be used as well.
Striking differences in battery life
Let's take a look at the battery runtimes in the Enduro or Fenix 6 comparison. These differ significantly in some cases and are decisive for the selection of one or the other.
Garmin Enduro vs Fenix 6X vs Fenix 6 vs Fenix 6S: Comparison Battery life
Mode
GARMIN ENDURO
GARMIN FENIX 6X
GARMIN FENIX 6
GARMIN FENIX 6S
Smartwatch-Mode
inclusive 24/7 HR measurement
Up to 50 days
65 days with Solar
21 days
24 days with Solar
14 days
16 days with Solar
9 days
10,5 days with Solar
GPS-Mode
70 h
80 h with Solar
60 h
66 h with Solar
36 h
40 h with Solar
25 h
28 h with Solar
GPS-Mode with Music
-
15 h
16 h with Solar
10 h
6 h
Maximum GPS battery Mode
200
300 h with Solar
120 h
148 h with Solar
72 h
93 h with Solar
50 h
64 h with Solar
GPS Expedition mode
65 days
95 days with Solar
46 days
56 days with Solar
28 days
36 days with Solar
20 days
26 days with Solar
Energy-saving watch mode
130 days
365 days with Solar
80 days
120 days with Solar
48 days
80 days with Solar
34 days
59 days with Solar
The specified battery runtimes with solar apply at 50,000 lux. For smartwatch mode, GPS expedition mode and energy-saving watch mode, they apply to wearing the watch all day for 3 hours/day outdoors at 50,000 lux. 50,000 lux is roughly equivalent to a good, sunny day in summer with no cloud cover.
The Enduro achieves significantly better battery runtimes not only due to the solar charging function, but mainly because it has a larger battery, improved processor as well as other internal improvements.
Enduro or Fenix 6: which size fits me?
Some users are simply looking for the right size Fenix 6 depending on their preference or wrist size. Below is the comparison between the 3 available sizes.
| | | | | |
| --- | --- | --- | --- | --- |
| | QUICKFIT (WIDTH) | CIRCUMFERENCE  WRIST | DIAMETER  HOUSING | DISPLAY SIZE |
| Fenix 6S | 20 mm | 108–182 mm | 42 mm | 1.2″ (30,4 mm) |
| Fenix 6 | 22 mm | 125–208 mm | 47 mm | 1.3″ (33,02 mm) |
| Fenix 6X | 26 mm | 127–210 mm | 51 mm | 1.4″ (35,56 mm) |
| Enduro | 26 mm | 135–213 mm | 51 mm | 1.4″ (35,56 mm) |
And the new features of the Enduro?
Whether Enduro or Fenix 6: all the newly presented features of the newer model are hardly a reason to buy the Enduro, because even the watches that have been available for longer have received almost all the features via software version 15.20 as well in the meantime. These include, for example:
Ultra Run App: Timer logs the time spent at the aid station while the activity continues to be recorded including GPS. In the analysis of an activity, each recovery break is detailed and comprehensible.
Advanced PacePro/ClimbPro features: Real-time information on current and upcoming climbs and downhills.
Trail Run VO2max
The Trail Run VO2max feature introduced with the Enduro for the Trail Run and Ultra Run sport profiles is not a distinguishing feature either, because the Fenix 6 also gets it, as several users have also confirmed in the meantime. Normally, VO2max is calculated by the watch looking at how hard the heart has to work at a pace. The new feature now analyzes the VO2max taking into account a trail and heat and altitude acclimatization and incorporates even more background data.
Ultimately, this means in practice that the watches determine the VO2max more accurately during a trail run. Among other things, this is important for features based on the VO2max, which are particularly important for training control and planning. For example, the training state feature is based on changes in training load and VO2max and provides information on the effect of training on fitness level and performance. The recovery time feature also draws on VO2max to suggest the recommended recovery time to users immediately after an activity, so that more balanced training is more trackable and overloads are less likely.
WLAN only on the Fenix 6 Pro
Only the variants of the Fenix 6 Pro offer a Wi-Fi receiver. It is missing on the base models as well as on the Enduro. The Wi-Fi receiver allows the watch to be more independent of the smartphone and to perform some tasks faster, since the slower Bluetooth can be bypassed. It is used in the following scenarios as soon as a configured WLAN connection is active:
Sync activities automatically with Garmin Connect
Sync third-party audio content
Automatically download and install software updates
after selecting workouts and training plans on Garmin Connect, they are automatically downloaded to the watch
Power Glass, sapphire glass or Gorilla Glass?
Compared to the Fenix 6, the Enduro only comes with solar charging and thus always with Power Glass, which is protected with Corning Gorilla Glass DX. Thus, sapphire glass is not available for the Enduro. Among the Fenix 6 Pro models, you can choose between sapphire glass or Corning Gorilla Glass DX. If you can't decide, here are some important distinguishing features:
Sapphire glass is considered particularly scratch-resistant. Scratches on the display are thus less likely compared to Corning Gorilla Glass DX.
Owners of both models report that the color contrast is similarly good with a good view of the display, but that the sapphire glass can show slightly more light reflections depending on the viewing angle. This could affect readability in some cases. We have the sapphire version in our Fenix 6 test and do not feel disturbed by reflections. So far, the readability was practically always given.
Garmin Enduro vs Fenix 6: price comparison and fact check
The wide range of models and countless options sometimes leave users perplexed. Therefore, we conclude with a comparison table that contrasts important features of the Garmin Enduro with the Fenix 6s, Fenix 6, Fenix 6s Pro, Fenix 6 Pro and Fenix 6X Pro:
Tip for table control: mobile device: wipe, desktop: left mouse click anywhere in table, then use left/right keys of keyboard
Garmin Fenix 6s vs Fenix 6 vs Fenix 6s Pro vs Fenix 6 Pro vs Fenix 6X Pro vs Enduro
-
FENIX 6S
FENIX 6
FENIX 6S PRO
FENIX 6 PRO
FENIX 6X PRO
ENDURO
Weight (gram)

58

80

61

83

93

Steel: 72 | Titanium: 58

Housing size (mm)
42
47
42
47
51
51
Display diagonal
1,2" | 30,4 mm
1,3" | 33,02 mm
1,2" | 30,4 mm
1,3" | 33,02 mm
1,4" | 35,56 mm
1,4" | 35,56 mm
Display resolution (pixels)

240 x 240

260 x 260

240 x 240

260 x 260

280 x 280

280 x 280

Lens material
Gorilla Glass 3
Gorilla Glass 3
Gorilla Glass 3 | Saphir
Gorilla Glass 3 | Saphir
Gorilla Glass 3 | Saphir
Power Glass (protected with Gorilla Glass DX)
Internal storage capacity

64 MB

64 MB

32 GB

32 GB

32 GB

64 MB

Battery life


Smartwatch up to
GPS up to
GPS + music up to
Max Battery GPS Modus
GPS expedition mode
Battery saving mode



-

-

-

-

-

-

Power Manager

Yes

Yes

Yes

Yes

Yes

Yes

Integrated heart rate monitor

Yes

Yes

Yes

Yes

Yes

Yes

Heart rate monitor under water

Yes

Yes

Yes

Yes

Yes

Yes

Pulse Ox

Yes

Yes

Yes

Yes

Yes

Yes

Pace Pro

Via Garmin Connect App

Via Garmin Connect App

Yes

Yes

Yes

Yes

Max. Number of data fields

6

6

6

6

8

8

Musik Apps (Spotify, Deezer, Amazon Music)

No

No

Yes

Yes

Yes

No

Pre-installed TopoActive Europe map

No

No

Yes

Yes

Yes

No

Turn-by-turn Navigation

No

No

Yes

Yes

Yes

No

Golf maps

No

No

Yes

Yes

Yes

No

Ski maps

No

No

Yes

Yes

Yes

No

WLAN

No

No

Yes

Yes

Yes

No

Model
6S
6
6S Pro
6 Pro
6X Pro
Enduro

From $449.99


From $434.95

From $349.99

From $489.00

From $349.00

From $498.99