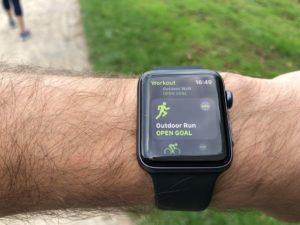 The second part of the Apple Watch 3 review will focus on the sporty features of the Smartwatch. Among other things, we look at the Apple Watch 3 GPS accuracy and the heart rate monitor during sports.
Among the sports highlights are a heart rate monitor, a barometer and a very good GPS receiver. Depending on the sport app, other features such as statements about the training load or recommended recovery times after a workout are also available.
Apple Watch 3 Review Overview
Part 2: Apple Watch 3 Review Sport: GPS and Heart Rate Accuracy, Running and more
Part 3: Apple Watch 3 Swimming
Sports with GPS & Heart Rate Monitor
Apple Watch 3 has a built-in GPS, which means you don't have to carry your phone with you anymore to get an accurate display of your workout distances based on distance, speed and route. An integrated barometer should also be able to determine the altitude difference independently and more accurately.
Fitness fans should also benefit from the Watch 3. Not only can you start workouts much faster, but you can record a lot more fitness data during workouts. In addition, new sports profiles are available, including interval training. The activity type can even be changed during training.
The Apple Watch 3 is also suitable for swimming because it is waterproof. In the gym, the Watch 3 should now also be compatible with treadmills, bicycles and other equipment. This means that important values such as heart rate, speed and calories can be synchronized with the devices.
Of course, many third-party apps continue to be compatible with Apple Watch 3. Apps for circles, weight lifting or yoga can be installed. These activities are also counted towards the known activity rings.
Running with the Apple Watch 3
For a first try we take the Apple Watch 3 with us for a run. For the training, we launch the pre-installed workout app, which includes further selection options such as cycling, cross-trainers, rowing, high-intensity interval training (HIIT), swimming, and even wheelchair training. via the integrated GPS-receiver we record speed and distance while running.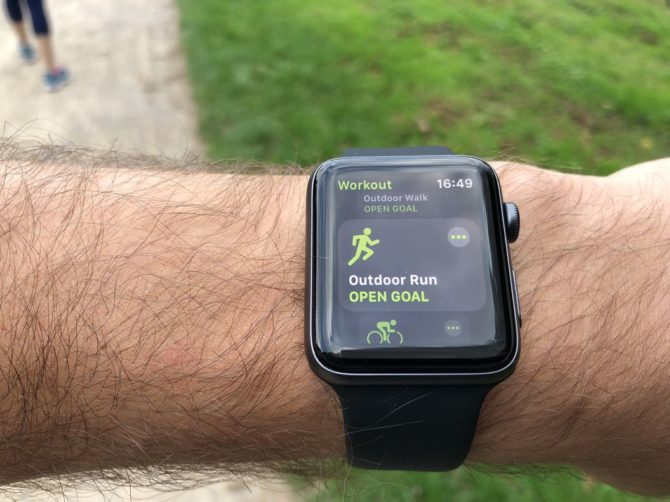 The training view of the display can be adjusted via the iPhone. Up to five displayable measured values can be selected and sorted in sequence. However, one should not expect too much here. If you know the data field options and adjustability of a Garmin GPS sports watch, you will probably be disappointed. The Apple Watch 3 training app displays only basic data such as duration, current and average pace, heart rate, distance, calories or altitude.
The training can also be customized before starting. Immediately before the training, concrete targets can be set, such as time, distance or calorie-related targets. It is also possible to create a training course that includes several activities such as running, swimming and cycling.
A training can be started with Siri a little faster. For example, you can direct the following to Siri to start a workout:"Hey Siri, start a 30-minute run" or "Walk 5 kilometers" or "Cycling for 300 calories". Siri then takes over the rest and starts the corresponding activity.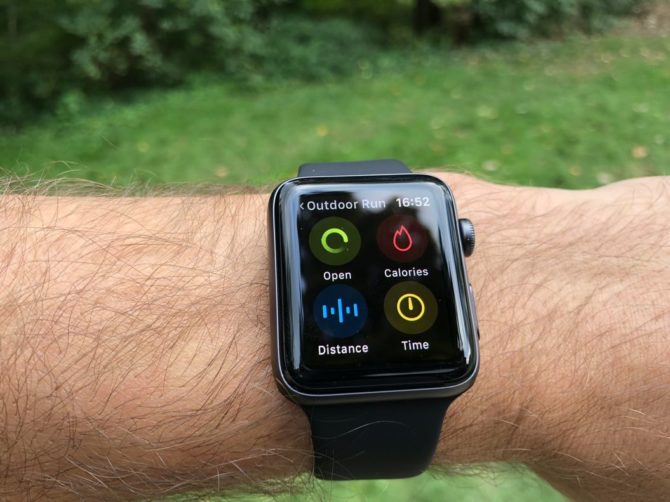 We start our Apple Watch 3 review with the concrete goal to have at least 5 km on the balance at the end of the training.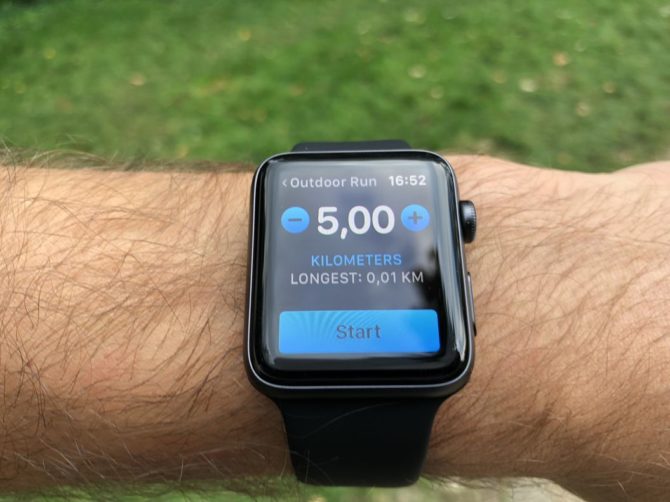 During the training you can see the above mentioned and adjustable training view. To do this, you move your arm like a classic wristwatch and the otherwise switched off display is switched on. During the running review, switching on the display always worked well. The readability even in bright environments is very good, because the colored display hardly reflects and has a large display.
The training can be stopped and resumed at any time. To do this, press the side button and the Digital Crown simultaneously.
Once you've reached your goal, there's a success story during the training, even acoustically:
At this point the training does not have to be stopped. You can also continue to record data until you finish your workout with the Apple Watch 3.
After stopping the training, a summary of various measured values and data typically follows:
And more overviews:
The heart rate monitor remains active three minutes after the end of a workout to measure the heart rate during recovery. After completing a workout, you can tap on the heart symbol in the workout overview to see your heart rate as you recover in real time.
GPS Accuracy
In our Apple Watch 3 review the Smartwatch delivers track recordings ranging from good to very good. The first impression is that, for example, it is more accurate than the considerably more expensive Multi-sport Garmin Fenix 5 GPS-Smartwatch, and is as good as a Polar M430 running watch, if not better. In our individual reviews for both of these sports watches, a similar course with similar weather conditions can be seen, if you want to see for yourself.
For example, for the above run unit, it looks like this after training in the Activity App on the iPhone:
If you zoom in closer, you can see that Apple Watch 3 has no problems on bridges, tighter curves or under trees:
 Apple Watch 3 Heart Rate Sensor Accuracy
During the Apple Watch 3 review, the Polar H10 chest strap was used to measure the heart rate. Unfortunately, we can't find an option to export the data from the Activity App to compare the measured values. Therefore, we can only evaluate the measurement for the run above  visually as well as using HR average and maximum values.
This is how the Polar H10 HR chest strap and the Watch 3 measure:
In the following the maximum and average values in comparison:
Apple Watch 3 Heart Rate Values

Average: 170 rpm
Max.: 187 S/min (shown in the images above)

Polar H10 HR Chest Strap HR Values

Average: 170 rpm
Max.: 185 S/min
On the basis of the averages, it can be guessed that Apple Watch 3 delivers realistic heart rate values, at least for constant running training.
It is possible that a third party app can be used to get more data out of the training sessions and also to export it in order to have more comparison possibilities.
Availability and Where to Buy
Apple Watch 3 is already available, for example here:
Price $219.99
Apple Watch 3 GPS & Heart Rate Monitor – Result
The sporty side of the Apple Watch 3 is particularly convincing. The heart rate sensor delivers good results at least during running sessions and helps you to find your way around the current training load.
The GPS receiver also records the tracks very well and is one of the top-ranked smart watches and fitness watches in this area. That's why Apple Watch 3 is able to calculate more accurate readings based on GPS data, such as pace and speed.
Our sporty Apple Watch 3 review has even more to offer.
Continue reading on the next page: Is the Apple Watch 3 suitable for swimming and which swimming metrics are supported and recorded? This and much more in the swim test….
Previous Page
Next Page