Garmin Venu Sq or Venu? Or Venu Sq Music with music options? We have been testing these fitness watches for quite some time now and know what the important differences between them are. First of all, Venu is ahead in many ways, but not everyone needs all of its benefits. This makes it possible to save a lot of money with its younger brother.
Some differences can of course be found on the manufacturer's pages but by far not all of them! These only become apparent in practice when all models are directly compared. There are numerous key features that users should be aware of before making a purchase. We clarify and help with the selection.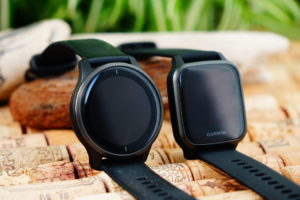 Bestsellers, deals, gift ideas*
Amazon.com Top-Deals
Venu
Garmin
from $215.00

Vivoactive 4
Garmin
from $199.99

Versa 2
Fitbit
from ---

Are you looking for a Christmas present? These are our suggestions:
Garmin GPS Devices and Smartwatches
Garmin Venu Sq vs Venu
In this article there is the direct Garmin Venu Sq or Venu comparison with the main differences between these models. All the details per watch can be found in our detailed individual tests:
Tip for table control: mobile device: wipe, desktop: left mouse click anywhere in table, then use left/right keys of keyboard.
Garmin VA3 vs V4 vs Venu vs Venu Sq (Music)
Vivoactive 4
Venu
Venu Sq (Music)
Vivoactive 3
Display type
Display-size
Transflective MIP


4S: 27,9mm(1,1"), 218x218px
4: 33mm (1,1"), 260x260px

AMOLED
30,4mm (1,2"), 390x390px
TFT Color-Touch display
33 mm (1,3"), 240x240px
Transflective MIP
30,4mm (1,2"), 240x240px
Weight
starting from 40 gram
46,3 gram
37,6 gram
starting from 39 gram
Music memory /
Bluetooth headphones
Yes
Yes
Yes (Music Edition)
Only the Music Edition
Battery life
- Smartwatch mode | GPS
8d | 15h
5d | 20h
6d | 14h
7d | 13h
Our review
Vivoactive 4/4S Review
Venu Review
Venu Sq Review
Vivoactive 3 Review

From $229.99


From $215.00

From $163.47

From $219.46
Further down we also have a detailed comparison of all features in tabular form.
Venu Sq vs Venu: Case, material, and band
Let's start with the Venu Sq (Music) vs. Venu comparison with the haptics and optics. Here we can already see the first differences in quality of the bezel, keys and clasp. While the round Venu scores with stainless steel throughout, the flatter and more angular Venu Sq uses aluminum for the bezel and plastic for keys and clasp.
The case of all the sports watches mentioned is water-resistant (5 ATM) and made of fiber-reinforced polymer. The fitness watches are delivered from the factory with quick-change wristbands (20mm) made of silicone suitable for sports. Depending on the situation, the use of suitable wristbands is possible, for example in leather.
Although the Venu weighs exactly 8.7 grams more with 46.3 grams, this difference in weight is not noticeable in practice. All models are hardly noticeable on the wrist and can therefore be worn for long periods of time without any problems. Even during sleep, when the watches in the background continue to track important data. Such as those for recovery.
Overall, the Venu wins the quality duel due to the choice of materials for the bezel, buttons and clasp. By the way: the charging interfaces of all models are identical, so they can be connected with the same charging cable.
Venu Sq or Venu: which one has the better display?
In our Venu Sq vs Venu comparison, we would also like to note differences in the displays. The Sq is equipped with a TFT color touch display, the Venu with an AMOLED color touch display. Both touch displays can be operated very well and precisely in combination with the two buttons.
While we like the display of the Sq because of its good and sufficiently bright display, the Venu stands out in direct comparison. Because it has an even brighter and higher contrast display with a resolution of 390×390 pixels (vs 240x240px). On this display, even animations can be displayed better and more smoothly, but at the expense of battery life. The Sq lasts approx. 6 and thus approx. one day longer.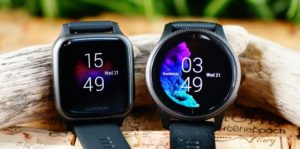 On the pictures unfortunately not as good as seen in practice: the noticeably better brightness and crisper and richer representation of colors of the AMOLED display. Although our Venu test model is set with only 60% (adjustable in 10% steps between 0% and 100%) display brightness, it is brighter than the display of the Venu Sq.
Even though according to the data sheet the Venu Sq with a 33 mm (1.3″) display diagonal has the larger display, the round shape of the 30.4 mm (1.2″) display of the Venu allows in many cases the display of more characters, which are often also displayed larger. This makes information on the Venu easier to read. This can be clearly seen in the following pictures:
Especially in sport mode, the Venu can play out the strengths of the round display and the higher resolution. For example, it can display more data (4 data fields instead of 3) on one page: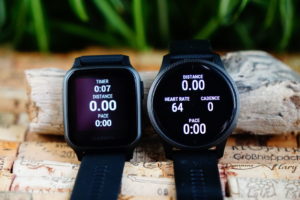 All models have a display that is easy to read outdoors and in bright environments. But it feels very comfortable in rather darker rooms. In the standard setting, the displays are not permanently on (Always-On Display) and only become active with a corresponding arm movement. For the watch mode, however, there is an Always-On option that permanently displays the time and date. This option is also available for the sport mode. In this mode, however, all available data is displayed in full.
What else is worth knowing about the displays?
AMOLED

There is a risk of burn-in, especially if static background images are displayed with high display brightness over a long period of time.
More high-resolution and higher performance displays of animations (in workouts) or animated watch faces are available.
Due to the higher display brightness, it can be glaring after activation (e.g. in the bedroom). But the settings are flexible enough (timeout, activation sensitivity, brightness settings, …) so that you can counteract something.

TFT

No display animations available
Color representation somewhat paler in comparison
Let us note: the Venu wins the display duel based on the following facts:
better resolution
brighter display
rich, high-contrast colors
finer adjustment levels
better and more representation of characters and animations
Venu vs Venu Sq: Sensors and Features
Of course there is still the question where Garmin has saved on the Venu Sq (Music) compared to the Venu because it is much more attractive in terms of price. Here are the features that users still have to do without.
The Venu contains a barometric altimeter. This means it also has a floor counter that provides daily statistics about ascended floors. Furthermore, total ascents and descents are stored in workouts. During sports, the Venu Sq has to rely on the GPS to determine altitude. These are usually less accurate than values determined by a barometric altimeter. Fortunately, this can be counteracted. Altimeters can be corrected automatically in Garmin Connect or comparable services after an activity.
For varied workouts, Venu presents animated exercises (yoga, Pilates, weight training, and cardio training) on the display. This function, which is very important for supportive training, has unfortunately also been removed from the Venu Sq. Also, animated watch faces are not available on the Sq.
If the integrated music memory is important to you, you have to use Venu Sq Music or Venu. The cheapest version (MSRP: 199 €) does not have this function.
So if the features mentioned here are not so important, the Venu Sq is a better choice. All other fitness functions are identical. This includes structured or individual training plans for running, breathing rate, stress measurement, menstrual cycle tracking, and so on.
Also the built-in hardware. Pulse sensor including Pulse Ox (measurement of oxygen saturation in the blood, SpO2), the option for ANT+ and Bluetooth Smart sensors, Garmin Pay, GPS, GLONASS, and Galileo are also integrated on the most affordable model.
Venu or Venu Sq: Battery life
The battery life of Venu and Venu Sq also differ. We can essentially confirm the information provided by Garmin. Of course, these also depend on individual user behavior.
The Venu Sq performs slightly better in watch mode compared to about 6 days (+1 day). This includes 24×7 pulse measurement, every 2 to 3 days training at approx. 30-45 minutes as well as smartphone messages. In pure training mode with a fully charged battery with active GPS and optical heart rate measurement, about 14 hours are included. If the music version additionally plays music in the background, this is reduced to 6 hours.
The Venu lasts for about 5 days in watch mode, in pure training mode including GPS and optical heart rate measurement for a comparatively better 20 hours. If the Venu also plays music in the background, this is also reduced to 6 hours.
We do not have a clear winner here. It depends on what you prefer. Longer battery life in watch or sports mode?
Garmin Venu Sq or Venu or Vantage M: Direct comparison
Finally, we compare the Garmin Venu Sq, Venu Sq Music and Venu and see how the most important differences look like:
Tip for table control: mobile device: wipe, desktop: left mouse click anywhere in table, then use left/right keys of keyboard.
Garmin Vivoactive 4/4S vs Venu vs Venu Sq (Music) vs Vivoactive 3 vs Vivoactive 3 Music
Vivoactive 4 / 4S
Venu
Venu Sq (Music)
Vivoactive 3
Vivoactive 3 Music
Dimensions (mm)

4S: 40 x 40 x 12,7
4: 45.1 x 45.1 x 12.8



43,2 x 43,2 x 12,4
37 x 40,6 x 11,5
43,4 x 43,4 x 11,7
43,1 x 43,1 x 13,6
Fits wrists with a circumference of (mm)

4S: 110 bis 175
4: 135 bis 200



125 bis 190
125 bis 190
127 bis 204
127 bis 204
Weight (gram)
46,3
37,6
43
39
Bezel material
Polymer
Polymer
Polymer
Polymer
Polymer
Bezel material
Stainless steel
Stainless steel
Anodized aluminum
Stainless steel
-
Quick Release Band
20 mm
20 mm
20 mm
20 mm
Buttons
2
2
2
1
1
Touch screen
Yes
Yes
Yes
Yes
Yes
Display type
Transflective MIP
AMOLED
TFT Color-Touch display
Transflective MIP
Transflective MIP
Lens material
Corning Gorilla Glass 3
Corning Gorilla Glass 3
Corning Gorilla Glass 3
Corning Gorilla Glass 3
3D Gorilla glass
Display size

4S: 27,9 mm (1,1")
4: 33 mm (1,3")



30,4 mm (1,2")
33 mm (1,3")
30,4 mm (1,2")
30,4 mm (1,2")
Display resolution(Pixel)
390x390
240x240px
240x240
240x240
Black display background color during training

Yes
Yes
Yes
Yes
Yes
Bright display background color during training
Yes
No
No
Yes
Yes
Risk of burn-in with static background images
No
Yes
-
No
No
GPS | GLONASS | Galileo
● | ● | ●
● | ● | ●
● | ● | ●
● | ● | ●
● | ● | ●
Bluetooth | ANT+ | WLAN
● | ● | ●
● | ● | ●
● | ● | ●
● | ● | ●
● | ● | ●
Altimeter | Compass | Gyroscope | Pulse oximeter
● | ● | ● | ●
● | ● | ● | ●
○ | ● | ○ | ●
● | ● | ● | ○
● | ● | ● | ○
Accelerometer | Thermometer | VIRB-Remote control
● | ● | ○
● | ● | ○
● | ● | ○
● | ● | ●
● | ● | ●
Yoga Workouts | Pilates Workouts | On-screen Workout Animations | Respiration rate
● | ● | ● | ●
● | ● | ● | ●
● | ● | ○ | ●
○ | ○ | ○ | ○
○ | ○ | ○ | ○
Incident Detection during select activities | Body Battery Energie-Monitor | Underwater Wrist-Based HR
● | ● | ●
● | ● | ●
● | ● | ●
○ | ○ | ○
● | ○ | ○
Music storage
4 GB
4 GB
256 MB [Music Edition: 4 GB]
-
4 GB
Amazon Music, Spotify, own songs
Yes
Yes
Yes (Music Edition)
-
Yes
MODEL
Vivoactive 4 / 4S
Venu
Venu Sq (Music)
Vivoactive 3
Vivoactive 3 Music
Battery life | with GPS (up to)

4S: 7d | 13h (GPS-Mode with Music 5h)
4: 8d | 15h (GPS-Mode with Music 6h)



5d | 20h (GPS-Mode with Music 6h)
6d | 14h (GPS-Mode with Music 6h)
7d | 13h
7d | 13h (GPS-Mode with Music 5h)
Waterproof
50 m (5 ATM)
50 m (5 ATM)
50 m (5 ATM)
50 m (5 ATM)
50 m (5 ATM)

From $234.99

From $215.00

From $163.47

From $219.46

From $333.00