In the Fitbit Inspire HR Review, we introduce a fitness band that focuses on being a good value for your money. Can such an entry-level model compete with Fitbit's higher-priced models like Charge 3? On one hand you get an easy to handle and at first sight well equipped tracker, but there is also the question if the manufacturer has made something worth the price. Here is our experience report…
Fitbit Inspire HR Review: Conclusion
What we like
Motivating & daily companion
Good price-performance ratio
Simple operation
Waterproof (5 ATM)
Mature App
What we don't like
Display more difficult to read in bright environments
No altimeter
The Fitbit Inspire HR is particularly suitable for people who want to lead a more active and health-conscious life. If the display is too small or if you want more measurement data during sports and more control, you should alternatively take a look at the Fitbit Versa, Fitbit Charge 3 or the Garmin Vivosmart 4.
Equipment used in this test report:
Fitbit Inspire HR
Samsung Galaxy S8 (Android 9)
Fitbit Inspire HR: The Highlights
The Fitbit Inspire (HR) models replace the entry-level Fitbit Alta and Alta HR trackers. The Flex, Zip and One trackers will also be a thing of the past as they have virtually lost their raison d'être with the release of the Inpire HR. In terms of price  as well as equipment, the Inspire HR Fitbit covers the entire beginner range, so there is hardly any reason to look at them.
Possibly Fitbit tries to defend itself against the competition from China, which is storming the market with trackers like the Xiaomi Mi Band 3, especially in terms of price. That's why Fitbit probably packs a lot of features into his Inspire HR. Among other things:
24×7 activity measurement (calories, steps, sleep, goals, active minutes)
Heart rate measurement around the clock, including measurement of resting heart rate, training according to HR zones
Detailed sleep and sleep phase analysis (light, deep, REM, sleep score)
Health Tracking for Women (View Menstrual and Fertility Cycles)
Connected GPS for real-time speed and distance (smartphone must be taken along)
15+ target based activity modes
Automatic exercise recognition
Waterproof to 5 ATM
Interchangeable wristbands
Touch screen (grayscale OLED)
Up to 5 days battery life
In addition, the Fitbit Inspire HR features a watch, a silent vibration alarm, movement reminders, breathing exercises and smartphone notifications. Only a few competitors can keep up with these prices, especially since you must not forget the very good and well-realized Fitbit App. This saves you a lot of trouble and is often the decisive reason for buying a Fitbit watch/tracker.
What some higher-priced trackers have and the Inspire doesn't, for example, counting upscale floors, an SpO2 sensor (measuring oxygen saturation), quick replies to smartphone notifications, or designer accessories. In addition, contactless payment via NFC is not supported. And that's what the Inspire HR lacks. Many things you can get over. This means that for most fitness enthusiasts, the Fitbit Charge 3, which is a few dollars more expensive, also becomes uninteresting.
External appearance
From the outside we like the Alta HR and Charge 3 models a bit better. The transition between wristband and case on the Inspire HR is not so uniform. Nevertheless, the Fitbit Inspire HR is very comfortable to wear due to its material properties and weight.
It is charged using the supplied charging cable, which holds the Inspire HR magnetically in place. However, the cable is a bit short. The manufacturer could have given you a few more centimeters.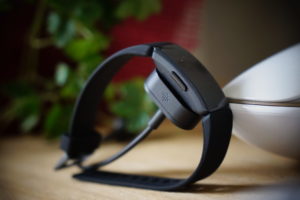 The wristband and its closing mechanism can be attached to the wrist in the same way as a classic watch strap. A longer replacement wrist strap is included for larger wrists. Replacement wristbands can be exchanged in no time at all without tools, although this can be fiddly for thicker finders.
Display and operation
In the Fitbit Inspire HR test, we also look at display and operating features. The grayscale OLED display is wider and has a higher resolution than the Alta HR. But in comparison to Charge 3 it's a bit narrower. All in all, the data is displayed clearly and legibly, as there is enough space for letters and numbers. The Alta HR, for example, has its display problems here as our test has shown. The display of the main screen can be adjusted as with Charge 3.
The Inspire HR display is usually turned off. It wakes up as follows:
Turning the wrist like a classic watch
Simple typing on the display
Pressing the side button
On the left side of the housing there is a physical button that switches the screen on or off and displays additional settings. We find a perceptible key much more user-friendly than a soft-touch key like the one installed in Charge 3. Particularly in sports, there are advantages such as reliable operation with sweaty or wet fingers.
If the button is held down for a longer period of time, the battery life is also displayed. Important functions such as the timer, alarm, training mode, breathing exercises, health tracking for women and the settings menu can be accessed in the main screen by wiping down instead of to the left as usual with Fitbit.
The setup of Inspire HR is identical to its predecessor. It is unproblematic and can be carried out in several ways. The easiest and fastest way is with the Fitbit App, which is compatible with Android and iOS. If you don't have a Fitbit account, the first thing you need to do is set up one. Alternatively a tool for the Windows PC or the MAC is available for download.
Fitness Features
Everyday life
Inspire HR tracks the progress of a daily goal that can be set in the app. The tracker signals that a goal has been reached. It can be selected from the following daily targets and a value can be set (the default target is 10,000 steps per day):
steps
covered distance
calories burned
active minutes
While the Inspire HR is worn, various fitness values are recorded and can be displayed on different displays on the Inspire HR. Here are a few examples:
The main screen:
The current heart rate: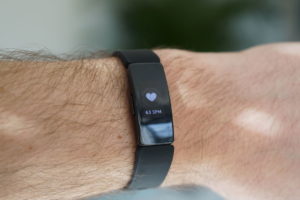 Sport
On the Inspire HR, sports activities can be started and stopped manually. Pre-installed profiles include running, cycling, swimming, treadmill, interval training and general training. The app can be used to transfer other profiles to the device, such as tennis, Pilates, golf, yoga or kickboxing.
Fortunately Fitbit offers the Connected GPS function to the Inspire HR. This allows you to record speed and distance while running, for example. However, the smartphone must be taken along because it is indispensable for receiving GPS data. If you don't want to take your smartphone with you when you do sports, you will unfortunately have to switch to another device. For example, the Fitbit Ionic sports watch or the Garmin Vivosport.
Although the Inspire HR can also determine speed and distance without a smartphone and GPS signal using an integrated acceleration sensor, the result is somewhat less accurate. For cyclists, this alternative is also of no use because the movement of the hand is missing and therefore completely wrong to no values are determined.
We will take a closer look at some of the profiles in the Inspire HR test over the next few weeks, but we don't expect any differences here compared to Charge 3, which we tested extensively. Both devices have identical characteristics, drastic surprises are not to be expected. The Charge 3 could convince us in many sporty respects.
Tracking of sleep and daily goal
One of the strengths of Inspire HR is its ability to record daily activities. The automatic tracking of sleeping hours and sleep phases is particularly effective. Fitbit keeps on leveling up its app in this area so that you can easily recognize sleep patterns and also get some tips from the app. The default sleep target is 8 hours per night, which can be adjusted.
The Fitbit Dashboard can make recommendations for consistent sleep and standing times to help you find a regular rhythm of sleep. The Fitbit app can even remind you in the evening when it's time to go to bed. You can also compare your sleep patterns with those of other users of similar age and gender.
This is how it can look in the Fitbit dashboard:
Over time, helpful fitness trends can be seen in the Fitbit app, so that you can assess for yourself in which area you might need to take countermeasures. In addition, you get a lot of tips and help in the app as well as on the help pages of the manufacturer, which are very successful and comprehensive.
Alternatives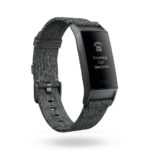 The Fitbit Charge 3 offers some more functions. With its heart rate sensor, 24×7 activity tracker and support for several sports, it helps you to get an idea of your own activity level and motivates you to do more if necessary. If required, the GPS receiver of the smartphone can also be used to record distances.
The Garmin Vivosmart 4 with its heart rate sensor, 24×7 activity tracker and the support of several sports helps you to get an idea of your own activity level and motivates you to do more. An integrated heart rate oximeter sets it apart from other trackers.
Polar A370
The Polar A370 scores particularly well in sports and accuracy. In addition, the very good display and its operation is a highlight.