In the Fitbit Charge 2 review, we introduce Fitbit's new wearable, a activity tracker with useful health and fitness tools. The predecessor already scored well with good 24/7 activity and pulse tracking, but the successor includes highlights like integrated heart rate measurement, cardio fitness level functions, and even multi-sport and workout interval options. And now our Charge 2 experience and test results…
The Fitbit Charge 2 is particularly suitable for sports enthusiasts as well as for active people in general and those who want to become one. With its pulse sensor, 24×7 activity tracker, as well as the support of several sport arts, it helps to get a picture of the user's own activity level and motivates several times more if necessary. If necessary, the GPS receiver of the smartphone can be used to record routes. For whom the display is too small, they may alternatively try the Fitbit Blaze.
You can buy the Fitbit Charge 2 for example here:
Go to product page

Fitbit Charge 2
Preparing the Charge 2 review: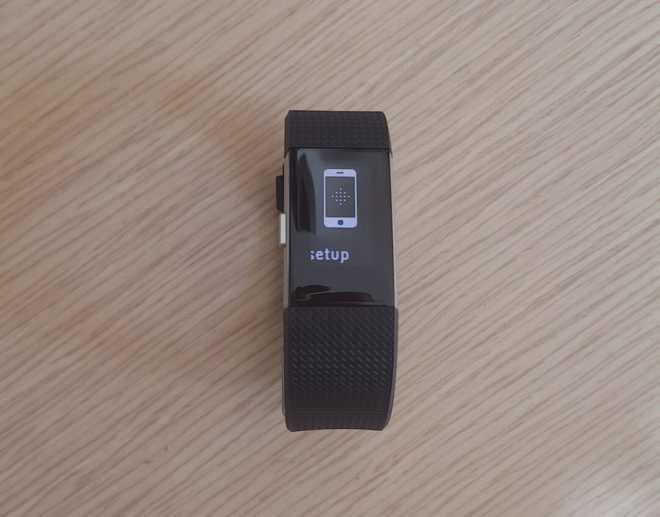 Charge 2 vs Charge HR vs Blaze vs Alta
The previous Charge HR still had an "HR" in the name, in order to emphasize that an optical pulse sensor is installed in it. In current fitness hr straps, a heart rate sensor is a common thing, so the Charge 2 does not need the HR abbreviation.
Fitbit's Alta is more of a lifestyle product and only contains basic functionalities (such as sleep analysis, steps, calories, distance, active minutes, tracking, etc.)
If you want to stay with Fitbit and look for a model similar to Charge 2 with a larger color-touch display, you will inevitably land with Fitbit Blaze.
Compared to Other Manufacturers
The Charge models as well as the Blaze are more aimed for more athletic and active people and also suitable for fitness workouts, since more vital data can be recorded and evaluated. The new Charge 2 now brings even more fitness features, which makes it interesting for fitness enthusiasts. Similar branded wearables from other manufacturers are the Vivosmart HR (our Vivosmart HR test) from Garmin and the A360 (our Polar A360 test) from Polar for example.
Charge 2 Review – Basics & New Features
Basics
The basic function of the Charge 2 is the "all-day tracking", which captures almost every step and every movement of the day and sleeping activities by means of built-in sensors. FitBit's SmartTrack exercise course also records many activities such as walking, running and fitness workouts. Reminders motivate in addition to a more physically active day.
Source Fitbit
With the Fitbits so called PurePulse, heart rate measurement can be recorded around the clock as well as during workouts. The burning of calories becomes more transparent and a more complete picture of an entire workout is created. Smartphone notifications are also supported. For the previous models, the smartphone notification function was one of our criticisms, because few smartphone apps were supported. This is hopefully better solved with Charge 2.
Source Fitbit
The new design is considerably more modern than the predecessor Charge HR: it is modular so that straps can easily be exchanged for other suitable straps. The touch-sensitive display is easier to read from because it is about four times larger than the Charge HR.
New Features
We would like to introduce the most important new Charge 2 functions and examine them in the final Charge 2 review.
Cardio Fitness Level Function : This allows the user to automatically determine how his or her individual Cardio Fitness Level looks like. The basis for this is the estimated VO2 Max, which is determined by means of the respective user profile, and their heart rate and data on their exercises. In addition, the user receives valuable information on optimal activities and improving their performance by increasing the frequency of exercise and intensity, as well as achieving his or her ideal weight.
Guided Breathing Sessions : Charge 2 also offers relaxation for the body and mind – with instructed and personalized breathing exercises. The variations of the heart beat are decisive for the individual ideal breathing frequency. Within two and five minute sessions the heart rate is visualized in real time. For this purpose, there are animations and vibration-based impulses for adapting inhalation and exhalation to the guidelines of the guide.
Multi-Sport Tracking : Specific sporting activities such as running, biking, weight lifting, yoga etc. are tracked and supplemented by subsequent summaries and reports in the Fitbit app.
Workout Interval Mode : It gives the user suggestions for the optimal sequence of exercise and relaxation. Thus, workouts such as circuit training can be maximized in their effect, while the user can concentrate on the sport.
Connected GPS : This is how you can connect the fitness strap and the GPS function in the smartphone as with the Fitbit Blaze. This provides the user with even more accurate and reusable real-time data, such as speed and distance traveled while running. In addition, the tracker generates a route rendered in the app.
Review Charge 2 – All Day Activity Tracking
Fitbit is well-known for the good and clear 24/7 activity tracking in the app. Fitbit's fitness platform is simple and easy to use and makes it easy to compete against friends and family. There are no surprises to be expected with this Fitbit Charge 2 review since we know the Fitbit's Activity Tracking and the app from previous Fitbit tests well and have rarely been disappointed.
Accuracy of Charge 2
Compared to other trackers, the Charge 2 remains accurate and delivers good results. A cross-vendor word about the accuracy of trackers: one who regularly reads our articles will know that the perfect tracker is not really there yet. One must know that an activity tracker, independent of the manufacturer, can, for example, interpret the arm movements when brushing teeth as steps. It is important to motivate an activity tracker. And this works best with day goals. For example, 10,000 steps (generally recommended number of day steps) are determined. Once you have reached your goal, you know that you have moved enough or not.
Views in the app
Fitbit's Breakdown of recorded data is exemplary as usual. The data is displayed in the app as well as in the browser good and in different detail levels. The operation is intuitive, the texts and explanations are easy to understand. Here are some screenshots and examples from the app:
And here, also views of the 24/7 records of the pulse sensor and from reliable sleep records:
The sleep functions of the Fitbit App are one of the most extensive we know. The individual sleep scheduler, consisting of a set of different tools, helps the user to define and maintain their sleep goals and ensure more regular sleeping habits.
Those who are particularly diligent will receive rewards like this and continue to be even more motivated to do workouts than before:
Fitbit Charge 2 Activities – Running
In order to convince us, among other things, of the accuracy of the pulse sensor, we are comparing Charge 2 against Garmin's High-End Multisport Fitness Tracker Fenix 3. The Fenix 3 is coupled with the Premium HR chest strap, which provides fairly accurate fitness data.
A running activity is started in the sports profile menu by pressing the side button for a longer time, and the end of the unit is finished exactly the same. When the smartphone is paired, the Charge 2 displays this through a smartphone icon and starts the recording automatically, even the GPS recording via the smartphone. Here we would have liked to be able to control the actual launch of the unit itself.
During the Workout
During the workout, you can display many useful data in real time, so you always have an overview of the unit. As soon as you turn the display towards yourself (typical like-what time is it-hand movement), the display turns on. The display itself is always very easy to read. You can now scroll through the pages using tapping gestures.
Display views of burned calories, heart rate and hr zone, distance and steps:
Accuracy of the HR Sensor
Let's return to Fenix 3 to help us estimate the accuracy of the HR Sensor of Charge 2. For this purpose, we export the units to the TCX format via Fitbit and Garmin fitness platforms and place the units on top of each other: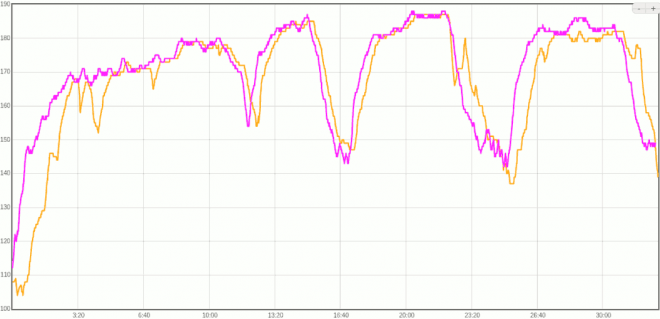 Charge 2 Pulse Sensor (Orange) vs HR Chest Strap (Pink)
The initial and inaccurate "settling" of the Charge 2 in the first 3 minutes is also known by other manufacturers and is often typical if you have not previously warmed up. Also, the heart rate curve is recorded somewhat delayed, is typical for heart rate sensors, and we have seen better recordings on other devices. Then we move in the middle price segment, as for instance with the Garmin Vivoactive HR (our Vivoactive HR test ) or Polar's Sport Smartwatch M600 (our M600 test.) To precisely test this responsiveness of the hr sensor, after 10 minutes of running, we switched intervals of about 2 minutes of walking and about 5 minutes of running.
Longer Running test & Average Values
In a second longer running test of about 40 minutes we want to look at how exact the average values are compared to those from the Fenix 3 with HR chest strap. The GPS receiver of the smartphone is not used, the Charge 2 uses its acceleration sensor to determine the distance. The Fenix 3, on the other hand, is active with its integrated GPS.
And here are the results of the Charge 2 review:
Overall, the values of the Charge 2 are great for this price category:
HR average

Charge 2: 163
Fenix 3 with HR chest strap: 164

Distance

Charge 2: 4.6 km with acceleration sensor
Fenix 3: 5.13 km with GPS

Calories

Charge 2: 10 Kcal / min * approx. 40 minutes = 400  C
Fenix 3: 428 C
After Training
At the end of the unit there is a motivating feedback as well as a summary. Since we have used the GPS of the smartphone, there is a recorded track to see in the app. The GPS accuracy depends on the smartphone.
The app also provides a detailed breakdown of additional fitness data, including running sections, HR data, burned calories, and effects on the daily activity:
The Competition
These are currently, in our opinion, the strongest Fitbit Charge 2 Pro competitors in direct comparison:
Comparison: Vivosmart HR+ vs Charge 2 vs A370 vs Band 2 Pro
Product
Garmin Vivosmart HR+
Fitbit Charge 2
Polar A370
Huawei Band 2 Pro
Image
Availability
2016 (May)
2016 (March)
2017 (Jun)
2017 (Sept.)
Battery (up to)
5 days
GPS: 8 hours
5 days
12 days
(24×7 Activity Tracking
+ 1 hours training per day)
21 days
GPS: 3,5 h
Activity-Tracker
(sreps, sleep, calories

Yes

Yes

Yes

Yes

Waterproof
Yes
5 ATM

splash-proof

Yes
WR30 (30 meter)

Yes
5 ATM
24/7 HR-measurement

Yes

Yes

No

Yes

GPS-tracking

Yes

Yes
via Smartphone
Yes
via Smartphone

Yes

Speed

Yes

Yes

Yes

Yes

Laps

Yes

Yes

Yes

Yes

Warning leaving HR zone
visual
vibration

visual

visual
vibration
visual
vibration (HR-max)
Smartphone Notif.

Yes

Yes

Yes

Yes

Compatibility
   
   
  
  
Pros

running coach
wiping gestures
breathing coach
be more active
battery

cardio fitness level
be more active
resting heart rate
comfortable
style customizable

very good color display
wiping gestures
be more active
training app Polar Flow
battery

running coach
wiping gestures
breathing coach
be more active
battery

Buy

Link
Link
Link
Link
Fitbit Charge 2 Review – Summary
We hope you enjoyed our detailed Fitbit Charge 2 review. We have been able to accumulate many Charge 2 experiences over several weeks and we can say that the Charge 2 is currently more likely to be seen in the good upper range of fitness bracelet rankings. The optics, range of functions, determination of fitness values, battery lifetimes as well as the app are pretty good compared to others from the same device and price category. For those who the accuracy of the GPS of his smartphone is sufficient as well as the Charge 2 HR sensor, then he will be happy with the Charge 2.
If you need a lot more and precise fitness values, you should look in the high price category and if necessary use an HR chest strap.
Read our related reviews
Other equipment used in this review