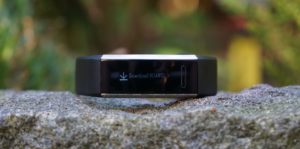 This Huawei Band 2 Pro review will report in detail on the fitness band from the Chinese manufacturer. We now had the opportunity to get to know the tracker for a longer period of time and can therefore estimate it well.
The sporty gadget is particularly attractive and priced well below comparable trackers.
You can buy the Huawei Band 2 Pro for example here:
Band 2 Pro is being prepared for the review: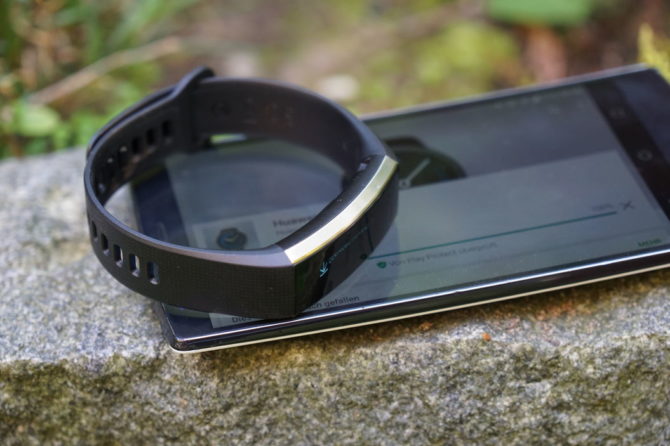 Huawei Band 2 Pro
After the Huawei TalkBand B2, which is a mixture of Bluetooth headset and tracker, the Band 2 Pro is Huawei's second activity tracker. However, the Band 2 Pro is much more sporty and more suitable for sports activities. Like other manufacturers, Huawei apparently tries to win over the fitness crowd. This can also be recognized by the fact that Huawei recently launched an Android Wear Smartwatch for athletes with the Watch 2.
The Huawei Band 2 Pro features the following highlights:
Integrated pulse sensor: measures every second in sports mode, every 30 minutes in day mode
Activity Tracker: records 24/7 steps, distances, calories consumption and tracks sleep automatically
Waterproof to 5 ATM: withstands water pressure up to 5 ATM
Sports mode and GPS receiver: for example, keeps track of running tracks and records speed, movement and distance
Fitness coach: tracks heart rate, pace, distance, speed and direction and enables the creation of individual training plans
FIRSTBEAT's running algorithm: analyzes the running style and offers a tailor-made training to increase endurance and distance as well as to calculate the VO2 maximum.
breathing coach
Various smartphone notifications
Soft and comfortable plastic wrist strap
Huawei Band 2 Pro in test: First impression
The Band 2 Pro looks similar to the current top bracelet Fitbit Charge 2 (our Charge 2 review), except that the Band 2 Pro has no side button. In contrast, it is about 2 millimeters slimmer in width and height and therefore a little more elegant in appearance. Sitting at 21 grams, it is also very light.
Operation is carried out entirely by means of typing and swiping gestures. In general, the wearable is well processed. This applies to both the case and the display as well as to the silicone bracelet.
The silicone bracelet makes a pleasant impression, because it is soft and cuddly, and it is also very comfortable to wear. Unfortunately, it cannot be exchanged for another one.
The clasp is typical of many fitness bracelets and seems to be safe enough for sports activities due to its double protection. A clasp like a classic watch, such as the Polar on its A370 wristband, would perhaps be a better choice because it is a little easier to use and also provides a secure grip in any situation.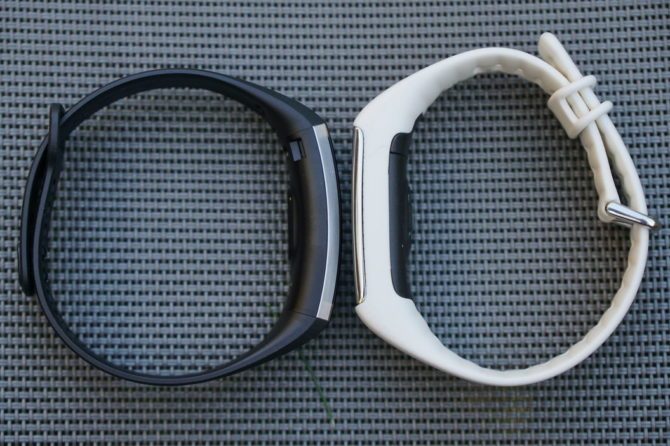 Like the Charge 2, the Polar A370 is larger, as you can see in the following picture: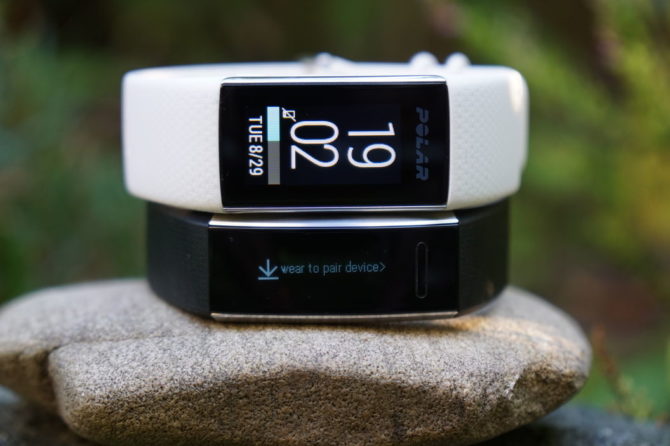 Although the Band 2 Pro is smaller than comparable trackers, it contains more technology (like a GPS receiver.) In addition, the battery lasts much longer before it needs to be recharged.
The display of the Band 2 Pro is comparable to that of Charge 2, but like Charge 2, for example, the luminosity of Charge 2 does not quite match that of the Polar A370 as one can see in this Huawei Band 2 Pro review. In return, however, you get a longer battery life and need to use the charger less.
We will soon be examining the pulse sensor in some sports or running units and comparing its measurements against a heart rate chest strap: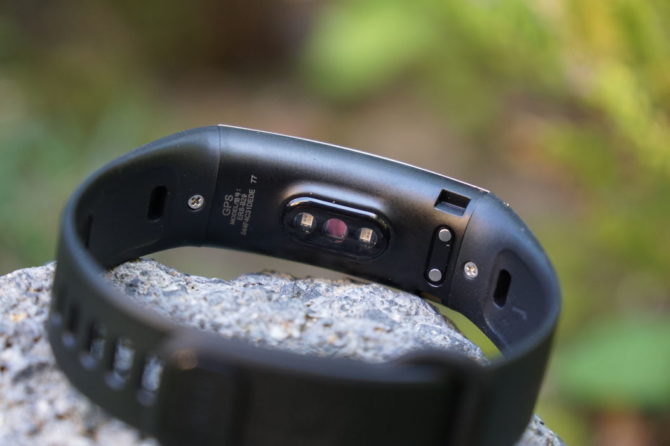 Operation and Application
The operation is carried out entirely by means of typing and swiping gestures. To start an activity, leave your finger on the display for a little bit. The operating actions are carried out reliably in our Huawei Band 2 Pro Test. The display is deactivated in the default setting and can be activated by typical hand movements or via the display.
Nothing can be set on the tracker itself. All settings can be made conveniently via the Huawei Wear App, in which other mobile Huawei devices can also be managed.
For the fitness and activity data, the Huawei Health App is used, which must be installed additionally:
The Huawei Health App is a great success because it is clearly arranged and contains a lot of health tips. Especially in the section on sleep activities.
The manufacturer's way of offering two apps for the tracker is somewhat unusual. One for the track settings and one for the fitness data. This may provide a clear separation of functions and simpler development of the apps, but in the end it is more convenient to have all of the functions in one app.
Sports Activities
In our test we take the Huawei Band 2 Pro with us to run as an example. On the tracker itself you can still choose biking and swimming. Running programs are available for runners that are planned in the Health App. Huawei Firstbeat features in the tracker make it possible to offer more advanced statements about training load and suggestions for recovery time after the sport. Firstbeat is a specialist for heart rate analysis, which can be found in trackers such as Garmin, Samsung, Suunto or Sony.
The integrated GPS receiver records speed and distance as well as the distance traveled.
Running
For starters, we'll go for a round jog. Huawei has especially thought of runners in the Band 2 Pro, because run programs can be planned in the Health App and started via the app itself. A running activity on the tracker is also started. The predefined running programs include, for example, 5 km, 10 km, half marathon or marathon runs, for which you can prepare for several weeks via the program. Alternatively, you can also define your own training plan.
This is how the run program then fails (excerpt):
If you don't want to use the running programs, you simply start a running unit on the tracker itself. After that, we first search for a GPS signal, which took a good 16 seconds in our run. That's a good figure. While running, the tracker vibrates when the individual maximum heart rate is detected. That's what you should use as an opportunity to slow down.
After running, all recorded data is clearly displayed in the Health App:
Pulse & GPS accuracy
During the Band 2 Pro test, the Polar M430 and a Polar H10 chest strap coupled to the M430 were included. We know from both devices that they measure accurately enough. The M430 for GPS routes, the H10 for heart rate. This allows us to measure whether the Band 2 per pulse sensor measures the pulse accurately. Unfortunately, we can't find an option to export the data from the Huawei Health App. Therefore, we can evaluate the measurement only optically and over average by maximum values.
This is what the Polar HR Chest Strap measurement looks like:

At the end of the run, sprints were added to observe the responsiveness of the Band 2 Pro pulse sensor. Therefore, the measurement is slightly more curvy at the end. Since we can't superimpose the values on top of each other, it's difficult to determine how accurate the measurement of Band 2 Pro is. Only the well noticeable vibration alarm during the sprint was an indication that the Band 2 Pro achieved a good reading and was signalling the maximum heart rate of the user.
Here are the maximum and average values in comparison:
Huawei Band 2 Pro heart rate values

Average: 165 bpm
Max.: 186 bpm

Polar H10 HR Chest Strap heart rate values

Average: 170 bpm
Max.: 190 bpm
We would describe the GPS accuracy as mediocre to good, because the wearable records the route partly good, partly not so good:
The bottom line is that the Band 2 Pro performs surprisingly well, as it produces similar results to the Polar M430:
Huawei Band 2 Pro

Average pace: 07:07 min/km
Distance: 4.20 km

Polar M430:

Average pace: 07:06 min/km
Distance: 4.18 km
The Competition
These are currently, in our opinion, the strongest Huawei Band 2 Pro competitors in direct comparison:
Comparison: Vivosmart HR+ vs Charge 2 vs A370 vs Band 2 Pro
Product
Garmin Vivosmart HR+
Fitbit Charge 2
Polar A370
Huawei Band 2 Pro
Image
Availability
2016 (May)
2016 (March)
2017 (Jun)
2017 (Sept.)
Battery (up to)
5 days
GPS: 8 hours
5 days
12 days
(24×7 Activity Tracking
+ 1 hours training per day)
21 days
GPS: 3,5 h
Activity-Tracker
(steps, sleep, calories

Yes

Yes

Yes

Yes

Waterproof
Yes
5 ATM

splash-proof

Yes
WR30 (30 meter)

Yes
5 ATM
24/7 HR-measurement

Yes

Yes

No

Yes

GPS-tracking

Yes

Yes
via Smartphone
Yes
via Smartphone

Yes

Speed

Yes

Yes

Yes

Yes

Laps

Yes

Yes

Yes

Yes

Warning leaving HR zone
visual
vibration

visual

visual
vibration
visual
vibration (HR-max)
Smartphone Notif.

Yes

Yes

Yes

Yes

Compatibility
   
   
  
  
Pros

running coach
wiping gestures
breathing coach
be more active
battery

cardio fitness level
be more active
resting heart rate
comfortable
style customizable

very good color display
wiping gestures
be more active
training app Polar Flow
battery

running coach
wiping gestures
breathing coach
be more active
battery

Buy

Link
Link
Link
Link
Huawei Band 2 Pro: Availability
The Huawei Band 2 Pro has a very interesting price. You can get it here for example:
Huawei Band 2 Pro Review – Summary
We hope you enjoyed our extensive Huawei Band 2 Pro review. We now had some time to gather some Band 2 Pro experience and get a feeling for its qualities.
We were not so happy with the partly difficult to read display and the app conditions. You have to install all of them to use all the features of the activity tracker.
On the other hand, we particularly liked the good battery life and the possibility to record the heart rate as well as the GPS distance during workouts, although the tracker is comparably small. All in all, you get a lot of features for an unbeatable price. The competition cannot keep up with this.
However, if you really need more accurate fitness values and GPS recordings, you should look around in the next price category and use a HR chest strap if necessary.
Reviews to read on
Other equipment used in this review