In this Garmin Vivoactive 3 Music Review we have a new edition of the popular Vivoactive series from the sports watch specialist. The biggest difference is the integrated music memory. We are focusing on that function in particular here. In the extensive Garmin Vivoactive 3 review, we were able to test all other functions and put them through their paces. The Vivoactive series models are among the most versatile wearables that the market and the manufacturer currently have to offer for sport for the general public.
Let's take a closer look at the new features and differences to the predecessor in this Vivoactive 3 Music review. Is an upgrade worthwhile? Here are our experiences…
Test Conclusion- Garmin Vivoactive 3 Music
What we like
Suitable for self-optimisers
Powerful all-rounder with music memory
Numerous sports profiles
Comfortable, smart companion
Intuitive operation
Mature app & fitness platform
What we don't like
Display is difficult to read in very dark environments without activated display lighting
Check for availability 
If you value all-round qualities and a very good fitness platform and app, you can't ignore this watch. Alternatively, take a look at the Garmin Vivoactive 3 if you don't need a music memory and want to save a few dollars.
Garmin Vivoactive 3 Music: Who is it aimed at?
Vivoactive 3 Music is aimed at all sports enthusiasts who like to be accompanied musically during their workout, preferably without having to carry their smartphone with them. Bluetooth headphones, which are paired directly with the watch, are sufficient for this.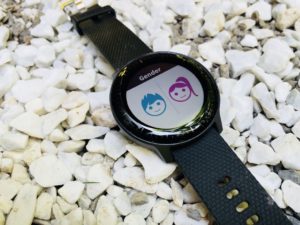 The smart sports watch is Garmin's all-rounder. Still light and slim, water resistant up to 50m (5 ATM), offers up to 7 days battery life, quick-change wristbands, 3D Gorilla glass, GPS and GLONASS and a very good transflective display. The display is especially suitable for athletes who like to be outdoors. It can even still be read in very bright environments and direct sunlight, as our test of the music-free version has shown.
It also offers numerous sports profiles. These include indoor swimming and golf features. Many other helpful features make the Vivoactive 3 the ideal sports smartwatch for everyday use. We'll see what these are in the next sections.
What is really new and different
The jewel and only innovation of Vivoactive 3 Music is the integrated music player and memory. The Vivoactive 3 does not offer this function. But it is already the second Garmin model with music function. The high-end sports watch Forerunner 645 Music also has it. The disadvantage of using the music player in GPS mode is that the battery is drained more quickly. Where the Vivoactive 3 lasts about 13 hours continuously, the music version can last 8 hours if the music player is also permanently active during GPS mode. Otherwise it will also last about 13 hours.
Garmin Vivoactive 3 or Vivoactive 3 Music?
But there are also other changes compared to the predecessor. The most noteworthy are:
No side swipe function: the touch-sensitive left side of the case is completely omitted. Looks like it hasn't been so well received by the users.
Minimal higher case: from 11.7mm it goes up to 13.6mm. Probably due to the new memory function. In practice, this doesn't really bother us and doesn't stand out optically either.
All details in the comparison table:
Garmin Vivoactive 3 vs Vivoactive 3 Music

| | | |
| --- | --- | --- |
| – | VIVOACTIVE 3 | VIVOACTIVE 3 MUSIC |
| Integrated music memory | No | Yes |
| Control Smartphone music player | Yes | Yes |
| Direct coupling of Bluetooth Headphones | No | Yes |
| Side Swipe | Yes | No |
| Size | 43,4×43,4×11,7 mm | 43,1×43,1×13,6 mm (higher case) |
| Weight | 39 g | 43 g |
| Amazon product link | Product page | Product page |
The new music function
The integrated music memory (3.5GB usable memory) is designed for up to 500 songs. Users can easily download their favorite songs from their computer directly to the smartwatch and play them back at any time without a mobile phone via compatible Bluetooth headphones. Supported file formats include MP3, AAC, M3U, M3U8, WAV and ADTS.
The files are transferred via a USB connection to the computer. The transfer of own music files via WLAN like with the Fitbit Ionic is not planned. In general, the use of a USB cable for today's wearables is easier to handle and usually faster to transfer. The watch logs on to the computer as an MTP device (Media Transfer Protocol), but can also be configured in the settings so that it appears as a USB memory.
Also, a Linux computer with this type of transfer should not cause any problems, as our practical test with Forerunner 645 has shown. If you have a MAC or Windows computer, you can also conveniently transfer the music using the Garmin Express program. You can create separate folders, copy entire albums or create playlists, which will be recognized as such by the watch.
In practice
Bluetooth headphones can be paired via the corresponding menu on the Vivoactive 3 Music, which worked without any problems in our test. We tried an in-ear sports model from TomTom and classic on-ear headphones from Audio-Technica.
The volume is controlled by swiping gestures on a special side of the watch or via the headphones, if they have the appropriate buttons. Headphones do not necessarily have to be connected as output devices. In theory, any Bluetooth audio device can be paired with Vivoactive 3 Music. Such as Bluetooth loudspeakers.
The copied files and structures can then be accessed via quick swipe gestures via the music widget. Here are some examples:
Controlling the player during a workout is a bit cumbersome, because as of today (29.10.18) no music page can be configured directly in the workout pages. This function is reserved for the Forerunner 645 Music, where the control of the player during training is a bit more comfortable. So you should think carefully about which playlist/album and so on should run during the workout. If you still want to make music changes, you can do so by pressing the right button for a longer time. This will take you to the widgets where you can change the settings.
Streaming services
Premium users of the music streaming service Deezer will be able to transfer offline playlists to Smartwatch in the future. This in turn is done with the integrated WLAN receiver. The option is not yet available. But if it is there and you are on the road (for example in a hotel), you should note that downloading songs via Deezer could be problematic. The reason is simple. In hotels, captive portals are often used to ensure that an Internet connection is only possible after a check mark or similar has been placed. This interactive option does not support Vivoactive 3 Music.
In addition to Deezer, the streaming service iHeartRadio is also supported, although it is only available on the US market. If you are outside the US, you cannot use this service. Other streaming services such as Spotify are not supported.
What else distinguishes it
Vivoactive 3 Music cannot shine without new revolutionary features. Most of the features are already known, but still impressive. Just to get a feel of what we're dealing with here, here are some notable features that the predecessor also has:
Numerous pre-installed sports apps: In- & Outdoor activities like running, cycling, swimming, yoga, rowing, cardio-training, SUP, skiing, golf, stepper and more.
Training plans and (weight training) workouts: Create or load training plans via Garmin Connect. Also suitable for strength athletes, because the device can recognize and record strength or cardio training with

 

sets, repetitions and pauses. We also reviewed this function with the Vivosmart 3 review.
24/7 heart rate measurement at the wrist: With the integrated HR measurement on the wrist you get an overview of the current heart rate, the course during the last 4 hours as well as the average daily and 7-day value.
Fitness and stress levels:  Information about the fitness level and training effect with the features VO2max and fitness age. A relax timer can be activated to reduce the current stress level with 1-5 minutes of breathing exercises.
Notifications: In combination with the smartphone you get features like Smart Notifications (notifications about mails, appointments, calls, messages, etc.), weather, calendar, Find My Phone, LiveTrack, AutoSync and more.
24/7 Fitness-Tracking: These include daily fitness data such as steps, distance, floors, intensity minutes, calorie consumption and sleep quality or individual daily goals.
Garmin Pay
Vivoactive 3 Music with Garmin Pay also offers the option of cashless payment directly from the wrist. This is ensured by an integrated NFC chip.  More information about the cashless payment options of Garmin and participating banks can be found here.
Price and availability
Vivoactive 3 Music is now available.
Vivoactive 3 Music Review: Concluding
The Garmin Vivoactive 3 Music is a solid and versatile multisport GPS all-rounder with which you can play around and train a lot. For only a few dollars more you get an integrated music player compared to the non-music version, which is especially good for music fans. It also offers professionals a wide range of setting options for each sports profile. It is also very suitable for everyday use due to its wearing comfort. The completely black bezel will not always meet with approval. It shows hardly any weaknesses, whether in everyday life, during training or under Android and iOS devices.
If you would like to find out more about all the details and experience the watch in a more in-depth practical test, read our Garmin Vivoactive 3 Review.