Our Samsung Gear Fit2 Pro review at a glance:
The Samsung Gear Fit2 Pro is especially suitable for sports enthusiasts who want a sporty and smart all-rounder with a great display and very good service. If the price is too high, take a look at the comparable activity tracker Polar A370, or you can go even cheaper with the Huawei Band 2 Pro.
Unboxing
In this Samsung Gear Fit2 Pro review, we keep this section short and focus more on the sporty features below. The Samsung Gear Fit2 Pro comes in an elegant dark package that is sure to be appealing as a gift. In addition to the activity tracker, the packaging contains a short instruction manual and a charging cable with a charging station: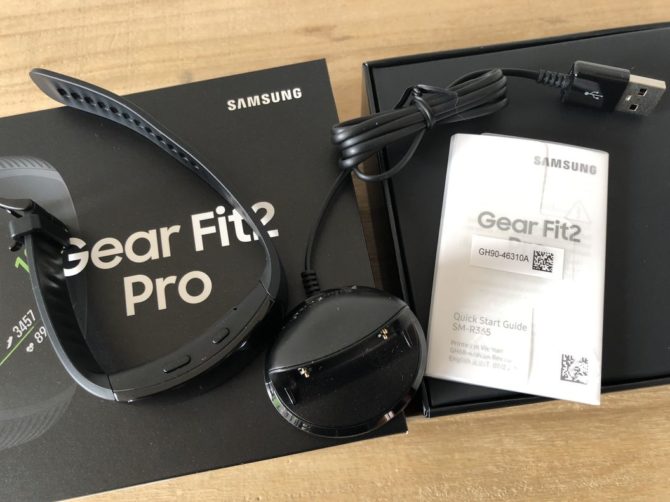 The charging station holds the wearable magnetically while the magnets are not very strong. This can cause the Gear Fit 2 Pro to slip off the charging station as soon as it receives a small impact, for example.
 Samsung Gear Fit2 Pro Reviewed: Outer appearance
Case and Band
The Samsung Gear Fit2 Pro activity tracker was officially launched at the IFA 2017. Its characteristics coincide with the images and information previously leaked on the Internet. The Tizen-OS-based wearable is especially interesting for swimmers, as we will see later. The weight is 30 grams, 6 grams more than the predecessor Gear Fit 2 (24 grams.)
The Gear Fit2 Pro is comparable to the Polar A370, mainly because the display shape and the way you operate the wearable are similar. However, the A370 does not have a built-in GPS receiver, it can only use the smartphone's GPS. So if you want to record tracks, a smartphone must always be there. This is not the case with Samsung Wearable. This is what the Polar A370 looks like: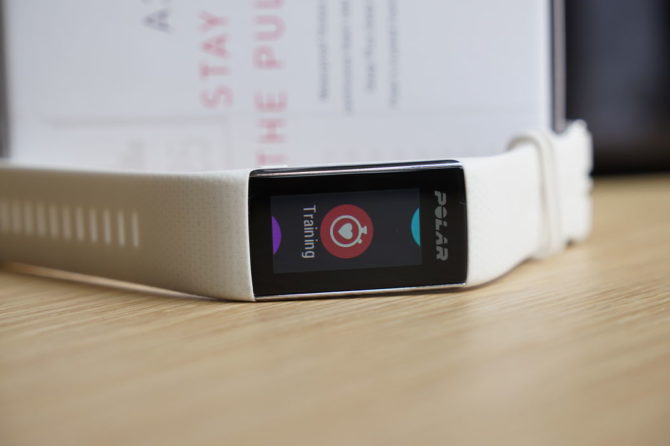 In general, the wearable is well processed. This applies to the case and display as well as to the silicone band. The silicone band makes a pleasant impression, because it is soft and cuddly. The overall wearing comfort is very good, because the device fits well on the wrist, especially due to the curved shape of the case.
The clasp is similar to a classic watch and ensures easy handling and secure hold during sports: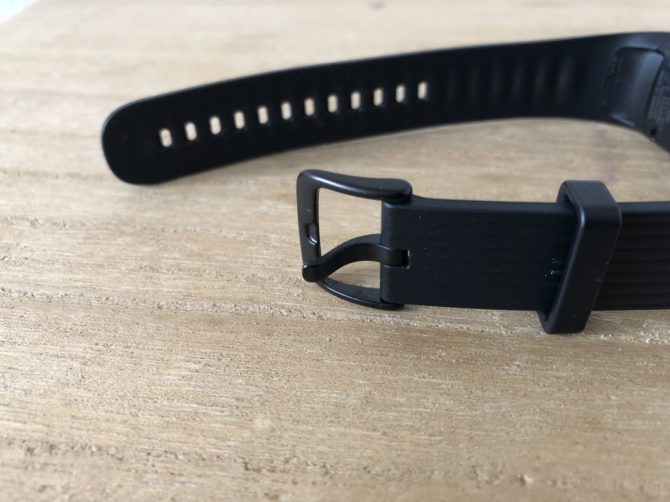 Display & Operation
The Curved Super AMOLED (resolution: 216×432 pixels) of the Gear Fit2 Pro is easy to read and use. Whether in bright or dark environments, the brightness and color characteristics of the display are very good. It is a highlight of the device, because comparable activity trackers can't keep up here. Similarly good displays known to us are only offered in more expensive and larger sports watches, such as the Fitbit Ionic (our Fitbit Ionic Review) or the Apple Watch (our Apple Watch 3 Review.) It is normally completely switched off and is only activated when the arm moves or the display or key is touched. The behaviour can also be adjusted in the settings.
The Gear Fit2 Pro is menu-driven and controlled by means of touch, holding and swiping gestures on the display as well as a total of two lateral buttons on the right side of the housing. Nothing jerks or hooks, the operation is a pleasure for an activity tracker. You can navigate very quickly and intuitively to the sports mode, received smartphone messages or settings.
It's also a good thing that the Samsung Gear Fit2 Pro has keys that are suitable for sports use and you can't only reach options via the touch screen. They allow you to operate the band during a workout, even if you have sweaty or wet fingers (or wear gloves) and therefore the display is not so easy to operate. For example, to start, pause, and end a course.
Further Technical Details
The Gear Fit2 Pro is also equipped with an acceleration sensor, barometer, gyroscope, HR sensor and a GPS and GLONASS receiver. Integrated automatic motion detection is designed to detect activities such as walking, running, cycling and more dynamic activities such as dancing or basketball. In the Samsung Gear Fit2 Pro review, we look at running in particular.
The 200mAh strong battery of the wearable lasts up to 3 to 4 days before it has to be plugged back into the socket. With permanently switched on GPS, it should be feasible in about 8 to 9 hours. Comparable wearables often last a day or two longer.
Samsung Gear Fit2 Pro Review: Sports Activities
In the sporty part of the review, we take the Samsung Gear Fit2 Pro for a run. On the tracker itself, you can choose from many other activities such as cycling, swimming, walking, hiking, indoor cycling, rowing, stepping, or strength exercises.
Training information such as duration, distance and the number of calories burned is recorded, depending on the type of training performed. The Gear Fit 2 Pro uses the integrated HR sensor to hold the heart rate even without an HR chest strap: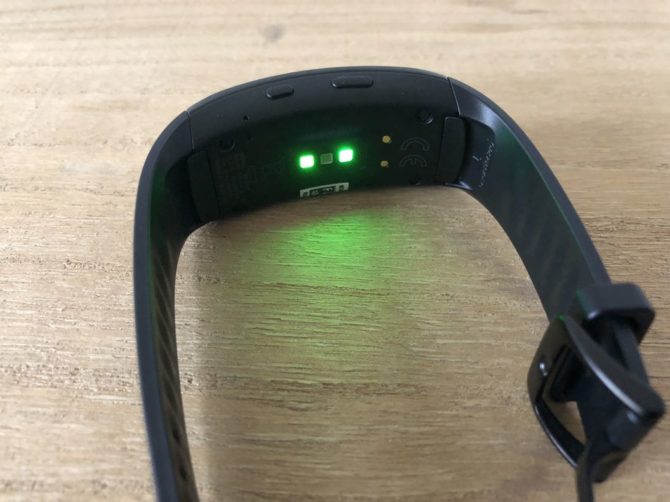 Running
For starters we go for a round jog. The integrated GPS receiver records speed, distance as well as the distance traveled and other metrics.
The Samsung Gear Fit2 Pro has predefined goals, so you can also run a little more structured. You have to choose your goal before running for example 30 minutes. But there are also programs that can help you burn calories, improve your endurance and speed.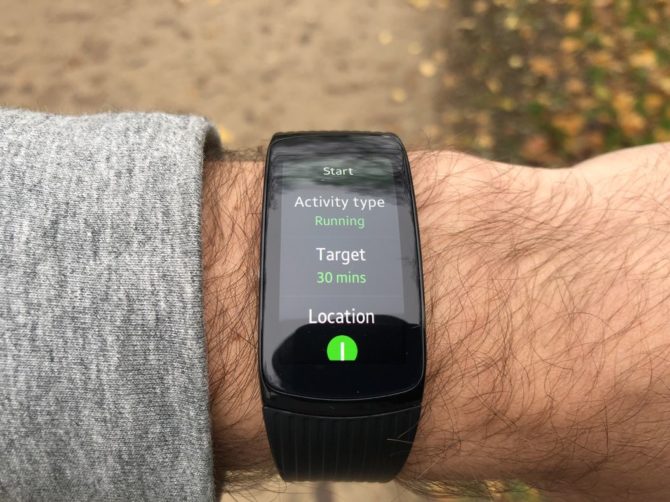 Once you have started the training, Gear Fit 2 Pro provides various statistics in real time. Enclosed in the picture gallery are just a few examples:
After training, the machine displays a detailed summary: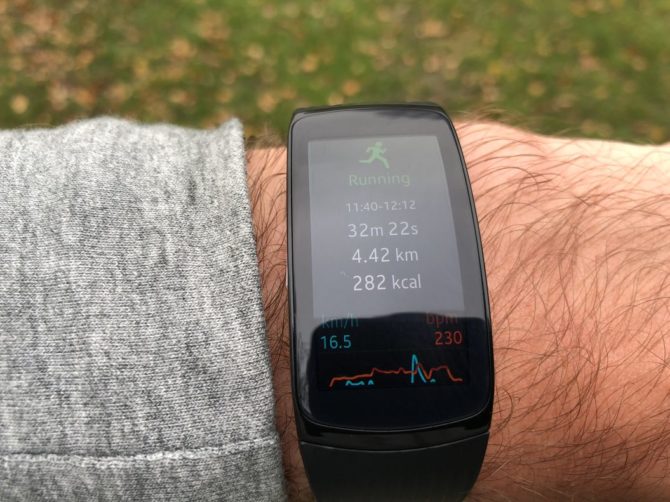 And more:
In the Samsung Health App, the data is then also available after synchronization, of course in a much clearer format:
Further on:
Gear Fit2 Pro Review: HR Sensor & GPS Accuracy
The Polar H10 chest strap was used during the Gear Fit2 Pro review. This allows us to measure whether the Gear Fit2 Pro HR sensor measures the heart rate accurately. Unfortunately, we can't find an option to export the data from the Samsung Health App. For this reason, we can only evaluate the measurement visually and over average by maximum values.
This is what the Polar HR Chest Strap measurement looks like: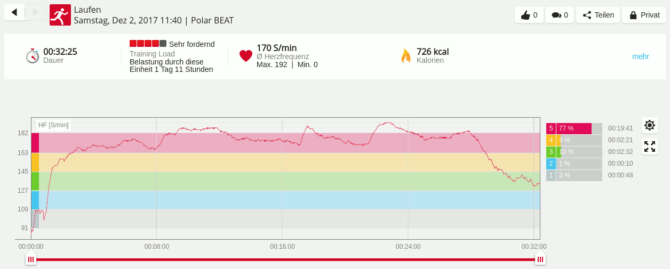 And that's the Samsung Gear Fit 2 Pro: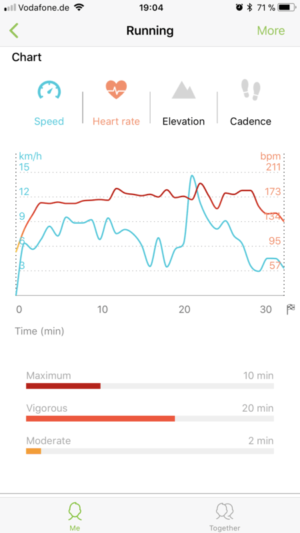 Below are the maximum and average values in comparison:
Samsung Gear Fit2 Pro HR Values

Average: 164 bpm
Max.: 192 rpm

Polar H10 HR Chest Strap HR Values

Average: 170 rpm
Max.: 192 rpm
The Gear Fit 2 Pro is 6 strokes off the average. This may be sufficient for constant runs in the hobby area. If you would like a more accurate tracker in this area, you can also take a look at the Polar A370 (our Polar A370 Review), where we were able to achieve better results. For interval training, for example, a chest strap should still be used, as optical sensors often cannot keep up with fast-changing HF.
Let's have a look at the route recorded via GPS. We would describe the GPS accuracy as mediocre to good, because the wearable records the distance partly well and partly less well. First, the big picture: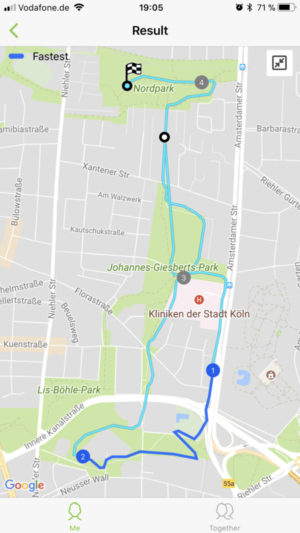 If you zoom in closer, you can see that the wearable is often very many meters away. This is rather normal for current GPS receivers in activity trackers. If you want to be more precise, you are more likely to opt for sports watches, which usually do better because antenna design can be better realized.
Gear Fit2 Pro: Speedo supports swimming
Gear Fit2 Pro is now waterproof to 5 ATM instead of IP68 certified. This means that the device has been tested for water resistance up to 5 bar. Longer and deeper dives should be avoided, but swimming does not cause problems for the wearable.
Especially interesting and hardly offered by other trackers: the Gear Fit2 Pro and Samsung Health, Samsung's fitness tracking platform, is compatible with Speedo's Swim On training platform. The pre-installed Swim On App can be used to track individual training goals and plans. A swim app developed by Speedo is designed to facilitate the evaluation of swim units.
The Speedo On Tracking App measures important swimming metrics and supports additional features. These include for example:
Number of laps, lap time
Number of strokes
SWOLF Score
Pursuing personal goals
Share results with other swimmers online
Download other swimmer's workouts
Online Contests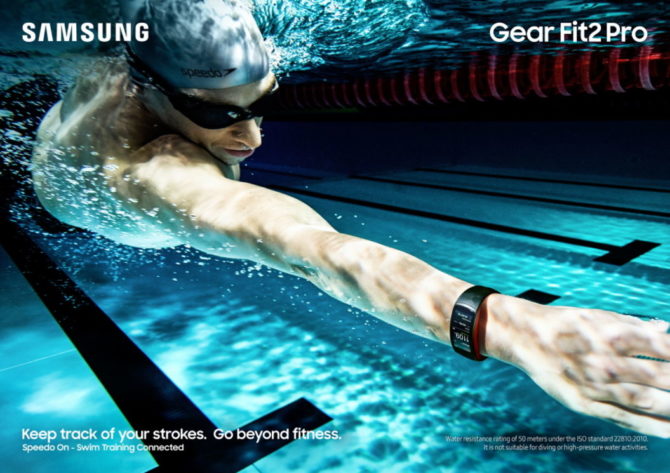 Unfortunately, we were unable to review whether the Gear Fit2 Pro offers similarly good professional swimming characteristics as a Garmin Fenix 5 or the Garmin Vivoactive 3.
Compatibility: Also with Spotify Support
Samsung has also worked on further partnerships and offers compatibility with various apps. Including Under Armor and Spotify. Gear Fit2 Pro gives you access to the Under Armour Fitness-App "Under Armour Record." With Spotify's offline mode, you can listen to your favorite music online, offline or even without the smartphone via Bluetooth headphones.
Furthermore, according to the manufacturer, MyFitnessPal, MapMyRun and Endomondo are supported, so that you can get a more complete picture of your own health and fitness.
Picture Gallery
Below are some more pictures we took during the Samsung Gear Fit2 Pro review.
Samsung Health App:
Samsung Gear Fit2 Pro Price and Availability
The device is available in the colors black and red, each with a small or larger band. The EIA price is $199.
Samsung Gear Fit 2 Pro Conclusions
Our Samsung Gear Fit 2 Pro review hopefully helped you. We now had some time to gather some Gear Fit 2 Pro experience and get a feeling for its qualities.
We didn't like the Bluetooth synchronization problems with our iPhone smartphone. Often only the complete removal and re-coupling of the device with the iPhone helped, so that messages and the synchronization of workouts worked again. As long as Gear Fit 2 Pro and iPhone could see each other via Bluetooth, everything was fine. But beware if the Bluetooth connection was lost because you left the room. It's hard to say whether iPhone or Gear Fit 2 Pro are responsible for the trouble. iPhone owners should keep their hands off the device for the time being if they want to avoid trouble. Android users have it better here.
On the other hand, we particularly liked the wearing comfort, display and operating features as well as the variety of this small wearable.