With the Polar OH1, the sports specialist from Finland is presenting a flexible band with an integrated heart rate sensor. Such HR sensors are rarely found on the market. The Scosche Rhythm+ is comparable to the OH1, for example, because it uses a textile wristband.
Polar OH1 Advantages
The textile wristband is elastic and can be worn on both the upper and lower arm. Compared to wrist-worn sports watches with a heart rate sensor, this means that better results can be achieved in some sports.
In particular, this refers to sports in which the wrist is flexed (bicycling, weight training), where direct vibrations make pulse measurement impossible (bicycling on very bumpy paths/roads) or the muscles are so tense that the pulse measurement is distorted.
The application is very simple. The training unit is activated via the lateral start button, an LED signal gives information about the status of the sensor (such as the battery level,) the rechargeable battery is charged via USB and the firmware can be updated.
The Hardware
Overall, the entire product weighs a meager 17 grams. The 6-fold LED heart rate sensor reminds us of the sensors integrated in the Polar M600 or M430, which achieved very good results in our tests (links at the end of the article) at least with constant running units. Polar is so convinced of the accuracy of the heart rate sensor that they believe the OH1 can perform a fitness test.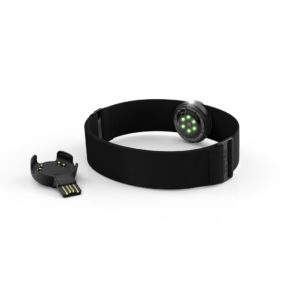 For comparison, the pulse sensor of the M600 looks like this: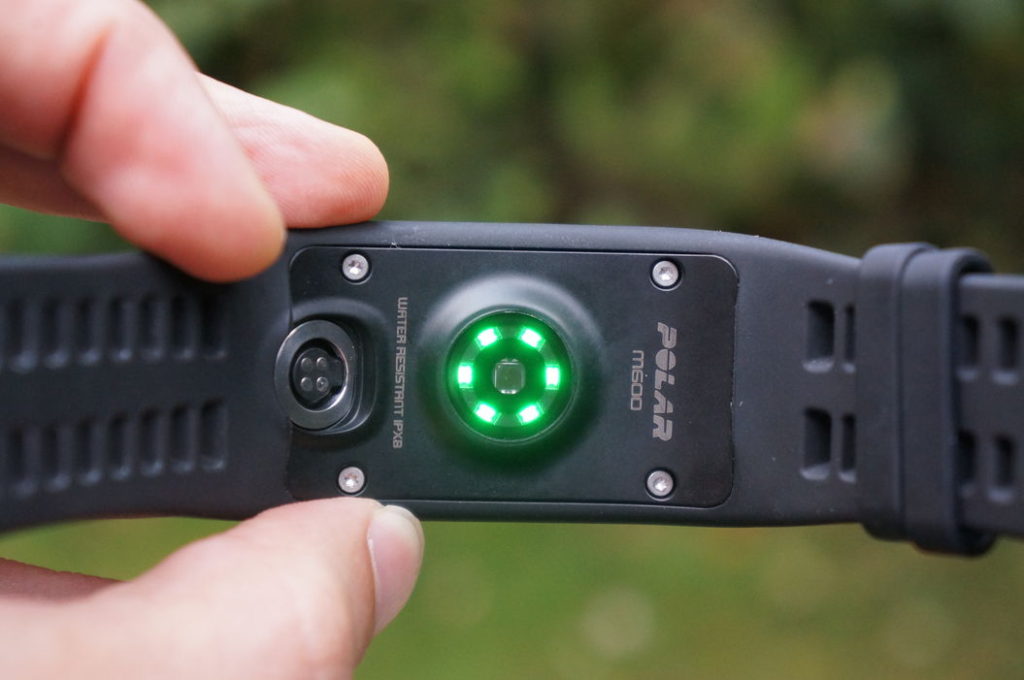 The data transfer is carried out via Bluetooth to the smartphone or compatible sports watches. The OH1 is therefore compatible with many sports and fitness apps including Polar Beat, Polar Club, Endomondo, Cyclemeter, MapMyRun, Runmeter, Strava, Wahoo Fitness, Wohoo Runfit, Fit Trip, Runtastic, Apple Health and many more.
Like the Polar Heart Rate Chest Strap H10, the OH1 has an internal memory that can store up to 200 hours of activities and synchronize them later. The battery life is also significant. With up to 12 hours the battery lasts a really long time.
Since it is waterproof up to 30m, it is also at home in water sports.
OH1 Buy
The Polar OH1 will be available from mid-September 2017.
Tests and reports to read on: