In this Garmin Vivomove HR review we take a look at the everyday usability of the 24/7 tracker. Although the watch can also be used for sports, Garmin has completely different (GPS) calibers for sports use. This tracker is for the elegant and stylish use. But the tracker doesn't hold back on modern tracking features.
Our Garmin Vivomove HR Review at a glance:
Garmin Vivomove HR: Product Page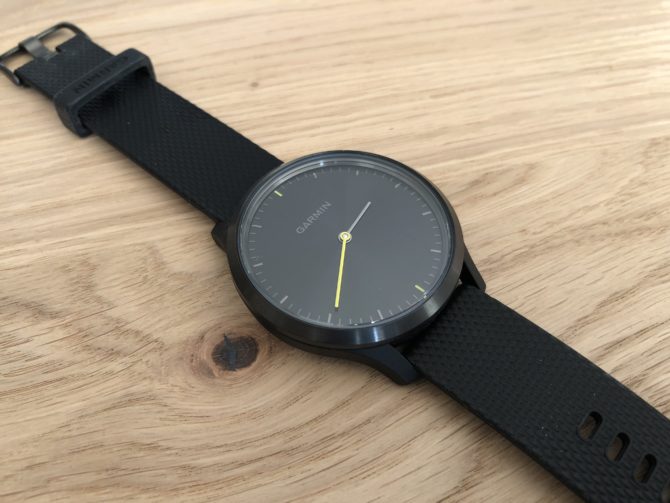 Recommendation
The Garmin Vivomove HR is especially suitable for people who want to track their fitness 24×7 and are looking for a good looking tracker with a classic watch look. If the sports features are not enough for you, take a look at the Garmin Vivoactive 3, which also has a round design.
Pros
Suitable for self-optimizers
Comfortable & daily all-rounder
Hidden Display
Sophisticated and powerful App & Fitness platform for the browser
Cons
Clock hands difficult to read in very dark environments (but the digital display is easy to read)
Not always intuitive handling
Change Log
02/09/18: Garmin Vivomove HR Review Release
In this review
Garmin Vivomove 3/Connect App tested with:
iPhone 8 Plus
Android 7.1.2
Garmin Vivomove HR Review: Outer appearance
Design
Vivomove HR has undergone major changes compared to its predecessor. While the external design has changed only slightly, internal features have changed all the more. There are only a few sports watches on the market in elegant watch design with modern tracker technology. Only Withings Steel HR and the newer Nokia Steel HR offer similar looks and similar features.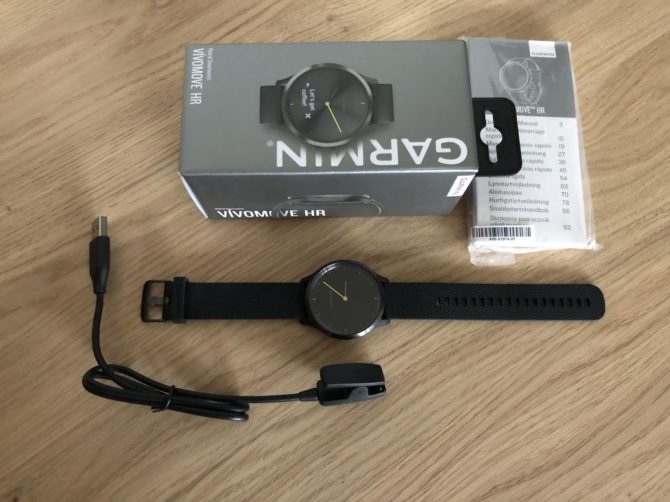 The new design is appealing for several reasons. While the predecessor looks somewhat bulky, the Vivomove HR looks much more elegant in review, because the material selection is more successful and the watch body is flatter and smaller. But the battery doesn't last that long, more about that later. The completely "round" appearance is also due to the fact that the device lacks buttons.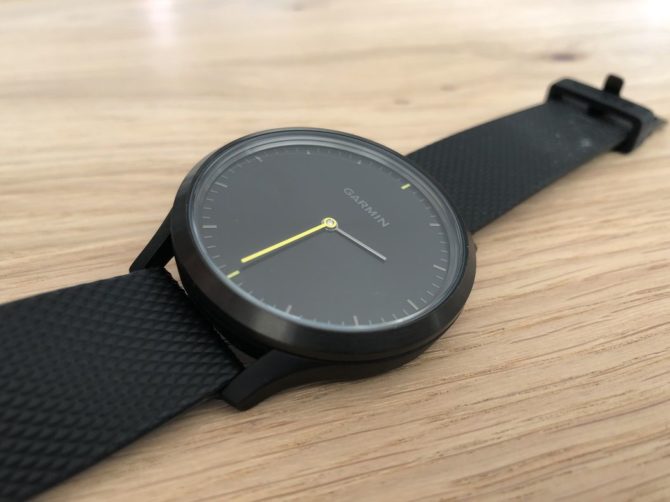 Watch Body
In general, Vivomove HR is well manufactured. This applies to the case and display as well as to the replaceable silicone strap. It is so good that you can swim in the swimming pool with your watch, because the body is waterproof (5 ATM) according to the manufacturer.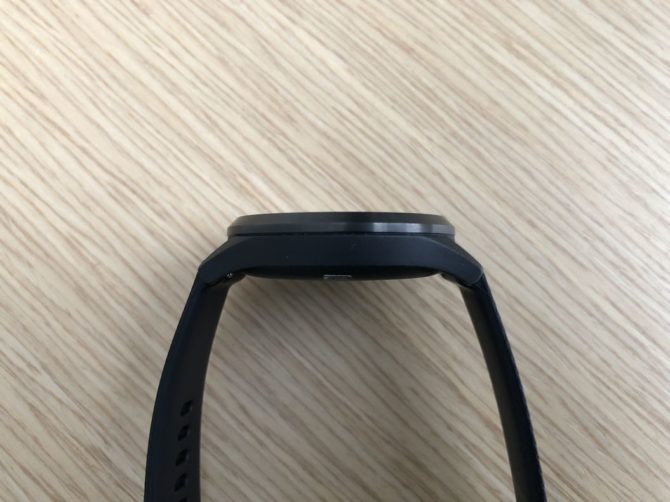 Instead of a silicone band, a leather band can also be mounted. The watch glass is made of chemically reinforced glass as Garmin writes, without giving more details. The bezel is made of stainless steel, and the case of fiber-reinforced polymer and stainless steel.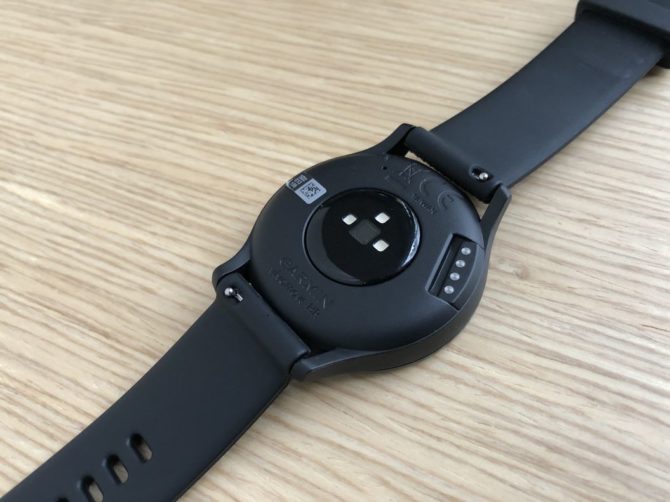 Band
The silicone band makes a pleasant impression, because it is soft and cuddly. The wearing comfort is very good. It can also be replaced with another 20mm standard band. This allows you to adapt the look of the watch to your own wishes. The Vivomove HR is equipped with the so-called Quick Release mechanism, which enables quick and uncomplicated replacement.
The locking mechanism is similar to a classic watch, which simplifies handling.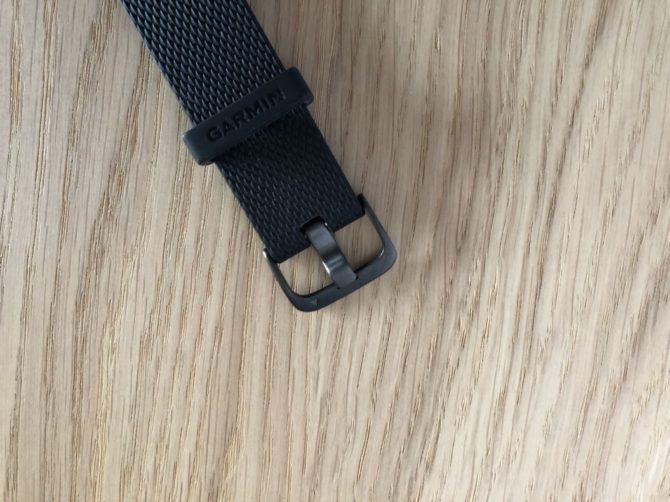 Readability and display
The OLED display of the Garmin Vivomove HR is very easy to read, but only visible if you perform a corresponding arm movement or tap the display twice. Otherwise, the Vivomove HR looks like a classic analog watch. We find this look very appealing.
The time is less easily readable with the help of the hands, because in darkness especially the hands for the hours are not easily distinguishable from the color of the dial. At least with our sports version of the watch. There is also the premium version with a leather strap, where this is solved better, because the colors are better. However, the OLED display is always at hand so that readability is always guaranteed.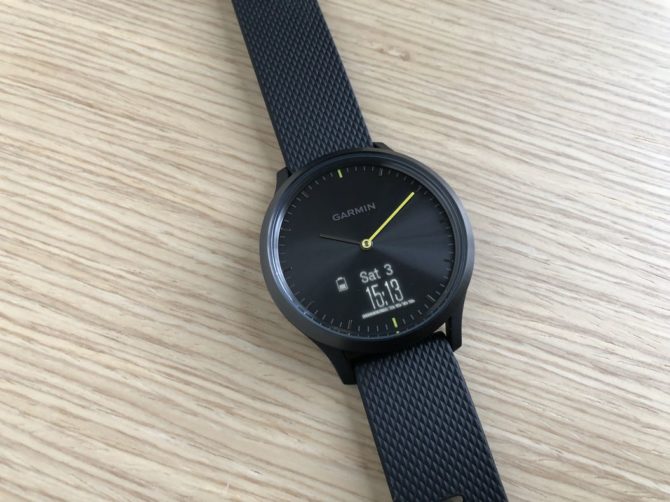 Handling
The menu navigation and control of the Vivomove HR is carried out exclusively by typing and swiping gestures on the display. Also, if the option is active, use the arm movement to activate the OLED display. This works well and reliably, but in some situations it is not always intuitive. Especially if you are in some nested menu structures or within a smartphone message and try to move back to the standard display via gestures. All you can say here is: practice makes perfect.
Garmin Vivomove HR: The Practical Test
To use the Vivomove HR's online features, it must be connected directly via the Garmin Connect Mobile App and not via the smartphone's Bluetooth settings. This worked well in the review with an iPhone 8 and an Android smartphone.
In everyday life
When the OLED display is activated, various widgets are available. If you press the touch screen, you can browse through the widgets. If you tap on one of the widgets, the watch provides additional information, e. g. a heart rate graph or the total number of steps of the previous day. To use some widgets, a smartphone must be paired, for example for the weather widget.
Some examples of widgets follow. A picture gallery further down in the article shows much more measurement data and long-term trends in the Garmin Connect App.
The first example shows the total number of steps for the day and the daily target steps. Successful: the device is capable of learning and strikes a new one for every day.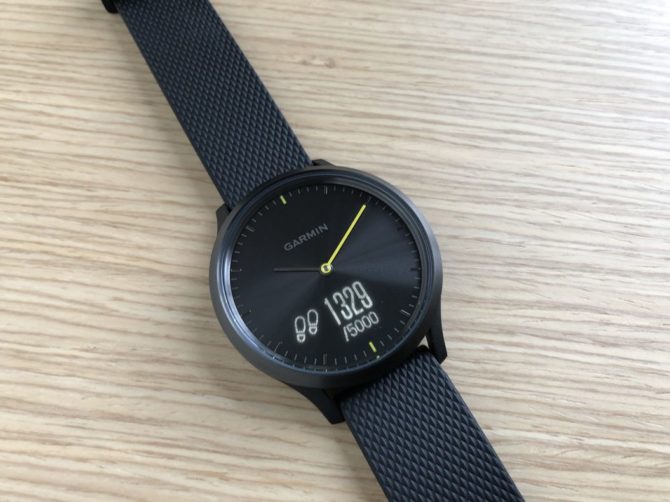 The current heart rate in beats per minute (bpm) and the average heart rate at rest for seven days can also be displayed:
The tracker also records the ascending and descending floors by means of a barometric altimeter. To ensure that the device measures the floors reliably, at least 10 to 12 steps should be covered: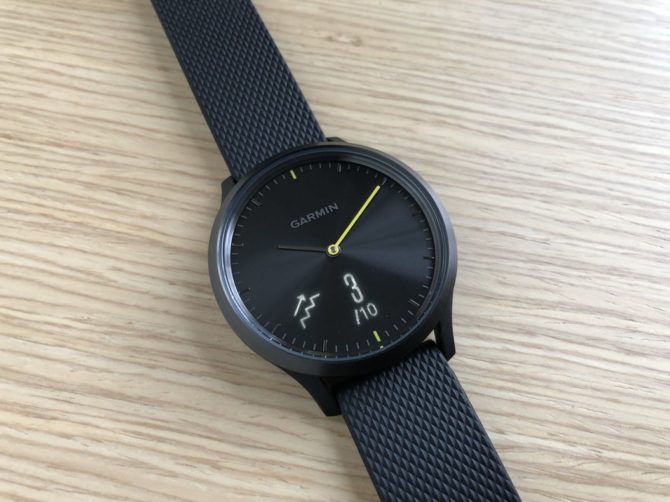 The calorie consumption for the day, including active calories and calories at rest: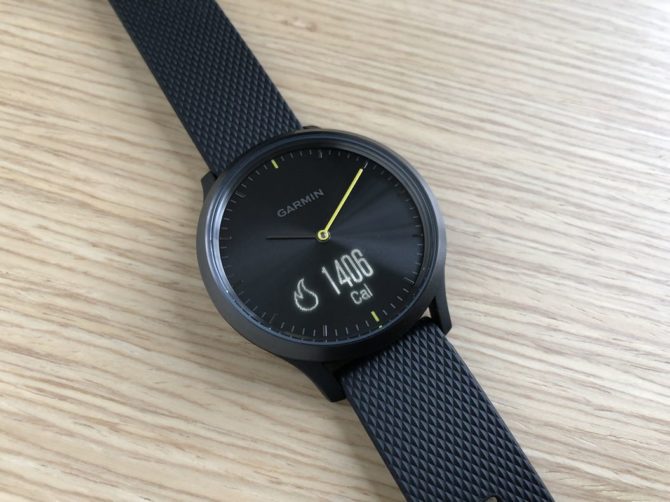 Features for your phone's music player: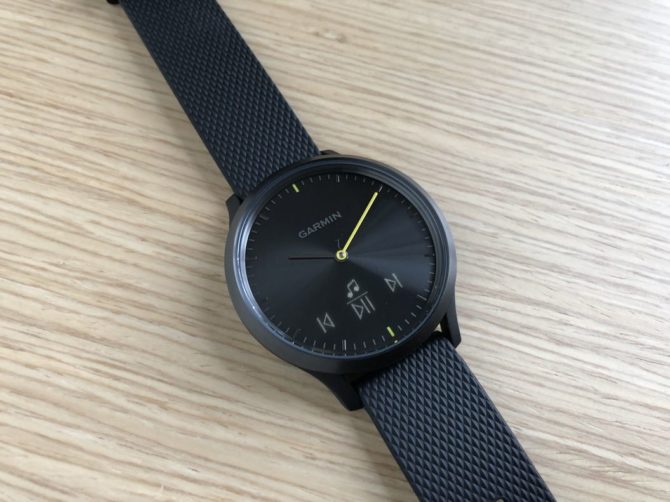 The current temperature and weather forecast from a paired smartphone.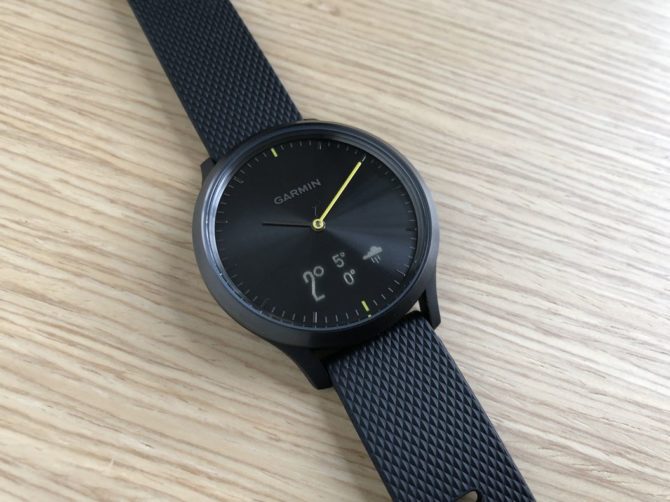 The current stress level can also be viewed as a widget:
The device measures heart rate variability while inactive to determine the stress level. A low number indicates a lower stress level. The stress level is composed of training, physical exercise, sleep, food and the stress of daily life that affects the stress level. The stress level is measured on a scale from 0 to 100. A value between 0 and 25 represents a resting state. Values between 26 and 50 represent a low stress value, 51 to 75 indicate an average stress value and 76 to 100 indicate a high stress value. Observing the stress level can help to identify stressful moments occurring during the day. According to Garmin, the device delivers the best results when worn while sleeping.
The Vivomove HR provides even more information and options in review. These include distance traveled in km, incoming smartphone messages (WhatsApp, Facebook, Twitter and many more), the VO2max value (maximum oxygen intake (in millilitres) that can be used per minute and per kilogram of body weight at maximum performance) and breathing exercises.
During Sports Training
The Vivomove HR can also record activities with time and pulse values. You can choose between walking, running, cardio activities, strength training and "other types of activity".
We are currently carrying out some activities and will be updating this section in the next few days.
Vivomove HR vs Vivoactive 3 vs Fenix 5
If you are not sure which Garmin watch with a round design you would prefer, the following table will help you decide. It compares and lists some important distinguishing features of the three attractive sports watches. Green indicates an improvement:
Vivoactive 3 vs Fenix 5 vs Vivomove HR
Vivoactive 3
Fenix 5
Vivomove HR
Watch glass

Corning Gorilla Glass 3

Glass or

sapphire glass

Chemically hardened glass
Dimensions

43,4 x 43,4 x 11,7 mm
127 to 204 mm circumference

47 x 47 x 15,5 mm

43 x 43 x 11,6 mm
S/M: 122 to 188 mm circumference
L: 148 to 215 mm circumference

Weight
43,0 g

Silicone band: 85 g
Metal band: 156 g

Sport: 40,8 g

Premium: 56,5 g

Watertightness
5 ATM

10 ATM

5 ATM
Display type

Clearly legible, transflective MIP display (memory in pixels) when exposed to sunlight

30.4 mm (1.2 inch) diameter

240 x 240 pixels

Clearly legible, transflective MIP display (memory in pixels) when exposed to sunlight

30.4 mm (1.2 inch) diameter

240 x 240 pixels

Clearly legible OLED display in sunlight
9.6 x 19.2 mm (0.38 x 0.76 inches)
64 x 128 pixels

Touchscreen

Yes

No

Yes

Battery life

GPS mode: Up to 13 hours
Smart mode: Up to 7 days

Smart mode: Up to 2 weeks

GPS/HF mode: Up to 24 hours

UltraTrac mode: Up to 60 hours without HR measurement on the wrist

Smart mode: Up to 5 days
Analog mode: Up to 2 weeks

Ambient light sensor

Yes

No

No

Heart Rate Variability (HRV) and Stress Level

Yes

Yes

Yes

Reject calls and send automatic text (only Android)

Yes

No

No

Smartphone compatibility
Garmin Pay

Yes

No

No

Pre-installed gym activity profiles

Elliptical training

Stair Stepping

Floor Climbing

Indoor Rowing

Yoga

Cardio Workouts

Strength training

Automatic repetition counter

Indoor Rowing
Cardio Workouts
Strength training
Automatic repetition counter

Strength training
Cardio Workouts

VO2max

Yes

Yes

Yes

% HF max.

Yes

Yes

Yes

Recording of heart rate during swimming

No

Yes 

(with HRM-Tri and HRM-Swim)

No

Running Training Programs

Yes

Yes

No

Runtime forecast

Yes

Yes

No

Virtual Partner & Virtual Racer

No

Yes

No

Advanced Running Metrics

(Running Efficiency, Ground contact time and Balance, vertical movement)

No

Yes

No

Route guidance on Routes

No

Yes

No

Extended Training statements (Recreation time, Training condition, Training load, Training effect)

No

Yes

No

Outdoor & Navigation Functions

Back to the start
Total ascent/descent

Back to the start

Total ascent/descent

Height profiledistance to destination

Height profile

Thunderstorm warning

Waypoint projection

and more

No

Golf-Features

Yes

Yes

No

Swimming metrics (tracks, distance, pace, number of moves/trains, calorie consumption, swimming style recognition)

Yes

Yes

No

Swimming trainings

No

Yes

No

Shopping Link
Product page
Product page
Product page
Our Review
Vivoactive 3
Fenix 5
Vivomove HR
Then there is the operation: the Fenix 5 has 5 keys and does not require a touch display. It is the better choice for wet environments. The Vivoactive 3 has a button (right), the touch-sensitive left side of the housing (called Side Swipe) and a touch display.
All in all, it can be seen that the Fenix 5 offers much more advanced fitness and outdoor features that are intended to appeal to ambitious athletes and outdoor fans on the one hand.
If you are looking for a good all-rounder, choose the Vivoactive 3, and if you want to pay attention to price and elegance, you will have fun with the Vivomove HR.
Garmin Vivomove HR Review – App Gallery
Below are some more pictures we took during the Vivomove HR review.
Garmin Vivomove HR Price and Availability
The device is available from 199 Euro (UVP-price) in different versions with silicone or leather strap, for example here:
Review Vivomove HR – Conclusion
A final conclusion for this Garmin Vivomove HR review can be reached after a few more sports sessions.