The Polar Vantage V2 GPS multi-sport watch is the manufacturer's new top model. Numerous improvements in hardware and software lead to, for example, noticeably lower weight, or fitness functions that its predecessor won't have. With up to 100 hours of battery life in GPS mode, it records even long lasting activities without any problems. Price-wise it starts at $499,95 (EIA).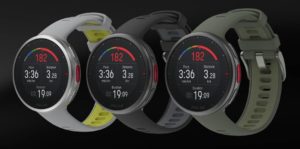 Bestsellers, deals, gift ideas*
Amazon.com Top-Deals
Venu
Garmin
from $279.99

Vivoactive 4
Garmin
from $199.99

Versa 2
Fitbit
from $279.78

Are you looking for a Christmas present? These are our suggestions:
Garmin GPS Devices and Smartwatches
Polar Vantage V2: Тhe Highlights
With the Vantage V2, Polar has launched its new flagship device. In addition to the optical heart rate measurement on the wrist and various GPS options, numerous new features help with training control as well as the assessment of training load and recovery.
These are the most important, exclusive highlights, which we will discuss in more detail in the following sections:
Run performance test: Track progress and individually determine and set heart rate, speed and performance zones.
Bike performance test: Personalize performance zones and determine individual functional performance threshold (FTP) with the help of a performance meter.
Leg recovery test: determines within minutes and without additional equipment whether the legs are sufficiently rested for further training.
Music control and other Smartwatch functions: in addition to weather forecast and smartphone notifications, the music player of the smartphone can now be controlled including volume.
Test Hub in Flow: combines all test data in one place online, making it easier to track performance and progress.
Vantage V2 $429.69
Polar Vantage V2
The Vantage V2 from Polar weighs only 52 grams, despite its completely aluminum housing. Compared to its predecessor Vantage V, this is a weight reduction of 14 grams. In addition, the water resistance has been improved from 50 meters (WR50) to 100 meters (WR100) so that the watch can be used in even more scenarios. For example in high-performance water sports.
The model also features all the fitness and health features of the manufacturer known from our tests. These include animated training instructions (FitSpark) based on recovery, daily form and training history. The important Nightly Recharge is also active at night and can contribute to a more balanced workout when used regularly. The option determines how well users recover from stress and training.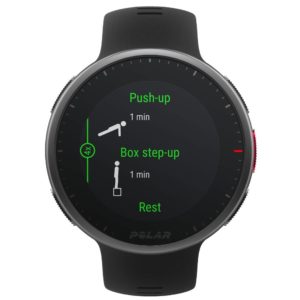 The battery life of the watch with its 1.2 inch always-on color touch display can be controlled in GPS mode like on the Grit X or similar to the Garmin Fenix 6 using energy saving options. 40 hours can be achieved with the most accurate training options. With the help of the energy saving options, up to 100 hours of battery life can be achieved in training mode with GPS. The GPS recording rate and the status of the integrated heart rate monitor can be influenced. In addition, a kind of screen saver can ensure a minimum of display activity by only showing the time during activities. If the screen saver is active, all training data can be displayed for 8 seconds before they disappear from the display.
The 100 hours can be reached with a full battery and the following options:
GPS recording rate: 2 minutes
Optical heart rate monitor: Disabled (alternatively use more energy-saving Bluetooth HR belt instead)
Screen Saver: Enabled
A complete Polar watch: More features
In addition to the exclusive features listed above, the Vantage V2 offers additional features that were previously only available on the Grit X. It is now known that the predecessor will no longer receive updates, so the choice between the watches is very easy if users want the brand new or Grit X features.
These features include the integration of Komoot and the associated turn-by-turn navigation. The predecessor can also synchronize with (only self-created) routes However, it cannot do turn-by-turn navigation. Komoot offers, among other things, a route planner with which routes can be individually planned for hiking, running or cycling activities. In addition, there are also ready-made routes. These can be transferred to the watch and used for turn-by-turn navigation on the display. There are some peculiarities and limitations regarding turn-by-turn navigation, but after some practice it helps to navigate safely in unknown terrain as our test of the function shows:
The Hill Splitter function is also available on the clock. Simply put, Hill Splitter specifically analyzes uphill and downhill sequences. These are automatically recognized in quality and number with the help of various metrics such as speed, distance and altitude data. Hill Splitter provides a detailed overview of the performance of strenuous, altitude-heavy activity sequences. The corresponding performances can thus be compared and improvements made visible.
FuelWise has also been added. FuelWise is a configurable assistant that helps users to keep an eye on their energy reserves and to replenish calories and fluids in good time, especially during longer sporting activities.
Furthermore, the feature Energy Sources is also available. This shows how the body has used different energy sources during a training session. It divides the energy consumption into carbohydrates, proteins and fats.
Vantage V2: Performance test for running
Two of the most prominent features of the Vantage V2 are performance tests for running and cycling. The Running Performance test can be a very useful tool for tracking progress and identifying running training zones. If it is used regularly, it can be helpful for training control. Changes can be seen and your training zones can be updated.
As a result, the test provides maximum aerobic power (MAP), maximum aerobic speed (MAS) and maximum oxygen uptake (VO2max). Furthermore, the maximum heart rate (HRmax) can be determined. A less exhaustive alternative is the submaximal test, which requires at least 85% of the HRmax. However, the more strenuous maximum variant is much more accurate.
How is the running performance test carried out? In the test the user runs with increasing speed until a target speed is reached. The specified speed should be maintained as far as possible. By means of acoustic alarms, the watch controls if runners run too fast or too slow. For a meaningful result, at least 6 minutes must have passed and at least 85% of the HFmax must have been reached. After this minimum time, the submaximal variant is reached. However, runners can continue to run and determine the maximum heart rate performance. This is then the maximum variant.
After synchronization with Flow, the values determined in this way can now be used to automatically update training zones and other performance data.
Bike performance test
The cycling performance test, also known as the functional threshold performance test (FTP test), is quite different. It measures the maximum power that can be maintained over 60 minutes. The duration can also be adjusted. You can select 20, 30, 40 or even 60 minutes. The manufacturer recommends an indoor bike, but it can also be done outside. It is important that a power meter is required.
In contrast to running, it is not the speed to be maintained but the maximum power that is decisive. The results of this test allow training at the right intensity and the definition of personal performance zones.
Test of leg recovery: What exactly is the benefit?
Polar is also introducing the new Leg Recovery feature in the Vantage V2. The goal is to determine how recovered your legs are from a previous workout. Or the other way around: whether the legs are ready for the next intensive training. No additional equipment is necessary to perform this test. Therefore, this is also possible at home without any problems. This method is known as Counter Movement Jump.
The procedure is very simple: After starting the option, athletes repeatedly squat down quickly and then jump straight as high as possible. A total of 3 jumps are necessary, through which the sports watch guides by means of acoustic signals. The hands rest on the hip bones, for example. Among other things, the watch determines the height of the jump in centimeters and assesses whether the athlete is ready for the next training session.
The result can be used to select the next training type. Since results are also synchronized after Flow, improvements and changes are also visible.
Polar Vantage V2: Prices and purchase option
Vantage V2 $429.69
Image Source: Polar