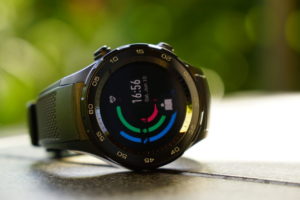 In this Huawei Watch 2 review, we focus on the sporty features of the fitness smartwatch with Android Wear 2.0, because that's how it differentiates  from its predecessor, sporty In looks and appearance and functions. The successor to the popular Huawei Watch is available in 4G and Bluetooth versions. We have reviewed the standard version with Bluetooth.
Huawei Watch 2: Two Model Variants
The Huawei Watch 2 is available in the versions Huawei Watch 2 and Huawei Watch 2 Classic. The following table shows important differences and similarities:
Feature /Model
Huawei Watch 2
 Huawei Watch 2 Classic
4G/LTE
(Also 2G/GSM or 3G/UMTS possible)
Optional (surcharge EUR 50)
 No
Weight
40 g (excl. strap)
 47 g (excl. strap)
Color
Dynamic Orange (4G) /
Carbon Black (4G & None-4G) /
Concrete Grey (no-4G)
 Titanium Grey (no-4G)
Watch strap
Sport Watch Band
 Leather Watch Strap
Watch cases
Plastic
 Plastic + stainless steel
GPS
GPS + Glonass
Connectivity

Bluetooth: 4.1 BLE + BR/EDR
WiFi: 2.4 GHz 802.11b/g/n
NFC

Water and dust resistance
 IP68
Storage
4 GB Flash + 768 MB RAM
Sensors

3-axis A + G sensor
3-Axis Gyroscope
3-axis compass
Heart Rate Monitor (PPG)
Barometer
Capacitive sensor
Ambient light sensor

Display
3.05 cm (1.2") AMOLED, 326 ppi Resolution
The 4G model of the Huawei Watch 2 supports either a Nano-SIM or an eSIM card, so that you can communicate with 4G mobile self-sufficient sports without a smartphone. This means that you can send and receive calls and messages almost anywhere. However, the 4G models are also slightly thicker and look less elegant due to the additional slot for the SIM card.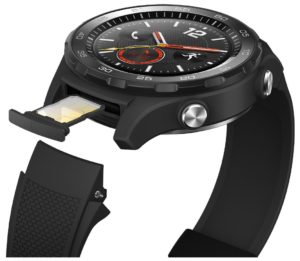 Normally, the battery should last for more than 2 days of use, with active GPS and heart rate monitor continuously seven hours and an even longer battery life in watch mode, in which the watch still counts steps. In the best case, it should be possible to do about 21 days, although it is not clear which functions are still active.
The wristband, which is available as a sports or leather version, is interchangeable and 20 mm wide and suitable for a wrist circumference of 140 – 210 mm.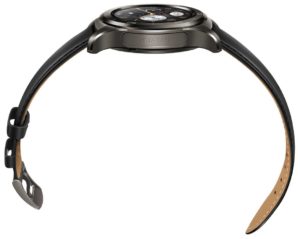 Appearance
Our test device consists mainly of plastic. This applies to both the bezeled and the sporty wristband. Compared to wristbands from our other product reviews, such as Fitbit, Garmin, or Polar wearables, the Huawei Watch 2 wristband looks rather worse. It's not that soft and supple. The band with a classic clasp can be replaced without tools.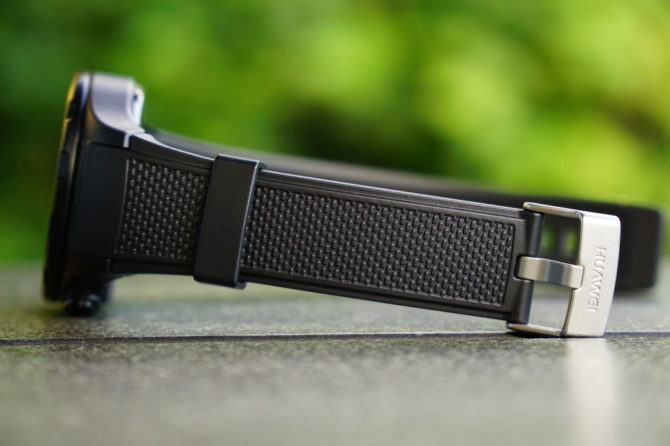 The 1.2-inch (3.04 cm) AMOLED display integrated into a waterproof housing (IP68) is convincing. The operation and readability of the display equipped with Gorilla Glass are very good. It will only be more difficult with larger fingers and the attempt to zoom in or out of a Google-Maps map with two fingers at the same time. Because the display is rather small than large.
The case is also rather smaller. For comparison, here is the display of the Sport-Smartwatch Garmin Fenix 5, which is also 1.2 inches in size, but appears larger because the case is bigger overall: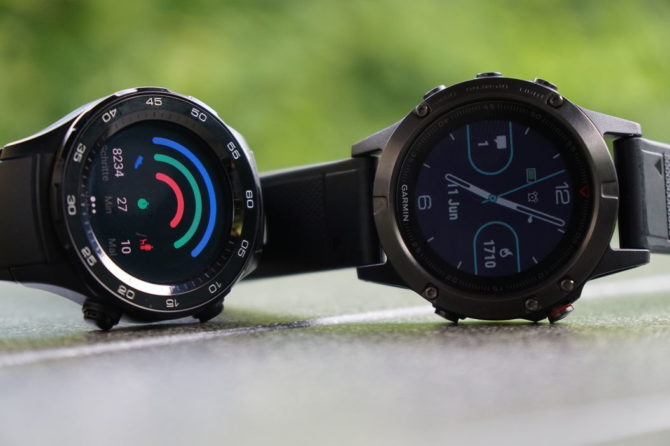 The case of the Huawei Watch 2 is about as flat as that of the Fenix 5, but much higher than that of a Fitbit Blaze sports watch: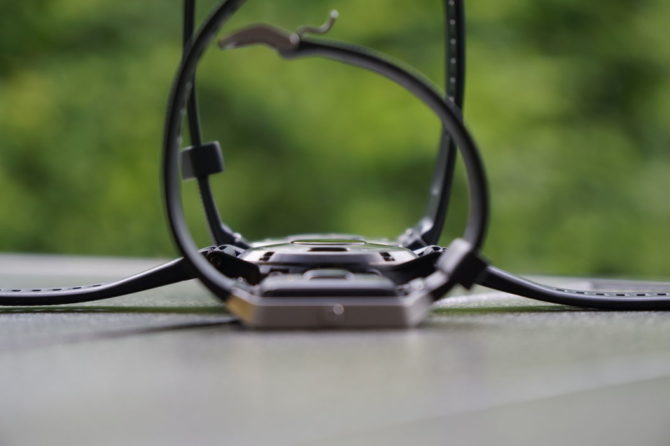 Huawei Watch 2 Review: Sports
In our review, we take the Huawei Watch 2 with us for a run. By the way, you shouldn't go swimming with the device, but walking in the rain shouldn't be a problem. If you want to play your favorite music via paired headphones, you can do so, even without a smartphone in your pocket. Among the sports highlights are a GPS sensor, individual training plans, VO2max, the training effect, tips for the recovery phase and much more.
With Android Wear 2.0, athletes have plenty of options in the Wear App Store to choose which app they want to use to complete their sports session. Pre-installed are for example a training app, Google Fit-Training or Runtastic. Depending on the application, they access the available sensors of the Huawei Watch 2 and thus access heart rate, GPS or acceleration data. This versatility is a big advantage of a sports smart watch.
Running
We review the standard training app and go a round jogging. A button (bottom right) is used to select the sport you want to play and select your sport. You can choose from running, fat burning, cardio, walking, outdoor/indoor cycling, treadmill and more. For example, in fat burning running modes, Huawei Watch 2 tells the user what distance has already been covered while running, the status of the training goal, when to accelerate, slow down or stop. A training plan is also possible, but the Huawei Health App must be installed first.
When you start running training, the Huawei Watch 2 automatically searches for a GPS and heart rate signal. The first time it takes a little longer for the Watch 2 to find a GPS signal, but only a few moments after that if you are in the same area.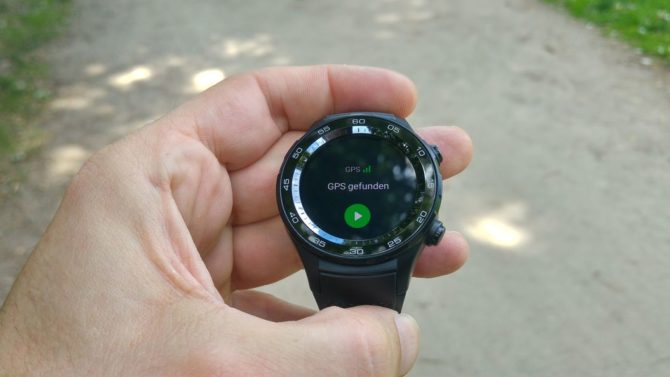 While running, you always have an overview of the physical strain and other running data: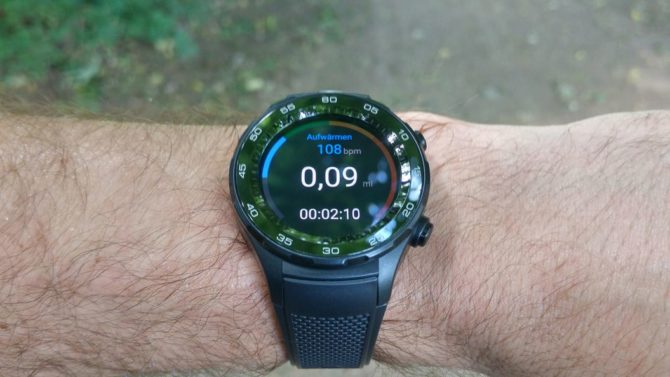 The route is automatically recorded using Google Maps: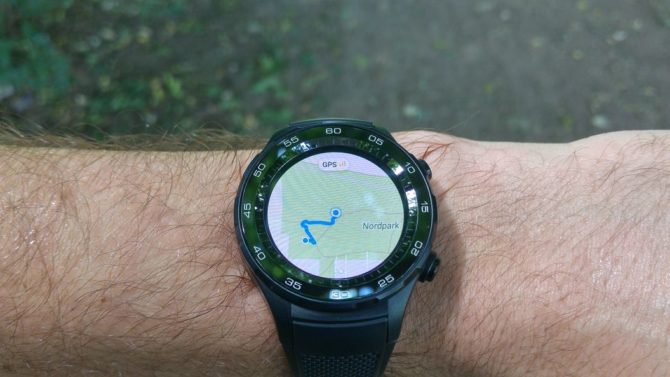 After the training there is a short evaluation
Furthermore, data on heart rate, HR areas, the entire GPS route and personal best times are available:
Images provided by our reviewer in Germany.
The Huawei Watch 2 also calculates the VO2max value and suggests regeneration times based on the training data:
Accuracy of the Sensors
Unfortunately, we cannot precisely measure the accuracy of the sensor data in the Huawei Watch 2 review, because the Huawei Watch 2 activity data cannot be exported. Nevertheless, comparable trackers were reviewed: the Polar H10 HR chest strap and the Garmin Fenix 5 with integrated heart rate sensor. We try to compare the devices as best we can.
HR data:
Polar H10

Average: 169 rpm
Max.: 182

Garmin Fenix 5:

Average: 170 rpm
Max.: 183

Huawei Watch 2

Average: not specified on clock
Max.: 181
During the review, we kept looking at the H10 Chest Strap data to compare it with the Huawei Watch 2. Mostly similar values were measured, except that the Huawei Watch 2 heart rate sensor reacted slower to changes, which is typical for optical heart rate sensors.
The GPS receiver also seems to be quite decent. Larger outliers are not visible in the run course. The Garmin Fenix 5 measures a distance of 4.22 km, the Huawei Watch 2 measures 4.13 km.
Huawei Watch 2 in Everyday Life
In addition to the training mode, the Huawei Watch 2 also has a 24/7 activity tracker. It shows distances traveled, number of steps or calorie consumption. This data is always in view: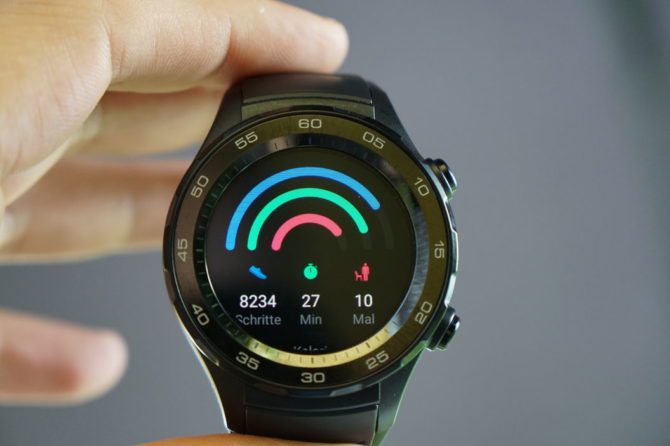 The heart rate sensor runs 24/7, whereby the resting heart rate is also measured. The last 6 hours can be viewed on the watch itself. Unfortunately, we do not know how often the heart rate is recorded in a time unit.
Android Wear 2.0
Under the hood is Android 2.0, which has been available since the beginning of 2017 and promises improvements and enhancements as well as better compatibility with Apple's iOS.
The advantage of Android Wear is the large number of third-party apps available, which extend the functionality of the device. Among them are well-known apps like Runtastic and Strava. But services such as the Google Assistant also make the watch a smart companion. Compared to Android Wear 1, many apps can now be installed directly from the Play Store without the need for a smartphone.
There are no delays during operation of the watch. Apps start up quickly, the surface runs smoothly. One notices that Huawei has equipped its Watch 2 with a sufficiently dimensioned processor and enough main memory.
Huawei Watch 2 Review – Result
Our Huawei Watch 2 review shows that the Smartwatch is definitely suitable for athletes. Its sporty design also distinguishes it clearly from its predecessor. However, at the expense of the material quality, especially the band, which could be slightly better at the EIA price. Fortunately, it can easily be replaced if necessary.
Apart from that, you have the full power of Android Wear 2.0 in your back and you can benefit from all the advantages as well as being annoyed by all the disadvantages. The Huawei Watch 2 also runs like most other Android Wear 2.0 for about 2 days, of course depending on the usage more or less. The Huawei Watch is waterproof to IP68, which not every Wear 2.0 Smartwatch can claim. Only the Polar M600 has similar characteristics. If you need a lot more sports data and are more ambitious, take a look at the Garmin Fenix 5, which is expensive but more powerful.
Further Readings: