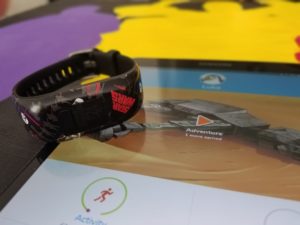 In this Garmin Vivofit Jr. 2 review we take a closer look at the successor of the popular Vivofit Jr. It allows your kids to join in on the fitness tracking action. This new model not only adds new features, but also partners with Disney, allowing designs from Mickey Mouse, Star Wars, and Marvel.
It can allow for your children (4 years and up) to track their steps throughout the day, and sleep throughout the night, acts as a watch, has compatibility with a Vivofit Jr. app, support for rewards to motivate them, a chore reminder, timers, etc. In addition to multiple designs, it has two different types of bands and a one year battery that is easily replaceable. The Vivofit Jr. 2 is designed to be worn all day.
This wearable for kids can be bought in the variants models (like Disney Minnie Mouse, Marvel Avengers, Star Wars BB8 and more) for example here:
---
Designs and Models
Unlike the previous Vivofit Jr., the Vivofit Jr. 2  comes with a color display, compared to the previous monochrome display. There are two different types of wristbands, a stretchy type for ages 4-7, and an adjustable type for ages 6+, while there was only one size previously. As for the different designs available:
Disney- Adjustable Minnie Mouse, Stretchy Minnie Mouse
Marvel- Adjustable Captain America, Stretchy Avengers
Star Wars- Adjustable The Resistance, Adjustable First Order, Stretchy BB-8
The bands are swappable and durable, and the display is simple enough for kids to understand what is going on.  You can buy new bands. With each band also comes a code for the other corresponding adventure of that band. Different icons can be unlocked but more detail on that later. The adventures are compatible with the first Vivofit Jr., but it still lacks a lot of features that the Vivofit Jr. 2 added, like colored screens.
Features
The Vivofit Jr. 2 isn't the most feature-packed device compared to adult oriented counterparts, but it has enough features to be convenient for your children:
One year battery life, with an easily replaceable battery
A timer, though only with preset totals
A stopwatch
Alerts/reminders (up to 8)
Can be used while swimming
60 minute daily goal that helps you progress with the game in the app, covered in detail later.
You can also assign chores that award you upon completion, some of them preset, and a task timer is available to see how fast the chore can be completed. There is also a feature directly available on the watch called Toe-to-step challenges in which kids compete to see who can get more steps in two minutes.
Garmin Vivofit Jr. 2 Unboxing
For our opening, we'll be using the Adjustable First Order Model.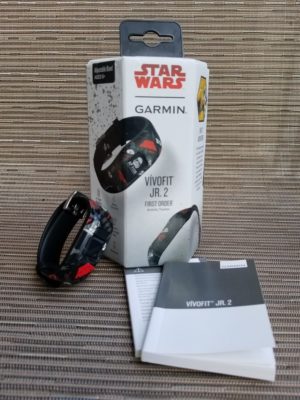 Inside you'll find the Vivofit Jr. 2 itself, and a manual.
Garmin Vivofit Jr. 2 Review – Tracking
Just like any other activity tracker, wear the tracker on your arm and it will track your steps. Sleep with the tracker on and it will track your sleep.
The display by default shows time, so your children can use it throughout the day like a watch. Press the button and it shows the date.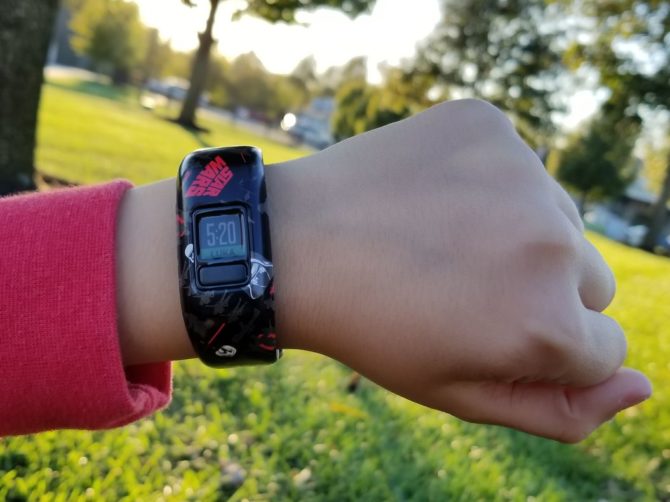 Another button press will show the amount of steps walked that day.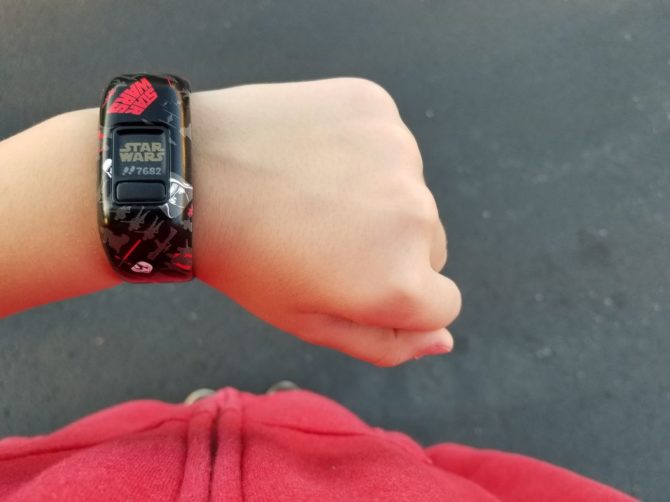 Yet another press will show your progress for the daily active minutes goal. This is specifically minutes, not steps, and the default is 60 minutes.
One more press can show how many chores have been completed for the day.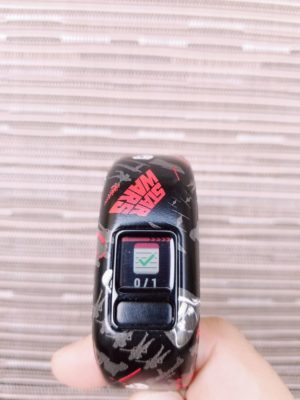 Next is coins earned for the day, used for rewards within the app, and controlled by the parent.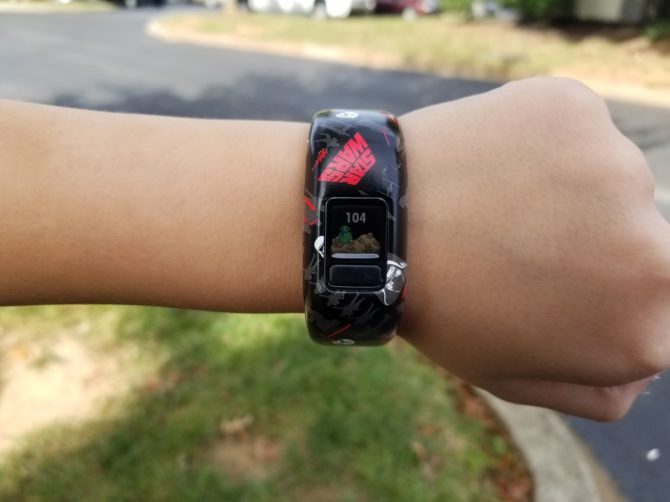 Lastly, stars earned.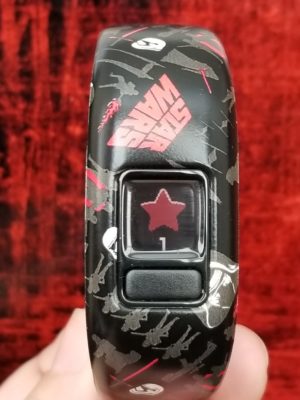 The App
Setup
Once you've got it out of the box, install the Vivofit Jr. app, which is completely separate from the Garmin Connect app, though the two still have connectivity. The job of setting everything up is of course, for the parents.
First thing's first, you create a family. You can invite other members with their own separate apps and devices. You use this to manage your children's devices..
You then simply pair the device with the app.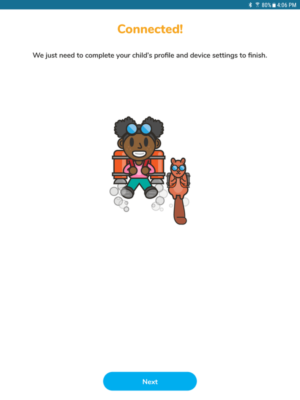 Once that's finished, you create a profile for your child, including setting up an avatar that corresponds to the model you bought, which you can unlock more of down the line.
Using the apps, you can set up settings, chores, and rewards.
There is a detailed dashboard that gives you information about your child's activities, chores,sleep etc.
The chores section is used to track which ones are completed and add new ones. The parent has to verify when the chores are done in the first place. The chore options are highly customizable, from a schedule, to reminders, to even custom icons and text.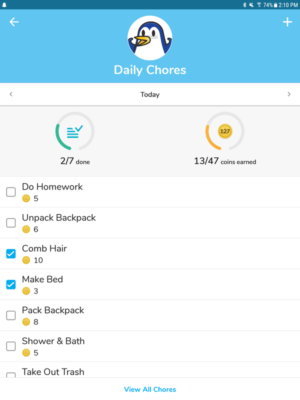 The Rewards System
Your children earn coins when they complete daily chores and challenges, which they can use to redeem for icons, colors, etc.
When your child hits their 60 minute activity goal, a new move will unlock in the mini game with the play button.
You move within the game to unlock icons and badges. With each move, you unlock a new step in the adventure. All of this serves to encourage your child to be more active throughout the day as they are motivated to complete the game.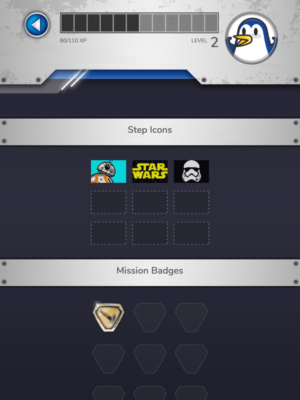 Where to buy Garmin Vivofit Jr. 2
The exciting wearable for kids can be bought in the variants models (like Disney, Marvel, Star Wars) for example here:
Garmin Vivofit Jr. 2 Review – Conclusion
While relatively primitive compared to a lot of adult activity trackers, it serves as a good introduction to fitness for your children as you can see in this Garmin Vivofit Jr. 2 review. Not only that but things like the daily chore reminder and the rewards system do an overall good job of teaching your children responsibility and productivity in the way that best suits you. It is a smart method to keep track of chores for both you and your child. It is a simple, yet effective way to teach your child that that rewards often require work in a way that is fun for them.