Garmin Vivofit 4 is the latest addition to the Vivofit range. The Vivofit series is known for its outstanding run time of approximately one year. If the battery is empty, it is replaced by a new one. The new features include a permanently active color display without reducing battery life, says the manufacturer.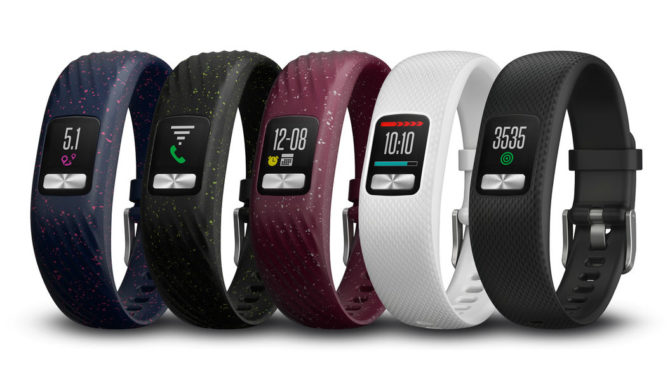 Garmin Vivofit 4 Features at a Glance
These are the features of the Vivofit 4 mentioned by the manufacturer:
Permanently activated color display and ultra-slim design
Over one year battery life
Customizable display design through color themes, watch faces and individual text modules
Basic model available in white (sizes S/M), black (sizes S / M / L) or speckled black (sizes S/M)
Classic fitness tracker functions such as step tracker, intensity minutes and sleep analysis
Move IQ for automatic time recording of different sports
Weather information and Find my Phone function
Removable bands in merlot or navy-colored speckles (sizes S / M)
The Vivofit 4 is worn all day long and is linked to a Garmin Connect account. After synchronization, recorded data such as step and sleep data can be analyzed, total values displayed and insights into one's own activities gained. The Garmin Connect account is also used to participate in challenges and compete against friends. In addition, you can customize device settings such as different versions of numeric blocks, different color themes or a personalized motivational message, visible pages, the frequency of automatic synchronization and much more.
Like its predecessors, the Garmin Vivofit also supports 4 smaller-scale fitness goals, because based on the activity level, daily individual step-by-step goals are assigned, which automatically adapt. Thus, it gradually drives us towards a healthier lifestyle. The device not only stores the number of steps, distance, calorie consumption and sleep data, but also keeps an eye on periods of inactivity.
Interchangeable bands also allow users to adapt the colour and style of the wearable to any mood or outfit. Users can use the tracker for time, and it is also equipped with a countdown timer and a stopwatch.