We will take a closer look at the Garmin Forerunner 645 in review as soon as test devices are available. Until then, there will be preliminary information on the new sports watch, which is the first Garmin sports watch ever to be equipped with an integrated music memory, whereby a cheaper version without music memory is also offered. Garmins Pay technology, integrated wrist heart rate monitoring, advanced training analysis, a GPS receiver, a variety of pre-installed sports apps and smart notifications are also on board.
Garmin Forerunner 645 Music: Product Page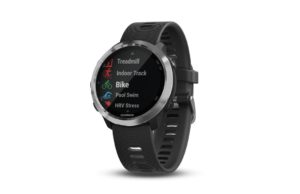 Garmin Forerunner 645 Music Overview
The watch is equipped with smart functions and features a high-quality metal bezel, metal buttons and tempered glass. It weighs only 42 grams.
Garmin highlights the following features:
New: Built-in music memory for up to 500 songs and pairing with Bluetooth headphones possible (645 music only)
New: Garmin Pay Function – for future cashless payments
New: metal bezel, tempered glass and chroma display
New: Extended run efficiency values including new running power value (measurable in combination with Running Dynamics Pod or HRM-Run chest strap)
Battery life: up to 7 days in Smartwatch mode and up to 12 hours in GPS mode
Smart Notifications and Connect IQ compatible
Interchangeable bands
In the Garmin Forerunner 645 review, we naturally take a closer look at all functions.
Run, Play & Pay
A special feature of the Forerunner 645 Music is its local music memory. This means that runners always have their favorite music with them on their wrists, without the need for a smartphone or other accessories. Coupled with Bluetooth headphones, you can play up to 500 songs via the integrated music memory.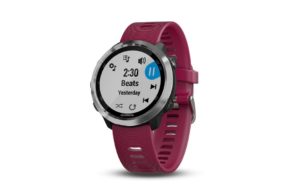 The music can easily be transferred from the PC to the watch. Garmin leaves open whether the smartphone can also be used for music transmission. Deezer Premium+ users can also download offline playlists. Thanks to the integrated NFC chip, snacks, drinks and other purchases can be conveniently paid for contactlessly via Garmin Pay Function.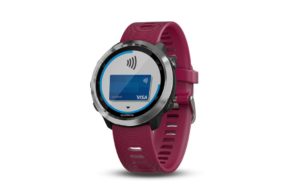 Detailed Training Control
Ambitious runners will be pleased about the detailed training planning functions. The spectrum ranges from simple intervals and complex training sessions to training status, stress and effect. Trail and urban runners can also load new tracks onto the watch and display them on the easy-to-read display.
After training, the data collected can be easily visualized, analyzed and shared with friends via the Garmin Connect app.
Running Efficiency Analysis
Combined with the optional Running Dynamics Pod or HRM-Run Chest Strap, the Forerunner 645 measures advanced running efficiency values such as ground contact time, stride length and stride rate. For all those who want to get even more out of their training, Garmin offers the new Running Power Value.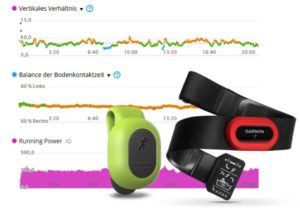 This additional value is used to measure the applied force during running and – similar to the wattage during cycling – offset against the other running efficiency values, which results in the actual mileage. In this way, the training can be monitored and optimized in even more detail. The new feature can be played on the watch via Garmin Connect IQ.
Garmin Forerunner 645 Buy & Availability
The Forerunner 645 Music will be available in the first quarter of 2018 in the following variants:
Forerunner 645 Music in Red and Black
Forerunner 645 in sand colours and black
While the Forerunner 645 Music (incl. music function) adds even more speed and motivation to your running training, the Forerunner 645 with its extensive running functions is just right for the runner who prefers to listen to their own rhythm.
Garmin Forerunner 645 Music: Product Page 

Garmin Forerunner 645 Review
As soon as we have a test device, this article will be extended as usual.
Image and video source: Garmin