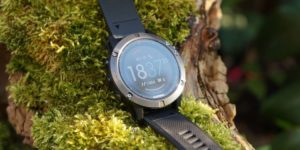 In this review for the Garmin Fenix ​​5 we present to you Garmin's new high-end GPS-Multisport Smartwatch. The Fenix ​​5 was presented at this year's CES 2017 and is contributing to the well-known Fenix ​​line with some new highlights such as route and waypoint navigation. Below are our Fenix ​​5 experience and test results.
Note: The Fenix ​​5 is now available
Garmin Fenix ​​5 in Review – Highlights
The Fenix ​​5 is Garmin's all-purpose weapon: it is aimed at ambitious endurance athletes, hikers and winter sports enthusiasts, motivated fitness enthusiasts or people who are style-conscious.
New highlights of the Fenix ​​5 at a glance:
High-resolution Chroma color display: Always activated, energy-saving and by sunlight exposure-readable color display

Compact case with steel bezel

Improved sensor integrated in the steel housing base for 24/7 heart rate measurement on the wrist

Extended activity tracking, bike, multi-sport and golf functions

QuickFit Band – Easily and quickly exchangeable band without tools

Smart notifications

Can be customized with Connect IQ App (ex. watch interfaces, data fields)

Navigation on the wrist with tracking, route and waypoint navigation as well as group and live tracking

Optimized UltraTrac 2.0 mode: Runs up to 40 (Fenix ​​5S), 50 or 75 hours (Fenix ​​5 / 5X)

Fenix ​​5X with colored map display and pre-installed map material

Strava Integration: Strava Live segments are supported and displayed with their own data fields

Performance Widget: New widget to access all relevant trainings and performance features. These include training state, VO2Max, training load, recovery advisor, FTP etc.

Training Analysis: Training Effect 2.0, and training load evaluations enable a more efficient training, a better training analysis and an easier overview of the training progress

External sensors: Coupling of additional external ANT+ sensors, such as cadence sensor or power meter. Bluetooth sensors also compatible!
Fenix ​​3 vs. Fenix ​​5S vs Fenix ​​5 vs Fenix ​​5X
Below is a quick comparison of important differences between the new Fenix ​​5 models and the predecessor Fenix ​​3:
Fenix Edition Comparison
Feature/Edition
Fenix 5S
Fenix 5
Fenix 5X
Fenix 3
Shell size
42 mm
47mm
51mm
51mm
Weight
silicone band: 67 g
metal band: 125 g
silicone band: 85 g
metal band: 156 g
silicone band: 98 g
metal band: 196 g
82 g
Display size/
Resolution (px)
 1.1" (27.94 mm)
218 x 218
 1.2″ (30,5 mm)
240 x 240
 1.2″ (30,5 mm)
240 x 240
 1.19″ (30.4 mm)
218 x 218
Heart rate measurement on wrist
 

yes

 

yes

 

yes

 

Only HR edition

GPS & GLONASS
 

yes

 

yes

 

yes

 

yes

Bezel, case back and steel knobs
 

yes

 

yes

 

yes

 

yes

Pre-installed activity profiles
 

yes

 

yes

 

yes

 

yes

Smart Notifications
 

yes

 

yes

 

yes

 

yes

 Connect IQ individualization
 

yes

 

yes

 

yes

 

yes

Waterproof to 10 ATM (100 meters)
 

yes

 

yes

 

yes

 

yes

 3 axis compass and barometric altimeter
 

yes

 

yes

 

yes

 

yes

Scratch-resistant sapphire glass

Only Sapphire Edition

Only Sapphire Edition

yes

Only Sapphire Edition

WLAN

Only Sapphire Edition

Only Sapphire Edition

yes

 

yes

Pre-installed outdoor & cycling maps

no

no

yes

no

QuickFit bands compatibel
20mm
22mm
26mm

no

Bluetooth sport sensors Compatibel
 

yes

 

yes

 

yes

no

Battery life GPS/
UltraTrac /
Smart watch mode
 14 hours/
40 hours/
9 days
 24 hours/
75 hours/
14 days
 20 hours/
50 hours/
12 days
 20 hours/
50 hours/
12 days
Internal memory card
64 MB
(54 MB can be used)
64 MB
(54 MB can be used)
12 GB
(12 GB can be used)
32 MB
(26 MB can be used)
Fenix ​​5 vs. Fenix ​​3 – Size Comparison
The Fenix ​​3 corresponds to the size of the Fenix ​​5X. If you place the Fenix ​​3 next to the Fenix ​​5 (middle variant), immediately differences in size are noticeable:


It is also immediately apparent that the Fenix ​​5 is significantly flatter and thus more suitable for everyday life.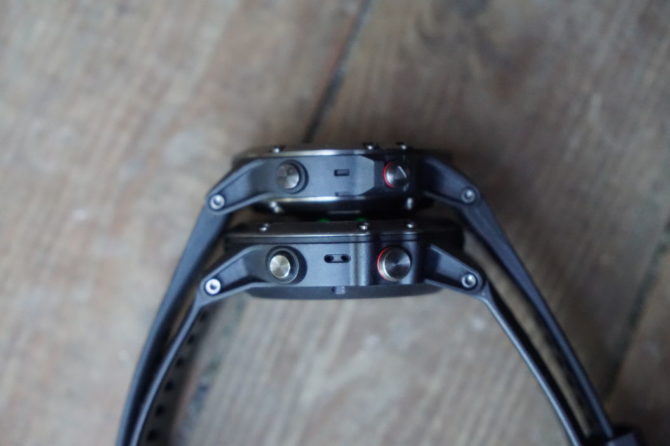 The feel of the Fenix ​​5 can be described as good, which means it should be comfortable for most users around the clock. It can also be assumed that the Fenix ​​5S' size is beneficial for smaller wrists.
Fenix ​​5: Heart rate Sensor as Standard

While Fenix ​​3 initially lacked the hr sensor, only available in it's successor versions Fenix ​​3 HR and the Chronos, it is now an integral part of the Fenix ​​5 housing in each of the three variants. Garmin has now started using optical pulse sensors in most of its sports watches and fitness bands starting with Forerunner 225, and has since improved the Elevate technology, which has been developed in-house (except for the FR225).
Elevate
In all Fenix ​​5 variants, Garmin's Elevated Heart Rate Measurement on the wrist offers enhanced comfort as well as extended measurements: the sensor is integrated into the steel case and is not noticeable when worn. The bulge on the back of the device, for example, known in Garmin's Vivoactive HR, is history.
Activity and fitness trackers with built-in heart rate sensors like the one tested here are designed to help the user to record their training sessions and lifestyle, and contribute to the motivation for more activities and movement in daily life. These are not medical devices and the data should not be used to make medical decisions (ex. prevention, diagnosis, monitoring or treatment of diseases or injuries) or to replace the advice of a medical professional. If in doubt, always consult a doctor if you are not sure. Especially if you want to use the device in combination with a pacemaker or other medical devices.
Heart Rate Modes
When utilizing Elevate in the Fenix ​​5, three green LEDs are used (green light gives on the wrist the best results), which are active in both the watch and the workout mode. The special feature of the Fenix ​​5: the heart rate sensor also records the pulse every 1 to 2 seconds in the watch mode, thus enabling extremely comprehensive heart rate recordings in everyday life and while sleeping. We are not aware of any other tracker that detects the pulse in watch mode so often, while permitting even longer battery recharge times. Compared to this, previous Garmin trackers measured heart rate dynamically, depending on how active you are in your everyday life.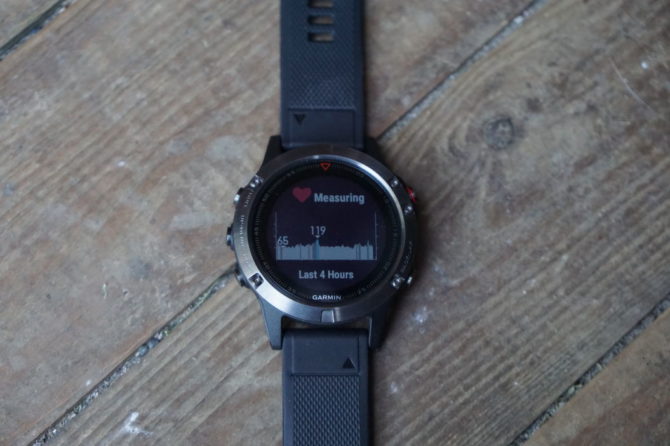 Overview of the Fenix ​​5 HR Modes:
Watch/Activity Tracker Mode

: The heart rate is recorded every 1-2 seconds.

Workout / Training Mode

: The pulse is recorded every second and allows a detailed display of the heart rate values.
Another interesting feature is the resting heart rate recording of the Fenix ​​5. For those that know their resting heart rate, they appreciate this resting hr data and make decisions based on it, to avoid excessive training or to assess whether an intensive training on a particular day makes sense. Deviations in the resting heart rate values, for example, can be taken as an indicator that a cold is on the way.
Fenix ​​5 Test: Running
We are starting with the process of running in this Garmin Fenix ​​5 test, as this category is certainly interesting for many readers. We are portraying exemplary usage of the Fenix ​​5 during running, but basically it is identical for all profiles.

With the Fenix ​​5 you can just start running on the fly or use Garmin Connect to plan individual or predefined training and transfer them to the device. The plans contain targets (such as HR range, pace, speed or step frequency) for each training session, as well as for different distances, times and calorie values.
Plannable Workouts and Training Plans
With Garmin Connect, complex workouts can be created in-browser on the computer and transferred to the Fenix ​​5 via USB or the Smartphone app, or you can load pre-produced training plans that can be edited down to the smallest detail, and can be adapted and as of a fixed date can automatically be entered into the Fenix 5's training calendar. After transfer to the watch, the entire training calendar inclusive training sessions are accessible on the device.
Before Running
To start a run, press the red key (top right). On the new view you have the option to select an activity profile like running, indoor running, cycling and many more. Once you are here, by holding the left middle button, you can reach the settings menu of the respective profile. Here alarms, training pages, rounding options, and training sessions, for example, can be loaded from the calendar, the protocol/statistics can be viewed, or many other settings can be made. There is hardly any other smart sports watch on the market, offering such comprehensive and easy settings and customization options like the Fenix ​​5.
Here are some examples of self-created layouts, which can be set up in addition to the predefined, also customizable views:
The manufacturer does not specify how many of your own data pages can be created, but it should be more than enough. Further options such as the virtual partner, a compass, altimeter, a control for the music player of the smartphone or running dynamics data can be released.
The configurable alarms are also very diverse (small pull-out):
Heart rate (individual zone ranges with lower/upper alarm selectable, also manual input possible for max. HR)
Speed, time, distance cadence alarms
Custom alarms such as Drink, Eat, Turn Around, Go Home
When you select an activity, the GPS is automatically activated (depending on the type of sport). The position is determined within a few seconds, typical of Garmin. The fastest way is to move a little before the start of the activity and wait for the position determination. A green circle indicates that the device is ready:
Even after a heart rate signal is searched in the background, which – depending on the skin type – is also done in a few seconds. A heart symbol in the upper toolbar is permanently displayed when the pulse is detected. Previously coupled sensors (such as running sensors, HR chest belt) are automatically integrated into the activity and their data are also recorded.
While Running
If one of the alarms is detected, there is a notice (vibration, visual, acoustic) from the Fenix ​​5. Below are some sample pictures from a short running unit: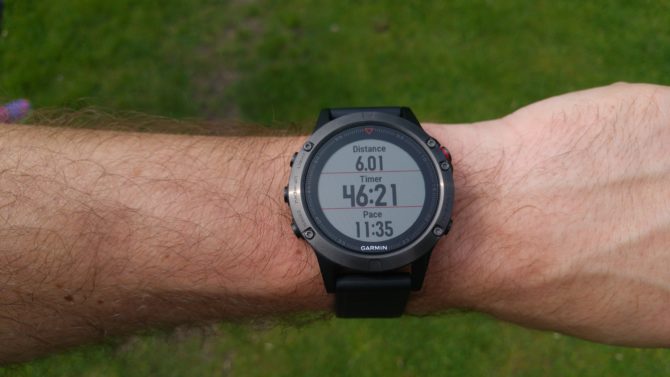 The HR data page:
The display is always easy to read, even in direct sunlight:
After Running
When the activity is completed, the Garmin Fenix ​​5 displays, if necessary, a summary of the unit, a graphical representation of the distance covered, the training effect, records and recommended recreational times.
Fenix ​​5 Test: Accuracy
Heart Rate Monitor
In order to convince us of the accuracy of the Fenix ​​5 pulse meter, the Garmin Fenix ​​3, which was coupled with the Garmin Premium HR chest strap, was among the things that were part of the program. The Fenix ​​3 was chosen because we know it provides good data, such as swimming or running. The coupled premium chest strap also provides very precise HR data.
For the first (constant) run test, the following picture is shown: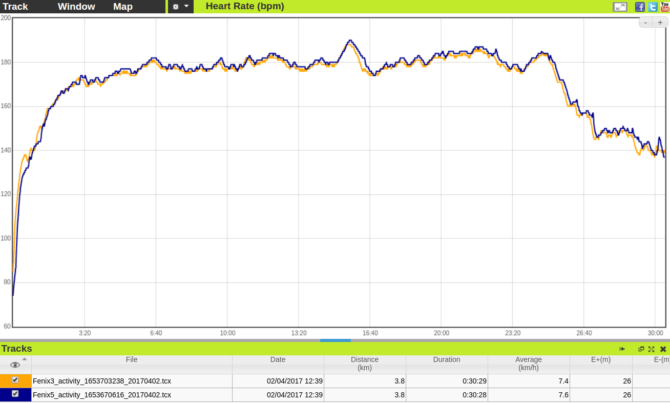 Take a closer look at the HR values ​​of the Fenix ​​5 and Fenix ​​3 and superimpose the diagrams. These are generally due to the typical delayed behavior of optical pulse sensors, with the Fenix ​​5 not showing as many delays as we are used to in other devices, usually simple fitness bands.
In another run, a similar image is obtained with respect to the HR accuracy, but the pulse sensor initially takes some time to keep up with the chest belt. However, with a proper warm-up, such initial inaccuracies can often be avoided: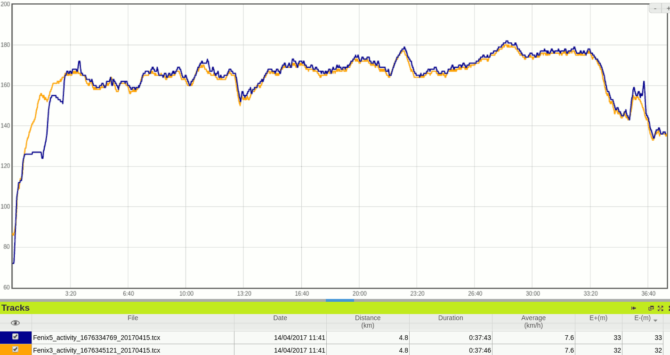 GPS Accuracy
In order to provide a better GPS comparison, we took the Polar M430 with us on a run, which is known for good GPS recordings. This is how the Fenix 5 total distance for one of the running units looks in the test:
The route leads over a bridge and under dense trees. If you zoom in closer and compare the details of the GPS track with the track recorded by the Polar M430, some deviations are noticeable: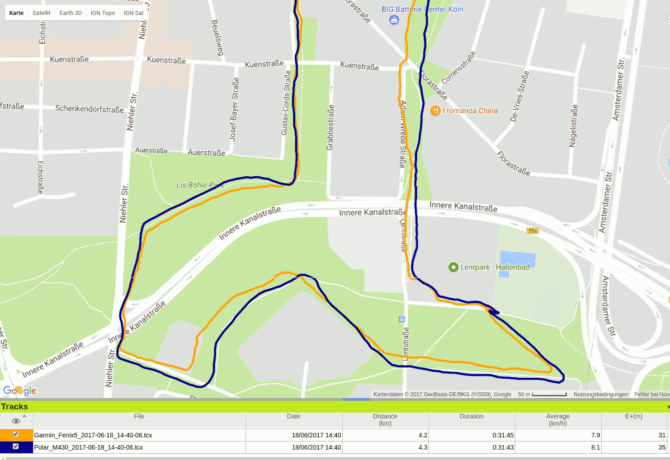 The M430's GPS receiver is considerably more accurate and often maps the running distance better by several meters. Both devices record at 1-second intervals with the best possible GPS/GLONASS options, while the M430 only supports GPS.
We are testing a similar route where only GPS is active on Fenix 5 and GLONASS is deactivated. While the M430 provides a consistently good recording along the actual track, the Fenix 5 looks less good in some places. This time, it delivers even worse results in comparison. Especially when crossing the bridge (purple in the picture below). The following graphic depicts several running units on different days: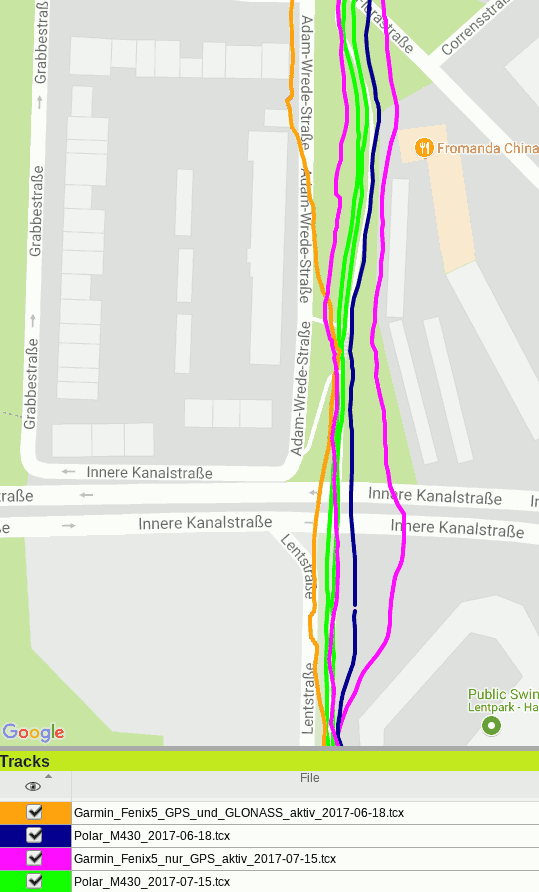 On average, both devices deliver similar distances and average speeds, although the competition is more accurate for the devices we have. A very clear hint at this point: on the Fenix 5, always leave GPS and GLONASS active at the same time to obtain more precise data.
Swimming with the Fenix 5
We also had a short opportunity to do some courses in the swimming pool. The swimming style, all swam paths and intervals were recorded correctly and recorded without errors.
In order to obtain the best results, the Fenix 5 is also subject to the tip from the Fenix 3 Review: The device automatically records swimming intervals and paths, while the acceleration sensor detects arm strokes, accelerations and changes in direction. To obtain better evaluations, you should avoid sudden pauses (like in the middle of the pool) and make use of the pause function during breaks. It certainly doesn't hurt to start every new lane with a striking kicking off from the edge of the pool after a turn. It should certainly help the accelerometer to detect new paths.
Fenix ​​5 Navigation Features
Plan Routes
Garmin's Connect Fitness platform makes it easy to plan or import your own routes, which can then be applied in different profiles. Apply means, you walk along a route, and the Fenix ​​5 displays navigation information on the display. If you should turn, it vibrates about 10 to 20 meters before. You should only know that tracks do not automatically synchronize with the sports watch, but must be transferred manually. This means, for example:
Route

Plan and Save in Garmin Connect in the browser.
Alternatively from already existing route of a previous activity.
Alternatively import from a GPX/TCX file into Garmin Connect and transfer as a route.

In the Connect app, select a route in the menu point "Courses" and transfer it wirelessly via the transmission symbol in the upper right to a compatible device such as the Fenix ​​5.
Route now also available on the Fenix ​​5.
This can then look like a planned run in Connect, which one would like to run: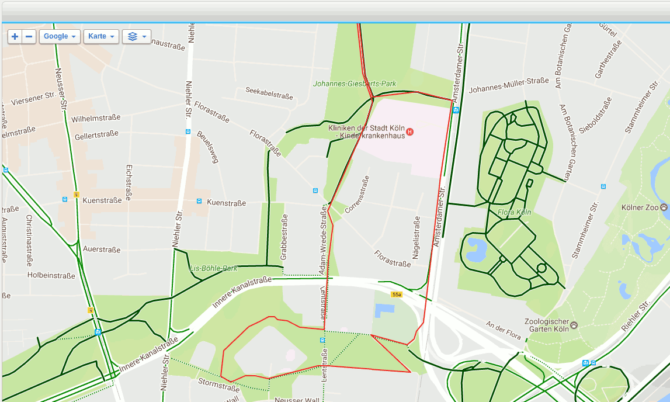 On the Fenix ​​5, you can now select a sport profile as usual and then select the saved route in the navigation settings. At the start point, the Fenix ​​5 gives an indication that the route has begun. Then you can start the activity, as usual, using the red button.
During the activity the Fenix ​​5 helps to stay on the right track. It also shows how many meters remain to the next turn-off point and which route still needs to be covered (green marking):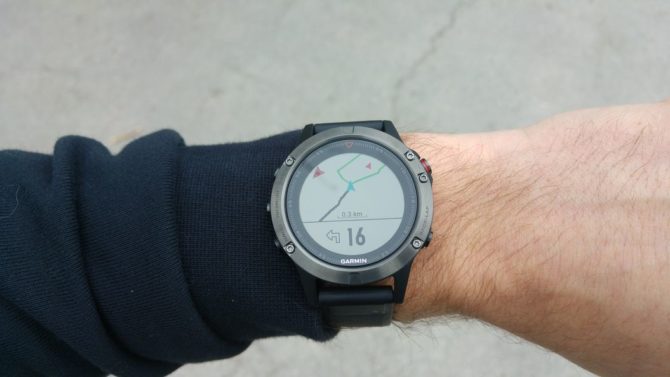 In addition, you can compete against yourselves in tracks, motivated by a virtual partner to become even better.
Fenix ​​5X Highlight: Full-Sized Cards on the Wrist
Genuine outdoor fans will get their money's worth with the Fenix ​​5X. It is once again more robust and is aimed at ambitious adventurers. It contains pre-installed outdoor and cycling maps as well as international golf courses.
Included in the navigation feature set are functions such as roundtrip, active routing, track, route and waypoint navigation as well as group and live tracking. In the GPS mode, the Fenix ​​5X is supposed to last 20 hours – and therefore probably longer than the carrier itself. In the Smartwatch mode, the watch will only have to be connected again after approximately 12 days.
Other Features
Whether under anti-reflective mineral or scratch-resistant sapphire glass, on the high-resolution Chroma color display, mail as well as the desired fitness values ​​can be read very well.
Numerous activity tracking and multi-sporting functions make the Fenix ​​5 a real all-rounder for the sporty as well as everyday use in the office. For the respective outfit, suitable changing bands can be exchanged by hand with a new QuickFit function even without tools.
Smart and Expandable
Whether the personal watch face or data field, with the Connect IQ app, the sport watch can be customized and thanks to smart notifications, you are always up to date through calls, news or appointments. With the Fenix ​​5, the Group Tracking function can be used, with which one can track the competitors at the common run or bike rounds live and thus can motivate each other to new best performances.
Long Recharge Times
The UltraTrac mode is again on board. With it the sport watch holds even longer, for example, by recording GPS coordinates less often. In addition, it has a wider range of multi-sport profiles and is waterproof up to 100 meters (10 ATM). The basic model holds up to 24 hours in GPS mode and approximately 14 days in smart watch mode.
Below is a manufacturer video, which the Fenix ​​5 presents:
Garmin Thinks of Athletes with Narrow Wrists
Manufacturers of high-end sports watches are often criticized by athletes with narrow wrists. Due to the extensive equipment and features, the devices are so bulky that they are not very popular with these groups of people. Especially in everyday life.
For this reason, Garmin has opted for a number of device variants for the Fenix ​​5, thus also meeting the most fashion-conscious athletes. Female athletes and male athletes with narrow wrists will be happy about the new Fenix ​​5S. Clearly slimmer in design and more compact, it offers the same features as the Fenix ​​5.
Credit: Garmin
Chic, exchangeable bands will also come: whether for sports outfits, street style or cocktail dresses – with six different stylish bands, the Fenix 5S can be individually adapted to your own style.
The battery life of the Fenix 5S should be around 14 hours in GPS mode. If you wear it only in Smartwatch mode in everyday life, it should only be charged again after about nine days.
Fenix ​​5 Availability, Variants
The high-end GPS-Multi-Sport Smartwatch is available since April 2017 in three differently large model variants:
Fenix ​​5 and the Fenix ​​5S: score points alongside various sports profiles for running, cycling, mountaineering, skiing and more with comfortable carrying comfort in a slim design.
Fenix ​​5X: scores with robustness and is a reliable navigator, even on difficult terrain.
The Fenix ​​5 is now in trade:
Other equipment mentioned in this review
Garmin Fenix ​​5 Review – Conclusion
The Fenix ​​5 review is currently being continuously expanded, and the test device is being diligently worn. We will try out different sport profiles and new features to expand this article.
First impression: The battery life seems especially fantastic compared to other trackers. It doesn't have to be charged often, even when the Bluetooth is active, and the smartphone notifications (including calls, mail, calendars, Twitter, and many more apps) are active. If you do not activate the GPS receiver often, it probably will even last weeks. The heart rate sensor seems to be at least good for running activities, as well as the GPS receiver. The processing also makes a very good impression. The display is always very easy to read, except in dark environments. Among other things, you get a very good battery life and the option to activate the background lighting manually and for certain events (such as incoming notifications) automatically.