In today's Apple Watch review we will be presenting the first model of the Apple Watch, which was discontinued in 2016. While the updated counterpart, the series 1 and series 2 are out in the current day, there are still plenty of things worth looking at about from its predecessor (A.K.A. the series 0 as it's known nowadays) just so that we have an idea of what we're getting into. The Apple Watch is rather diverse and comes equipped with features that are to be expected, such as a heart rate monitor, a running function, and of course, connectivity with the iPhone.  And now let's take a closer look at the Apple Watch…
The Apple Watch has proven itself to be particularly suitable for both sporty and non-sporty users. For those who fall into the former category, the Apple Watch allows you to personalize your workouts to your liking by setting goals manually. It packs decent enough battery life and can make it through most of the day. It has an HR sensor and touch display, or a scrolling with the crown on the side if you prefer that. The Apple Watch is no replacement for the iPhone, rather, serving as an extension of it.
Apple Watch Features:
Two variations, normal, and sport

Compatible with iPhone 5 and above running iOS 8 or higher
WatchOS 3 operating system
Smartphone Notifications
Basic Siri functions
Answering texts and calls (still preferable on the phone itself though)
Many different ways to personalize (straps, depending on the model, and watch faces)
HR Sensor
Activity tracking with manual goal setting
Many apps from the app store
GPS directions function
Quick and easy Apple Pay support
Storage of music and support for bluetooth headphones
The apple watch is overall an extremely versatile wearable with far more features than the ones listed here, many of which will be listed as this review goes on further.
The Intro to the Watch
Opening the Box
Apple is always known for providing sleek and beautiful boxes that are aesthetically pleasing to look at, all thanks to the dedicated team that works on them, and the Apple Watch doesn't disappoint in this category. Depending on if you bought the normal or sport variations, you have a square box or a rectangular box respectively.
When you open up the high quality package, the first thing you'll see is the plastic case containing the watch itself. Underneath that, you will find the charging cable and block, a longer strap, and the obligatory instruction pamphlet.
The charging block is of course, compatible with any other apple charging cable, while the cable for the watch itself is magnetic, so no need to worry about any fidgety clamps, making the process a breeze. There is even an included "nightstand" feature by placing the watch on its side while charging.
Different straps are sold separately. The straps come in a variety of colors and shapes, and many third party straps are available if you don't want to be limited to just those, or if you don't want to worry about the price.
The watch comes in 38mm and 42mm variations, so you can find the size which feels the least awkward on your wrist. The watch, even with the default strap, feels quite comfortable on the wrist, depending on the person.
Normal vs Sport
When buying the Apple Watch, there are two models to consider, the default, and the sport, and your preference will depend on factors such as customizability, price, toughness, and screen quality. The two watches are, however, functionally identical.
First of all, the normal apple watch is a decent amount more expensive than the sport. The bigger variation of the watch is always more expensive no matter what model you get. AppleCare+ is more expensive for the default as well.
The far more durable default apple watch is made of stainless steel, common to many watches. The sport is made of an aluminum alloy, which is less durable and admittedly less pleasing to the eye, but still good looking in its own right. The sport, as to be expected, is a good amount lighter.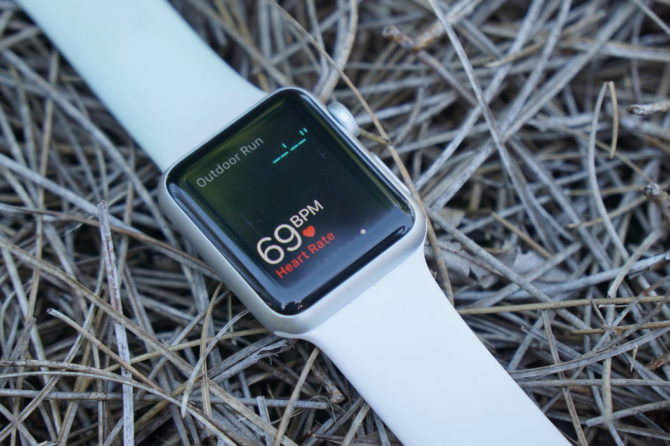 The default model's screen is made of Sapphire Crystal glass, vs the sport and Ion-x glass. The former is much tougher but the latter is still pretty durable, albeit more prone to scratches. The sport however, comes with the advantage that it has a more visible screen in bright light, as the Ion-x glass reflects less light, which could be an advantage to the more outdoors-y type anyway.
The default is more customizable, featuring straps made of materials like leather and stainless steel in addition to the sport's comfortable but durable band which is suited for… well… sport. Apple discourages the use of premium straps with the sport, as you have to buy them separately. The normal tends to look better with premium straps. Both watches have color variations for both the strap and the case, such as white, gold, and black (I'm sorry, space gray.)
Pairing
After a quick pairing and setup, requiring an iPhone 5 or above, you're ready to use the watch. The watch loses many features when out of bluetooth range of the phone, but keeps access to things like activity tracking, synced music, apple pay, certain photos, timers, etc. It must be within range to use wi-fi, thus allowing features like iMessage, Siri, Weather, location, most apps, etc.
Personal Life and Convenience
The apple watch is a fairly nifty gadget, with a diverse amount of features. Once again, the Apple Watch is no replacement for the iPhone, rather, an extension of it.
Personalization and Notifications
You can customize your watch to your preferences by choosing things like whether you want sound/vibrations, your personal glances, the order of apps, notifications, quick contacts accessed by the side button, orientation, whether or not you want it to activate when you hold your wrist up, passcodes, music, photos, etc.
The watch packs a touch screen, like the iPhone. If you want a less traditional scrolling experience, use the crown on the side which also functions as the back button. The other button is for quick access to contacts and powering down.
You can control which notifications you receive on your watch separately from your phone. If you are being overwhelmed by your phone notifications, just choose which ones you receive on the watch specifically. If the sound is off, it lets off a soft vibration. There is a Do Not Disturb mode as well.
The Apple Watch, in addition to the pre-loaded apps, offers a wide variety of downloadable apps for your convenience. Besides the basic photos, weather, timers, activity tracking, etc. the downloadable apps can be rather useful and convenient as well.
The Watch has a unique feature known as glances, a feature which allows quick access to summaries of news from apps, delivering news at a glance, hence the name. They are accessed from the watch face and up to 20 can be on at once. You can customize the glances in the settings, and deleting an app makes the glance go away, while you can delete a glance without deleting the app.
The Apple Watch features quick and convenient button gestures like screenshotting (press down both buttons,) deleting all notifications at once (use force touch,) and going back to your last app by double tapping the crown.
Daily Life
The Apple Watch packs a good amount of battery to make it through the day, but pretty much requires daily charging. Using it for uses beyond the watch can cut it down to a few hours, but the answer of battery life isn't simple and all depends on what you use it for.
The Apple Watch is quite suitable for quick replies to messages, as it offers preset replies based off an analysis of the texts sent to you. In addition to that, you can record your voice and send that as a voice or text message. You can also make scribbles and send animated emojis.
Siri is available on the Apple Watch, though in a relatively basic form, performing tasks like verbal texting, quick app usage, and glances, but many other functions of Siri are still reserved for the phone. You can activate it by pressing down on the digital crown until it appears.
You can store music in the Apple Watch, up to 2GB of it. (About 500 songs.) You can make a playlist. In order to use the watch like an iPod, you sync up bluetooth headphones, and you can even listen to music when your iPhone isn't present.
You can store up to 500 photos onto the apple watch, and view the album from there. You can customize your watch face, picking from several preset ones or a photo from your synced album. A good variety of customizability is offered in order to personalize it to your tastes.
By having them on the same Wi-Fi network, you can use the remote app as a remote control for Apple TV once paired.
The Apple Watch packs a maps app, which you can use to freely move around, find locations, use a search function, zoom, set destinations, etc. If the Watch alone isn't enough, the iPhone can send info to it when paired up.
Activity Tracking and Fitness
The Watch has multiple features that assist with fitness, like measuring heart rate, an accelerometer, workout goals, tracking daily activities through a convenient ring system split into multiple categories, achievements to motivate you, specialized notifications, etc. Most of these functions are available without an iPhone, and paired with the music feature, it is a good Fitness Tracker.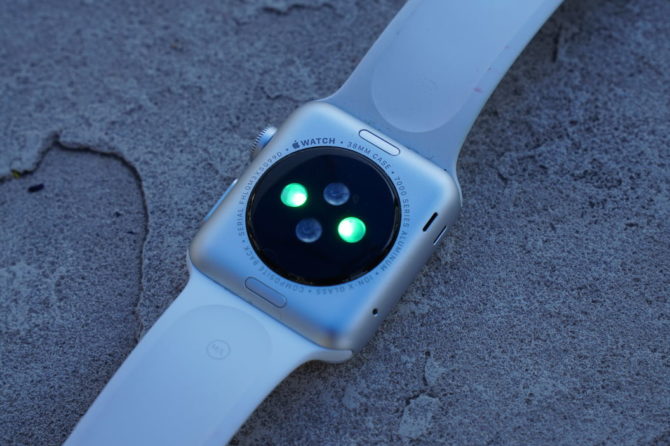 The Apple Watch's ring system with the Activity app conveys your daily activity in a clear and concise way. You personal details (age, sex, weight, etc) and goals get adjusted depending on daily activity. The move, stand, and exercise ring fill as you do each more respective activity. The move ring grows bigger depending on your physical activity, making it harder to fill. The exercise ring tracks activity that gets your heart rate up. The stand ring encourages you to be up for a certain quota of time in the day. You can always turn these notifications off if they annoy you.
The Apple Watch also lets you set your goals manually if you want to. You can even monitor workouts. When using the Workout app, you select a sport like outdoor walk, outdoor run, cycling,  etc, and it lets you set calorie, distance, and time goals. You can pause or end the workout anytime you want.
The Apple Watch is water-resistant, but not waterproof. It can be submerged in about 3.3 feet of water for about 30 minutes. Despite this, Apple still recommends you don't, especially when saltwater and chlorine are involved.
Conclusion
Once again, the Apple Watch is no replacement for the iPhone, but the convenience that it will add to your life is worth it for those who know they will use it. It's not for everybody. However, it is stylish, feels very personal, is a good workout tool, and is an overall good digital companion, but is dragged down by issues like low battery life and lacking features.